Summary :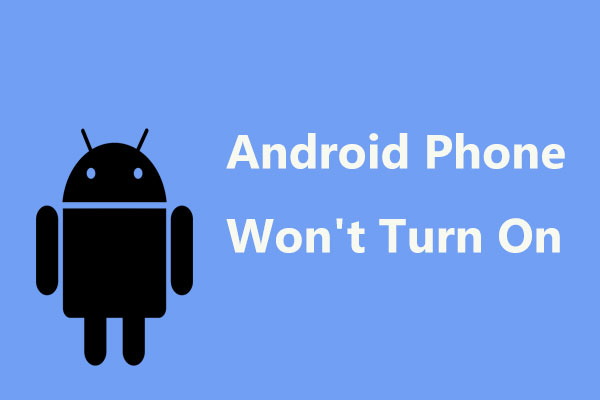 Have you ever encountered Android phone won't turn on issue in your daily life? Do you know how to deal with this issue, like recovering data from it and fixing this problem? Now, you can find the answers in this post.
My Phone Won't Turn on, Help!
As you know, Android platform is an open source system and it can be easily customized, optimized and personalized. Then, many devices adopt Android system including LG, Samsung, Nexus, Galaxy, Google, etc. phones, and tablets.
However, it is not as great as its users might prefer. Here is an extremely common issue reported by many users: Android phone won't turn on.
If Android phone not turning on happens, perhaps the Android screen is broken, the device gets bricked, the power button is broken, internal memory is damaged, etc.
I was attempting to download an app from the Google play store and then my phone turned off randomly. It was in full charge when this occurred. Now the phone doesn't react to any button presses and will not turn on. It also doesn't light up in any way when plugged into the charger. What do I do?

Androidcentral.com
What to do if your phone won't turn on? Maybe you worry about the data loss from the Android phone that isn't turning on. In this post, we are going to discuss how to recover data from disabled Android with simple ways and how to fix an Android phone that won't turn on.
Recover Data from Phone That Won't Turn on
In case of Android phone not turning on, is there any chance to get data back from the disabled phone? How can you rescue Android data? Actually, it is possible to do data recovery as long as you own one Android recovery tool. Let's come to the point.
MiniTool Mobile Recovery for Android
MiniTool Mobile Recovery for Android, the best free Android data recovery software, enables you to recover data from Android internal memory and SD card including deleted and existing data which can be contacts, messages, pictures, videos, music files, call histories, documents and more.
With an intuitional interface, this professional tool can help to effectively complete Android data recovery job with simple steps. What's more, multiple Android phones and tablets like Samsung, Google, HTC, LG, HUAWEI, SONY, etc. are supported.
This program is compatible with Windows 10/8/7. And fortunately, you can try the free edition of this software to check whether it can get the Android files you want to recover when Android phone that won't turn on.
Guide to Data Recovery from Android Phone Won't Turn On
How to use this program to make a data recovery from Android in the event of Android phone not turning on? The following is the guide, showing you how to retrieve data from Android phone which is not turning on in two aspects.
Way 1: Directly Recover Data from Android Internal Memory
Before you do, please pay attention to the following things:
To do a direct Android recovery, make sure you have rooted your Android device in advance. Otherwise, MiniTool Mobile Recovery for Android won't work.
Guarantee that the USB debugging authority is always enabled on the computer which you connect your Android phone to. Or else, there will be a failure since it is impossible to enable USB debugging on the Android phone that won't turn on.
If you meet these two requirements, now it's your turn to begin to recover data from Android phone that isn't turning on.
Step 1: Run MiniTool Mobile Recovery for Android on your computer running Windows 7/8/10 system. Then, you see two recovery modules are offered. Please click the left one called Recover from Phone and then enter the next interface.
Step 2: Connect your Android device to your PC via a USB cable. Please ensure no other Android phone management software is running during the recovery. Otherwise, this tool will work not well.
Step 3: Then, the Android phone which has been rooted and where USB debugging has been enabled will go to the following interface, showing you two scan methods along with the supported file types.
Deep Scan: This scan method is checked by default. And it is designed to scan the entire device so that more files could be recovered. On the above interface, you know all files types are supported, including contacts, messages, pictures, call histories, videos, audios, and documents. But, this mode may cost more time, thus, be patient.
Quick Scan: This mode only supports recovering contacts, call records, and short messages. Thus, it will scan your device in a fast way.
Which one should you choose to recover data from phone that won't turn on? After learning so much information about these two scan methods, you must know the answer. Just do it depending on your needs.
Step 4: Next, this program will analyze your Android phone that is not turning on and then start a scan.
Step 5: After some time, scanning process will be finished. Later, you will enter the scan result interface. MiniTool Mobile Recovery for Android will mark all scanned file types in blue. And if there is no scan result, the data types will be gray.
When clicking one file type, the result will be listed. See the following figure: we take Android text message recovery as an example. Click one item, and then you can check whether it is the one you want to recover. Then, select all items you need and click Recover button in the lower right corner.
Here, you may note that this software can show you both the existing and deleted files. If you just want to recover the deleted files, you can switch the OFF button to ON to make the software only show you the deleted items.
Step 6: Then, a small window appears along with a default storage path. If you want to save the selected files to another location, click Browse to change one. At last, click Recover button.
Way 2: Retrieve Data from Android SD Card
What if your Android phone hasn't been rooted or USB debugging is not enabled? If there is an SD card used on your phone, you can choose to recover files from SD card when the Android phone won't turn on.
Step 1: Run MiniTool Mobile Recovery for Android to its main interface and then click Recover from SD-Card mode.
Step 2: Since the SD card cannot be connected with the computer directly, you will need to insert the SD into an SD card reader and use it to connect your SD card to your computer.
After that, you need to click on Next to continue.
Step 3: Then, enter the following interface to select the inserted card.
Step 4: Next, SD card will be analyzed and scanned. Later, you can see the scan result. Similarly, all the scanned data types are marked in blue.
If you want to recover pictures from an Android phone that won't turn on, click Camera, Screenshot, App Picture, or Picture from the left list and view the items and then check the ones you need to recover. If you want to rescue other files, please choose the corresponding types.
Step 5: After clicking Recover button, choose one storage path at last.
How Can I Recover Deleted Files from SD Card Android Easily
MiniTool Mobile Recovery for Android can help a lot to get data back from Android device that is no turning on. Just free download it or use its full edition to recover more files without limitation.
How to Fix an Android Phone that Won't Turn on
When Android phone won't turn on, some of you may be eager to fix the faulty phone. Here, we summarize some possible solutions.
① Perform Soft Reset
The first thing you should do is to do a soft reset which can help restart the device if your phone is getting stuck on the logo screen or boot up screen. This is a very effective troubleshooting way.
If you hit the Power button, it won't work at all in case of Android phone not turning on. In this case, you can choose to remove the battery, wait for a few moments, put back the battery and press the Power button again.
Usually, you can hit this button for 8-10 seconds (some phones require holding the Power and the Volume up button together).
If there isn't a removable battery, you can also hold the Power button for 10 seconds or a bit longer.
Some users have reported it is suitable to hold this button for 30 seconds or more.
② Charge Your Phone
If your phone refuses to boot at all after pressing the Power button, perhaps it is out of power. Basically, it may not boot immediately after you charge since device's battery is completely drained out. Wait for a few minutes patiently.
Besides, sometimes the Android device has a problem: if the battery power is under 20%, the device will turn off and you fail to turn it on until you charge it for a while.
In some cases, you may have to do these operations: let the device charge for a while and long-press the Power button for ten seconds.
However, someone has reported two situations: Samsung phone won't turn on after charging or Android phone won't turn on and it is fully charged. Maybe there is a problem with your device's software. Then, try the next solution.
③ Perform a Factory Reset from Recovery Mode
To boot in recovery mode, use one of the following button combinations:
Hold Volume up + Home + Power
Hold Volume Up + Volume Down + Power
Hold Home + Power
Hold Volume up + Camera
Note: It may vary from device to device. If both can't work, please search the way on Google.
Then you will see Android system recovery screen, just select wipe data/ factory reset option to perform a factory reset. For more information, read How to Factory Reset Your Android Phone or Tablet When It Won't Boot.
Note that factory reset will delete all Android phone data. After it, you can use MiniTool Mobile Recovery for Android to recover deleted data.
Sometimes your Android phone may be stuck in recovery mode. What should you do? This post Stuck in Android Recovery Mode - Get Fixed Today And Rescue Data tells you some details.
④ Let The Technician Check The Phone
If your Android phone is still not turning on, perhaps it is just broken for hardware damage. You can take it to the repair store or contact the manufacturer's support department. If this doesn't work, you only need to get a new one.
Verdict
Now it is your turn to deal with Android phone won't turn on issue. If you have any questions about recovering data from the Android phone that won't turn on with our software, you can tell us by leaving comments below or sending us emails via [email protected]. Besides, any other good solutions to fix the phone that is not turning on are welcome.