What is the Windows Defender error 0x800700aa? Why does this error happen on Windows? Is there any quick and easy way to get rid of the error code? In this article on
MiniTool Website
, you will see some useful methods to resolve these concerns.
Windows Defender Error 0x800700aa
Some people reported that they encountered the error code 0x800700aa with a message showing that "The service couldn't be started" when they attempt to run a Windows Defender scan on Windows 10.
Here, we have concluded some different underlying causes that might be triggering this error code.
System file corruptions – Some system files required by the Windows Defender utilities get corrupted or damaged and this 0x800700aa error can happen.
Software conflicts – It is easy to get Windows Defender interrupted by some third-party software. You can boot your computer into Safe Mode to check if that is the culprit.
Outdated feature services – Some people have a long time ignoring the update notifications and making the Windows Defender service fail to run.
Disabled Windows Defender services – It is necessary to make sure every required service has been enabled and that's the precondition for a good function.
To sum up, we have listed some methods that are proven to be useful for inflicted users as follows.
Related posts:
Fix: Windows Defender Error 0x800700aa
Fix 1: Check Windows Defender Service Status
To make sure the feature performs normally, you can go to check the status of every service that is required for Windows Defender.
Step 1: Open Run by pressing Win + R and type services.msc to enter the Services window.
Step 2: Locate and double-click on the Windows Defender Firewall service and check if its Startup type is Automatic and Service status is running.
Step 3: Then please check the following services to make sure their Startup type options are set as Manual.
Windows Defender Advanced Threat Protection
Microsoft Defender Antivirus Network Inspection Service
Microsoft Defender Antivirus Service
When you have checked and configured the settings, you can restart the computer to see if the 0x800700aa error persists.
Fix 2: Run SFC and DISM Scans
If you have checked all the services that perform well, you can try to run SFC and DISM tools to scan your system files for errors.
Step 1: Open Search by pressing Win + S and input Command Prompt to choose Run as administrator.
Step 2: Type sfc /scannow in the window and press Enter to execute it.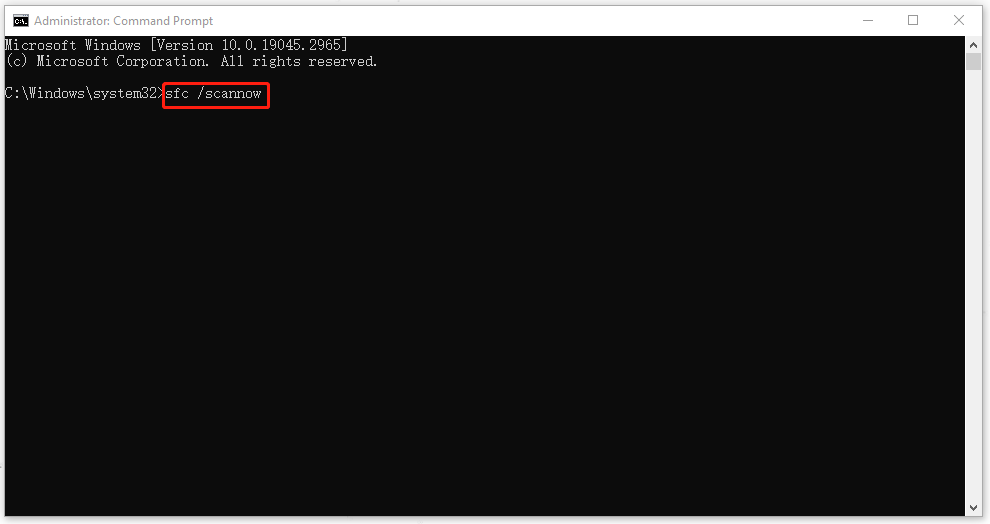 This process will take some time and you should wait until it shows you the result. Then you can execute the following commands for further troubleshooting.
Dism /Online /Cleanup-Image /CheckHealth
Dism /Online /Cleanup-Image /ScanHealth
Dism /Online /Cleanup-Image /RestoreHealth
After that, please restart your computer to check if the issue gets removed.
Fix 3: Enable Windows Defender in Safe Mode
To avoid software conflicts caused by some third-party software, you can run Windows Defender in Safe Mode.
Step 1: Open Run and type msconfig to enter System Configuration.
Step 2: In the Boot tab, check the box of Safe boot, and in the Startup tab, click Open Task Manager.
Step 3: Locate and select those enabled programs and click Disable to end them one by one.
Step 4: Go back to the System Configuration window, and click Apply and OK to save the changes.
More methods to get into Safe Mode? Refer to this post: How to Start Windows 10 in Safe Mode (While Booting) [6 Ways].
Fix 4: Update Windows Defender
Please make sure your Windows Defender feature has been updated to the latest version so that some bugs and glitches can be fixed.
Step 1: Go to Start > Settings > Update & Security > Windows Security > Virus & threat protection.
Step 2: Scroll down to locate Check for updates under Virus & threat protection updates from the right panel.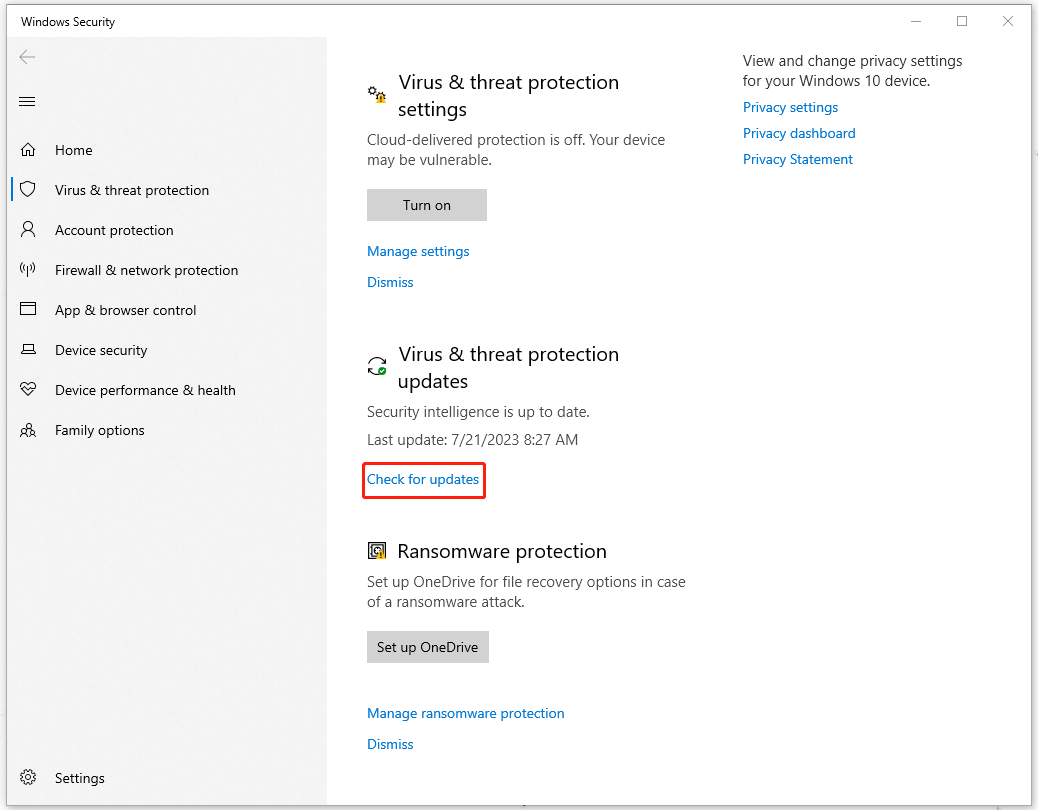 If updates are available, allow Windows Defender to download and install them and then restart your computer.
Fix 5: Edit Value in the Registry Editor
If the above methods can't resolve your issue, you can try to edit the value data entry for the WinDefend key by taking its full ownership.
Step 1: Open Run and type regedit to open Registry Editor.
Step 2: Copy and paste this location in its path bar and press Enter to locate it.
HKEY_LOCAL_MACHINE\SYSTEM\CurrentControlSet\Services\WinDefend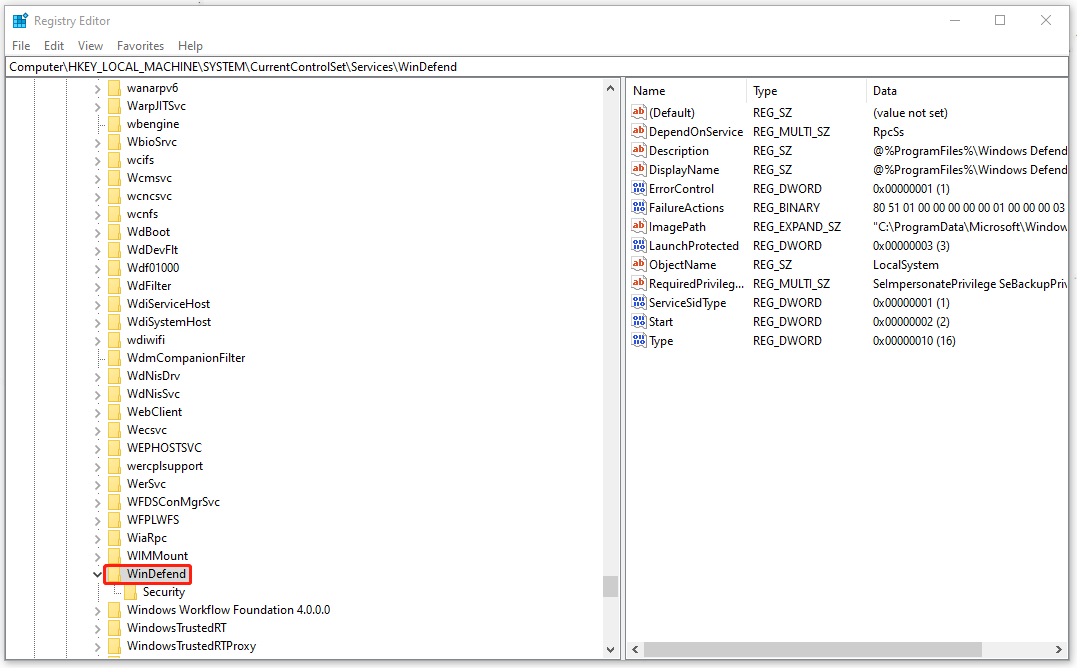 Step 3: Right-click on WinDefend to choose Permissions… and in the next window, select your Administrators account under the Security tab, and make sure the Full Control option has been allowed.
Step 4: After that, go back to Registry Editor and locate and double-click the DWORD named Start from the right panel. Replace the Value data from 4 to 2 and click OK.
Back Up Your Data
The error 0x800700aa can stop the Windows Defender function and thus your computer will be at risk of being attacked. To prevent severe results caused by cyber-attacks, you can back up your important data, or systems to an external hard drive so that you can quickly recover that.
MiniTool ShadowMaker is a free backup software. With its intuitive interface and smooth operations, it has attracted a bunch of fans. People can use it for backup, disk cloning, and data syncing. More than that, every function can provide an excellent user experience with some attached options.
To enjoy that, you can download and install the program to get a 30-day free trial version.
MiniTool ShadowMaker TrialClick to Download100%Clean & Safe
Step 1: Open the program and click Keep Trial.
Step 2: In the Backup tab, click the SOURCE section to choose what you want to back up, and then go to the DESTINATION section to choose where to store it.
Step 3: When everything is settled down, you can click Back Up Now to start the task.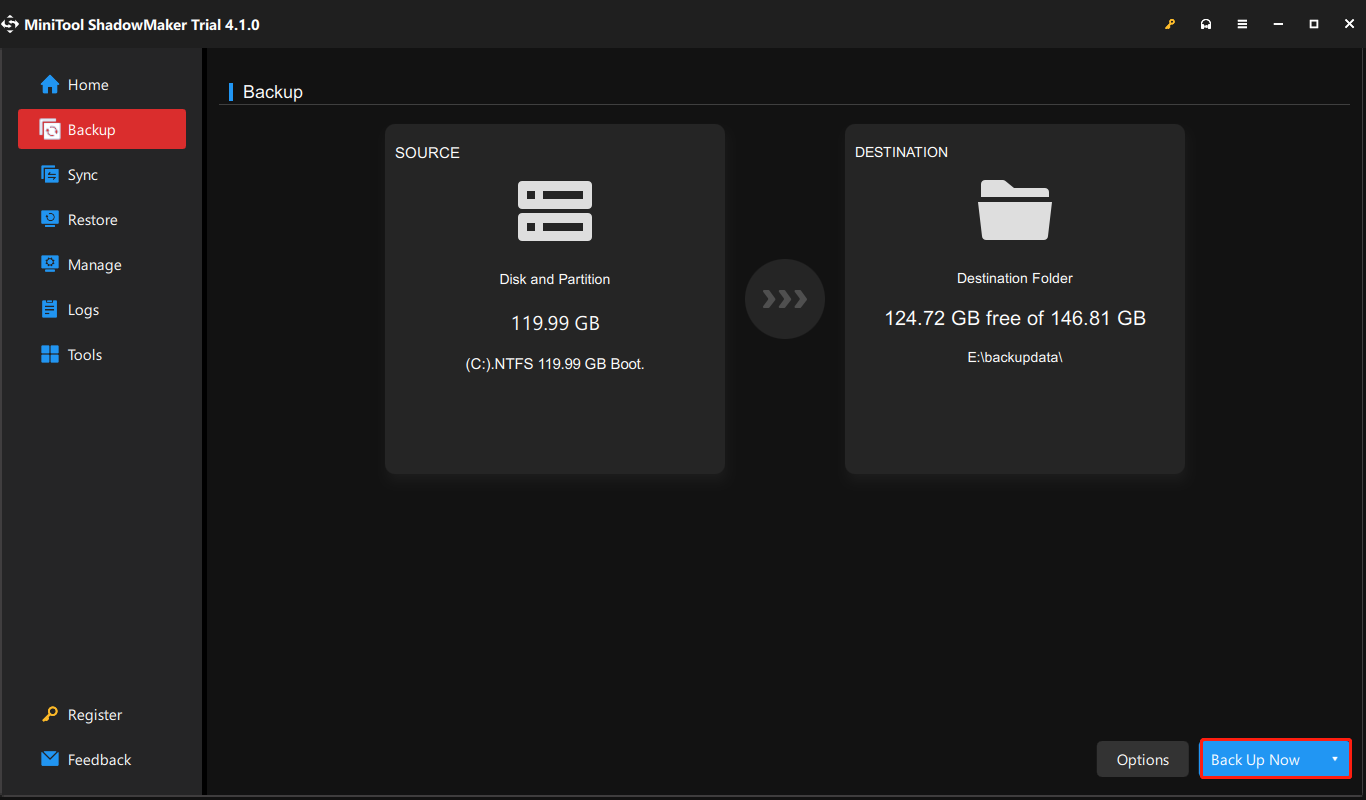 To fix the Windows Defender error 0x800700aa, this post can be helpful. If you like it or think it is useful, you can share it on Twitter.Click to Tweet
Bottom Line:
What is the Windows Defender error 0x800700aa? This error can stop the normal functioning of Windows Defender and put your computer in danger. You can follow the above methods to fix the error code and then apply a backup to protect your system.
If you have encountered any issues when using MiniTool software, you can leave a message in the following comment zone and we will reply as soon as possible. If you need any help when using MiniTool software, you may contact us via [email protected].