Some of you might receive the error code 0x800b0100 when trying to start Windows Defender. This error blocks the functionality of Windows Defender so you cannot launch the program. Luckily, we gathered several possible solutions for you on MiniTool Website.
Windows Defender Error Code 0x800b0100
The error code 0x800b0100 is one of the Windows Defender errors and you might receive it when attempting to launch this program. Usually, you get this error code with such a message: An error has occurred in the program during initialization. If this problem continues, please contact your administrator.
Windows Defender error 0x800b0100 can be triggered by many factors. Here are some possible culprits:
The interaction of third-party applications.
Faulty or corrupted system files.
Infections of malware or viruses.
Not starting some Windows Defender services.
Suggestion: Back Up Your System with MiniTool ShadowMaker
It is universally acknowledged that Windows Defender can prevent your computer from the attack of malware and viruses. If Windows Defender is malfunctioning, your computer will be at high risk of danger because it will be easily infected.
On the other hand, your device might also suffer from other destructive problems besides Windows Defender error 0x800b0100. To secure your system, creating a backup of the system is a good option. By doing so, you can restore your computer to a normal state with the backup image.
To create a system image, a piece of reliable backup software – MiniTool ShadowMaker stands out from similar products. It is designed for Windows devices to back up files, systems, selected partitions, and even the whole disk. This tool is also famous for providing a one-click system backup solution. Let's see how it works:
Step 1. Download this tool for free and launch it.
MiniTool ShadowMaker TrialClick to Download100%Clean & Safe
Step 2. In the Backup section, you can choose the backup source and destination. As you can see, the system is selected by default in SOURCE and there is also a default storage path for your backup images in DESTINATION.
Tips:
If you want to change the default destination path, just click on DESTINATION and choose the path you want. Here, you had better choose to store the backup image in one partition of a USB flash drive or an external hard drive.
Step 3. In this case, you only need to hit Back Up Now to start the task.
After your system is backed up successfully, you need to create a bootable drive. When your computer malfunctions or even cannot boot, you can boot your computer from this disk and perform recovery.  
Step 1. Launch MiniTool ShadowMaker and go to the Tools page.
Step 2. Tap on Media Builder > WinPE-based media with MiniTool plug-in > USB Flash Disk. Hit Yes to confirm this action when a warning message pops up.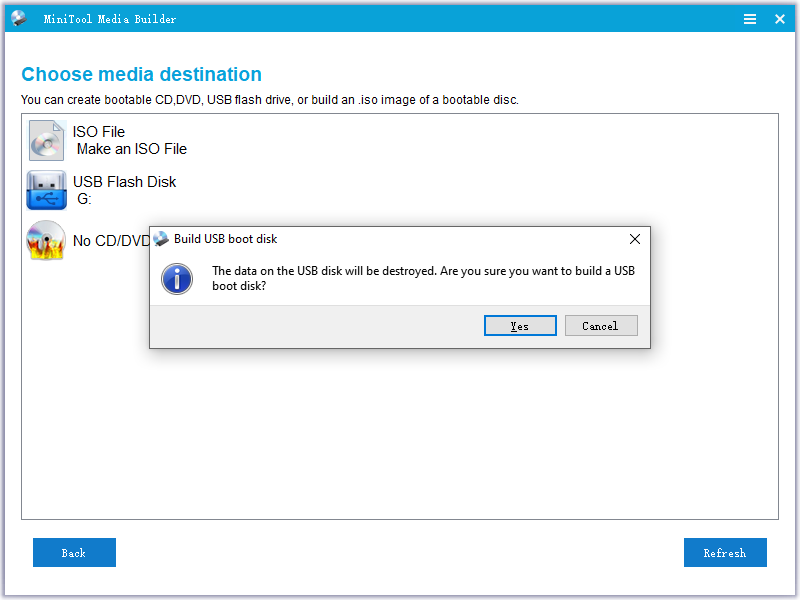 How to Fix Windows Defender Error Code 0x800b0100?
Fix 1: Perform a Clean Boot
Windows Defender might be blocked by some third-party software, causing the occurrence of the error code 0x800b0100. Performing a clean boot will help you to start your system with minimalistic features and make Windows Defender works properly again.
Step 1. Press Win + R to open the Run box.
Step 2. Type msconfig and hit Enter.
Step 3. Under the Services tab, check Hide All Microsoft Services and hit Disable all.
Step 4. Go to the Startup tab and press Open Task Manager.
Step 5. Right-click on each process and select Disable one by one.
Step 6. Go back to System Configuration and hit Apply & OK.
Step 7. Restart your computer for the changes to take effect.
Fix 2: Check Windows Defender Services
Make sure that Windows Defender services are enabled. They might be disabled by a third-party program or infection. Follow these guidelines:
Step 1. Press Win + R to open the Run dialog.
Step 2. Type services.msc and hit Enter to open Services.
Step 3. Scroll down to find all services related to Windows Defender including:
Windows Defender Advanced Threat Protection Service
Windows Defender Antivirus Network Inspection Service
Windows Defender Antivirus Service
Windows Defender Firewall
Windows Security Center Service
Step 4. Right-click these services one by one and choose Start in the context menu.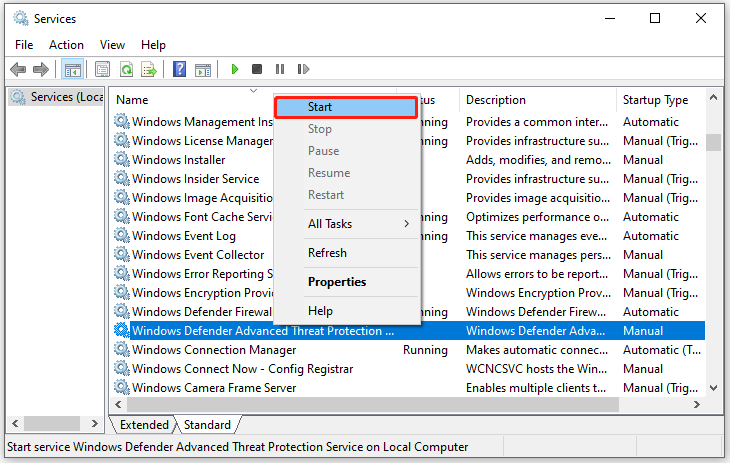 Step 5. After enabling all these services, reboot your computer, and launch Windows Defender again to see if the error code 0x800b0100 still persists.
Fix 3: Run SFC Scan
Sometimes, you may receive error 0x800b0100 Windows Defender when the system files are missing or corrupted. So, you need to run the System File Checker (SFC) scan to fix them.
Step 1. Press Win + S to evoke the search bar.
Step 2. Type cmd to locate Command Prompt and right-click on it to choose Run as administrator.
Step 3. In the command window, type sfc /scannow and hit Enter. The SFC scan will fix any corrupted files it detects, please wait patiently.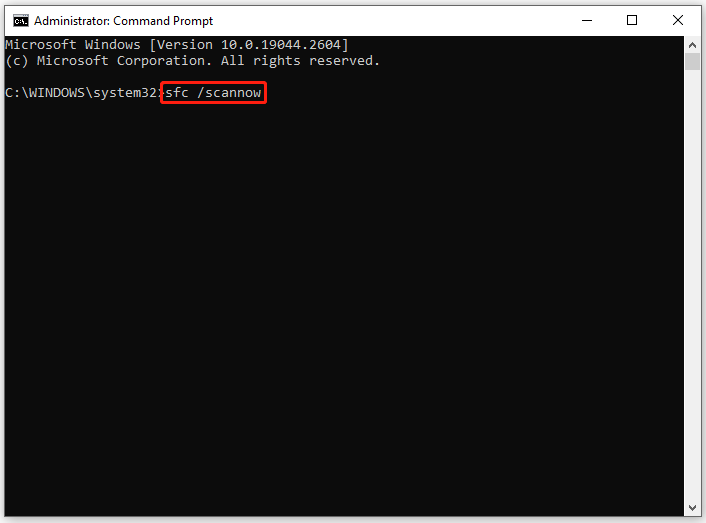 Fix 4: Run DISM Scan
If you still receive Windows Defender error 0x800b0100 after performing the SFC scan, you can exploit Deployment Imaging Servicing and Management (DISM) to get rid of this error.  
Step 1. Run Command Prompt with administrative rights.
Step 2. Type dism.exe /Online /Cleanup-image /Restorehealth and hit Enter. Wait for the system to complete. If the progress bar gets stuck, don't worry! It is normal and you just need to wait patiently.
Fix 5: Check for Infections
Although Windows Defender is very powerful, some infections can disable your Windows Defender and make your system more vulnerable. Therefore, you can install a third-party software to perform a scan of your system. Here, we will show you how to scan your OS with Malwarebytes.
Step 1. Download Malwarebytes for free from the Malwarebytes official website.
Step 2. Double-click on the MBSetup file to install it. If prompted by UAC, hit Yes to grant the permissions.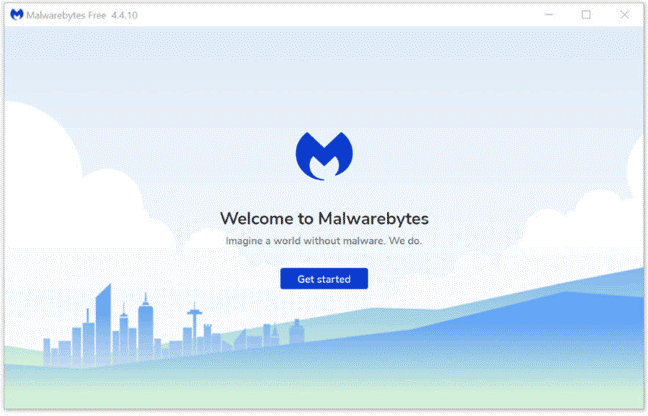 Step 3. Perform a scan with this tool and choose the Quarantine option after the tool detects any threat. To move the threats, Malwarebytes will ask you to restart your computer. After the process is done, you can boot up your computer and run Windows Defender without the error 0x800b0100.
Wrapping Things up
This tutorial offers you 5 ways to fix Windows Defender error 0x800b0100. Which method do you prefer? Tell us your answers in the comment area below! If you have any advice about our product, don't hesitate to tell us via [email protected]. We will reply to you as soon as we can!