This article composed on MiniTool official web mainly compares two types of flash memory that are used in SSDs, 2D NAND vs 3D NAND. It elaborates on the differences in structure, capacity, power consumption, performance, and cost. Continue reading to learn the details!
About Flash Memory
Flash memory is very portable and combined with its other characteristics of durability and speed. It is ideal for storing mass data as required of an SSD (Solid State Drive) or USB flash drive.
Flash memory is made up of an array of cells that record 1 or several bits (0 or 1). Each cell comprises floating gate transistors that trap an electrical charge (indicating the 0 or 1). A single-level cell (SLC) stores one bit; a multi-level cell (MLC) saves two; a triple-level cell (TLC) contains three; while a quad-level cell (QLC) Stores four bits. With the increase in levels, there is a decrease in cost, but also a decrease in the number of program/erase (P/E) cycles.
Also read: Do SSD Drives Fail: A Complete Analysis on SSD Technology
There are two kinds of flash memory, NAND and NOR. Those 2 types refer to the logic gates used in the memory cells. NAND-based flash memory is cheaper and about 60% dense than NOR while NOR has the advantages of being able to read, write, and erase each byte individually. NOR also has faster read speeds than NAND and is mainly embedded in devices like mobile phones and small appliances.
Flash Memory in SSDs
In SSDs, data is stored in "cells". Extremely small cells suffer from cell-to-cell interference leading to increased instances of errors and power use. Besides, the technology needed to construct ultra-small cells runs into hard physical barriers having to do with the light wavelengths applied in the construction process. Thus, at a certain point, it is not feasible to make the cells any smaller.
Yet, users all want faster SSDs with more capacity for less money. So, to continue producing more advanced SSDs, something needs to be changed. In order to increase the performance and capacity of SSDs, hard drive manufacturers have been practiced for a long time to find technical methods to reduce the size of those cells to fit more of them into the limited amount of space available in an SSD. Among those manufacturers, Samsung and some other few ones push the limitations of what was possible in terms of size reduction.
Therefore, there comes into being the 3D V-NAND technology and its applied SSDs. The first 3D V-NAND SSD is the Samsung 850 Pro, which is a 2TB SSD of SATA-based.
2D NAND vs 3D NAND
What are the Differences Between 2D NAND and 3D NAND? First of all, let's see a general introduction to 2D NAND and 3D NAND.
2D NAND, also known as planar NAND, is the traditional approach to flash memory while 3D NAND is the latest one. 3D NAND is developed to address the challenges encountered in scaling 2D NAND to higher densities at a lower cost per bit.
Both 2D NAND and 3D NAND are types of flash memory which is a class of non-volatile memory that retains data even in the absence of an electrical current.
1. 3D NAND vs 2D NAND: Structure
Currently, 2D NAND is the major flash memory type for SSDs. Hundreds to thousands of cells are arranged on a page and there are multiple pages on a single block (128KB+) while a chip contains multiple blocks.
A degree of block management is required for writing and erasing data while data can only be read on a page basis. This makes it unsuitable for the byte-level random access required of read-only memory (ROM) yet great for sequential access.
NAND-based memory has better endurance than the NOR flash memory (reportedly up to 10 times) and faster write & erase speeds thanks to the way data is arranged in blocks.
3D NAND, also called 3D V-NAND or vertical NAND, is the newest technology adopted in flash memory. It is just the planar NAND (single planes of NAND cells) are stacked vertically.
Therefore, in general, the main difference between 2D and 3D NAND is the matter of stacking cell players of cells on top of one another.
Tip: As for V-NAND vs 3D NAND, they refer to the same thing and there is no difference.
2. 2D NAND vs 3D NAND SSD: Size Utilization Rate
Here, we don't mean the dimension of the physical size of both kinds of SSDs. What we focus on is within the same physical size, how many SSD "cells" can be placed, which means how much storage space can be included. Yes, it is capacity!
Samsung compares the difference in size utilization rate between 3D V-NAND and the old 2D NAND as the difference between high-rise buildings and blocks of one-story houses. Instead of trying hard to pack more and more "houses" within a limited space, Samsung practiced stacking more rooms over the foundation and revolutionized the SSD industry.
3. 2D vs 3D NAND: Power Consumption
According to the tests of Samsung, the 850 Pro (of V NAND technology) consumes only around 0.4 watts of power when it is in idle mode. The LPDDR2 cache memory of Samsung 850 PRO consumes 30% less power when active and 93% less power when idle than the traditional DDR2 or DDR 3 cache memory in 2D NAND.
4. 2D NAND vs 3D NAND: Performance
Besides great space utilization (big capacity) and much lower power consumption, V-NAND is also superior to normal NAND at data processing speed. It is tested that V NAND is about twice the speed of 2D NAND. Moreover, 3D vertical NAND has 10 times the longevity of 2D planar NAND, better boost reliability, as well as higher data write performance.
Related article: [Solved] Is SSD Good for Long Term Storage: Past VS Now
5. 3D vs 2D NAND: Cost
Stacking the cell layers vertically using V-NAND allows for greater density and increased performance without an increase in size while overcoming the interference and manufacturing challenges mentioned above. In this perspective, V-NAND means higher manufacturing costs yet retail price per GB. 
2D NAND vs 3D NAND: Conclusion
According to the above comparison, the advanced 3D NAND technology behaves better than the traditional 2D NAND in structure, size usage, power consumption, performance, and cost. Yet, 3D NAND still has some disadvantages as below:
More difficult to construct.
Needs more silicon to construct.
Complex ECC and flash management.
Expensive to transit from 2D NAND to 3D NAND.
3D NAND SSD Manufacturers
Since 3D V-NAND is much better than 2D planar NAND SSD, maybe you are considering switching from the current 2D NAND SSD or even HDD to a 3D NAND SSD. Then, what hard disk drive brands are producing 3D vertical NAND SSDs and how many kinds of V-NAND SSDs you can choose? Below introduces some common 3D NAND SSD manufacturers to you.  
SSDs
3D V-NAND Type
Capacity
Physical Size
Max Read Speed (MB/s)
Max Write Speed (MB/s)
Interface
Samsung 860 Pro
MLC
2.5-inch
560
530
SATA
Samsung 860 EVO
TLC
2.5-inch
550
520
SATA
Samsung 860 EVO M.2
MLC
M.2
550
520
SATA
Samsung 970 Pro NVMe
MLC
M.2
3500
2700
PCIe
Samsung 970 EVO NVMe
TLC
M.2
3400
2500
PCIe
Crucial MX500
3D NAND
560
510
SATA
Intel Pro 5400s
TLC

1TB
480GB
360GB
240GB
180GB

2.5-inch
560
475
SATA
Intel Pro 7600p NVMe
TLC

2TB
1TB
512GB
256GB
180GB

M.2
3230
1625
PCIe
Kingston UV500
TLC
520
520
SATA
Kingston A400
TLC
2.5-inch
500
450
SATA
WD Blue
3D NAND
560
530
SATA
WD Green
TLC
545
525
SATA
SanDisk Extreme Pro NVMe
3D NAND
M.2 2280
3400
PCIe
SanDisk Ultra 3D
3D NAND
2.5-inch
530
560
SATA
The above table only lists some important information about each V-NAND SSDs. If you want to know more about each SSD, just go to an online store and you will be introduced with the details.
Besides the manufactures mentioned above, there are many other 3D NAND SSD developers including but not limited to Corsair, Micron, SK Hynix, Toshiba, TEAMGROUP, Genuine, LEVEN, HP, and Sino Bright. You can choose one 3D NAND SSD that suits you.
How to Switch to 3D or 2D NAND SSD?
If you are currently using an old HDD, you are able to transit to either 2D NAND or 3D NAND SSD. Or, if you are running a traditional planar SSD, you can also change to use the latest V-NAND SSD. After picking up the desired V-NAND SSD, you can put it into usage.
Yet, you can't just directly jump to the new SSD since everything you use and value are still on the old drive. Yes, you have to move your system, programs, files/folders, etc. to the new disk before throwing the old stuff away.
After many years of usage, there must be a lot of staff on your current hard drive. To move or copy them to the new SSD, your need some time. And, the most important thing is to ensure the system is bootable when migrated to the new destination.
Thus, is there is a way to achieve that? Or, you have to manually install operating system (OS) on the new SSD and transfer data from the old disk to it? Fortunately, some applications can assist you to quickly and easily convert from an old drive to a new one, among those apps, MiniTool ShadowMaker is recommended. It is a professional and reliable disk cloner that can help you not only migrate system/programs/files but also ensure OS bootability.
Step 1. Download, install, and launch MiniTool ShadowMaker on your old disk. Connect your new 3D NAND SSD to your computer.
Step 2. Click Keep Trial on the top right of the screen if it asks you to buy.
Step 3. On its main screen, click Tools on the top menu.
Step 4. In the Tools tab, click the Clone Disk option.
Step 5. In the new popup, specify your current system disk as the Source Disk and your new V-NAND SSD as the Target Disk.
Step 6. Finally, click OK and Yes to carry out the migration.
Note: Data on the target disk will be destroyed. So, make sure there are no crucial files on your new SSD.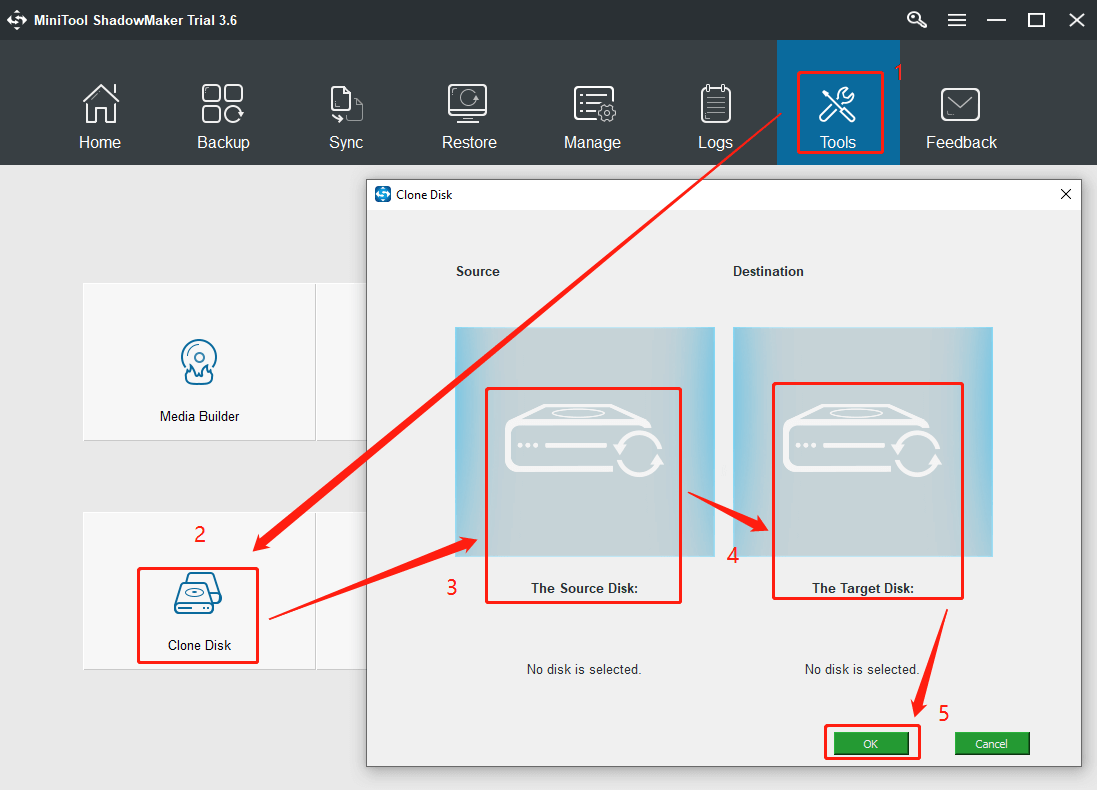 Wait until the process finishes. Then, what you need to do is to remove your old drive from the PC, connect the new 3D NAND SSD to the motherboard, go to the computer BIOS and change the boot device to the new SSD. Finally, you can boot from your new disk.
Final Words
As for 2D NAND vs 3D NAND, generally, 3D V-NAND is better than 2D planar NAND. 3D NAND is a proven and cost-effective technology that provides a higher capacity, lower energy consumption, higher read/write & I/O speed, as well as higher durability than 2D NAND at a lower cost per GB. Yet, it is more complicated to manufacture 3D V-NAND than 2D planar NAND SSD but worth it.