Are you looking for an SSD for your PC to replace your HDD to get better performance? 860 EVO vs 970 EVO, what's the difference and which one should you buy for your PC? Now read this post and you can know the answers. Besides, a cloning tool for Samsung SSD from MiniTool is introduced.
About Samsung
As you know, Samsung is a South Korean multinational conglomerate headquartered in Samsung Town, Seoul. It is a trading company that involves various fields including the electronics industry, construction and shipbuilding industries, phones and semiconductors, computing storage devices, etc.
Its computing storage devices like hard drives, SSDs, memory cards, flash drives, and more are popular with persons all over the world. As for its SSDs (solid-state drives), we believe that you have heard these two types – 860 EVO and 970 EVO.
If you are using a traditional hard drive but find your PC runs slowly with this HDD, perhaps you want to replace the HDD with a Samsung SSD. Then, here comes a question "860 EVO vs 970 EVO, which one should you buy". This is the topic that we will talk about.
Overview of Samsung 860 EVO and 970 EVO SSD
Before learning the information on Samsung 860 vs 970 EVO SSD, let's firstly review these two SSDs.
Samsung 860 EVO SSD
It is one of the best-selling SSDs in the world and designed for mainstream PCs and laptops. This SSD is fast and reliable, and it features a range of compatible form factors and capacities (250 GB, 500 GB, 1TB, 2TB, and 4TB).
In performance, it is good since the 860 EVO SSD can offer sequential write speed up to 520 MB/s with Intelligent TurboWrite technology and sequential read speed up to 550 MB/s. In heavy workloads and multi-tasks, speeds are consistent.
Samsung 860 EVO SSD offers multi-form factors including the 2.5-inch size for desktop PCs and laptops and the SATA-BASED M.2 (2280) or the mSATA for ultra-slim computing devices. No matter what size your computer needs, the 860 EVO is for you.
Samsung 970 EVO SSD
In general, the 970 EVO SSD brings breakthrough speeds, top-ranking reliability and a broad range of capacity choices up to 2TB.
It uses the new Phoenix controller and Intelligent TurboWrite technology to transform high-end gaming and streamlines graphic-intensive workflows (4K & 3D graphic editing). In speeds, its sequential read and write speed can respectively reach up to 3500 MB/s and 2500 MB/s.
On the compact M.2 (2280) form factor, its capacity can reach up to 2TB, which greatly expands storage capacity and saves space for other components.
With the latest V-NAND technology, Samsung 970 EVO SSD features exceptional endurance. And it offers up to 1200 TBW with 5-year limited warranty. Besides, it offers superior heat dissipation.
860 EVO VS 970 EVO: What's the Difference
1. Form Factor
Samsung 860 EVO has three form factors including 2.5-inch, M.2, and mSATA while 970 EVO only has a form factor – M.2.
2. Capacity
The 860 EVO 2.5-inch SSD offers 5 capacities including 250GB, 500GB, 1TB, 2TB, and 4TB; the mSATA SSD has 3 capacities – 250GB, 500GB, and 1TB; the 860 M.2 SSD offers 4 capacities – 250GB, 500GB, 1TB, and 2TB while the capacities of 970 EVO M.2 SSD are 250GB, 500GB, 1TB, and 2TB.
In short, Samsung 860 EVO SSD is a good choice if you need big capacity.
3. Speed
The sequential read and write speeds of 860 EVO are severally up to 550 MB/s and 520 MB/s while the sequential read and write speeds of 970 EVO are severally up to 3500 MB/s and 2500 MB/s. That is, Samsung 970 EVO has a faster speed than 860 EVO.
Further tip:
Some of you may be interested in 860 EVO vs 970 EVO boot time. When searching for the topic, you can find an answer from Reddit saying "the 970 EVO booted up windows in 5.53 seconds and the 860 EVO did it in 6.10 seconds". Simply speaking, there is a small difference in boot time.
For the topic "Samsung 860 EVO vs 970 EVO gaming", many users say that application/game load times would likely be similar, i.e. maybe a second or two. If you are always doing a lot of read/write of large files like real-time video editing, you can find the 970 EVO is faster. In normal usage, the performance difference is little.
"These three aspects are the main differences between Samsung 860 EVO and 970 EVO. If your friends are also interested in them, you can share them on Twitter to let them know."Click to Tweet
Samsung 860 EVO VS 970 EVO: Which One to Buy
You have learned much information on 970 EVO vs 860 EVO and now it's your turn to choose an SSD for your computer but which one should you buy? Get the answer from this part.
The choice between these two SSDs is not entirely determined by price or performance and you need to take 3 points into account:
What do you want to do with an SSD?
What is the size SSD slot of your computer?
Does your computer support NVMe?
If you want to use Samsung 970 EVO, your computer should need both an M.2 slot free and PCIe 3.0 capabilities. If you don't have the former, the SSD cannot be connected to your computer. If you don't have the latter, you won't get the full performance.
Besides, NVMe SSDs like the 970 EVO SSD will always connect directly to the motherboard of the computer. If you are using a desktop, check the available drive bays since a 2.5-inch drive will be installed here.
To be specific, Samsung 970 EVO SSD is a good choice if your PC fits the requirements for using this solid-state drive and you plan to use it as the Windows boot disk in which most used software, games, files, etc. are stored. Its performance is excellent; it's reliable; it offers a good warranty; its price isn't higher than Samsung 860 EVO.
But if your PC doesn't have M.2 slots and doesn't support NVMe SSDs or you are looking for a mass storage SSD, the 860 EVO is the one to choose. In the desktop cases, there is always space for multiple 2.5-inch SSDs and many old or large laptops may also run a 2.5-inch disk.
"Samsung EVO vs 970 EVO, which one should you buy? It depends on your actual situations and this post gives you some information. Just share it to let more persons know."Click to Tweet
How to Test Samsung SSD Performance
Video Reference:
After buying a 860 EVO or 970 EVO SSD, you may want to know the actual performance on your computer. Testing the SSD is a good option with a professional hard drive benchmark tool. Here, MiniTool Partition Wizard is worth a try.
It has a powerful feature called Disk Benchmark that is designed to use variable transfer sizes and test lengths for both sequential and random read/write speeds to measure storage performance. Download this tool from the following button and then have a try.
MiniTool Partition Wizard FreeClick to Download100%Clean & Safe
Step 1: Launch MiniTool Partition Wizard on your PC.
Step 2: Click Disk Benchmark.
Step 3: Set the disk test parameters and click Start. Later, you can see the test results.
How to Migrate HDD to 860 EVO or 970 EVO SSD Without Reinstalling OS and Data Loss
If you are using an HDD and now get a Samsung SSD like 860 or 970 EVO, perhaps you want to use the SSD as the main disk. How can you migrate your HDD to SSD without reinstalling system and data loss?
Here we strongly recommend MiniTool ShadowMaker. At first glance, you find it is a professional Windows backup software for Windows 10/8/7.
Additionally, it is also a hard drive cloning software. With its Clone Disk feature, you can easily clone everything including Windows files, settings, personal files, apps, etc. from your original disk to the newly bought Samsung SSD. After finishing the clone, you can replace the old disk with the new SSD and boot Windows from that disk.
To get it, click the following download button. Then, start the disk migration.
MiniTool ShadowMaker TrialClick to Download100%Clean & Safe
Step 1: Launch MiniTool ShadowMaker to continue.
Step 2: Navigate to the Tools page and choose Clone Disk from listed features.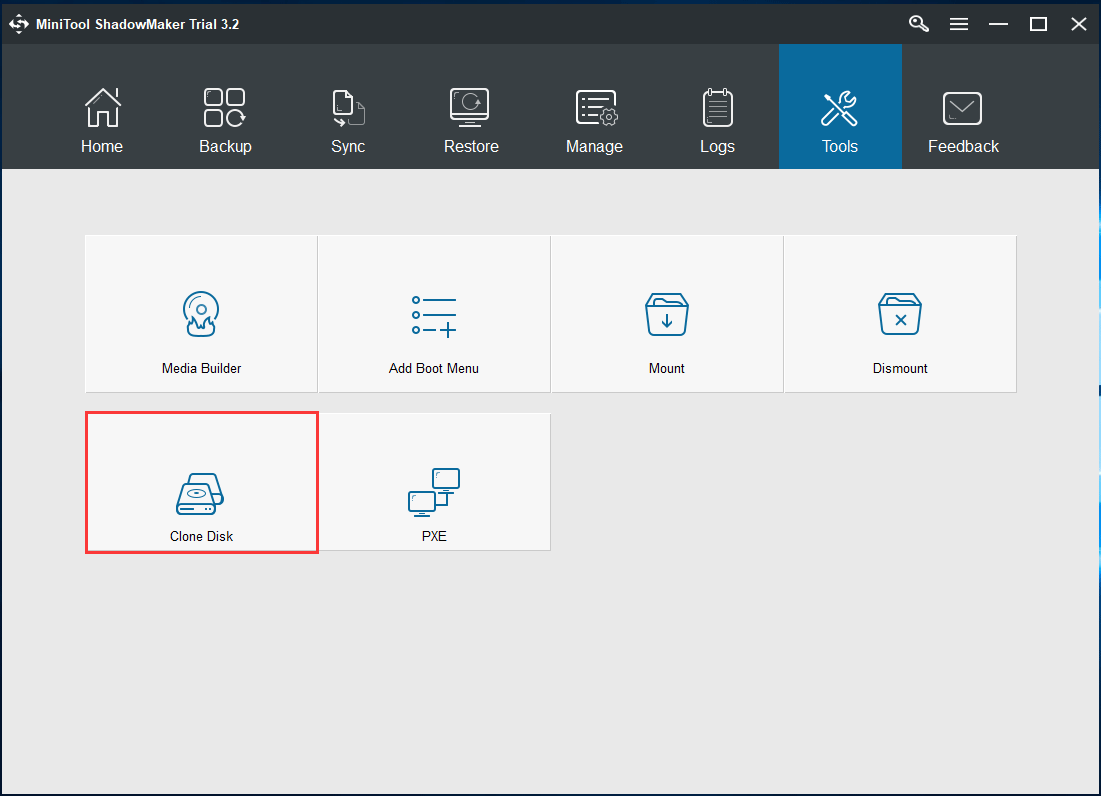 Step 3: In the pop-up window, choose your HDD as the source disk and Samsung 860 EVO or 970 EVO SSD as the target disk. Then, click OK to continue.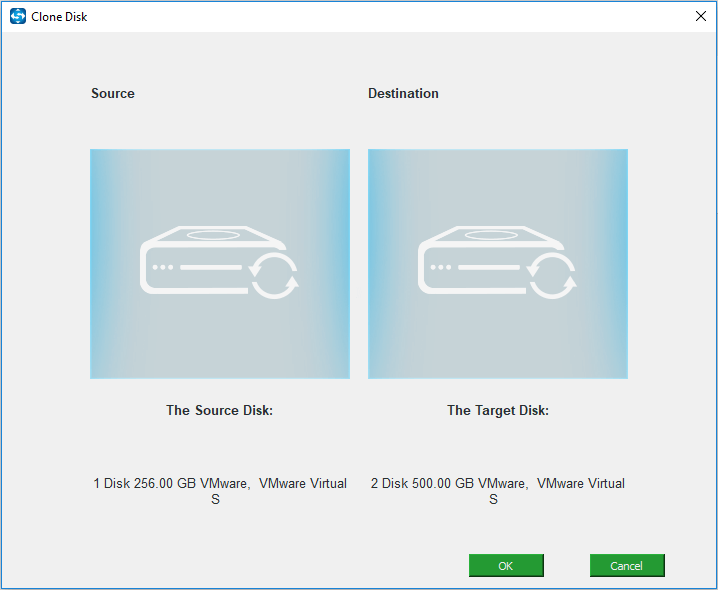 Step 4: MiniTool ShadowMaker is starting the performing disk cloning process. This will take some time and you should wait patiently.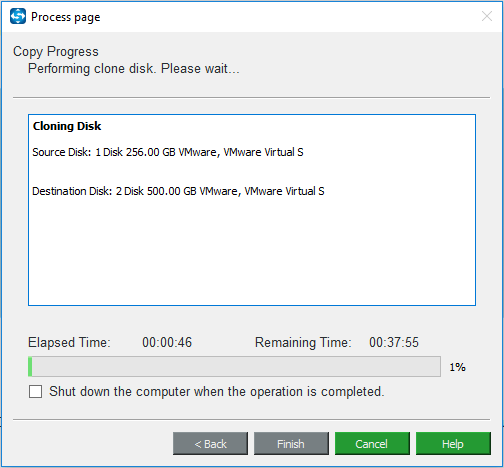 After cloning, remove your HDD from the computer and then install the new Samsung SSD to the computer. Next, you can boot your Windows from the new SSD to get a good performance.
Bottom Line
Are you looking for a Samsung SSD? 860 EVO vs 970 EVO: what's the difference between them? Which one to buy? After reading this post, you get much information and know which SSD is suitable for your PC.
Besides, if you are curious about the disk performance, doing a disk benchmark test is necessary. To migrate your hard drive to a Samsung SSD, MiniTool ShadowMaker can help you do that work without data loss and OS reinstallation.
If you have any suggestions or questions, welcome to tell us by contacting [email protected] or leaving a comment below.
860 EVO VS 970 EVO FAQ
Is Samsung EVO 970 worth it?
Samsung 970 EVO SSD has a reasonable price and offers similar performance (in some cases better) compared with the 970 Pro SSD. Besides, it has multiple capacities.
Is the 860 EVO worth it?
Samsung 860 EVO SSD offers 3 form factors – 2.5-inch (up to 4TB), mSATA and M.2, satisfying your needs. Although it is not as fast as the 970 EVO, it can be a good quality SSD.
What's the difference between 970 EVO and Pro?
The 970 EVO differs from the Pro is that it uses TurboWrite technology and 3-bit TLC V-NAND. TurboWrite uses a small portion of the NAND as an SLC write buffer, which means improved write performance, as long as the buffer isn't exhausted.
How fast is Samsung 860 EVO?
Samsung 860 EVO supports up to 550 MB/s read and 520 MB/s write speeds.