Why is your Acer laptop stuck on Acer screen? What measures will you take when it occurs? In this article on MiniTool Website, we will try our best to help you to eradicate this glitch with the most effective tips and tricks. Let's dive right in.
Acer Laptop Stuck on Acer Screen
The Acer laptop is known as one of the best computer bands in terms of system performance and price ratio. However, even the best computers in the world can malfunction sometimes, the Acer laptop is no exception. In some cases, the Acer laptop might flash to life for a while and then stuck on Acer screen.
This issue can be caused due to a number of reasons such as hardware issues, software issues, battery issues, operating system update issues, virus or malware attacks and so on. If you are also plagued by Acer laptop stuck on Acer screen, get a rapid repair from the troubleshooting methods below.
How to Fix Acer Laptop Stuck on Acer Screen?
Solution 1: Remove All the Connected External Storage Devices
The first solution that you may also come up with is to restart your computer without connecting any external unnecessary external storage devices, this action can fix some peripheral and hardware issues for you.
Step 1. Turn off your computer and remove all the external storage devices including external hard drives, USB flash drives, optical drives, SD cards, phones, cameras and more. Attached peripherals like hubs and docks monitors may consume too much power over these external storage devices hence causing the Acer laptop stuck on restarting screen issue.
Step 2. Remove the battery from the battery compartment and then press the Power button for at least 15 seconds.
Step 3. Afterwards, release the Power button, put the battery back and press the Power button again to see if your device can boot up as normal. If Acer laptop stuck on startup screen crops up again, please try the next solution.
Solution 2: Check the Battery
Acer laptop stuck on restarting screen can also be caused by a battery issue. When the power supply is insufficient, Acer laptop stuck on Acer screen performs as inbuilt protection to prevent further battery discharge. So, you can try to start the computer after plugging it into the charger overnight. If the battery is broken, please change a new one.
Solution 3: Test Acer with An External Monitor
You need to figure out whether the Acer laptop stuck on Acer screen issue is triggered by a firmware problem. Try connecting your computer to an external monitor to see if the screen displays on it.
Step 1. Connect an external monitor to your Acer laptop.
Step 2. If the monitor shows nothing, press F4 until the screen image displays.
Step 3. If the monitor works well, the reason might be the conflict between the GPU driver and the laptop LCD display. In this case, installing the latest graphics and chipset driver is an effective fix for you. Just enter Safe Mode > type device manager in the search bar > hit Enter > expand Display adapters > right-click on your graphics driver > hit Update driver & Search automatically for drivers.
Solution 4: Use Automatic Repair
Windows 11/10/8 has released a new recovery feature called Automatic Repair or Startup Repair that is designed to fix computer booting failures. When your Acer laptop fails to boot up and the Acer laptop stuck on startup screen issue appears, enabling this feature can automatically scan system files, Registry settings, configuration settings and more for you.
Step 1. Press the Power button to power off your laptop and reboot it several times when you see the Windows logo. Then, you will see the Automatic/Startup Repair screen.

Step 2. Press Advanced options to enter WinRE.
Step 3. Next, go to Troubleshoot > Advanced options > Automatic/Startup Repair. Then the Windows 10 Start Repair tool will automatically diagnose and handle the Acer laptop stuck on Acer screen issue for you.
Solution 5: Boot Acer to Safe Mode
Safe Mode is a useful diagnostic mode which is designed to troubleshoot computer problems including hardware and software issues. Since your Acer laptop is stuck on Acer screen and you fail to boot your device in normal mode, entering Safe Mode is a workable fix for you.
Step 1. Repeat the first 2 steps in Solution 4 to enter Windows Recovery Environment.
Step 2. Tap on Troubleshoot > Advanced options > Startup Settings.
Step 3. Press F4, F5 or F6 to enable Safe Mode with Networking or Command Prompt according to your needs.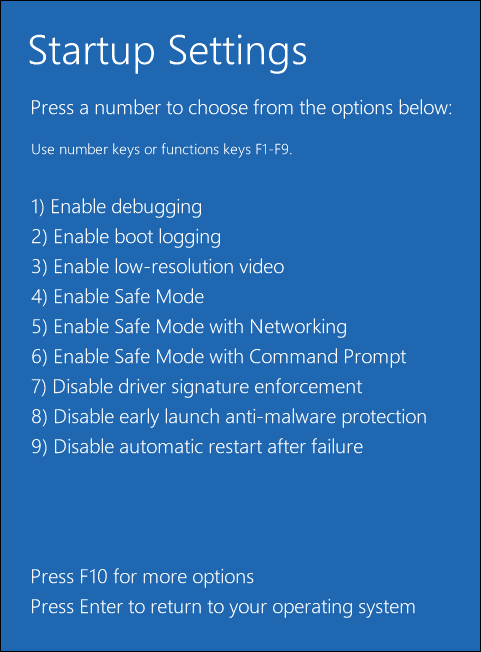 Then you can download third-party antivirus software to detect & remove viruses or malware on your device. If you encounter the Acer laptop stuck on boot screen issue after installing certain software or downloading some files, try to get rid of them to see if it works for you.
Solution 6: Reset BIOS or UEFI Settings
Incorrect BIOS settings can also be the cause of Acer laptop stuck on Acer screen. Therefore, you can reset it to default settings when you have trouble in booting your Acer laptop.
Step 1. Press and hold the Power button for about 15 seconds until your computer shuts down completely.
Step 2. Power on your computer. Once the Acer logo appears, immediately press F2 to enter the BIOS.
Tip: Pressing F2 enables you to enter the BIOS menu in most Acer laptops. If you are using an older model Acer laptop, you can press F12 or Del.
Step 3. Press F9 and hit Enter to load the default configuration.
Step 4. Press F10 > tap on Enter to save and exit.
Solution 7: Reset Your Acer Laptop
The factory reset is the most effective but risky solution to fix Acer laptop stuck on the Acer screen. This operation will initialize your computer to its original status. Here's how to do it:
Step 1. Boot your Acer laptop to Windows Recovery Environment using a repair disk.
Step 2. Go to Troubleshoot > Reset this PC.
Step 3. Either hit Keep my files to keep your personal files or hit Remove everything to delete all the settings, apps and files on your device.
Make sure to create backups of your personal files with a reliable backup software in advance to avoid any unexpected data loss.
Step 4. Press Cloud download > Local reinstall and then follow the instructions on the screen to reset your computer.
Another way to reset your Acer laptop: enter Safe Mode with networking > download Acer Care Center > go to Acer Care Center > Acer Recovery Management > hit get started right to reset your PC > Remove everything > Just Remove my files > Reset.
Solution 7: Contact Acer Customer Support Team
If your Acer laptop is still stuck on Acer screen after trying all the solutions above, please seek help from Acer customer support team online to describe your issue as detailed as you can.
If necessary, you need to visit the local authorized service center to repair your laptop. The professionals will check for the hardware problem & software problem on your computer and make it work properly again.
Suggestion: Back up Your Acer with MiniTool ShadowMaker
There's nothing frustrating than Acer laptop stuck on Acer screen when attempting to boot your computer. As you can see, it takes much time to troubleshoot your PC because you have no idea about what the exact cause is.
Even though you may succeed in fixing this issue now, what if you meet the same issue in the future? Will you try the solutions above one by one until your problem gets fixed? The answer is no! There is a better remedy for you. Before boot issues or system accidents occur, create a backup for your PC in advance so that you can restore your system to a normal state easily.  
To make a backup for your Acer laptop, it is advisable to use professional backup software – MiniTool ShadowMaker. This free tool enables you to back up your important files and operating system for Windows 11/10/8/7. What's more, it also supports file sync and disk cloning. Follow the steps below to start a backup task of your computer with me:
Step 1. Download, install and launch MiniTool ShadowMaker Trial for free.
Step 2. Press Keep Trial and then go to the Backup page.
Step 3. As you can see, your operating system is selected by default in SOURCE. Therefore, you only need to go to DESTINATION to select a storage path for your system image file.
Step 4. Hit Back Up Now to start the backup task.
After backing up your system successfully, you can go to Tools > Media Builder to create a bootable USB drive or hard drive. When your system fails to boot or it crashes next time, you can boot your system from this drive to perform a system restore with MiniTool ShadowMaker.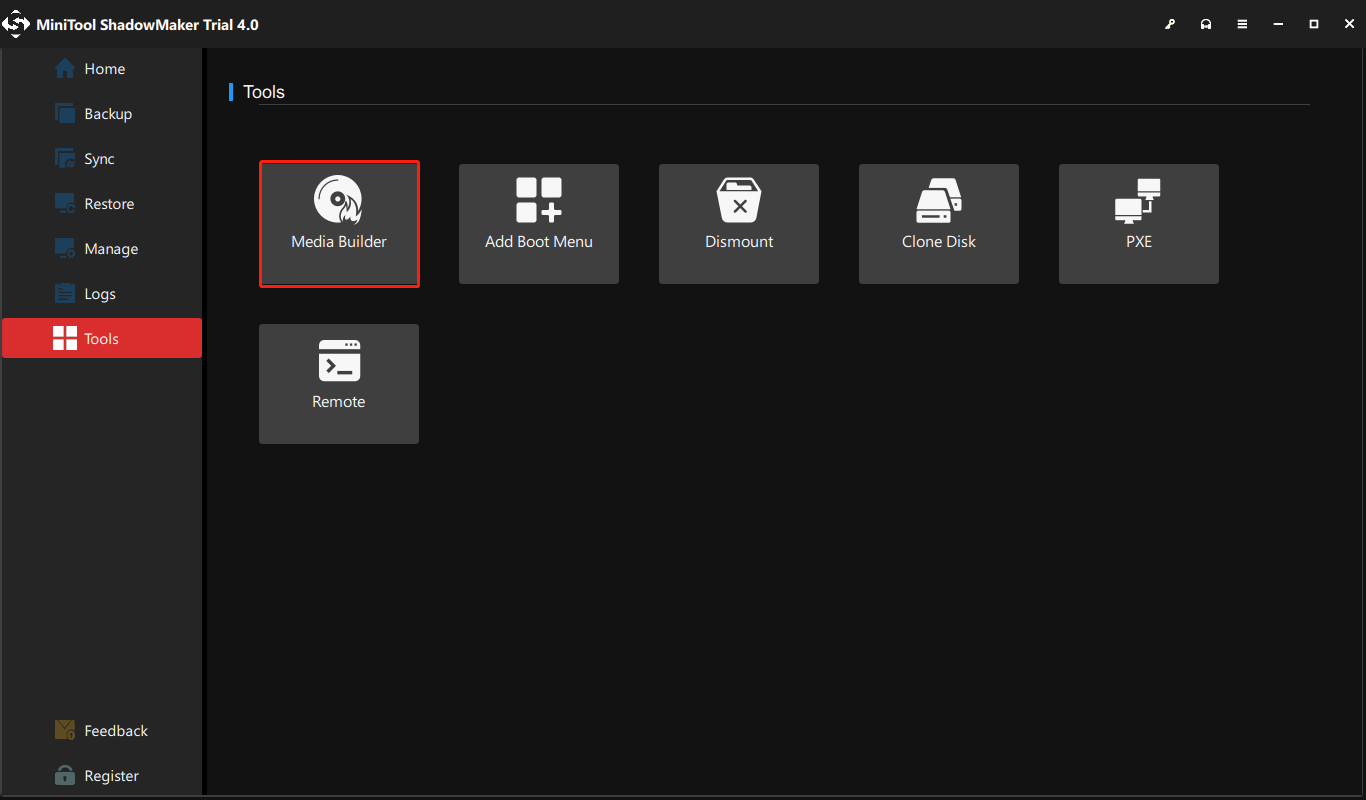 Oops! My Acer laptop fails to boot up and it is stuck on Acer logo screen. I used to consider this problem a rocket science. However, I manage to solve it easily with the fixes mentioned in this article. Hope they can also save your day.Click to Tweet
We Need Your Voice
That's all about Acer laptop stuck on Acer screen. We sincerely hope that this guide is helpful to you. For additional queries, please feel free to leave your views or screenshots in the comment area below or send an email to our support team via [email protected]. We are looking forward to receiving feedback from you!
Acer Laptop Stuck on Acer Screen FAQ
How do I fix a stuck Acer screen logo?
Power reset your computer after removing external storage devices and checking the battery status.
Test your computer with an external monitor.
Enter WinRE to start an Automatic Repair or enable Safe Mode to troubleshoot your device.
Reset BIOS or your laptop.
Why is my laptop stuck on Acer?
The possible causes might be battery issues, the conflict between the GPU driver and the laptop LCD display, incorrect BIOS settings, malware/virus attacks, and infected applications.
Why won't my Acer laptop go past the loading screen?
There might be some software issues or hardware issues with your computer. The former refers to infected files or applications, incorrect BIOS settings, and unmatched GPU drivers. The latter refers to battery issues and connecting too many external storage devices.
How do you reset a frozen Acer laptop?
Boot your computer with a bootable flash drive and enter WinRE. Then, go to Troubleshoot > Reset this PC > Keep my files/Remove everything > Cloud download > Local install.