There is a hidden partition called Recovery Partition on your AUSA laptop. This post introduces what it is and how to do the ASUS recovery with it. Even if the ASUS recovery fails, you can also find solutions from MiniTool.
When the system fails to boot on the Asus computer, you can do the ASUS recovery to restore the system to the factory default settings from the ASUS Recovery Partition. If your ASUS computer runs slowly, you can also choose to do the ASUS recovery.
What Is ASUS Recovery Partition
What is ASUS Recovery Partition? It is a hidden partition on the ASUS system, which is also known as ASUS Recovery Disk, or ASUS Recovery Drive. It contains a recovery image, which is usually the factory default settings and can be used to restore the computer to its original state.
How to Do the ASUS Recovery with ASUS Recovery Partition
How to do the ASUS recovery with ASUS Recovery Disk? Follow the guide below.
Step 1: Restart your PC/laptop, when the Asus logo appears, immediately press the F9 key continuously until you see a window asking to select a boot device.
Note:
Using this key to restore the operating system will format the system partition and erase all data on it. Thus, you had better
back up your important data
in advance.
Step 2: Then, after selecting Windows Setup[EMS Enabled] and choosing your language, click Next.
Step 3: When the ASUS Preload Wizard screen appears, you need to click Next.
Step 4: Then, there are three options for you – Recover Windows to first partition only, Recover Windows to entire HD, and Recover Windows to entire HD with 2 partitions. You should choose one from them and click Next.
Tip:
Recover Windows to first partition only – This option will only delete the first partition (system C partition), while the other partition remains unchanged.
Recover Windows to entire HD – This operation will erase the system partition and other data partitions of the entire hard drive at the same time.
Recover Windows to entire HD with 2 partitions – This operation will also clear all the data. It will create two partitions and install the operating system files to the first C partition/volume.
Step 5: Then, click Next and follow the instructions to reset the ASUS laptop to factory default settings.
That is how to use ASUS Recovery Disk.
However, sometimes, the ASUS Recovery Partition is not working and you may fail to recover your ASUS system. Let's see the case that users have met.
Hey everyone. Recently, my ASUS laptop (Windows 10) get a little slow, so I decide to reinstall system. Before that, I know my PC has a system recovery partition, which could factory reset my ASUS laptop Windows 10. So, I try to get my recovery partition via F9, but ASUS recovery key F9 does not work. How do I access the recovery partition and restore my laptop? Thanks.Question from EightForums
If you encounter the issue, the following part provides some alternatives for you to do the ASUS recovery.
What to Do If ASUS Recovery Fails
Way 1: Reset This PC
The first alternative is to use the Reset This PC feature of Windows 10.
Step 1: Press the Windows + I keys at the same time to open the Settings application. Then, click the Update & Security part.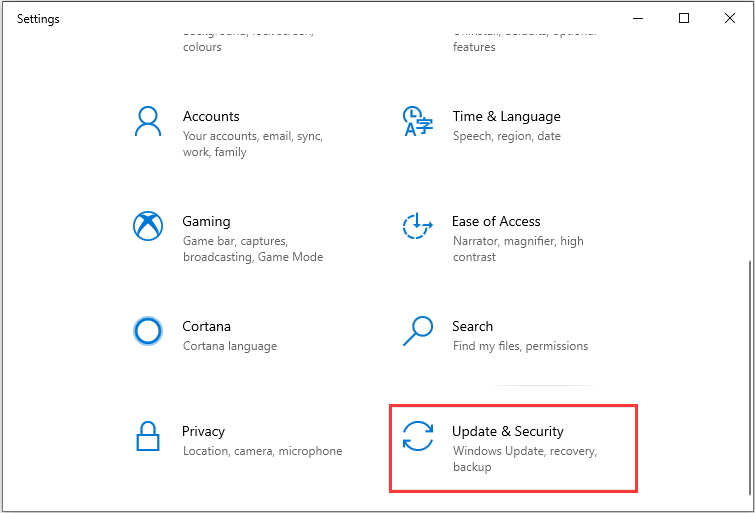 Step 2: Then, navigate to the Recovery tab and click the Get Started option.
Step 3: Next, there will be 2 options – Keep my files and Remove everything. You should choose one based on your needs.
Step 4: Some applications installed after getting the laptop will be removed. You need to click Next.
Step 5: Click Reset to begin the operation now.
If your computer can't boot normally, you should enter WinRE to do the ASUS recovery. Windows 10 recovery bootable media like a DVD/USB bootable drive can be used to enter WinRE. Follow the steps below:
Step 1: Insert the Windows installation CD/DVD or USB bootable drive to your computer, and start your PC.
Step 2: Enter the BIOS. 
Step 3: Choose the DVD or USB flash drive as the first boot device and boot your PC from the device.
Step 4: Click Repair your computer to enter into WinRE successfully.
Step 5: Next, go to Troubleshoot > Reset this PC > Keep my files > Choose an account > Enter the password > Reset. Then, you perform the ASUS factory reset from the startup.
Way 2: Perform the System Restore
You can also try to use the system restore point to do the ASUS recovery. You need to notice that only if you have created a system restore point or system image backup with Windows snap-in tools, you can try this method. Here are steps for system restore:
Step 1: In the search menu, input control panel and search for it, then open it.
Step 2: Click Recovery to continue. In the pop-up interface, please choose Open System Restore to continue.
Step 3: In the Restore system files and settings interface, you can click Next to continue.
Step 4: Choose the time to restore your computer to the state it was in the selected event and click Next to continue.
Step 5: You need to confirm the restore point and click Finish. After the system restore is finished, try to restart your computer again.
When the system restore process is finished, you can reverse your computer to a previous state.
If your laptop fails to boot, you should perform a system restore via WinRE. Here is how to do that:
Tip: Only if you have created a restore point in advance, you can try this method.
Step 1: Enter WinRE.
Step 2: You should click Troubleshoot in Choose an option, and then choose Advanced options.
Step 3: Choose System Restore in Advanced options.
Step 4: Follow the on-screen instructions to complete the restore. Then, you have finished the ASUS recovery successfully.
Way 3: Try MiniTool ShadowMaker
It's also recommended to use the third-party program – MiniTool ShdoaMaker. With this tool, your time will be saved since you don't need to reinstall the deleted software after the recovery. MiniTool ShadowMaker is a piece of professional backup software and it is available for all systems including Windows 7/8/10, Windows XP, Windows Server as well as the Workstation.
MiniTool ShadowMaker provides a one-click system backup solution. It supports backing up your system drive completely, including system partition, system reserved partition, and EFI system partition. It also comes with the Sync feature, which ensures the files are in two locations and the files are kept in pace.
As to computer recovery, this professional software enables you to enter WinPE (Windows Preinstallation Environment) to restore your Windows 10 to a correct state with bootable media created by MiniTool ShadowMaker.
Now you can download and try MiniTool ShadowMaker to do the ASUS recovery.
MiniTool ShadowMaker TrialClick to Download100%Clean & Safe
Here we will show you how to back up the system and restore it to the previous state.
Back up Your ASUS Laptop
Step 1: Launch MiniTool ShadowMaker and click Keep Trial to continue.
Step 2: After you enter its main interface, go to the Backup page.
Step 3: MiniTool ShadowMaker selects system related items by default. Thus, you just need to choose the backup destination. Here are four available paths including Administrator, Libraries, Computer, and Shared.
Note: 1. Please do not save a volume image file to the volume being backed up. 2. The destination that is used to store the system must have enough storage space.
Step 4: After selecting the backup source and destination, you can perform the backup task immediately by clicking the Back up now button. Or click the Back up Later button to delay the task.
When the backup process is finished, the system image is successfully created.
Do the ASUS Recovery with the System Image
If your ASUS computer is unable to boot successfully, you should choose to recover the system backup image stored on an external hard drive to the original system location. Here is how to do the recovery.
Step 1: Go to the Tools tab, create a bootable disc including CD/DVD or USB flash drive with Media Builder. To learn more details, see How to Build Boot CD/DVD Discs and Boot Flash Drive with Bootable Media Builder.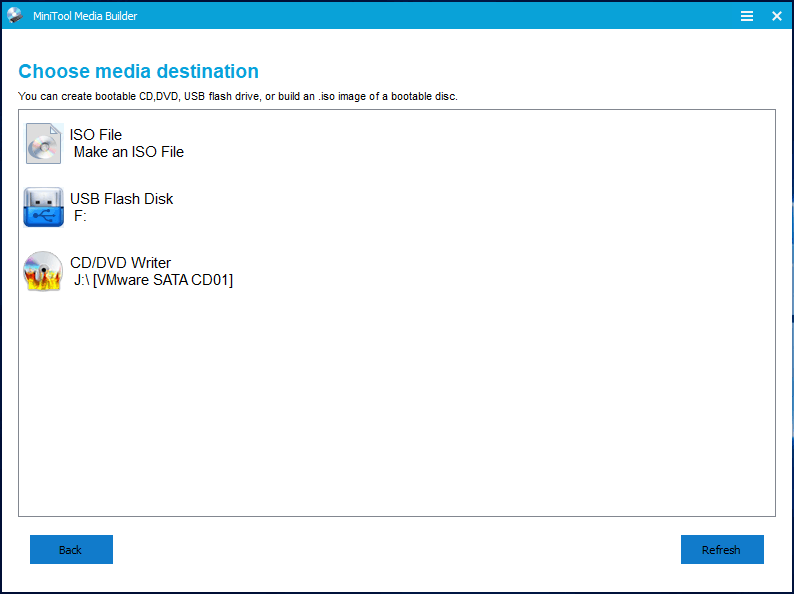 Step 2: Then configure your computer in BIOS and ensure it boot from the bootable media. For more detailed steps, read How to Boot from Burned MiniTool Bootable CD/DVD Discs or USB Flash Drive.
Step 3: Then you can perform a system restore. After your computer enters WinPE, run MiniTool ShadowMaker. Then go to the Restore page, you will see all backup tasks are listed there. Just choose the correct one you need to restore.
Step 4: Then you can choose the backup version you want to restore and click Next.
Step 5: All the partitions included in the selected backup version will be shown here and you will find all these partitions are checked by default. For system backup, all system drives should be checked. As for disk backup, you can uncheck the data partition you needn't.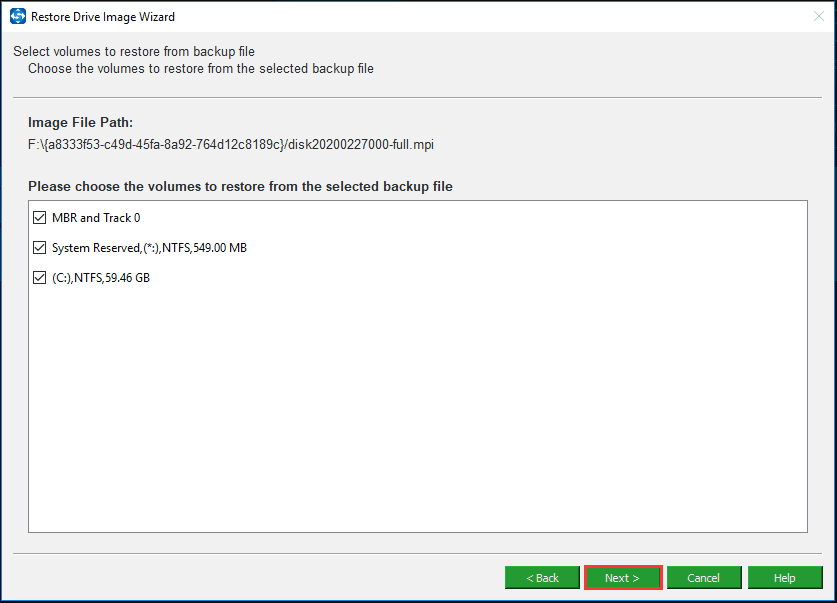 Note: To make sure you have a successful system restoration, MBR and Track 0 must be selected. Otherwise, you will fail to recover your ASUS laptop.
Step 6: Then in the pop-out window, choose a target disk to restore. Please note that you can't restore the backup image to the hard drive containing backup files. Usually, the system disk is selected.
Then click Start to go on the restoration operation. Then a warning will appear showing you which partition will be overwritten by an image.
Step 7: Then you will go to an interface showing the operation progress and you need to wait patiently for the restoration process to finish.
It is also a clone tool that can help you to clone the OS from HDD to SSD without data loss. So, besides creating a system image, you can also choose to clone the OS disk to another hard drive to safeguard your PC.
Bottom Line
In this post, we tell you ASUS Recovery Partition and how to do the ASUS recovery with it. Besides, you can know other 3 ways to factory reset your ASUS computer when you can't access the recovery partition. When you encounter the case, just choose one way to recover your ASUS system.
If there is any question when using our software, please feel free to tell us. You can write an email and send it to our official mailbox [email protected] or leave your comment in the below comment location. 
ASUS Recovery FAQ
How do I use the ASUS recovery CD?
Insert the Recovery DVD into your computer and restart your PC.
Press the Esc key during the boot process and select the CD/DVD option to boot from the DVD.
Once the CD/DVD option is selected, press Enter.
Click OK to start the restore process.
How to delete ASUS Recovery Partition?
You can use ASUS Backtracker to delete the ASUS Recovery Partition.
Click the Delete the recovery partition option.
Then, click Start. When it finishes, click Finish to exit.