ASUS stuck on logo is a common situation when booting up your ASUS. What should you do if your ASUS laptop won't boot past ASUS screen? Take it easy and you can find some effective workarounds from this post written by MiniTool.
ASUS Stuck on Logo
When using a computer, you may notice that PC stuck in boot loop often appears, which frustrates you a lot. According to ASUS users, ASUS laptop stuck on ASUS logo is a common problem. When running ASUS PC like Zenfone 2/5, etc., the machine won't boot past ASUS screen.
This issue doesn't happen every boot and it is random. Sometimes a simple reboot can help to get rid of this situation but sometimes the issue is getting worse and rebooting many times are required. Even this fix doesn't work.
Some reasons may give rise to ASUS motherboard stuck on logo or ASUS laptop stuck in boot loop, for example, a BIOS issue, setting files issue on PC, battery issue, etc. Fortunately, you come to the right place and here some troubleshooting tips will be introduced.
How to Fix ASUS Laptop Stuck on Logo Screen
Restart PC
As mentioned above, a restart can occasionally help to fix ASUS stuck on logo. So, you can have a try. Just press the Power button on the laptop to turn it off and then press that button again to power it on. If this cannot fix your issue, try the other methods below.
Remove Any External Devices
Some hardware devices may cause issues with your ASUS PC. If you have connected any external hard drive to your machine, remove it. Besides, you can also disconnect CD/DVDs, printers, memory cards, dongles, and other accessories from your computer. Then, check if the machine gets past the ASUS screen.
Reset CMOS
According to some users on some forums, clearing CMOS is a good option to help fix ASUS stuck on logo. CMOS, short for complementary metal-oxide semiconductor, is a chip on the computer motherboard to store BIOS (Basic Input/Output System) settings. Clearing CMOS can help to reset your BIOS settings to the factory default state. When removing the CMOS battery, there is no power on the motherboard and all the settings will be removed.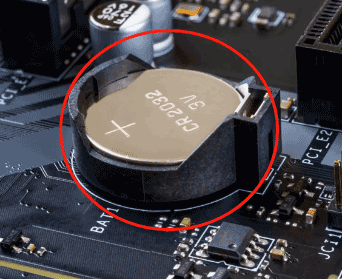 How to clear CMOS? Follow the guide here:
Step 1: Power off your ASUS laptop and remove the AC adapter.
If you are running ASUS laptops TP420IA and UX425IA, don't remove the adapter since these models require you to plug in the AC adapter for the hard reset process.
Step 2: Open your computer case and remove the CMOS battery. Wait at least 1 minute.
Step 3: Put the battery back in, close the computer cover, and power the laptop on.
Then, check if ASUS laptop stuck on logo screen is fixed. If not, continue troubleshooting.
Update BIOS
If your ASUS laptop won't boot past ASUS screen, a BIOS update could help and this way is recommended by many users although this is a bit riskier than other software updates. Be careful during the BIOS update since a mistake can stop the motherboard from working correctly and potentially block the machine from running as expected.
Before you do:
Make sure you back up your important files to avoid data loss caused by any unexpected issues. To do this work, use the professional file backup software – MiniTool ShadowMaker. Just follow the guide - How to Back up Data without Booting Windows? Easy Ways Are Here.
Keep connecting your power cord during the BIOS update.
It is not allowed to downgrade the BIOS version.
Next, start updating the BIOS in some steps - download the BIOS file from the ASUS support site for the defective model on a working ASUS PC, save the BIOS file to a portable storage device like a USB flash drive, and use EZ Flash to update BIOS in UEFI mode. To know more details and instructions, refer to the ASUS help document - [Notebook/AIO] How to update BIOS with EZ Flash.
In addition, there is a simple way for BIOS update and it is to use the MyASUS app. Just download it to check for an available BIOS update - How to Download, Install and Use MyASUS App for Windows 10. If there is an available BIOS version, download it and then follow the above-related post to finish the update in the BIOS menu.
Load BIOS Optimized Defaults
This way is given by ASUS to fix ASUS motherboard stuck on logo. You need to go to the BIOS menu to see if the boot order is correct.
Step 1: Power off your laptop. If your ASUS laptop won't boot past ASUS screen and gets stuck on it, force shut down - press and hold the Power button for 15 seconds until the power light is off. Then, wait for few seconds.
Step 2: Press the Power button to turn it on and then press the F2 key until the BIOS screen displays.
Step 3: In the BIOS menu, go to the Save & Exit screen and choose Restore Defaults to load BIOS optimized defaults.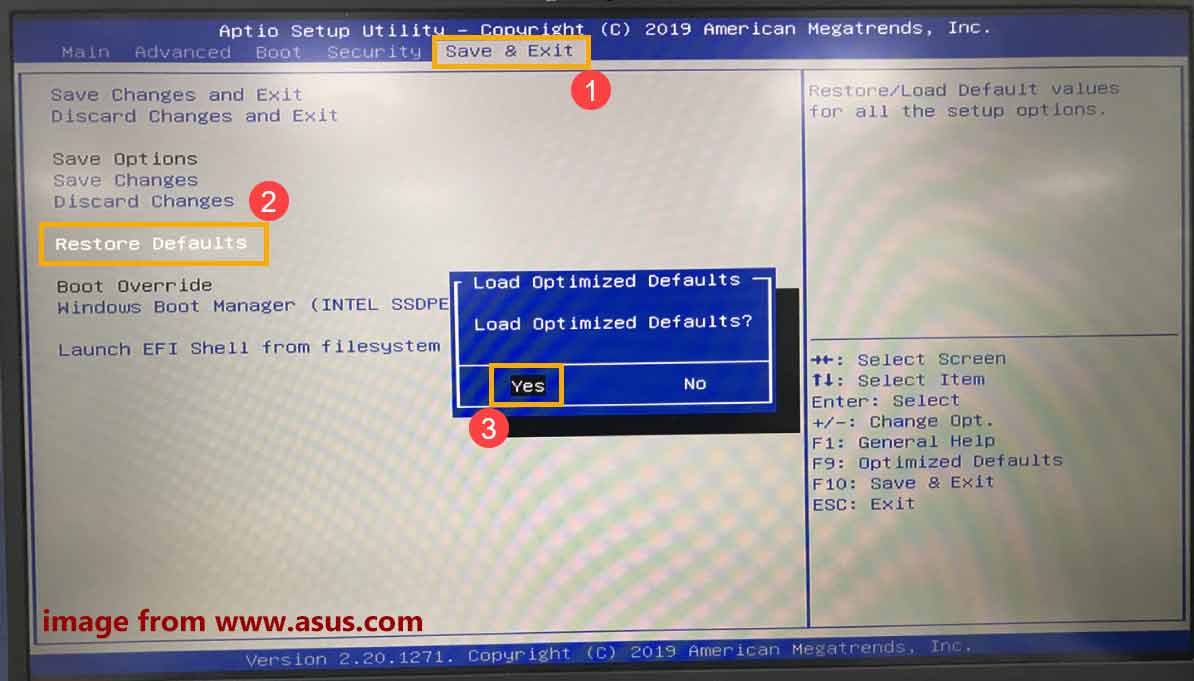 Step 4: Under the Boot screen, make sure the boot option is set correctly.
Step 5: Save the change and exit. Then, your ASUS laptop may boot properly to the desktop.
Based on different laptops, the BIOS menu may vary and perform the change based on your PC.
Boot ASUS to Safe Mode
When your PC cannot boot in normal mode but gets stuck on the logo screen, you can try to start it to Safe Mode to run some potential fixes. See what you should do now:
Step 1: Since your laptop cannot boot, you can prepare a bootable USB flash drive with an ISO file of Windows and run it from that drive. Then, click Repair your computer in the Setup interface to enter Windows Recovery Environment (WinRE).
For Windows 10/11, you can restart the PC several times abnormally every time you see the ASUS logo to enter the Automatic Repair page. Then, click Advanced options to go to access WinRE.
Step 2: In WinRE, go to Troubleshoot > Advanced options > Startup Settings > Restart.
Step 3: Press F4, F5, or F6 to enable Safe Mode (with Network or Command Prompt).
In Safe Mode, you can install a third-party antivirus program to see if there are some viruses or malware infections. Then, remove them. Besides, go to uninstall some problematic apps you think are causing the issue of ASUS stuck on logo. Then, restart the machine to see if it can pass the ASUS screen.
Reset Your ASUS Laptop
If the situation of ASUS laptop stuck on ASUS logo still appears, you can choose to reset your PC to its factory settings. Follow the steps below to reset the system without losing any data:
Step 1: Go to access Windows Recovery Environment. In the last method (Step 1), we have shown you how to access it. Just follow the instructions.
Step 2: Go to Troubleshoot > Reset this PC.
Step 3: In the popup, choose Keep my files. This option can remove all the apps and settings but your personal files won't be deleted. If you want to remove everything including your files, choose the second option. Before you do, make sure you have backed up your critical files. Here, we strongly recommend using the first option.
Step 4: Choose Cloud download to download and reinstall Windows from the Microsoft server or click Local reinstall to reinstall the system from this device. To know details about these two options, refer to our previous post - Cloud Download vs Local Reinstall: Differences on Win 10/11 Reset.
Step 5: Finish the resetting process by following the instructions on the screen.
After trying all the fixes above, ASUS laptop stuck on logo screen should be solved and it can enter the desktop. And you can also share them on Twitter to let more people know.
Suggestion: Back up Your ASUS
ASUS stuck on logo, ASUS laptop stuck on black screen, etc. always happen on your machine due to some software issues, not hardware issues. After fixing the issue, you can choose to create a backup for the PC so that quick disaster recovery can be done when the system goes wrong next time.
To do this work, we recommend using MiniTool ShadowMaker – professional and free Windows backup software for Windows 11/10/8/7, to create a system image and back up your important files. Importantly, you can run it to back up data regularly and create differential backups & incremental backups for only changed or newly added data. Besides, this program also supports file sync and disk cloning.
Step 1: Download MiniTool ShadowMaker Trial Edition by clicking the download button below and then install it on your ASUS PC. Note that this version supports a 30-day free trial.
Step 2: Navigate to the Backup page, backup source – system-related partitions are chosen by default. And a destination path is also selected. You can click Destination to rechoose an external hard drive or USB drive to store the system image file.
Step 3: Click Back up Now to start the backup task at once.
After finishing the backup, you had better go to Tools > Media Builder to create a bootable USB drive/hard drive/CD/DVD so that you can boot the failed PC for recovery in the interface of MiniTool ShadowMaker.
ASUS Stuck on Logo FAQ
How do I get rid of ASUS logo at startup?
Restart your ASUS PC
Remove any external devices
Reset CMOS
Update BIOS
Load BIOS optimized defaults
Boot ASUS to Safe Mode
Reset your ASUS PC
Why is my Asus laptop stuck on BIOS Utility EZ mode?
If your ASUS laptop gets stuck on BIOS Utility EZ mode, the possible reasons may be a connection problem, a hardware issue on the hard drive, or a hard drive failure.
How do I start my ASUS ROG in safe mode?
The ways to run your ASUS ROG to safe mode are different based on different systems and situations. You can go to the help document of ASUS - How to enter Safe Mode to know details.
Bottom Line
Are you hit by ASUS stuck on logo? Try the methods above one by one and you can easily get rid of the issue. Besides, a suggestion to back up ASUS is given to you. If you have some other ways to solve ASUS laptop stuck on logo screen, welcome to tell us in the Comment part below. Thanks a lot.