Autorun virus is a type of common virus that can damage your system, destroy your files, hack your information, or get unauthorized access to your system. In this post on
MiniTool Website
, we will show you how to detect and remove it from your computer or USB flash drive.
What Is Autorun Virus?
Autorun or Autorun.inf is a type of computer virus that can copy itself into your flash drives, hard drives, or any external storage devices. It can enter your system through the internet, USB drives or the installation of third-party applications. As soon as your system is attacked by autorun virus, it will destroy the important documents and replicate itself so that it is hard to remove.
What's worse, if you execute the autorun.inf file by accident, it can create a keylogger in your system and the keylogger can even track your keystrokes, leading to the exploration of your emails and passwords. Since autorun virus is so harmful, you must delete it as soon as possible.
Suggestion: Back up Your Important Files in Advance
As mentioned in the beginning part, autorun virus can destroy your important files and cause data loss. At the same time, running into a computer virus like autorun virus can happen to anyone. Therefore, it is indispensable to back up your files before data disasters occur. When your files get lost or corrupted, you can use the backup to get them back easily.  
Speaking of backup, we sincerely introduce you to a piece of professional backup software called MiniTool ShadowMaker which allows you to back up files, folders, partitions, drives, and systems for free within 30 days. With this tool, you can back up your files in just several clicks. Here's how to do it:
Step 1. Download this program and launch it.
MiniTool ShadowMaker TrialClick to Download100%Clean & Safe
Step 2. In the Backup section, hit SOURCE > Folders and Files to select the files you desired to back up. In DESTINATION, you are allowed to choose a destination for the backup copy.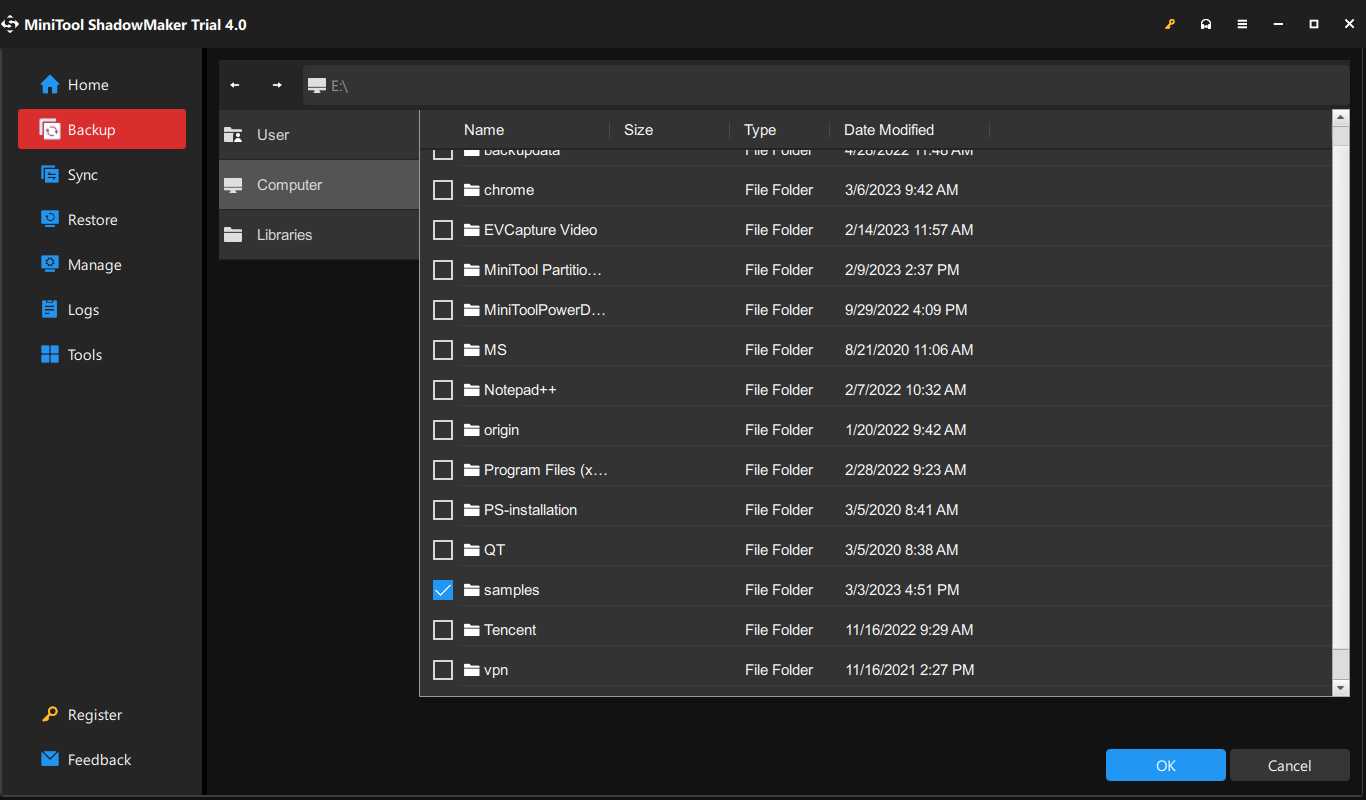 Step 3. Either click on Back Up Now to start the backup or Back Up Later to delay the task. If you choose the latter one, go to the Manage section to find the delayed task.
How to Detect If Your Computer Is Infected by Autorun Virus?
If you doubt that your device is attacked by autorun virus, you can run a virus scan via Windows Defender immediately.
Step 1. Press Win + I to open Windows Settings.
Step 2. Go to Update & Security > Windows Security > Virus & threat protection > Scan options.
Step 3. Then, choose from Quick scan, Full scan, Custom scan, and Microsoft Defender Offline scan according to your needs. Click on Scan now to start the process.
How to Remove Autorun.inf Virus from PC or USB Drive?
Fix 1: Create a Duplicate Autorun.inf File
In Windows, files with the same name and formats are not allowed to coexist in the same folder. Therefore, you can create a file that has the same format & name as the autorun.inf file and then Windows will prompt you to replace the original file. Here's how to delete autorun.inf virus manually:
Step 1. Plug your USB drive into your computer and open it.
Step 2. Right-click inside the USB, create a blank document and name it to autorun.inf.
Step 3. When you save the document, you will be asked to replace the existing autorun.inf file. Click on Yes and it will replace the autorun.inf virus file with the empty file you created.
Tip: Although this method is very simple, it is not applicable to Windows 8 and above.
Fix 2: Run Command Prompt
The best way to delete any type of virus including autorun virus without any data loss is using Command Prompt. To do so:
Step 1. Plug your USB flash drive into the computer and note down its drive letter. Here, G: is the driver letter of my USB flash drive.
Step 2. Type cmd in the search bar to locate Command Prompt and select Run as administrator.
Step 3. In the command window, type G: and hit Enter to open the directory of the USB flash drive. (You should replace G: with the drive letter of your USB flash drive.)
Step 4. Type attrib -h -s -r -a *.* and tap on Enter to remove the hidden, system, read-only, and archive attributes from all the files in your USB flash drive. Also, you can use run attrib -h -s -r -a autorun.inf to remove these attributes only from autorun.inf file.
Step 5. Type del autorun.inf and hit Enter to delete the autorun virus file.
Fix 3: Uninstall Suspicious Programs
At times, the newly installed programs or the add-ons might be the culprit of autorun virus invasion. If it is the case, follow these steps to remove the program from your computer.
Step 1. Press Win + I to open Windows Settings and then go to Apps.
Step 2. In Apps & features, you will see a list of applications installed on your computer.
Step 3. Find the suspicious application > hit it > press Uninstall > press Uninstall again to confirm the action.
# Some Tips to Avoid Getting Autorun Virus Again
Never introduce unknown external storage devices to your computer.
Download files or applications from the official website.
Update your antivirus software in time.
Use a VPN connection.
We Need Your Voice
This article illustrates how to free from autorun virus in 3 ways. Most importantly, you are supposed to create a backup of your important files with MiniTool ShadowMaker in case they are lost due to some unknown or unexpected reasons. If you wonder more details about our products or have any problems during usage, feel free to leave a comment below or contact us via [email protected].