Although Avast VPN is one of the most commonly used VPN systems, you will still encounter the problem - Avast VPN not working. In some cases, the connection could not be established. Read this post from MiniTool to get more information.
What Causes Avast VPN Not Working
If you need to block hackers on public Wi-Fi and advertisers tracking everything you do online, Avast SecureLine can help you. But sometimes, some Avast VPN problems will appear.
Here are some reasons for Avast VPN not working or Avast not responding.
Internet problems: If there are some problems with the network, the VPN service will not work properly.
Issues in Installation: The corruption and outdate of Avast application can also cause Avast VPN not working.
Third-party interference: Avast VPN problems are due to interference with third-party applications.
Location issues: Avast has the option to select your location manually when establishing a connection. You will not be able to connect if the VPN at this location is overloaded or full.
Subscription: Avast SecureLine VPN requires a valid subscription to work. The application won't work as expected if the subscription is not provided.
Then, I will introduce some useful and powerful methods to fix the "Avast VPN not working on Windows" problem one by one.
Note:
1. Make sure you have an open and active Internet without any firewalls and proxy servers before continuing to use the following solutions.
2. Additionally, make sure that you are logged in as an administrator.
How to Fix Avast VPN Not Working
Change the VPN Location
Check Internet Connection
Check Subscription
Turn off Windows Defender Firewall
Turn off Third-Party Antivirus Software
Clean Booting Computer
Reinstall the Application
How to Fix Avast VPN Not Working on Windows
Next, here is how to fix Avast VPN not working. I will introduce these methods one by one.
Solution 1: Change the VPN Location
AVG SecureLine provides a feature where you can choose the VPN location specifically. The location can be the USA or Australia, etc. It is a very common scenario that specific VPN locations are either overloaded or not working because you tend to select the same location when you use AVG SecureLine.
This solution is to change the location of Avast VPN and the following are the steps:
Step 1: Open the Avast VPN application and select the Privacy option on the left side of the screen.
Step 2: Then click the Change Location button and select another location that wasn't selected before.
Step 3: Save your changes and exit. Then restart your computer.
Now you can see if it fixes the Avast VPN not working issue. If not, you can try the next solution.
Solution 2: Check Internet Connection
One of the reasons for Avast VPN not working is that your Internet is not working properly. In some cases, SecureLine VPN clients are not allowed to run on the network by the ISP itself. In addition, you should also check if all proxy servers should not be active.
You can also try restarting the router. You should wait for around 1 minute after you plug out the router's main power cable and then you can plug everything back in. This way, all the temporary configurations will be cleared and everything will be reinitialized.
Now connect your computer to the Internet again and check if the Avast VPN problems still exist.
Solution 3: Check Subscription
You must keep a subscription in your account to use this application because this application has enabled subscriptions. You will not be able to use the VPN client if your access is revoked. Therefore, you should go to the official Avast account to see if you have enabled subscriptions.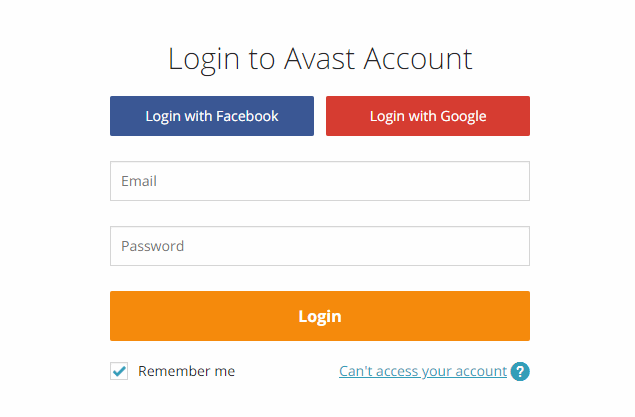 In general, when you are unable to charge the entered account, the subscriptions will be canceled. So you should check your account & payment details and make sure that you have enabled subscription.
Solution 4: Turn off Windows Defender Firewall
The firewall may hinder the VPN connection and cause Avast not responding. The VPN client needs to be in the exclusion list of the Windows Defender firewall. Thus, turning off Windows Defender Firewall can be helpful to fix Avast not responding. You can try it with the following steps.
Step 1: Open the Run application on Windows and input firewall.cpl, then click OK to open Windows Defender Firewall.
Step 2: Click Turn Windows Defender Firewall on or off to open the Customize Settings.
Step 3: Check both the Turn off Windows Defender Firewall(not recommended) options and press the OK button.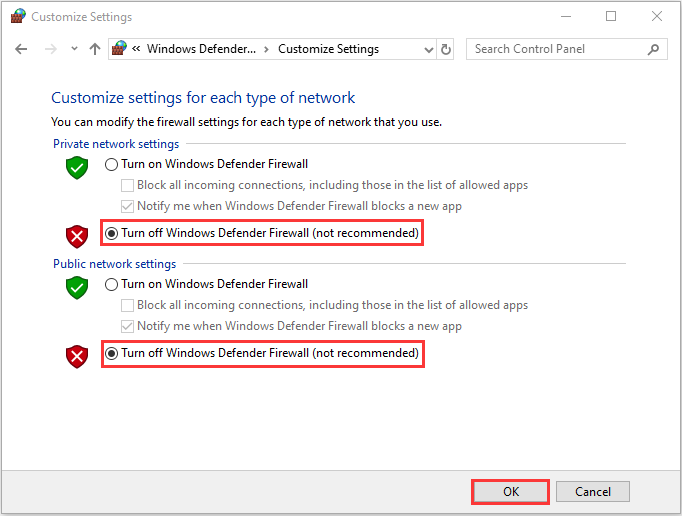 Solution 5: Turn off Third-Party Antivirus Software
Third-party antivirus software can also cause Avast VPN not working on Windows. So this issue can be fixed by turning off third-party antivirus software before you connect with the VPN.
You can right-click the antivirus utilities' system tray icons and select the disable or turn off button to switch off third-party antivirus software. You can also set up exceptions to exclude your VPN clients from the antivirus software firewalls.
Solution 6: Clean Booting Computer
If you run other similar applications or services in the background, Avast SecureLine VPN doesn't seem to work properly. You can Clean Boot your computer and determine which one is causing the issue in this solution.
Step 1: Press the Windows + R keys at the same time to launch the Run application, then type msconfig and click OK.
Step 2: Navigate to the Services tab and check the Hide all Microsoft services option.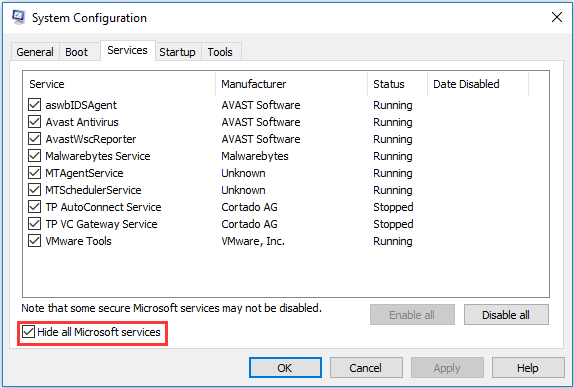 Step 3: Now click the Disable all button to disable all of the third-party services.
Step 4: Then click Apply to save changes and exit. Then all of the Microsoft related services will be disabled and leave behind all of the third-party services.
Step 5: Now navigate to the Startup tab and click the Open Task Manager option. Then you will be redirected to the task manager.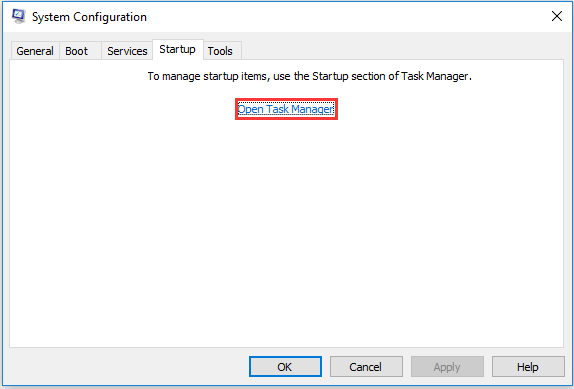 Step 6: Select each service one by one and click the Disable button.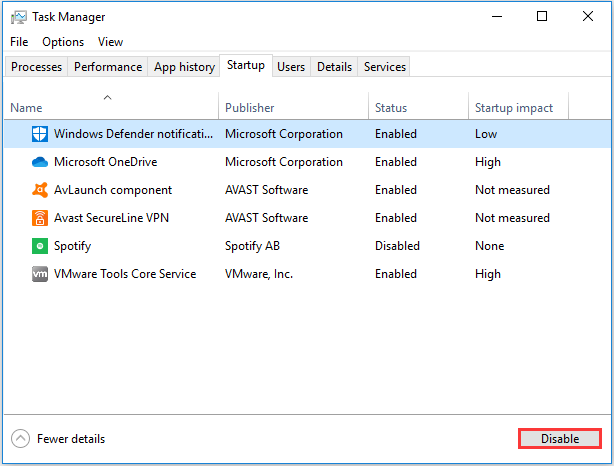 Now you can restart your computer and launch Avast VPN again to connect it. If it works properly, it means that the issue is caused by some service or application.
You can launch the Task Manager again and try enabling each application one by one and checking the behavior. Then you can find out the application that causes the issue.
Solution 7: Reinstall the Application
If all of the above methods don't work, it may mean that there is a problem with the installation of the application. After you manually move between drives or interrupt an application during an update, the installation usually goes bad.
Thus, the last solution is to reinstall the application.
Step 1: Press the Windows + R keys simultaneously, type appwiz.cpl and press Enter.
Step 2: Then search for the Avast SecureLine VPN entry and right-click it, then click Uninstall.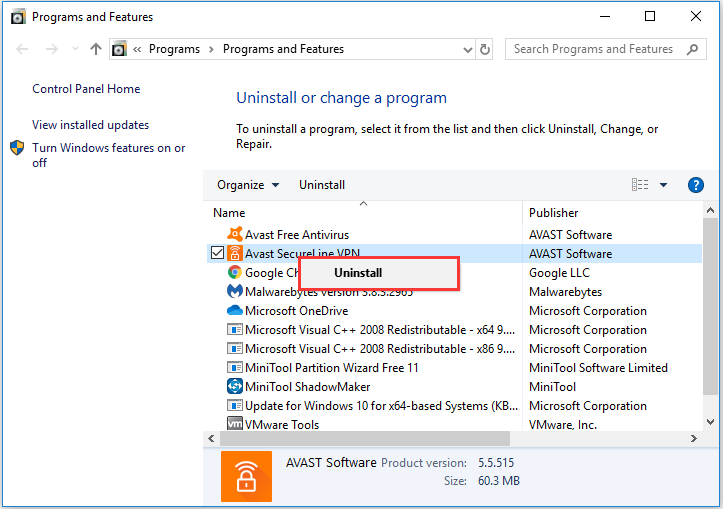 Step 3: Now restart your computer and navigate to the official Avast download page. Download a fresh installation copy to an accessible location and install it. Then launch it and enter your credentials.
Now run the Avast SecureLine VPN again and see if it connects properly without issues.
MiniTool ShdowMaker Can Protect Your Computer
As we all know, Avast can protect your computer and files against virus attacks effectively. But you can learn from this post that the Avast VPN may fail to work due to some reasons. Thus, you shouldn't just use Avast to protect your computer.
Your data should be protected by other software. And you should back up your important data regularly to prevent file loss. I will introduce the free backup software - MiniTool ShadowMaker for you.
MiniTool ShadowMaker can satisfy any of your needs and it allows you to back up important data and systems in simple steps. It supports Windows 10/8/7, which can provide data protection & disaster recovery solution for you.
Additionally, this program supports you backing up disk, and partition to an external hard drive, flash drive, thumb drive, pen drive, NAS, etc. At the same time, it has a clone disk feature that allows you to clone your disk to another drive.
This backup software offers a Trial Edition that allows a 30-day free trial for all backup features. If you want to use it permanently, get its Pro Edition. Now you can download and try MiniTool ShadowMaker to back up your files.
Then I will show you how to back up files step by step:
Step 1: Decide a Backup Mode
1. Launch MiniTool ShadowMaker.
2. Click Keep Trial.
3. Choose Connect in This Computer to continue.
Tip: You can also connect the remote computer as long as they are on the same LAN.
Step 2: What to Back up
1. Go to the Backup page after you enter its main interface.
2. Then click the Source module to choose the backup source.
3. Choose Folders and Files and choose the files you want to back up.
Step 3: Where to Store Your Files
1. Back to the Backup page.
2. Click the Destination module to select the destination path and save the backup image.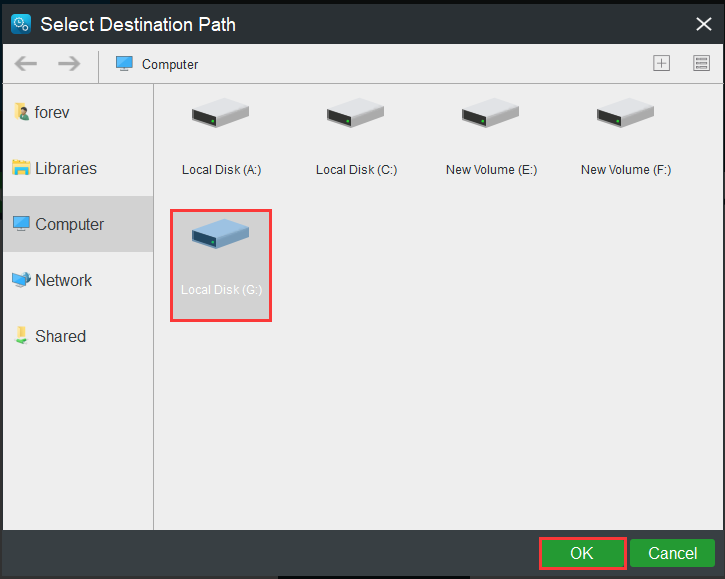 Step 4: Start to Back up
Then you can click Back up Now to perform the data backup process immediately. Or you can click Back up Later to delay the data backup process.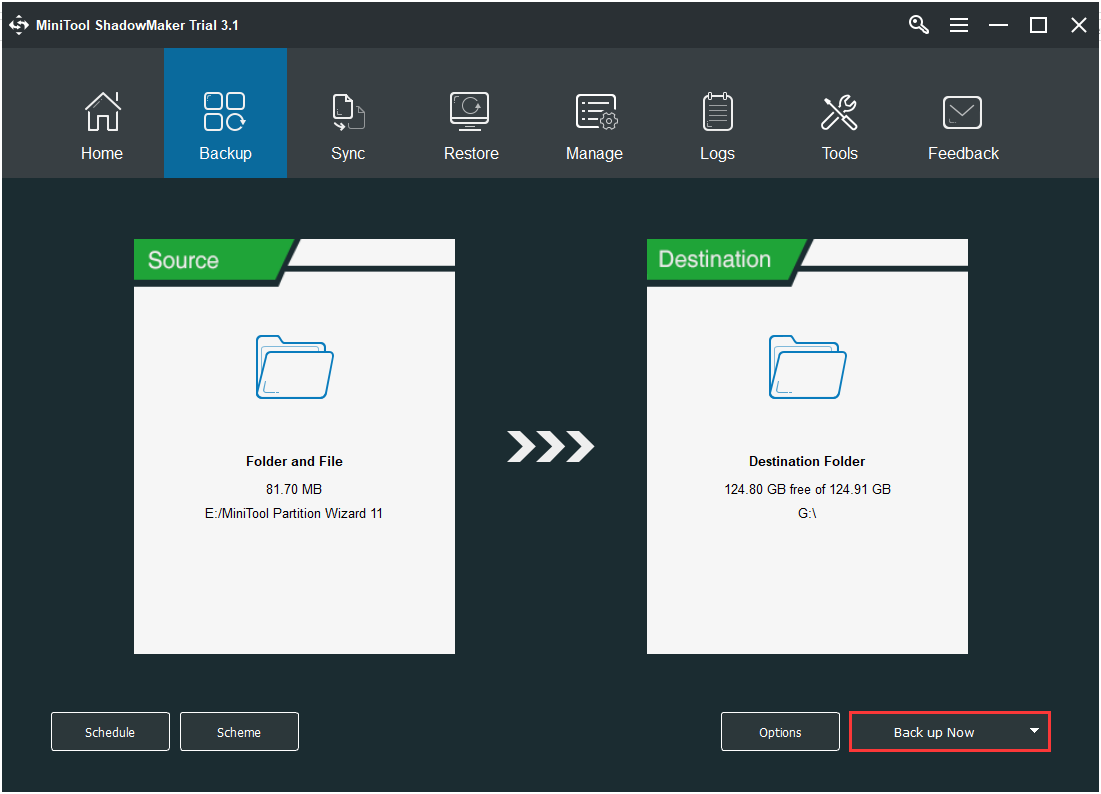 You have successfully backed up files and have provided protection for the data when the process is finished.
Further Reading:
The following information can provide you with a better file backup experience.
1. MiniTool ShadowMaker allows you to set an automatic file backup, read this post - 3 Ways to Create Automatic File Backup in Windows 10 Easily. And you can do it by going to the Scheme feature.
2. If you want to back up newly added files or changed files, there are three types of backup available: full backup, incremental backup, and differential backup. The Incremental backup scheme is chosen by default and you can click the Scheme feature to change.
3. In addition, you can go to the Options feature to set some advanced backup parameters.
Bottom Line
In conclusion, when you encounter the Avast VPN not working on Windows issue, don't be angry and you can use the above solutions - one of them will undoubtedly fix your Avast SecureLine VPN. At the same time, you can use MiniTool ShadowMaker to protect your important data.
At last, if you have any questions and suggestions, please don't hesitate to contact us via the email [email protected].
Avast VPN Not Working FAQ
? Is Avast VPN down?
Avast SecureLine VPN is a basic VPN service that works with other Avast security products, like its antivirus and internet security tools. Avast SecureLine VPN is another security tool from Avast Software, a worldwide security company based in the Czech Republic.
? What are the disadvantages of a VPN?
VPN might actually be illegal in your country.
You might have performance issues when you using the private network.
The VPN service might monitor your activity and use your data.
It might be difficult to set up for business users.
? Do I need a VPN at home?
As long as your router is secured and your Wi-Fi is using something like a WPA or WPA2 password, then, by and large, you probably don't need a VPN at home. Most VPN services are tailored for the traveler who is regularly using open and untrustworthy hotspots and other internet connections on the road.
? What happens if I don't use a VPN?
If you don't use a VPN, then your online privacy will be at high risk. Not using a VPN means that an attacker can get access to your data and information. These attackers can inject malware and other viruses into your network By gaining access to your data.