In order to safeguard the PC, some users may choose to install the antivirus program on their computers. Avira vs Avast: Which one is better and which one should you choose? This post from MiniTool shows you the detailed difference between Avira and Avast.
Nowadays, malware attacks are insidious and everywhere on the Internet. So, many users choose to install a robust antivirus program for their all internet-capable devices. There are a lot of antivirus programs on the market, such as Avast, Avira, Norton, Bitdefender, etc. All of them have some similarities and differences. In this post, we will focus on the Avira and Avast and introduce the differences between Avira and Avast.
Introduction of Avira and Avast
Avira
Avira is known to be a super lightweight and reliable antivirus program. It offers a comprehensive selection of easy-to-use tools for all major devices, including PCs, Macs, Androids, and iOS devices. The Avira antivirus program also includes some important features, such as real-time scanning, ransomware attack prevention and web protection.
Avast
Avast is a family of cross-platform internet security applications developed by Avast for Microsoft Windows, macOS, Android and iOS devices. The Avast antivirus also provides a lot of services such as computer security, browser security, firewall, anti-phishing, antispyware, anti-spam and other services.
After generally knowing what Avira and Avast are, do you know what the differences between Avira and Avast are? So, in the following section, we will show you the difference between these two different antivirus programs.
Avira vs Avast: Which One Is Better?
In this part, we will compare Avira and Avast in several aspects, including features, malware protection, system performance, user interface and price. Now, let's look at the following detailed instructions.
Avira vs Avast: Feature
Avira
Avira has quite a long lineup of products for security, privacy, and performance. The entry-level product of Avira is the Avira Free Security. It can be used on PCs, Macs, Androids, and iOS devices. It protects against different forms of malware and threats, containing ransomware, adware, spyware, hacking, phishing, rootkits, Trojans, and worms.  
Avira Free Security has the following features:
Protects you from scams, identity theft, and financial loss
Secures your online activities with free VPN
Speeds up and cleans your PC for peak productivity
Avira Antivirus Pro is an advanced and paid edition, which has new anti-ransomware stops, even unknown mutations before the attack. It also allows you to bank, pay and email with complete confidence while repairing files.
Another edition is Avira Internet Security, which can be available on Windows PCs. It adds a layer of real-time identity and PC protection. Besides the features in Avira Free Security, this edition can block online threats, generate and save strong password for you. It is able to alert you to vulnerable online accounts and block advanced ransomware attacks.
Avira also provides an ultimate security suite for all your devices and it is Avira Prime. It can be used on 5 devices. This edition provides all the features and utilities that are found in the previous suites, along with a full suite of optimization tools and an advanced VPN utility.
The Avira Prime optimizes your speed with 30 premium tune-up tools, anonymizes and secures your surfing with a limited VPN. You can optimize over 200 privacy settings with just one click. The Avira Prime also has a PC clearer that cleans junks files, speeds up your boost time and reduces lags.
Avast
Avast Antivirus is a family of cross-platform internet security application for Microsoft Windows, MacOS, Android and iOS. For Windows, Avast provides 4 different versions.
Avast Free Antivirus is the company's free offering for all PCs. It is a free edition that comes with limited features. It only has the basic anti-malware defenses and does not offer much value in terms of advanced features.
Avast Free Antivirus allows you to block viruses, spyware, Trojans, and other malware and scans your computer for already-hidden threats. The Web & Email shield alerts you of unsafe websites, blocks insecure downloads, stops dangerous email attachments and prevents intrusive web tracking. Wi-Fi Security Scan is able to check the entire network and all connected devices for vulnerabilities to help you stop hackers from stealing your personal data.
Avast Premium Security is an advanced edition of Avast. It adds the ongoing protection feature, and real-time Wi-Fi security. In addition, it also offers the Ransomware Shield to protect your files. The Avast Premium Security comes with two different options: one lets you use only one PC, and the other is up to 10 PCs.
Avast Ultimate is the most advanced edition that comes with more features. It defenses against viruses, ransomware, spyware, zero-second threats, home Wi-Fi network vulnerabilities and more. It is also a cleanup and tuneup tool and a password manager.
So, as for Avira vs Avast in features, it would be difficult to judge which one is better since both of them provide a host of value-for-money features.
Avira vs Avast: Malware Protection
In order to compare Avast and Avira, we will focus on malware protection which is also one of the main responsibilities in antivirus programs.
In order to find out which software has better anti-malware capabilities, let's look at how both Avira and Avast performed in the recent lab evaluations conducted by AV-Test that makes malware protection test every two months.
Avira
In the July and August test in 2020, Avira successfully detected all almost of kinds of malware it encountered, earning a perfect 6 out of 6 scores.
Avast
In the July and August test in 2020, Avast also earns a perfect 6 out of 6 scores, as the following picture.
So, from the above comparison in Avast vs Avira, you can know that Avira and Avast earn the same score in the malware protection test. So, there are no obvious differences between them.
Avira vs Avast: System Performance
When running the antivirus program on your computer, a good antivirus program should not slow down your computer. So, in order to check whether the Avira or Avast is better, you need to check their system performance.
So, in order to know which one is better, please see the test from AV-test.
Avira
In the recent AV test, Avira got a perfect 6 out of 6, showing it puts the minimal impacts on system performance.
Avast
However, Avast got a 5.5 out of 6 score in terms of system performance in the AV test, which is a good score but could be improved.
From the above two figures, you can find that the Avira scores better than Avast in system performance. So, you can find that Avira is better than Avast currently in system performance.
Avira vs Avast: User Interface
The user interface of antivirus software is another important factor that should be taken into consideration. After all, you have to be able to understand and use your software effectively for it to be worthwhile.
Avira
Avira's user interface comes in dark and modern style. A checkmark at the top of its screen lets you know if everything is fine and it will change to red exclamation point if there's something that requires your attention.
On the main interface, you can click the Smart scan button to perform a computer scanning quickly. On the left pane, you can see the Status, Security, Privacy and Performance button.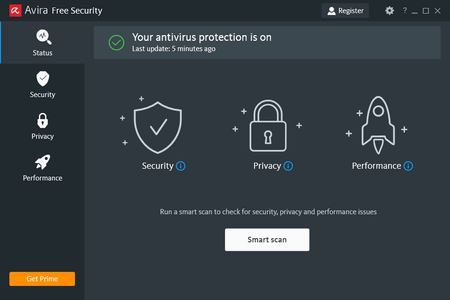 Avast
Avast also comes with a dark and modern style. When you open the interface, you will see a large green checkmark in the center which tells you whether your computer is secure or not. The status will change if there's a problem with your computer.
There is a Run Smart Scan button on the beneath that you can use it to begin a scan of your computer immediately. On the left panel, you will also see four buttons which are Status, Protection, Privacy and Performance. You can customize some settings through the Settings button on the left corner.
So, from the above chart, you can see both antivirus programs provide a simple and easy-to-use interface.
Avira vs Avast: Price
When selecting an antivirus program, the price of software will have a major impact on your decision.
Now, let's compare the pricing plans of Avira and Avast directly.
Avira
Avira Products
Price
Devices
Avira Antivirus Pro
$42.02/year
1 device
$56.52/year
3 devices
$69.09/year
5 devices
Avira Internet Security
$56.52/year
1 device
$68.94/year
3 devices
$81.50/year
5 devices
Avira Prime
$125.32/year
5 devices
$163.28/year
Unlimited devices
Avast
Avast Products
Prices
Devices
Avast Premium Security
$69.99/year
1device
$89.99/year
10 devices
Avast Ultimate
$99.99/year
1 device
$119.99/year
10 devices
From the above charts, you can find that the Avira provides more choices. In my opinion, Avira would be an economical option. Of course, you can choose any one based on your own budgets and needs.
Now, we have compared Avast vs Avira in several aspects. In system performance and price aspects, Avira is better than Avast. And there is no obvious difference in other aspects. So, you can choose either of them to safeguard your PC.
Suggestion: Back up Your Files
Malware and virus always exist and may attack your computer, but you do not know. So, only having the antivirus software is not enough to protect your computer. You may suffer system crash or file loss due to these threats.
So, we recommend you to back up your computer and files regularly so that you can restore your computer to a normal state or recover files when the computer is attacked.
Meanwhile, how to back up your files to safeguard them? To do that, you can use the professional Windows backup software – MiniTool ShadowMaker.
MiniTool ShadowMaker is designed to back up the operating system, files, folders, disks and partitions. It also allows you to clone OS from HDD to SSD without data loss.
Now, we will show you how to back up the files with MiniTool ShadowMaker.
1. Click the following button to download MiniTool ShadowMaker, install and launch it.
MiniTool ShadowMaker TrialClick to Download100%Clean & Safe
2. Click Keep Trial.
3. Then you will enter the main interface of MiniTool ShadowMaker and you need to go to the Backup page. Click Source module, select Folders and Files, and select files you want to back up.
4. Then click Destination module to select a target disk to save the backup images. It is recommended to choose an external hard drive in case computer fails to start. Then click OK to continue.
5. After that, you can begin to back up the files. So, click Back up Now to continue.
When all steps are finished, you have successfully created the files image. If your computer is attacked by the malware or virus by accident, you can use the backup image to restore your files.
Bottom Line
Do not know to choose Avira or Avast? After reading this post, you may already have the answer. This post has compared Avira antivirus vs Avast in several aspects. If you have different ideas about Avira free vs Avast free, you can share it in the comment zone.
In addition, this post also introduced MiniTool ShadowMaker to safeguard your files. If you have any problem with MiniTool program, please feel free to contact us via the email [email protected] and we will reply to you as soon as possible.
Avira vs Avast FAQ
Is Avira a good antivirus?
Avira antivirus gets good ratings from independent labs, though it not as good as the best commercial products. It still does in malware blocking and malicious URL blocking.
Is Avast as good as McAfee?
McAfee was given a 5.5 out of 6 score for protection while Avast scores a perfect 6 for protection against PC against malware threats. During a lot of independent tests, Avast scores better than McAfee. So, Avast would be better than McAfee.
Does Avira slow down computer?
If your computer meets the minimum system requirements for Avira antivirus, the impact on your computer's performance can be negligible.