This article displayed by MiniTool official web page mainly discusses a Windows backup error stated: "Windows Backup failed to get an exclusive lock on the EFI system partition (ESP)…" It analyzes its causes and provides several solutions. Read the below content to find the one that helps you.
Have you ever encountered a system backup failure with an error message that said: "Windows Backup failed to get an exclusive lock on the EFI system partition (ESP)…"? If so, how do you deal with that? Are you still suffering from that issue? 
Windows Backup Failed to Get an Exclusive Lock on the EFI System Partition (ESP)
Sometimes, you may fail to create a system image with Windows Backup and Restore and receive an error warning like below:
The backup failed.
Windows Backup failed to get an exclusive lock on the EFI system partition (ESP). This may happen if another application is using the files on the ESP. Please retry the operation. (0x8078011E)
Additional information:
Access is denied. (0x80070005)
OR
Check your backup. The last backup did not complete successfully.
Why Windows Backup Fails?
For the above situation, as mentioned in the error content, the backup process fails due to there is another app that is occupying the files on the EFI system partition. It refuses other programs to access the ESP.
This often happens when you aren't login with an administrator account. Besides, you may also run into such a situation due to the interferences of third-party software, antiviruses, Windows Defender and security programs, as well as other Windows backup services.
While backing up the operating system (OS) is of great importance for it can protect your system from crashing or damage, it is necessary to handle this problem and ensure system backup success.
How to Fix Windows Backup Failed to Get an Exclusive Lock on the EFI System Partition
To deal with this Windows backup problem, try one or more of the following methods. They can be applied to Windows 11, Windows 10, Windows 8.1/8, Windows 7, etc. as well as Windows server systems.
Fix 1. Close All Other Apps
Since the Windows backup issue mainly caused by another program is using the EFI system partition. You can try to fix the issue by closing all other running applications, especially 3rd-party tools, antiviruses, Windows firewall, Windows Defender, and other Windows backup processes.
Fix 2. Restart Computer
If you can't ensure all other apps and processes are stopped and closed, you can simply shut down your computer and turn on it again to achieve that. Then, immediately start to create a system image without doing other businesses.
Tip:
You may need to disable other unnecessary processes from starting up on the system start before restarting the PC. This is also called a
clean boot
.
Fix 3. Reboot PC into Safe Mode
To further make sure no extra unnecessary processes running while creating a system backup, you can directly boot your machine into the safe mode to perform a system backup.
Besides, you can avoid virus or malware attacks within the safe mode environment. This is safe and convenient.
1. Navigate to Windows 11 Settings > System > Recovery.
2. On the Recovery settings page, click the Restart now button within the Advanced startup section.
3. A popup will appear asking for saving your work. If you have unsaved files, save and close them. If not, just click the Restart now button to enter the recovery environment.
4. Within the recovery environment, move to Troubleshoot > Advanced options > Startup Settings > Restart.
5. Then, you will be provided with 3 options to enter safe mode. Just select one to finish.
Enable Safe Mode
Enable Safe Mode with Networking
Enable Safe Mode with Command Prompt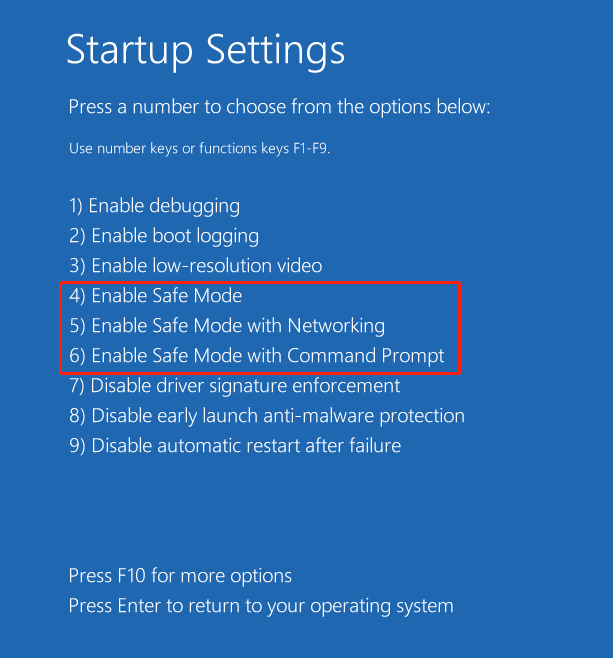 Other ways to enter computer safe mode >>
Fix 4. Use an Administrator Account
As described above, operating without administrator privileges can also result in the Windows Backup failed to get an exclusive lock on the EFI system partition error. So, if you are not currently using an administrator, just log out and log in again with an Administrator account.
Fix 5. Uninstall Unnecessary Apps
To permanently avoid the Windows backup error and prevent it appears in the future, you can choose to completely uninstall the problem-causing programs like the said third-party unnecessary software, antiviruses, antimalware, antispam, etc. security items from Avast, Symantec, Sophos, etc. computer security services companies.
Go to Windows Control Panel > All Control Panel Items > Programs and Features.
Find the targe program and click on it to activate it.
Click on the Uninstall option that appears after program selection to remove the target app.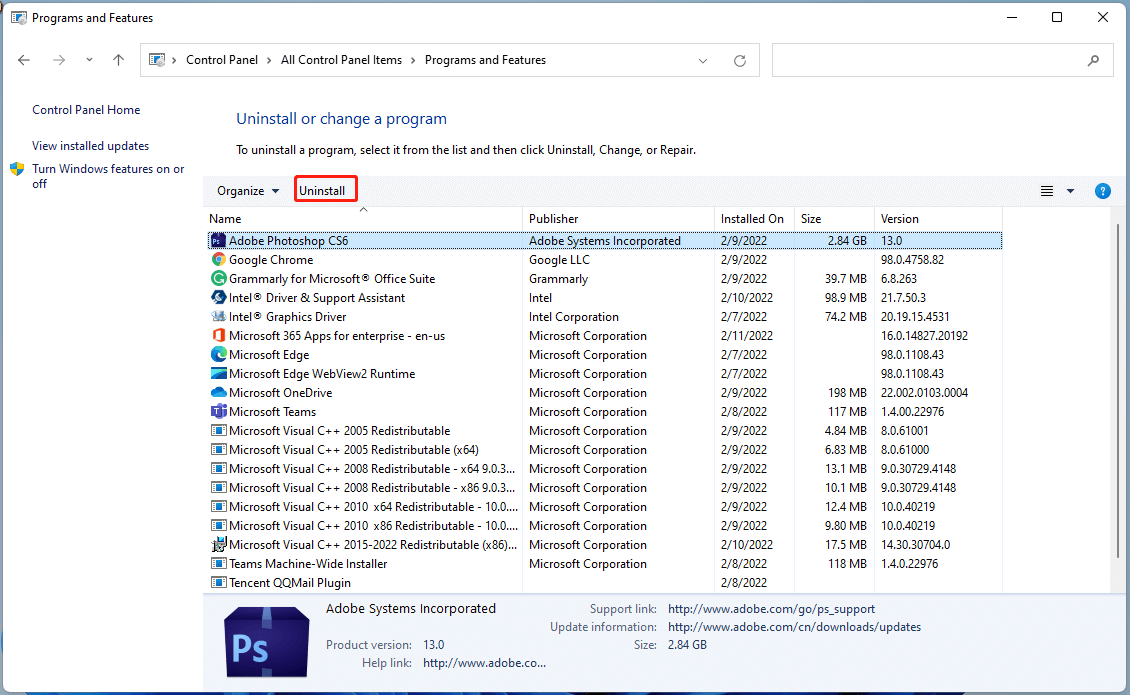 Fix 6. Temporarily Disable Windows Defender and Firewall
Unlike third-party security programs, you can't uninstall Windows built-in security services for you need them. Yet, you can disable them temporarily while creating a system image and reenable them once you have successfully backed up OS.
1. Navigate to Windows 11 Settings > Privacy & security > Windows Security.
2. On the Windows Security settings page, click Virus & threat protection.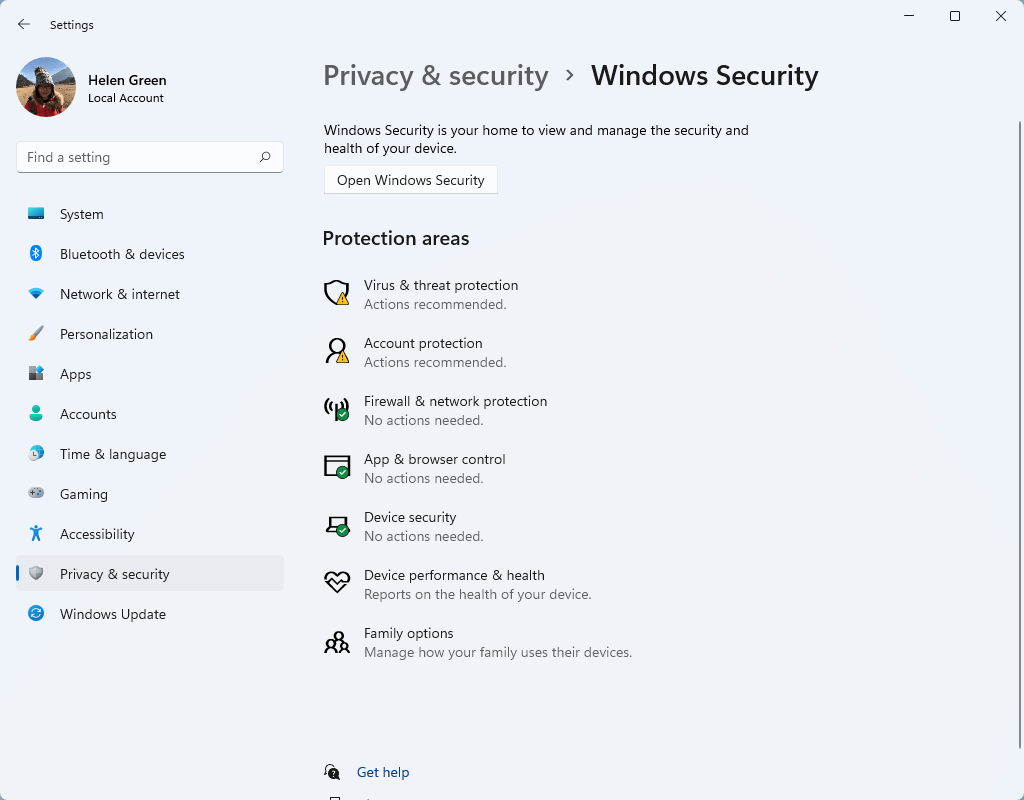 3. On the Virus & threat protection screen, click Manage settings to turn off real-time protection, cloud-delivered protection, automatic sample submission, and tamper protection on the next screen. Close the window after operation.
4. Go back to the Windows Security settings page and choose Firewall & network protection.
5. Click on Domain network, Private network, and Public network and go to each page to toggle off each firewall respectively.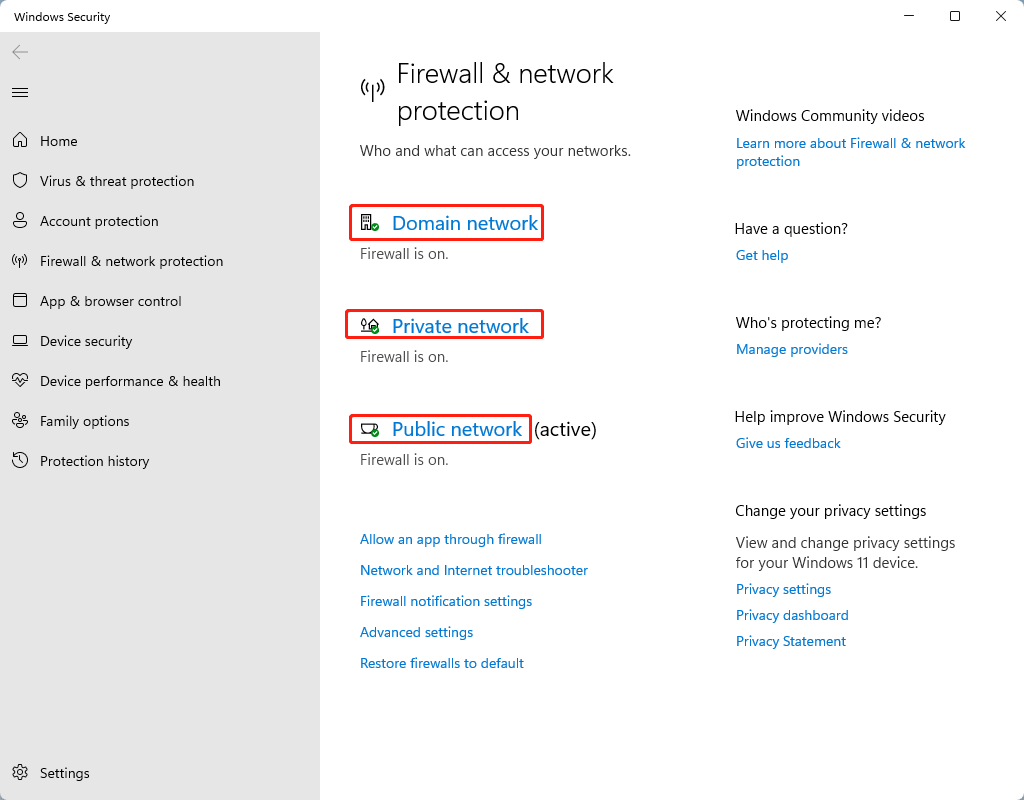 6. Return to Windows Security settings page again and choose App & browser control.
7. On the App & browser control page, click Reputation-based protection settings and Exploit protection settings and pause the sub-services of both protections.
You may need to further stop other system security functions to ensure the success of Windows backup.
Note: Do remember to turn on the above-closed services after backing up the operating system! Otherwise, you probably will experience cyberattacks!
Fix 7. Change Log on User
This method is based on the similar principle of logging on with an administrator account but is a little more complicated than the former. If you log on to the system with a wrong user account, you may get the Windows Backup failed to get an exclusive lock on the EFI system partition failure. To handle this, follow these steps.
1. Open Windows 11 Run dialog.
2. Input msc and click OK to launch the Services window.
3. In the list, find Block Level Backup Engine Service, right-click on it, and select Properties.
4. In the Properties window, switch to the Log On tab and choose This account.
5. Click Browse for this account.
6. In the new window, click on the Advanced button to go on.
7. In the next window, click Find Now.
8. Then, it will detect and list all users available on this computer. Just double-click the one you pick up to select it. You may need to enter the selected user account's password.
9. Click several OK buttons backward to save the changes and close the windows you have opened.
10. Finally, restart your machine.
Use Windows Backup Alternative
Another way to avoid Windows Backup failed to get an exclusive lock on the EFI system partition issue and back up Windows is to rely on a professional and reliable system backup software such as MiniTool ShadowMaker, which enables you easily and quickly build an image of your OS.
Download, install, and launch MiniTool ShadowMaker on your computer.
If it requires purchase, just click the Keep Trial option to continue to enjoy its powerful features.
When you enter its main user interface (UI), move to its Backup tab from the top menu.
On the Backup page, you will see two modules, Source and Destination. For system backup, the system-related files and partitions are automatically selected as the backup source. So, you do not need to click on the Source module.
Click on the Destination module to select a location to save the system image. An external hard drive or network shared location (NAS) is recommended.
Finally, click the Back up Now button to complete.
Besides system backup, MiniTool ShadowMaker can also perform files/folders backup, partitions/volumes backup, as well as entire hard disk drive backup (restoration included). Also, it supports files/folders sync, disk clone, bootable media creation, PXE boot, universal restore, and so on.
Conclusion
If you see the "Windows Backup failed to get an exclusive lock on the EFI system partition (ESP)" error in the future, you can make one of the above solutions to fix the issue. If you have any idea about this system backup error, please write a comment below. Or, if you encounter any problem while using MiniTool ShadowMaker, please contact [email protected] for help.