What is backup? What is recovery? Backup vs recovery: what is the difference? How to back up your computer data and recover lost or deleted data? This post will give you a full guide on the information and show you how to use MiniTool Software to perform data backup and recovery.
Nowadays data protection is vital since data is vulnerable to network threats, virus and malware attacks, PC damage, mistaken operations, and more. Backup and recovery are terms regarding data protection and an efficient backup and recovery solution is very important to any company to protect valuable data.
In terms of backup and recovery, they are different concepts. In the following part, let's see something on the difference between backup and recovery.
Backup VS Recovery
Backup and Recovery Definition
Firstly, you need to know what backup is and what recovery is. Let's get started with the definition.
What Is Backup
Backup comes along with data protection and it refers to a copy of original data. One of the methods of data protection is a backup. A backup is used to restore the original file in the event of a disaster event. Usually, the primary data failures include data corruption, malicious attacks, accidental data deletion, software or hardware failure, and more.
It is critical to separately store the copy of original data on storage devices to protect against data loss or corruption. The storage medium can be a USB stick or external hard drive, a cloud storage device, and more.
To get the best results, backups should be created on a consistent and regular basis. The frequency of backup can be different depending on the data priority, for example, if the data is very valuable, it should be backed up every day.
Backup types are various, including full backup, incremental backup, differential backup, local backup, remote backup, cloud backup, mirror backup, local backup, online backup, offsite backup, and more.
What Is Recovery
In computing, data recovery is a process of restoring lost, corrupted, damaged, inaccessible, or formatted data from removable devices, hard drives, etc. (when the data stored in them cannot be accessed in a usual way) to a laptop, desktop, or a server.
The reasons for data loss can be system breakdown, hard drive failure, viruses, software crashes, logical errors, natural disasters, equipment malfunctions, physical damage, etc.
The process of data recovery may vary and this depends on the situations of data loss, or the backup target media. Data recovery services can retrieve files that are not backed up and accidentally deleted from a computer but remain on the hard drive in fragments.
There are multiple strategies used for recovery, for example, image-based backup, continuous replication or snapshot, and more.
To know more information on data recovery, see this related article – A brief Introduction of Data Recovery
Backup VS Recovery: What Is Difference
To quickly know the difference between backup and recovery, let's see the following table.
| | |
| --- | --- |
| Backup | Recovery |
| Refers to storing a copy of original data separately. So, backup is a copy of data that is used to restore original data after data loss/damage. | Refers to restoring the data in case of various failures or computer accidents. Thus, recovery is a process of retrieving damaged, corrupted, lost, or deleted data to its original state. |
| Backup helps improve data protection. | Recovery helps to improve the reliability of the database. |
| The cost of backup is affordable. | Data recovery is expensive. |
| Backup makes the recovery process easier. | Recovery has no role in data backup. |
| Its production usage is very common. | The product usage is very rare. |
"What is the difference between backup and recovery? After reading this part of backup vs recovery, you know more and you can share it on Twitter to share with your friends."Click to Tweet
Create a Complete Data Backup and Recovery Plan
After reading the part of backup vs recovery, you know much information about data backup and recovery. Data backup offers the ability to recover and it can be the first step in a complete data recovery plan.
To prepare fully for a computer accident, you should not only back up data to a certain location but also do the following things.
Make Sure All Important Data Is Backed up
You may not back up all the content on your computer but ensure you have backed up all the important and relevant data. If there is enough storage space on your device and worry about the data that you may need, a full backup is a good option.
Protect Your Data Backup
The second step is to secure your data backup and make sure none of your data is damaged. If data is damaged or there are data quality errors, backed-up data is no good. Besides, data backup can be the target of hackers and other threats. Due to these two reasons, protecting your data backup is vital.
Decide Backup Frequency
You should also decide how frequently backups should be performed. It is ideal to run continuous real-time backups of all the data but it is usually not realistic. So, decide when and how often backups should be created.
Have a Procedure for Recovering Data
Data backup is a thing and restoring data is another thing. And you should be ready for different situations:
Data is lost but infrastructure remains intact: recover data from backups to your original system.
Data and infrastructure is lost: build a new system and recover data to it.
The data recovery plan should be as much automation as possible so that you can get data back to normal more quickly. And you also build safeguards to make sure to not overlook important data or file corruption.
Ensure the Quality of Data Backups and Recovered Files
The data you back up and recover is useful only when there is no error. That is, you should make sure of the quality of data backups and recovered files. Backing up data that has errors will ultimately make data recovery more difficult.
After knowing so much information about data backup and recovery, now it is time to create data backups for your computer. If it is needed, perform a data recovery task. How can you back up data and retrieve data? Use MiniTool software and proceed to the next part to know more.
Run MiniTool ShadowMaker for PC Data Backup
MiniTool ShadowMaker, an excellent computer backup software, is compatible with Windows 10, 8, 8.1, and 7. With it, you can back up files, folders, disks, partitions, and systems to an image file within few clicks. Once there is something wrong with the computer, you can restore your files or the system to its original state.
This backup software allows you to create various backups, including full backups, incremental backups, and differential backups. To protect your PC well, you can create automatic backups by configuring a specific time. You can save the backups to an external hard drive, USB flash drive, SSD, HDD, and more.
As for file backup, you can also use MiniTool ShadowMaker to sync files to other locations for data protection. Besides, this software allows cloning a hard drive to another one for disk upgrade or replacement.
Now, download MiniTool ShadowMaker Trial Edition and install it on your computer to start a backup for data backup.
MiniTool ShadowMaker TrialClick to Download100%Clean & Safe
Step 1: Launch MiniTool ShadowMaker on your Windows computer to enter its main interface.
Step 2: Navigate to the Backup page. You may find this backup software backs up the Windows operating system by default. If you need to create a system image, just go to the next step.
To avoid data from being lost or deleted, we recommend backing up your important files. Click Source and choose Folders and Files. Then, check all the items that you want to back up and click OK.
Step 3: Choose your external hard drive or USB flash drive that has been connected to the computer as the storage path.
Step 4: When going back to the main interface, click the Back up Now button to execute a full backup.
As stated above, an excellent data backup and recovery plan should involve backup frequency. So, you can make a scheduled plan for the backup. Thankfully, MiniTool ShadowMaker allows you to back up your computer daily, weekly, monthly, or on event.
Just click the Schedule button before clicking Back up Now. Then, enable this feature and you can make a setting based on your actual situations.
Also, you can go to the Manage page, find the completed backup task and choose Edit Schedule from the drop-down menu to set automatic backups.
Then, MiniTool ShadowMaker will start automatically backing up your data at a specific time.
After finishing backups, you had better use Media Builder to create a bootable USB drive so that you can perform data recovery when the PC fails to run.
MiniTool ShadowMaker focuses on backing up data to a hard drive, USB drive, or any PC storage device. If you want to back up data to the cloud, choose a proper tool. If you are interested in this software, share it with your friends on Twitter.
Run MiniTool Power Data Recovery for PC Data Recovery
In the above part of backup vs recovery, you know a backup can be a method of recovery. But, if your data gets lost accidentally due to some reason and there is no backup, what should you do? You need to retrieve your device and try getting lost data back.
MiniTool Power Data Recovery is such a program. It can help you recover lost/deleted data from an inaccessible drive, damaged disk, formatted drive, or other situations. Through a deep scan for hard drives, memory cards, SSDs, etc., you can easily retrieve your data. It is available for Windows 7/8/8.1 and 10.
Data recovery is expensive but fortunately, its free edition allows you to recover 1GB of data for free. Just download and install it on your PC for a try.
MiniTool Power Data Recovery FreeClick to Download100%Clean & Safe
Step 1: Launch MiniTool Power Data Recovery to its main interface.
Step 2: Hover the mouse to the partition that you want to recover data from and then click the Scan button.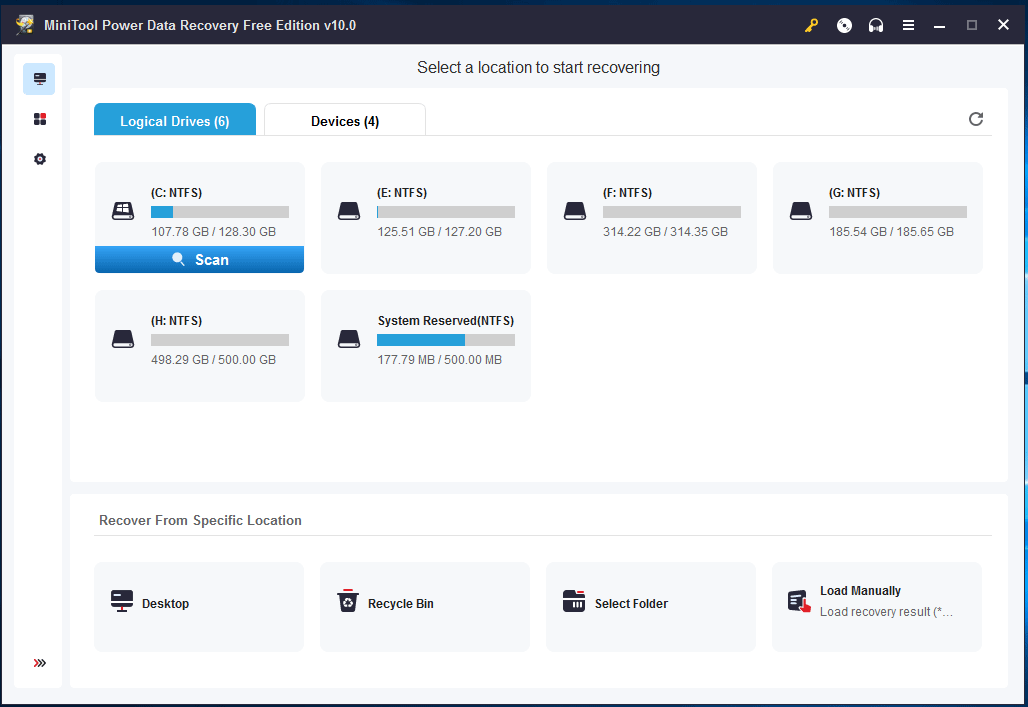 Step 3: Wait patiently until the scan finishes. And then, check all the items that you want to restore.
Tip: If your recovered files exceed the free recovery limit, upgrade to a full edition.
Step 4: Click Save and select a target path to store the selected files. Do not restore the files to their original locations to avoid overwriting.
Bottom Line
That's the end. From this post, you know much information about what backup is and what recovery is, backup vs recovery – what's the difference, how to create a backup and recovery plan, as well as how to use MiniTool software to perform data backup and data recovery. Hope you can find something you need from this article.
If you have any suggestions or run into any problems when using MiniTool software, contact [email protected] or leave a comment in the following area. We will reply to you as soon as possible.