Are you annoyed by some hidden ads on your computer? When you browse the website, the annoying ads may appear. Here, you can know what adware is and how to remove adware. Besides, this post from MiniTool introduces 8 best adware removers for you.
Nowadays, there are many different types of malware and adware is one of them. In the following part, I will introduce some basic information about adware and provide the best adware remover for you. Besides, if you want to learn about the other types of malware, this post - The Different Types of Malware and Useful Tips to Avoid Them is what you need.
What Is Adware
Adware is a piece of unwanted software, usually used to place ads on the screen in a web browser. Usually, it pretends to be legitimate or is burdened with another program to trick you into installing it on a PC, tablet, or mobile device.
Adware generates revenue for its developers by automatically displaying online advertisements on the software's interface or the screen during the installation process. In addition, you may encounter the following situations: a new tab is opened, the home page is changed, search engine results appear that you have never heard of, or even the webpage is redirected to the NSFW website.
Here are some typical signs that adware is installed on your system:
Your browser crashed.
Ads appear where they shouldn't.
The website link redirects to a different website than the one you expect.
The pages you usually visit are not displayed correctly.
A new toolbar, extension, or plug-in suddenly fills your browser.
Your Mac will start automatically installing unwanted software applications.
Related article: How to Know If Your Computer Has a Virus: Signs of Infection
How to Remove Adware
Then, you may want to know how to remove adware. There are some useful methods for you.
Uninstall adware manually
Clean your browser
Disable startup services and programs
Use the free adware removal tool
8 Best Adware Removers
AdwCleaner
HitmanPro
Bitdefender Adware Removal Tool
MalwareFox antimalware
Zemana Antimalware
Adware Removal Tool
Norton Power Eraser
Spybot Search & Destroy
8 Best Adware Removers
The following are 8 best adware removers for you to remove the annoying ads.
1. AdwCleaner
AdwCleaner is developed by Malwarebytes to remove unwanted programs, browsers, and adware from the system. It is one of the most powerful and best adware removal tool on Mac and Windows. It can identify adware from the database and keep all adware in the system clean. Here is how to use it:
Step 1: Download it from the official website and install it on your PC.
Step 2: Open it and click the Scan Now button to have a scan.
Step 3: Click Quarantine after the scan to delete found items.
Main Features
It has a fast speed on installing and scanning.
It can crush annoying software.
It doesn't use much memory or processor power.
It supports more than 20 languages.
2. HitmanPro
The second free adware remover is HitmanPro. It is a malware and adware removal tool for Windows 10. It is different from AdwCleaner since it not only targets adware, but also the entire malware. It can run with other security software to add an extra layer of security protection to the system. It also includes a free version and a paid version. You can use it for free for 30 days.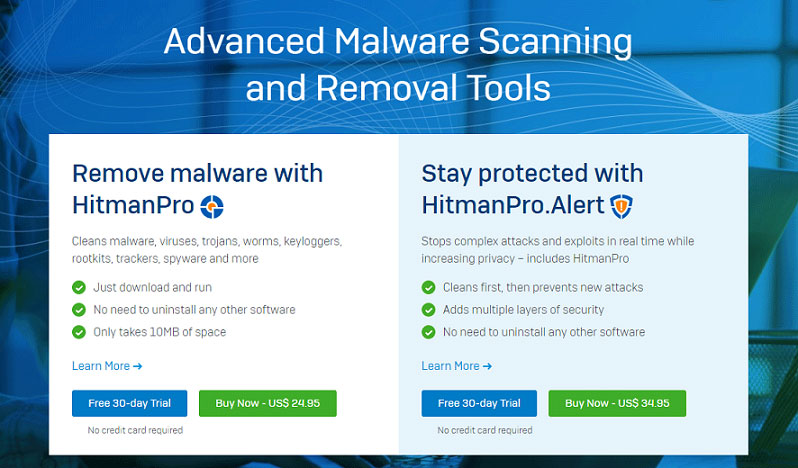 Main Features
The scanning speed is fast.
It is a signature-less on-demand malware scanner of just 10MB and does not require installation.
It can be started directly from a USB flash drive, CD/DVD, or network-attached storage.
It can remove persistent threats from within the running operating system.
3. Bitdefender Adware Removal Tool
Bitdefender is a Romain cybersecurity and anti-virus software company. It develops and sells anti-virus software, internet security software, endpoint security software, and other cybersecurity products and services. As one of the best adware removers, BitDefender Adware Removal Tool is also a very good anti-malware tool for android and works well with antivirus software.
Main Features
It protects against cyber attackers that take advantage of your mic or webcam.
It creates a secure payment environment via Bitdefender Safepay.
It comes with a password manager to protect your most sensitive data.
It has a powerful engine and cloud-based technology.
4. MalwareFox Antimalware
The next best free adware remover is MalwareFox Antimalware. It comes in a package that provides security against adware, browser toolbars, advertisements, ransomware, rootkits, spyware, and Trojans. Besides, it also takes care of PUP and protects system data, providing you with complete security and privacy.
Main Features
​It can also keep Android and iPhone safe.
​It can protect you from adware and unwanted programs.
​It can ensure that your data stays private.
It provides ​complete peace of mind.
5. Zemana Antimalware
The next best adware remover is Zemana Antimalware. It can be used to detect and remove annoying browser add-ons, adware, unwanted applications and toolbars, and any type of malware on the PC. Zemana is not provided for free, but an advanced tool. It can be used for free for 15 days.
Main Features
It supports Windows XP, Vista, 7/8.1/10.
It scans your PC in a fast and effective way for malware, spyware, virus detection, and removal.
It has a powerful neural (AI) engine.
It provides real-time protection for executable files.
6. Adware Removal Tool
TSA's Adware Removal Tool is very effective in removing many difficult-to-remove adware, toolbars, hijackers, and PUPs, etc. It can deeply detect adware in the entire computer and delete all traces. It also has an option to reset the main Internet browsers (such as Internet Explorer, Firefox, Chrome). You don't need to install it since it is a simple portable utility that can start scanning immediately.
Main Features
It is a cloud-based tool that requires an internet connection to function properly.
It's totally free.
It's effective and fast.
It's easy to install and remove.
7. Norton Power Eraser
Norton Power Eraser is a free and useful adware removal software for Windows users. After installing this program, you must restart your computer before checking for adware, malware, and rootkits.
Active detection mode identifies potential threats and displays a list, allowing you to select objects to delete. In this mode, more objects may be incorrectly identified as threats than in normal mode. Therefore, it should only be used when all other system cleaning methods do not provide the desired results.
Main Features
User profiles scanning
Java vulnerabilities search
Secure Mode support
Updated, highly-efficient interface
8. Spybot Search & Destroy
Spybot Search & Destroy is also one of the best adware removers. Spybot Search & Destroy is a basic and effective tool that can be used to delete potentially harmful applications, annoying toolbars, or browser plugins. This utility will quickly eliminate viruses, Trojan horses, rootkits, Internet worms, spyware, and adware.
Besides, Spybot Search & Destroy also explored the behavior of each file for malicious activities. This method allows Spybot to block the latest malware and viruses before it finds them. The scanner also connects to the SophosLabs malware database to detect more forms of new threats and trace their path to the source itself.
Main Features
It doesn't conflict with similar utilities.
It is used with SophosLabs.
It doesn't use cloud technology, so the update speed is slow.
It explores the behavior of each threat.
Now, you have known the basic information about the 8 best adware removers. You can choose one from them based on your needs.Click to Tweet
How to Avoid Adware
After using the adware remover to remove the ads, there are some useful tips for you to avoid the adware.
1. One of the best ways to prevent adware is to keep systems and programs updated. You need to ensure that you have four important types of updates: operating system updates, Internet service provider (ISP) updates, antivirus software updates, and email program updates.
2. To prevent adware from entering your computer, you may also need to adjust the security settings of your Internet browser.
3. You also need to install a firewall to avoid adware. You can refer to this post - Different Types of Firewalls: Which One Should You Choose.
4. You need to know what you want to install and watch what you click.
Back up Your PC
It's recommended to back up your important files to avoid data loss caused by the adware. To back up files, you can use the professional Windows backup software – MiniTool ShadowMaker. It is an all-around and free backup software designed for Windows 10/8/7, providing you with a data protection & disaster recovery solution.
It is designed to back up files, folders, disks, partitions, and the operating system. Besides, the Sync feature of MiniTool ShadowMaker also enables you to back up files.
Now, let's see how to back up files with MiniTool ShadowMaker.
1. Download and install MiniTool ShadowMaker from the following button.
2. Launch it and click Keep Trial.
3. Then click Connectin This Computer to enter its main interface.
4. Then go to the Backup page. Click Sourcemodule, and choose Folders and Files.
5. Then select the files and folders you want to back up.
6. Returning to the Backup page, click the Destinationmodule to select a target disk to save the backups. It is recommended to select an external hard drive as a backup destination. Then click OK to continue.
7. After selecting the backup source and destination, you can click Back up Now to perform the backup task immediately.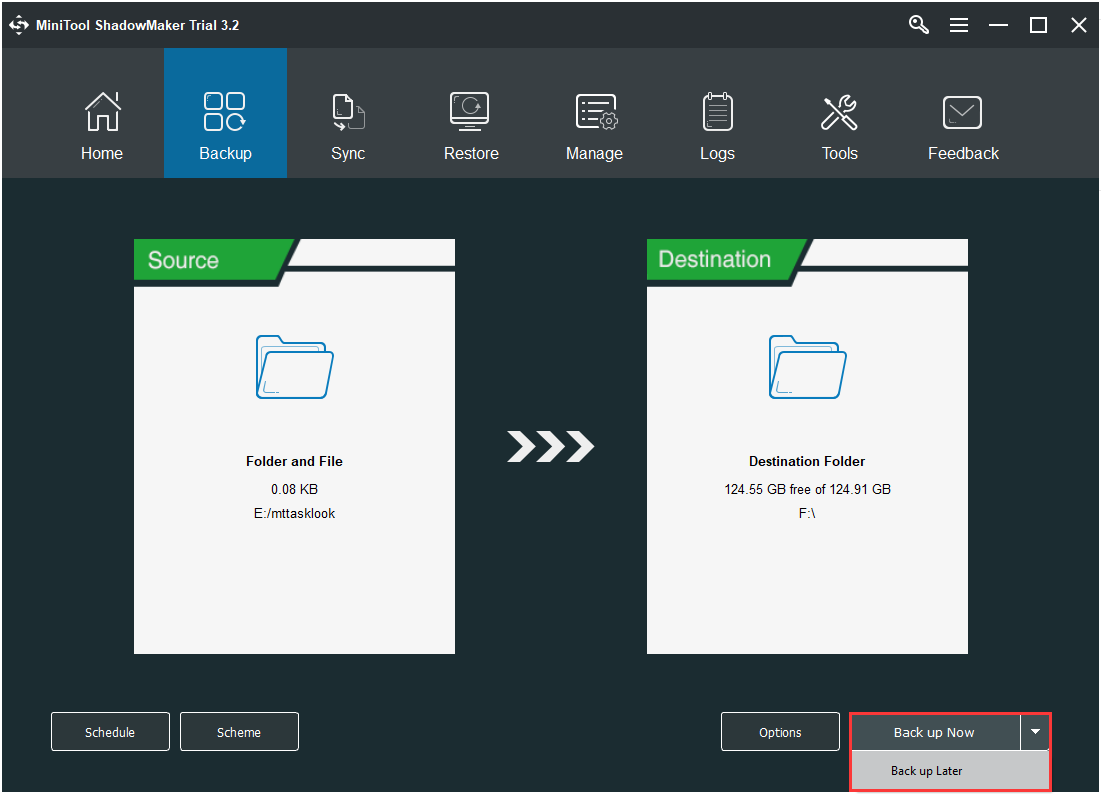 Once all steps are finished, you have successfully backed up the files. Besides, you can read the post - How to Backup Files on Windows 10? Try These Top 4 Ways.
Bottom Line
This post has briefly shown you some basic information about the best adware remover. Besides, this post also introduces a powerful program - MiniTool ShadowMaker, which can help you back up data to protect it. 
If you have any problems when you are using our program, please let us know. Or if you have any suggestions, also tell us. Sending an email to [email protected] or leaving a comment below is available.
Best Adware Remover FAQ
How do I get rid of a virus?
Download and install a virus scanner. Then, disconnect from the Internet.
Reboot your computer into safe mode.
Delete any temporary files and run a virus scan.
Delete the virus.
Do I need antivirus software if I have Windows Defender?
Is Windows Defender better than McAfee?
In terms of advanced features and utilities, McAfee's premium software is better than Windows Defender. Besides, independent testing proved that McAfee is superior to Windows Defender in terms of malware detection and system performance.
How do I stop the pop-ups?