Do you have a broken laptop but don't know what to deal with it? You can choose to reuse its components or sell the damaged laptop for cash. In this post, we will introduce some things you should do in detail, and let's see them now.
A Laptop Is Broken or Damaged
Laptops tend to have a rather short lifespan and from this post of MiniTool – How Long Do Laptops Last? When to Get a New Laptop, you can know some detailed information. They are hard to upgrade or repair, and by nature, they are easy to subject to fatal accidents and get damaged finally. Repairs are often only a little cheaper than buying a brand new model.
When your laptop is broken and beyond repair or you don't want to pay to fix it, what should you do with the broken laptop? Reusing some parts or selling broken laptops for cash can be your good option.
Next, we will show a detailed guide on what to do with old laptops that don't work in the following part. Keep reading!
What to Do with Broken Laptops? Reuse Them!
Harvest Usable Parts for Repair or Reuse
If you are a professional person, you can use the working parts of your broken laptop to repair old machines or adapt your current laptop or desktop. On a computer, there are many components and some are very useful: battery, power supply cable and connector, RAM, hard disk, keyboard, mouse, etc.
Transform a Damaged Laptop into a Desktop PC
If the main laptop parts (professor, hard drive, and more) can work but the LCD, hinge, keyboard, and other external parts get damaged, you can take out the guts from the laptop, put it to a standard desktop keyboard, and hook the keyboard to a monitor. The laptop turns into a desktop PC with a keyboard and mouse.
As for how to transform a damaged laptop into a desktop PC, you can search for a detailed guide on the Internet and you can find some useful videos to tell you the specific steps.
Turn the Display into a Standalone Monitor
If your broken laptop's screen still works but other components don't work, you can use it as another monitor for your other computer.
Step 1: To do this work, you need to go to Settings > System > Projecting to this PC and choose Available everywhere on Secured Networks or Available everywhere.
Step 2: In your main computer, press Win + P at the same time to get the Project menu and choose how you want to make use of your screen.
Step 3: The primary PC will look for available devices. Just choose your laptop.
Step 4: When getting a projection request to the target device, go to the laptop screen, and accept the request.
To know more information, read this post – How to Use a Laptop as a Second Monitor for Multitasking.
Turn the Hard Drive as an External Hard Drive
If your hard drive of the broken laptop can still work, but the machine is unusable, you can take the disk out of your laptop and use it as an external hard drive. Or, you can install the hard drive of the damaged laptop to a desktop and let it be a second storage disk.
Sell Broken Laptops for Cash
In addition to reusing some parts of your broken laptop, some of you may choose another way to deal with the damaged laptop. And that is selling broken laptops for cash. You don't need to throw away damaged laptops but sell them and this behavior can help you save the environment.
But before doing this work, there are some things you should do.
Protect Data Before Selling a Broken Laptop
The hard drive of your broken laptop may hold much information including personal files, bank information, website log-ins, passwords, and more. You had better erase your data before selling your laptop for cash. Or else, criminals could make use of your personal information.
Besides, if there are some important files saved on the hard drive and you also should back up them, then erase them.
Back up Files Before Selling Broken Laptops
How can you back up files on your broken laptop? As you know, when the laptop is damaged, the Windows operating system may be unbootable. So, file backup becomes a difficult task. But, if you use a professional PC backup software, the thing becomes easy.
MiniTool ShadowMaker, developed by MiniTool, is designed to back up files, folders, Windows operating systems, disks, and partitions. Importantly, it offers a feature to allow you to create a bootable disc or USB drive so that you can keep your PC when the PC cannot start up.
So, you can download this software and install it on a working computer, then create the bootable drive and boot the broken laptop to start a backup.
MiniTool ShadowMaker TrialClick to Download100%Clean & Safe
Step 1: Launch MiniTool ShadowMaker, go to the Tools tab and choose Media Builder, follow the guide on the screen to create a bootable CD/DVD disc or USB flash drive.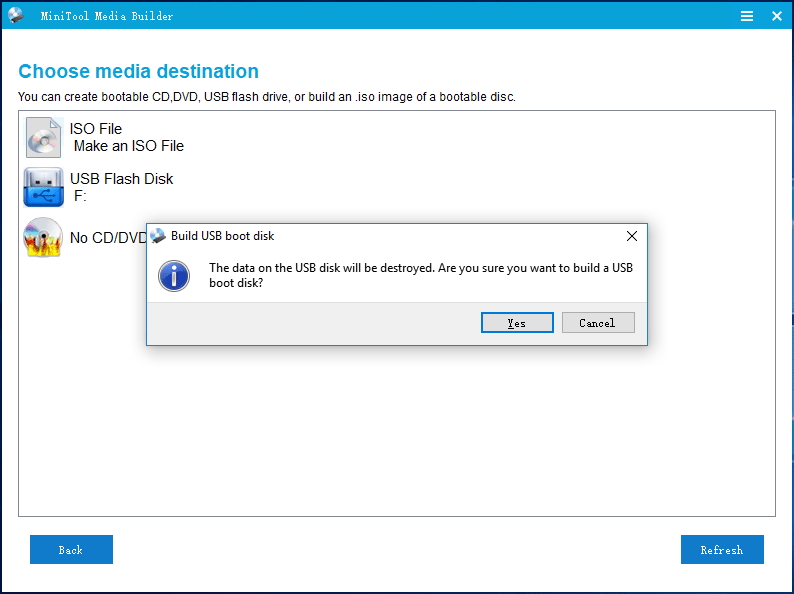 Step 2: Insert the bootable drive to your broken laptop, change the boot order, and run the machine from the drive. Also, prepare an external hard drive as the storage backup device.
Step 3: Navigate to the Backup window, click the Source section, choose Folders and Files, and check all the items that you want to back up.
Step 4: Click the Destination section and choose your external drive to save the backed-up data.
Step 5: Click Back up Now to start backing up files on your broken laptop.
Tip: If the bootable USB drive cannot help to boot the PC, perhaps there is something wrong with the laptop hardware and you can take out the disk and connect it to another computer for data backup. MiniTool ShadowMaker can also help you.
"I want to sell my broken laptop but there are many files saved on the hard drive. Thankfully, MiniTool ShadowMaker helps me a lot. So, you can also have a try."Click to Tweet
Before selling broken laptops for cash, you can wipe the entire hard drive after backing up the important files. To do this work, you can also connect the disk to another hard drive or use a professional disk wiping tool.
MiniTool Partition Wizard, a professional partition manager, has a feature called Wipe Disk. It can be used to permanently delete all the disk data that cannot be recovered with a data recovery software. It is safe and prevents criminals from getting your personal information.
If you want to wipe the hard drive on your damaged laptop, you need to use MiniTool Partition Wizard Bootable Edition. If you want to do this work on another computer, its Free Edition is helpful.
MiniTool Partition Wizard FreeClick to Download100%Clean & Safe
Step 1: Launch MiniTool Partition Wizard to its main interface and then right-click the hard drive of the broken laptop to choose Wipe Disk.
Step 2: In the pop-up window, you need to choose a wiping method. The last two options are slow but very safe and you can choose one of them.
Step 3: Click the Apply button to execute the wiping operation.
All the disk data are erased permanently and become unrecoverable. Any data recovery software cannot recover it. This protects your privacy and avoids data leak. After wiping the hard drive of your damaged laptop, you can sell the machine for cash.
Sell Broken Laptops
You may ask where to sell broken laptops. As for places, you can search for "sell laptop for cash near me" in Google Chrome to find some shops near you. Or you can take your broken laptop to some repair and resell service centers, perhaps they recycle it.
Besides, on the market, there are many companies to recycle damaged PCs and you can sell broken laptops online. When searching for "sell broken laptops", you find some websites dealing with the laptops, for example, SellMe, SellBroke, and more. Just follow the guide on the website to do the work.
Or you can choose to sell the laptop parts, or send it to metal and electronic recycling services. Please remember, throwing away your broken laptops to landfills is not good.
Tip: Some of you may say the donation is another option. Recycling a Laptop for charity is available for reparable and relatively new laptops. If the laptop is broken, you had better give it a second life and donate it to a family that needs it. Also, note that it is better to back up files and wipe the disk before donation to avoid data leak.
"What to do with old laptops that don't work? You can choose to keep some valuable parts of the broken laptop for reuse or sell the machine for cash. Just share them with your friends."Click to Tweet
How to Prevent Damage to Laptops
Laptops are easy to get broken but you can take some measures to avoid accidental damages to the machine.
Keep drink far away from your laptop.
Don't put heavy things on your laptop.
Always keep the laptop stored in a good place.
Clean your laptop regularly.
Use your laptop properly.
Laptops need to breathe and you should give it a good airflow to keep it overheating.
Bottom Line
Do you have a broken laptop? What to do with the broken laptop? Reuse it or sell it for cash. Just do by following the above-detailed guide.
Besides, if you have any suggestions of dealing with damaged laptops or any issues when using MiniTool software, inform us! You can send an email to [email protected] or leave your idea in the following Comment part.
Broken Laptop FAQ
How much does it cost to fix a laptop?
The repair cost of a laptop depends on the specific problem. On the Internet, you can find some websites where you can get an estimated price.
Can I retrieve files from a broken laptop?
Surely, you can recover files from a broken laptop with the help of a piece of data recovery software – MiniTool Power Data Recovery. This post is recommended here –
The Best Way To Recover Files From Broken Computer | Quick & Easy
. Also, you can use MiniTool ShadowMaker, backup software, to get files from the hard disk of the damaged laptop.
How can I turn my PC into a laptop?
This is not an easy job and you can search for the steps on the Internet. It is not recommended and you had better buy a new common laptop.
Can I sell a laptop with a broken screen?
You can sell a laptop with a broken screen online. Based on the different damages of your machine, the prices are different.