What is browser hijacking? How do you get rid of redirect virus from your browser like Chrome, Firefox or Internal Explorer (IE)? Now, this post from MiniTool gives you much information on the redirect virus, a guide browser hijacker removal, a good way to protect your PC to avoid data loss caused by viruses and some prevention tips.
Browser Redirect Virus on Windows PC
Usually, when mentioning malware, you are talking about a virus like Trojan that can freely roam through your Windows operating system, threatening your PC. Additionally, adware attacks are another form and can also create a lot of troubles.
Browser hijacking is one of the most common adware bugs and it can take full control of your browser like Google Chrome, Firefox, Internal Explorer (IE), etc. Perhaps you have encountered such a situation: when you click on a website it redirects you somewhere else.
Hijackers gather search results and links, change the search and error page of a definite browser, and redirect you to their own page where they can receive a commission or some sort of revenue. In most cases, Google, Bing, Firefox, etc. are the susceptible browsers.
Here are some typical signs that your system has adware:
The browser search engine and home page have been changed without your consent.
Web pages that you often visit are not displaying properly.
New toolbars, extensions, and plug-ins appear in your browser.
Pop-ups and ads bombard you.
Browser Hijacker Removal Windows 10/8/7
Common browser hijacker types include SafeSearch, CoolSearch and IBIS WebSearch. Once your PC is infected with a browser hijacking or any type of browser redirect virus, your daily browsing experience will be bothered and sensitive data is at risk. So, it is necessary to remove browser hijacking from your Windows PCs.
How to remove redirect virus from Chrome/Firefox, etc.? It is not easy. The redirect virus is still here even if you reinstall the browser. But don't panic and here we give you step-by-step instructions on browser hijacker removal. Just follow these steps below.
Step 1: Uninstall the Malicious Programs from Windows
The first thing you should do is to uninstall any strange or unknown programs from your computer. This is because something suspicious tends to hide behind many programs.
How to remove redirect virus from a browser via app un-installation? Follow the guide:
1. Input control panel in the search bar of Windows 10/8/7 and click this tool from the result list.
2. List all the items by large icons and click the Programs and Features link.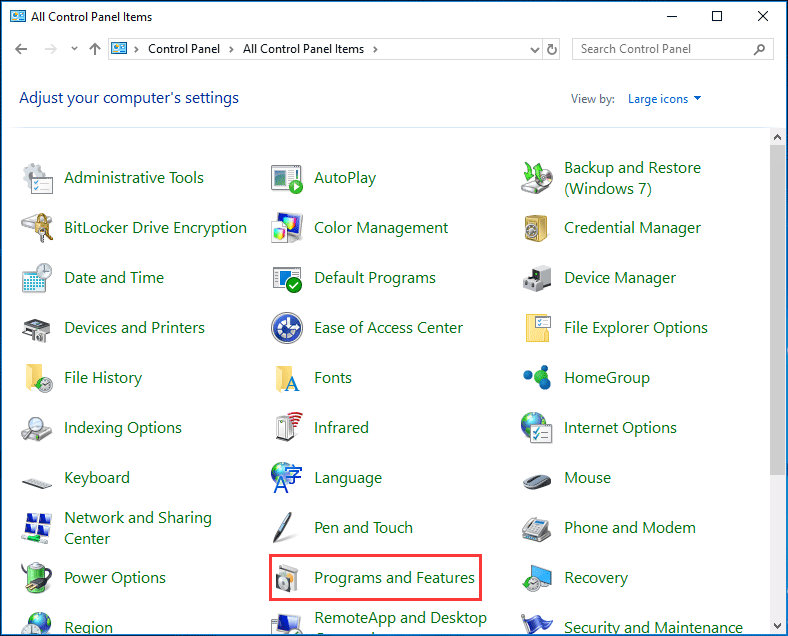 3. Go to each suspicious and untrusted program, right-click on it and choose Uninstall.
Note: Read all prompts carefully since some malicious programs try sneaking things.
Step 2: Use Browser Hijacker Removal Tools
To remove Firefox/IE/Chrome redirect virus, you should download a browser hijacker removal tool on your Windows 10/8/7 computer.
Malwarebytes
As one of the most popular and most used anti-malware software for Windows, it can destroy many types of malware that other software may miss.
Its premium edition offers you a 14-day free trial of the premium edition which offers extra functions including real-time web, malware, ransomware and exploit protection. Just go to its official website and download this tool to clean up malware infection.
Malwarebytes AdwCleaner
In addition, you can use another browser hijacker removal tool – Malwarebytes AdwCleaner to scan your system. This tool can locate and terminate all kinds of adware, including the browser hijacker that you are dealing with at the moment.
1. Download AdwCleaner from here and click the .exe file to open it.
2. Click the Scan Now button to have a scan.
3. Click Quarantine after the scan to delete found items.
HitmanPro
This tool can clean malware, viruses, rootkits, trackers, spyware, Trojans, worms, etc. And it can also scan files where malware normally resides for suspicious activity. So, you can also use this tool to do browser hijacker removal.
Of course, the tools that you can use to remove redirect virus from Chrome/Firefox/IE are various. Here, these three tools are enough.
Step 3: Reset Your Browser to Its Default Settings
If you find your home page or default search is hijacked, you need to reset your browser to its default settings in Windows 10/8/7. The way for this work will differ depending on the browser that you are using.
Google Chrome
1. Click the menu button that is represented by three horizontal lines and choose Settings. Alternatively, you can type chrome://settings in the address bar and press Enter.
2. Hit Advanced, go to Restore settings to their original defaults under the Reset and clean up section.
3. Click Reset settings finally.
Firefox
A guide on browser hijacker removal Firefox via browser resetting is here.
Go to its menu (three horizontal lines), and choose Help > Troubleshooting information.
When seeing the Refresh Firefox button, click it and confirm to reset the browser.
Internet Explorer
1. Click the Settings button and go to Internet Options > Advanced.
2. Click the Reset button.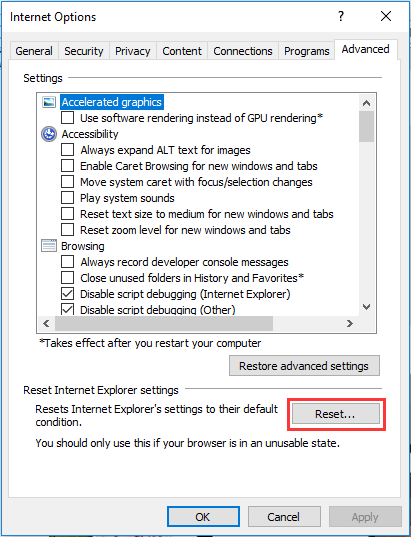 3. Make sure you select Delete personal settings and click Reset.
4. When the process is completed, click Close.
Another Step: Reset Hosts File (Optional)
When encountering a browser hijacker, if your links are redirected to other sites or you are unable to open certain websites, this situation is more serious. It is likely that your Hosts file is hijacked. So, you should reset this file. You can go to C:\Windows\System32\drivers\etc to find this file.
1. Rename the Hosts file to hosts.old.
2. Create a new .txt file named hosts in the %WinDir%\System32\Drivers\Etc folder.
3. Copy the following text to the new file and save it.
# Copyright (c) 1993-2009 Microsoft Corp.
#
# This is a sample HOSTS file used by Microsoft TCP/IP for Windows.
#
# This file contains the mappings of IP addresses to host names. Each
# entry should be kept on an individual line. The IP address should
# be placed in the first column followed by the corresponding host name.
# The IP address and the host name should be separated by at least one
# space.
#
# Additionally, comments (such as these) may be inserted on individual
# lines or following the machine name denoted by a '#' symbol.
#
# For example:
#
# 102.54.94.97 rhino.acme.com # source server
# 38.25.63.10 x.acme.com # x client host
# localhost name resolution is handled within DNS itself.
# 127.0.0.1 localhost
# ::1 localhost
"When I click on a website it redirects me somewhere else. How can I get rid of browser hijacker in Chrome? After finishing all the steps, I remove it easily."Click to Tweet
In conclusion, after finishing all the operations, now you should have removed browser hijacking from your Windows 10/8/7 PCs and you can use your browser properly.
Tip: Various viruses including a browser redirect virus always exist anywhere, which is threatening your PC. To avoid data loss caused by virus or malware attacks, we give you a suggestion – creating a backup for your important files.
Back up Your Important Files to Avoid Data Loss
To back up your PC data easily and effectively, MiniTool ShadowMaker is recommendable. This free backup software is compatible with many Windows systems including Windows 10/8/7, etc. It offers powerful features, for example, file/system/disk/partition backup and restoration.
For file backup, you can also use it to sync files to another location. This way can keep both the source and target folder identical. Importantly, it supports automatic file backup to keep your important data safe well.
Right now, download MiniTool ShadowMaker Trial Edition from the following button and then install it on your PC for a try. Note that this edition allows you to use it for only 30 days. To use it all the time, upgrade to a full edition.
1. Launch MiniTool ShadowMaker.
2. Go to the Backup page, choose files that you want to back up.
Tip: By default, MiniTool ShadowMaker backs up the Windows operating system.
3. Specify a storage path (a USB flash drive, an external hard drive or a shared folder) for the created backup file.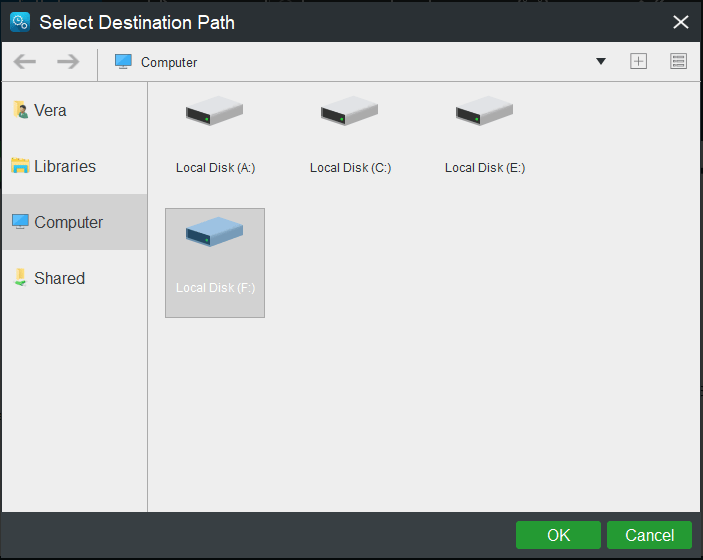 4. Click Back up Now to start file backup at once.
In addition, you can sync files for backup. For more information, refer to this post - How to Sync Folders Windows 10 to External Drive? 3 Tools Are Here!
Backup is important. If viruses attack your PC causing data loss, you can restore your critical files from the created backup. Now, get this tool for PC backup.
Browser Hijacking Prevention Tips in Windows 10/8/7
To keep your PC safe, you should take some other measures in addition to file backup. Redirect viruses are bothering and browser hijacker removal is troublesome. In order to avoid browser hijacking to the greatest extent, try these browser search hijack prevention tips.
1. Install excellent security software. If your antivirus program permits, let it detect potentially unwanted programs.
2. Never install extensions and plug-ins that are suspicious. Remember to uninstall apps that you do not need.
3. Don't click suspicious emails and attachments.
4. If you can, install a program that can monitor your system in real-time like WinPatrol.
5. While installing any new program, c. Never click Next blindly.
6. Update the Windows operating system and the browser software. System updates offer security patches, blocking attacks. Besides, having the latest version of a browser with all the latest security patches applied can prevent internet-borne attacks. And, new anti-hijacking features may be added to the new browser.
Tip:
Before the Windows update, it is best to create a system backup to restore the PC to a normal state in the event of system issues. MiniTool ShadowMaker can be also helpful for you to
back up Windows operating system
.
7. Harden the ActiveX settings. To do this, go to Internet Options via the search box, click Security > Internet > Custom Level. Then, ensure Download signed ActiveX controls, Download unsigned ActiveX controls, Initialize and Script ActiveX controls not marked as safe for scripting are set to Prompt, Disable and Disable respectively.
"How can you avoid browser hijacker? Try these prevention tips. They are useful and you can share them with your friends on Twitter."Click to Tweet
Further Reading on Browser Hijacker Removal Mac/Android
In this post, we only show you how to remove redirect virus from Chrome/Firefox, etc on Windows 10/8/7 PCs. Additionally, you may want to know something about Mac or Android browser hijacker removal.
What you should do is the same as the operations in Windows, for example, removing unknown or suspicious apps, using a third-party software to scan for viruses, malware, adware, etc., and resetting the browser. Just search the Internet to find specific removal instructions based on Mac or Android devices.
Bottom Line
Now, here comes to the end of this post. After reading this post, you clearly know what browser hijacker is, how to remove browser hijacking in Windows 10/8/7 and some things that need to be done. If you are bothered by a browser redirect virus, just try steps mentioned above.
On the other hand, let us know if there is any suggestion or question regarding browser search hijack. Sending an email to [email protected] and leaving a comment below are available.
Browser Hijacker Removal Windows 10 FAQ
How do I get rid of a browser hijacker?
Uninstall the malicious programs from Windows
Use browser hijacker removal tools
Reset your browser to its default settings
Reset Hosts File (optional)
What is a browser hijacker virus?
Browser hijacking is a form of malware software that can modify the settings of a browser without any permission and redirect you to its own web pages.
How do I remove Goodcaster virus from Chrome?
Uninstall the malicious programs from Windows
Use Malwarebytes Free to remove Thegoodcaster.com redirect
Use HitmanPro to scan for malware and unwanted programs
Double-check for malicious programs with AdwCleaner
Reset the browser settings of Chrome to remove Thegoodcaster.com
How do I stop unwanted redirects on Chrome?
Go to the three dots icon and click Settings.
Scroll down to the Advanced section.
In the Privacy and security section, go to Site settings > Pop-ups and redirects and ensure it is set to Blocked.