Chrome OS and Windows 11 are two different desktop operating systems. Chrome OS is a Linux-based system from Google and it is installed on Chromebooks by default. Windows 11 is the latest Windows operating system that is pre-installed on many laptops including HP, ASUS, Acer, Dell, Lenovo, etc.
You can purchase a laptop with Windows 11 or Chromebook for use. Well then, which operating system should you use? Chrome OS vs Windows 11, which is better? Move to the next part to find the differences between them and find the one suitable for you.
Windows 11 VS Chrome OS
In this part, we will compare these two operating systems in multiple aspects, for example, security, Android apps, Android integration, tablet mode, interface, performance, and battery life. Now, let's look through them one by one.
Chrome OS VS Windows 11: Security
Chrome OS takes advantage of sandboxing technology to make sure each software runs in a restricted environment. That is, each app runs independently from one another. Once one app is infected by viruses or malware, other software won't be infected.
Besides, a Chromebook offers security chips like Titan C and Trusted Platform Modules (TPMs) to encrypt sensitive data. This can help to block hackers from decrypting your data although they own your password. Also, Chrome OS is secure since it has a verified boot feature to prevent malware from tampering OS kernel, partition table, and non-volatile system memory.
Windows 11 doesn't feature the sandbox but you can enable this feature to create a secure and isolated environment for running applications. Besides, Microsoft puts forward new system requirements for Windows 11 – enabled TPM and Secure Boot. This means the security chips can keep your sensitive data safe.
In the operating system, there is a built-in antivirus software – Windows Security (also known as Windows Defender).
In Security, Chrome OS and Windows 11 have similar security features but there is an obvious difference – Chrome OS can only run Chrome extensions and Android apps. In most cases, they are fairly safe.
Besides, the market share of Chrome OS is low, as a result, this system is less likely to be attacked by malware. Most apps can run in Windows and malware is often hidden as a .exe file. The user base is large and Windows 11 is bound to suffer from more malicious attacks.
In conclusion, Windows 11 is less safe than Chrome OS. But this doesn't mean Windows 11 is not safe. Via some precautions, you can keep the PC secure. Here is a related post for you – How to Protect Your Computer from Viruses? (12 Methods).
Security winner: Chrome OS
Chrome OS VS Windows 11: Android Apps
These two systems support Android apps but the way is different. Chrome OS offers native support for Android apps and you can download apps from Google Play Store. For Windows 11, you need to install Android apps from the Amazon Appstore.
Besides, in terms of the number of applications you can access, Amazon Appstore offers fewer mobile apps than Google Play Store.
Android app availability winner: Chrome OS
Windows 11 VS Chrome OS: Android Integration
This is related to how your Android phone can interact. Since Windows 10, Microsoft has been using the Your Phone app to connect Android and Windows. After the connection, you can view and reply to text messages, make and receive calls, view your Android notifications, share your favorite images, etc. on a Windows PC. Almost all Android phones can integrate with Windows 11 via Your Phone.
For Chrome OS, Phone Hub is used to interact with Android devices and you can view notifications from your Android phone on a Chromebook and send files to and from your phone via Nearby Share.
But for now, Your Phone has the upper hand, especially for high-end Samsung devices. Microsoft and Samsung have been working together for a few years to offer a more seamless user experience via Windows-Android integration.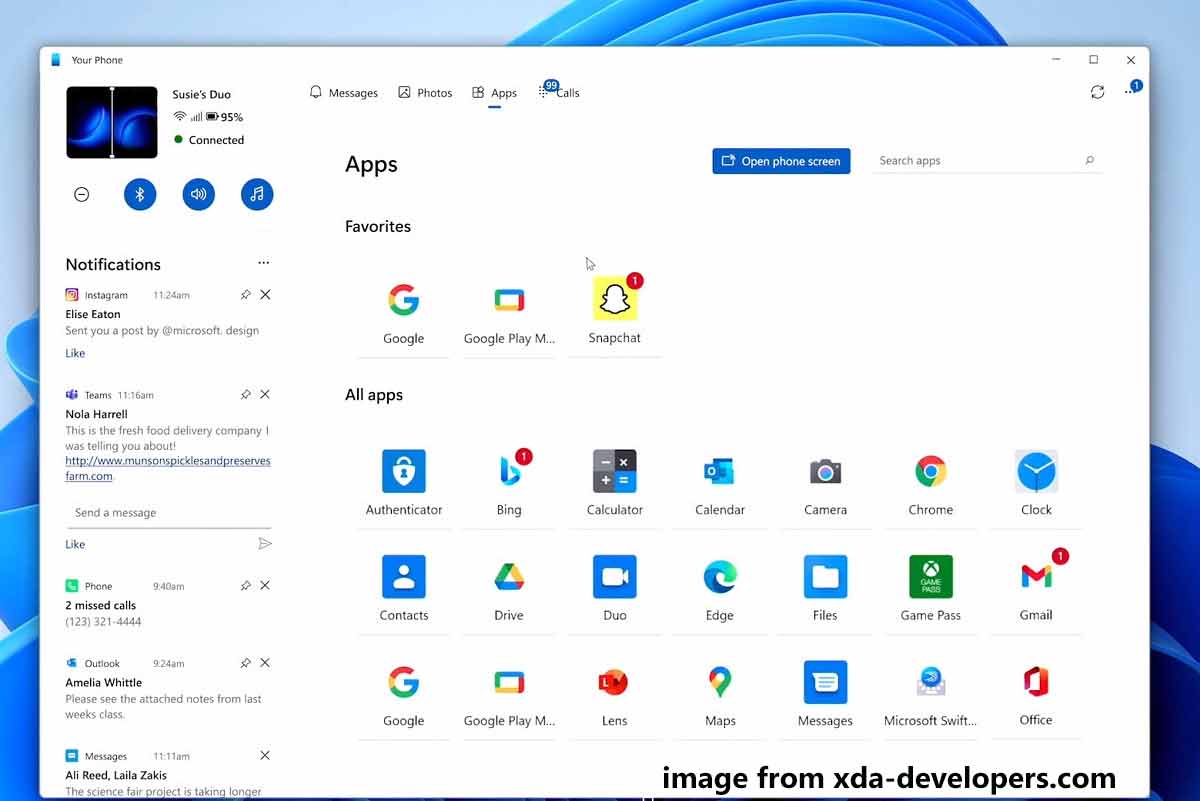 Related post: How to Set up and Use Your Phone App in Windows 10/11
Android phone integration winner: Windows 11
Chrome OS VS Windows 11: Tablet Mode Compatibility
Both two operating system support tablet mode. But for a Chromebook like Lenovo Chromebook Duet, the user experience is not good. For Chrome OS, the optimization for touchscreens is not a strong point. On the market, you rarely see tablets based on Chrome OS.
For Windows 11, it has been proven to work well with touchscreen devices, especially the Surface Pros like Surface Pro 7 and Surface Pro X. In this system, Microsoft has greatly improved its tablet mode, for example, better gestures, larger touch targets, and improved on-screen keyboard. Besides, the combination of its selection of gestures and the snapping feature makes the overall touchscreen experience better.
Tablet mode compatibility winner: Windows 11
Chrome OS VS Windows 11: Interface
Compared to Windows 10, Windows 11 has changed a lot in Interface Design. Taskbar application icons are centered, of course, you can move them towards left or right by following the methods in this post – How to Move Windows 11 Start Menu to the Left Side? (2 Ways).
Besides, it uses the rounded corner design – you can view it in windows, folders, and panes. In Chrome OS, you can also find the centered taskbar. In addition, its Notifications and Quick Settings are also similar to Chrome OS.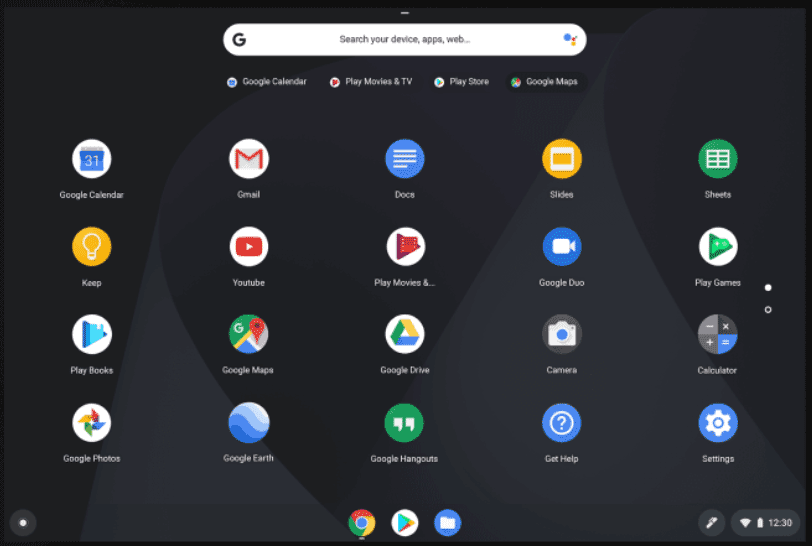 But there is a feature called Widget to let Windows 11 stand out. It can display dynamic content from your favorite apps and services like weather, news, calendar, clock, etc. To know more details, refer to our previous post – What Widgets Does Windows 11 Have & How to Add New Widgets.
Besides, Windows 11 Multiple Desktops focus on multitasking. If you need to deal with multiple tasks, you can create several virtual desktops.
User interface winner: Windows 11
Chrome OS VS Windows 11: Performance
It is not ideal to compare the performance of these two operating systems since they are optimized fairly differently and the hardware is also different.
Chrome OS is a minimalist and lightweight operating system mainly based on the web and it can run on a PC with only 2GB of RAM and 16GB of internal storage. The resource consumption is extremely light. But a Chromebook cannot handle intensive tasks like editing pictures, drawing images, dealing with HD videos, etc.
Windows 11 requires at least 4GB of RAN and 64 GB of storage space. On a PC with Windows 11, you can deal with multiple tasks and intensive tasks. Of course, the demand for the hardware is high since many system resources will be required.
Chrome OS VS Windows 11: Battery Life
For a laptop, the battery life is the aspect you should consider because you may need to use it on the move. When going to travel, working on a bus/train, or watching movies, you don't want to encounter such a situation – a laptop runs out of battery.
In terms of battery life, a Chromebook places a lesser demand on the battery since it is used to deal with some basic tasks that occupy less CPU and RAM. On Chrome OS, the apps running in the background are fewer, using less battery.
While Windows 11 needs to take some time to handle background tasks, which takes up a lot of battery life. Laptops with faster and more powerful processors use more battery.
Related posts:
Battery life winner: Chrome OS
Conclusion – Windows 11 VS Chrome OS
After comparing these two operating systems in several aspects, you know Chrome OS is the winner in Security, Android apps, and battery life while Windows 11 is better than Chrome OS in Android integration, tablet mode, and interface. Besides, Windows 11 rivals the performance of Chrome OS.
Which one should you choose? This depends on your needs since both of them have their advantages. Be wise and make a choice.
Install Windows 11 on Chromebook
If you have a Chromebook and want to enjoy Windows 11, what should you do? It is possible to run Windows 11 on your Chromebook. The steps are a bit complicated and you can follow our previous post – How to Install Windows on Chromebook (Detailed Tutorial).
Install Chrome OS on Windows 11
If you have a Windows 11 PC and want to experience Chrome OS, what should be done? You can dual boot Windows 11 and Chrome OS on your device. It is not easy to install Chrome on PC and fortunately, you can know how to install Chrome OS on Windows 11 from our previous post – How to Download and Install Chrome OS on Windows 10/11. Just follow the given instructions and you can enjoy the lightweight operating system.
Suggestion: Back up Your PC
No matter you install Chrome OS on Windows 11 or install Windows 11 on Chromebook, we suggest that you should create a backup for your Windows 11 operating system. This is because Windows 11 is vulnerable to malicious attacks, leading to data loss and system breakdown.
To avoid losing files or restore the system quickly in case of system crashes, you can choose to back up your vital files and folders, and create a system image of Windows 11. To achieve these purposes, a professional Windows 11 backup software is recommended here and it is MiniTool ShadowMaker.
As a free backup software, MiniTool ShadowMaker allows you to create imaging backups for your Windows operating system, files, folders, disks, and partitions. Automatic backup, incremental, and differential backup are supported. Besides, you can use it to sync data for backup. Also, disk cloning can be done to transfer the entire disk contents to another hard drive.
To back up your important data and Windows system, get its Trial Edition by clicking the following download button and install it.
MiniTool ShadowMaker TrialClick to Download100%Clean & Safe
Step 1: After opening MiniTool ShadowMaker in Windows 11, click Keep Trial to continue the edition.
Step 2: To create a system image, go to the Backup page and click the Back up Now button. By default, system partitions and a destination folder are selected. You can re-choose a destination path like an external hard drive or a USB flash drive.
To back up your significant files & folders, click Source > Folders and Files, choose the files you want to back up, and click OK. Then, choose the backup destination and start a backup.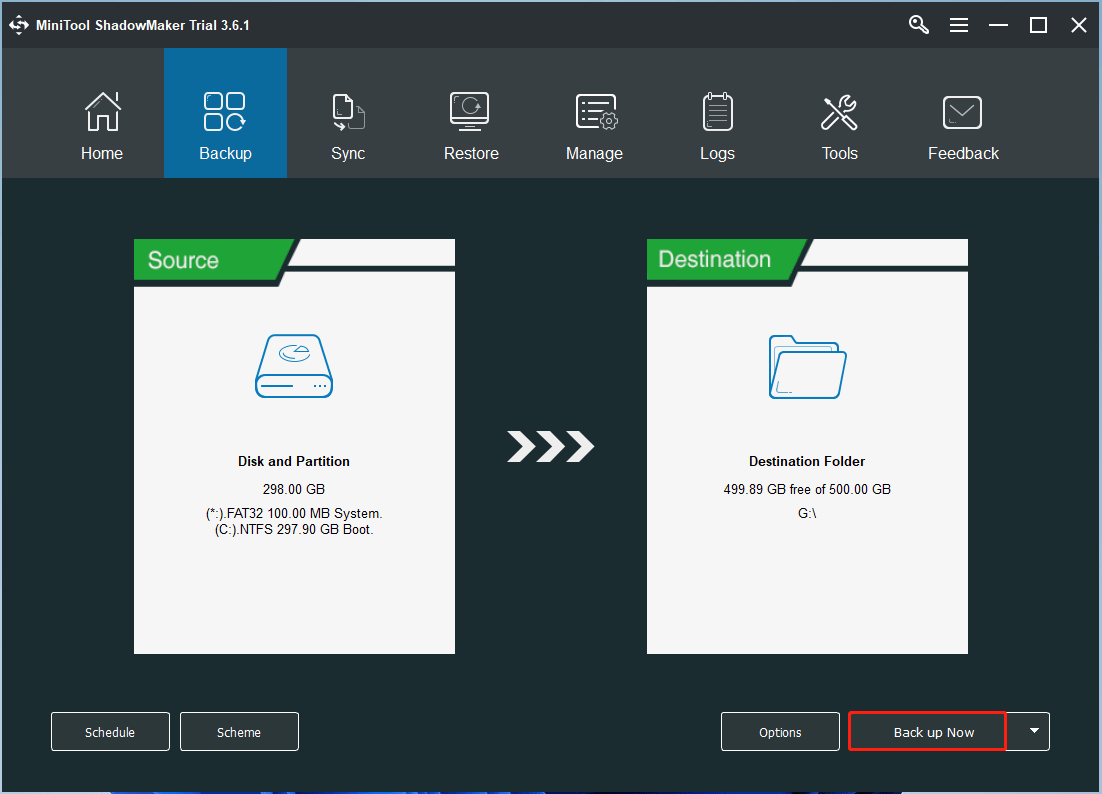 Final Words
Is Windows 11 better than Chrome OS? Is Windows or Chrome OS better? Both of them have merits.
This post focuses on Chrome OS vs Windows 11 in multiple aspects including security, Android apps, Android integration, tablet mode, interface, performance, and battery life. Just choose a proper operating system to use based on your needs. Besides, how to dual boot Windows 11 and Chrome OS is also introduced to you. Also, a suggestion is given to you for Windows 11 PC backup.
If you have any other ideas about Windows 11 vs Chrome OS, let us know in the comment below. Thanks a lot.