Some of you may want to clone HDD to SSD with Clonezilla. In this post, we will show you Clonezilla Windows 10, how to use Clonezilla to clone your hard drive as well as a Clonezilla alternative – MiniTool ShadowMaker developed by MiniTool Solution. Now, let's see some information below.
Clonezilla Windows 10
Clonezilla is a free and open-source disk imaging/cloning software. With this program, you can perform system deployment, back up system, clone disk, and more.
Clonezilla has 3 different types – Clonezilla live, Clonezilla lite server, and Clonezilla SE. Clonezilla live supports single backup and restore while Clonezilla lite server and SE are suitable for massive deployment – you can use them to clone more than 40 computers at the same time.
Clonezilla supports a range of file systems and it can be used on many platforms including Linux, Windows, macOS, Chrome OS, etc.
When you want to upgrade or replace your hard drive, you may want to perform a disk cloning and Clonezilla can help you. It can migrate the current installation of your apps, settings, and files to a new drive without reinstalling the operating system.
But there is a point you should pay attention to: the target drive must be equal to or larger than the source drive. That is, when you want to clone a drive that is using 100GB storage, the destination drive must also have at least 100GB available for a complete clone.
How to use Clonezilla to clone HDD to SSD? See the following part.
How to Use Clonezilla to Clone Windows 10
The operations to clone HDD to SSD with Clonezilla are a bit complicated and you should follow these steps below.
#1. Create Windows 10 Clonezilla Bootable Media
Step 1: Before starting Clonezilla Windows 10 cloning, you need to go to the download page, choose iso from the file type section, and then click Download.

Step 2: Then, you need to create a Clonezilla bootable USB drive. Go to the website of Rufus to download and install it on your computer.
Step 3: Connect your USB flash drive to your PC, run Rufus, click SELECT to choose the iso file of Clonezilla you have downloaded, and then click the START button.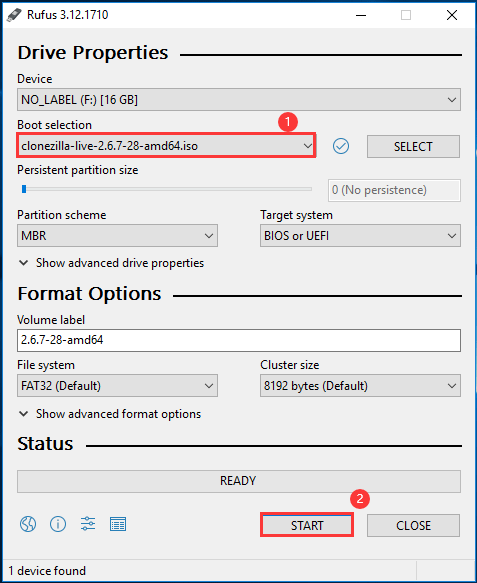 Now, the bootable Clonezilla Windows 10 USB drive is created successfully. Connect the USB drive to your computer, restart the computer, press a specific key to enter the BIOS menu, change the boot order to the USB drive, and then the PC can run from the bootable Windows 10 Clonezilla drive.
#2. Clone HDD to SSD with Clonezilla for Windows 10
After booting the computer from the created bootable drive, now you should perform disk cloning by following these steps below. Note that your target disk is connected properly to your computer.
Note:
This software can overwrite the data on your hard drive when cloning. So, you should
back up important files
on the target disk before cloning.
Step 1: In the following interface, choose Clonezilla live.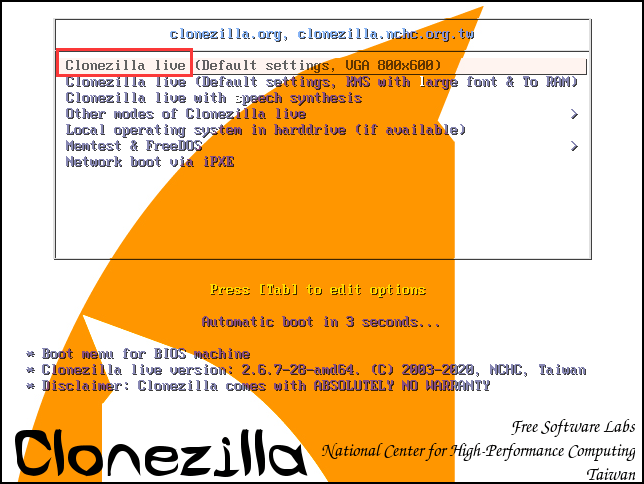 Step 2: Choose a language and press Enter.
Step 3: Choose a keyboard configuration. You can keep the default keyboard layout and press Enter.
Step 4: Select either start Clonezilla or enter login shell. The first one is recommended.
Step 5: You need to choose a mode to continue. Your plan is to clone a hard drive in Windows 10, so here choose device-device work directly from a disk or partition to a disk or partition.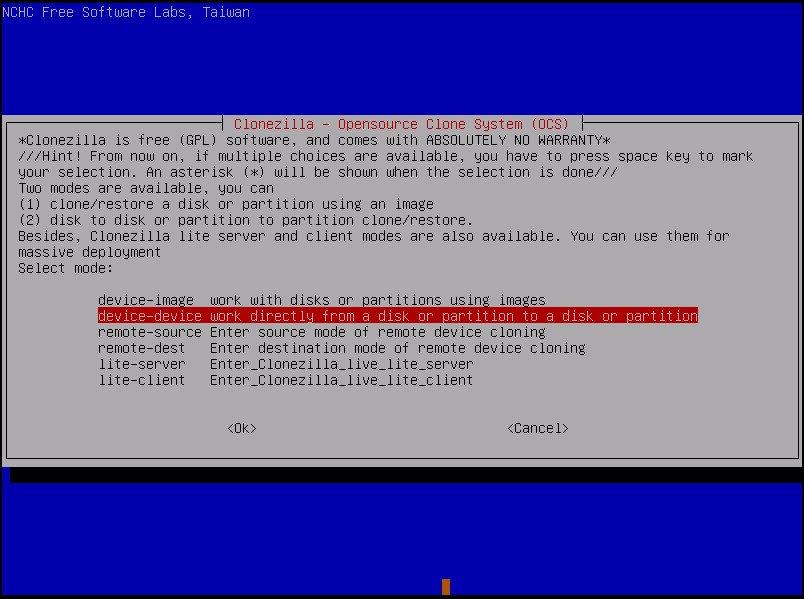 Step 6: Choose a mode to run and here we choose Beginner Mode to continue.
Step 7: In the following window, you see two options: disk_to_local_disk local_disk_to_local_disk_clone and part_to_local_part local_partition_to_local_partition_clone. If you need to clone HDD to SSD, choose the first option to continue.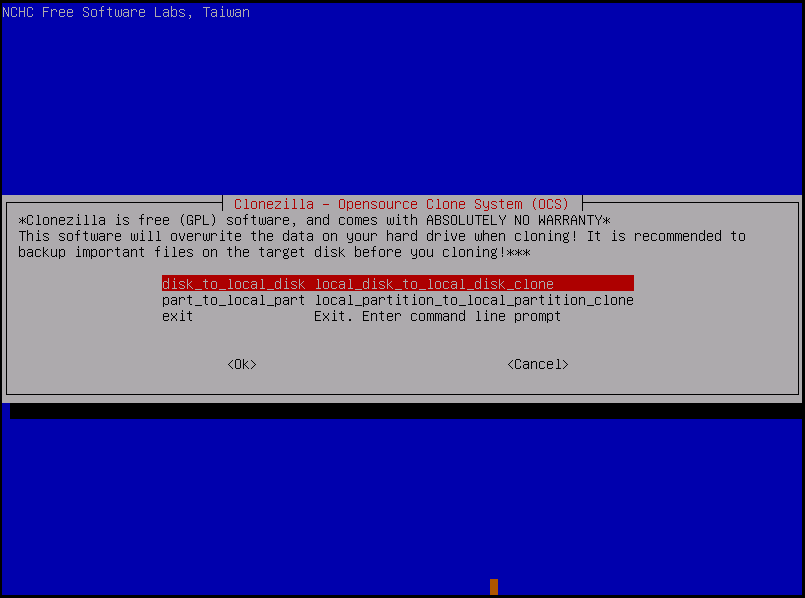 Step 8: Select a disk as the source drive.
Step 9: Specify a hard drive as the target disk.
Step 10: Set the advanced parameters. If you have no idea, keep the default value – sfck: skip checking/repairing source file system.
Step 11: Choose to reboot/shutdown, etc. when everything is finished.
Step 12: Confirm the operation: type Y and press Enter 3 times to confirm the cloning process, confirm data will be overwritten, and confirm to clone the boot loader (this can make the Windows 10 drive bootable).
Step 13: After finishing these steps, Clonezilla will proceed to clone the data from the source drive to the destination drive. This will take a few minutes, so wait patiently.
After cloning is completed, shut down or restart the machine depending on your needs. Then, you can replace the old hard drive with the new disk or remove the old one from your computer.
"This is all the information on Clonezilla Windows 10 as well as how to use Clonezilla for disk cloning. You can share them with your friends on Twitter."Click to Tweet
Now, you know how to use Clonezilla to clone your disk in Windows 10. But as you can see from this part, the whole cloning process is very complicated and time-consuming since you need to create a bootable USB drive and then start the cloning by following many wizards. The operation steps are so multiple, which may let you feel confused. Besides, the target disk must be equal to or larger than the source hard drive.
Actually, you can easily clone your disk to another one without Clonezilla. There are many easy-to-use Clonezilla alternatives in the market and here we recommend using MiniTool ShadowMaker to clone HDD to SSD, even when the SSD is smaller than the HDD. Just keep reading to learn more information.
Clonezilla Windows 10 Alternative – MiniTool ShadowMaker
MiniTool ShadowMaker is an all-in-one backup software for Windows 10/8/7. With it, you can create a system, file, folder, disk, or partition backup and perform the recovery operation. Besides, it can be used to sync your files & folders to other locations.
Also, it is an excellent hard drive cloning software that allows you to clone your hard drive to another hard drive with simple steps. Even the source disk is larger than the target disk, you can perform the cloning operation provided that the target disk has enough disk space to hold the content of the source disk.
MiniTool ShadowMaker offers a user-friendly interface, making you clone the disk easily. Now, download this program by clicking the following button and then install it on your Windows 10 computer to start cloning.
Related article: MiniTool Programs Help to Clone Hard Drive to Smaller SSD
See how to clone a hard drive in Windows 10 with MiniTool ShadowMaker.
Step 1: Run this hard disk cloning software to its main interface.
Step 2: To clone a hard drive, go to the Tools page and then choose Clone Disk from the window
Step 3: In the pop-up window, choose a source disk and target disk. And then, click OK to continue.
Tip: The cloning process will also overwrite the target disk, so you should also back up the vital data if you have saved some. Or you can use an empty disk as the target disk.
Step 4: Now MiniTool ShadowMaker starts cloning the hard drive. This will take a few minutes. After finishing the clone, you can receive a message to tell you what you should do.
If you need to replace your old hard drive with a new disk like SSD, shut down the computer, open the computer case, remove the old disk, and put the SSD in the original place. This post may be what you are interested in - How to Install SSD in PC? A Detailed Guide Is Here for You! If you clone the disk for backup, just remove the new hard drive.
"Clonezilla Windows 10 is very complicated for me and I use MiniTool ShadowMaker to easily and effectively clone my HDD to SSD. It is worth recommending."Click to Tweet
Clonezilla for Windows 10 VS MiniTool ShadowMaker
After learning this two cloning software, now let's make a simple comparison between them.
User Interface: Clonezilla uses a text-based interface that is not user-friendly while MiniTool ShadowMaker offers a visual and clear user interface that is loved by the majority.
Disk Storage Limitation: Clonezilla only supports cloning a disk to a target disk that is equal to or larger than the source disk. But MiniTool ShadowMaker can clone a disk to a smaller disk as long as it can hold all data on the source disk.
Clone Process: The cloning process of Clonezilla is too complicated and time-consuming. Cloning disk with Clonezilla needs lots of steps while cloning disk with MiniTool ShadowMaker only requires 4 steps. The operation is quite simple and easy.
Supported Operating System: Clonezilla supports macOS, Linux, Windows, etc. while MiniTool ShadowMaker can only be used in Windows.
Partition to Partition Clone: Clonezilla supports this cloning method but MiniTool ShadowMaker doesn't support it by far.
Thus it can be seen that MiniTool ShadowMaker is worth recommending. Just get it for backup, sync, or clone in Windows 10 now based on your need
Further Reading – Another Clonezilla Alternative: MiniTool Partition Wizard
When mentioning cloning partition to partition, although MiniTool ShadowMaker cannot be used to do this work, another MiniTool software supports it. It is MiniTool Partition Wizard – a professional partition manager.
It is perfect hard drive cloning software for Windows 10/8/7. With it, you can migrate the Windows operating system to another hard drive (system clone), clone a disk to another, and clone partition. The user interface is also clear and the cloning process is simple. But it is not totally free. If you need to deal with the system, its Professional and advanced editions are suitable.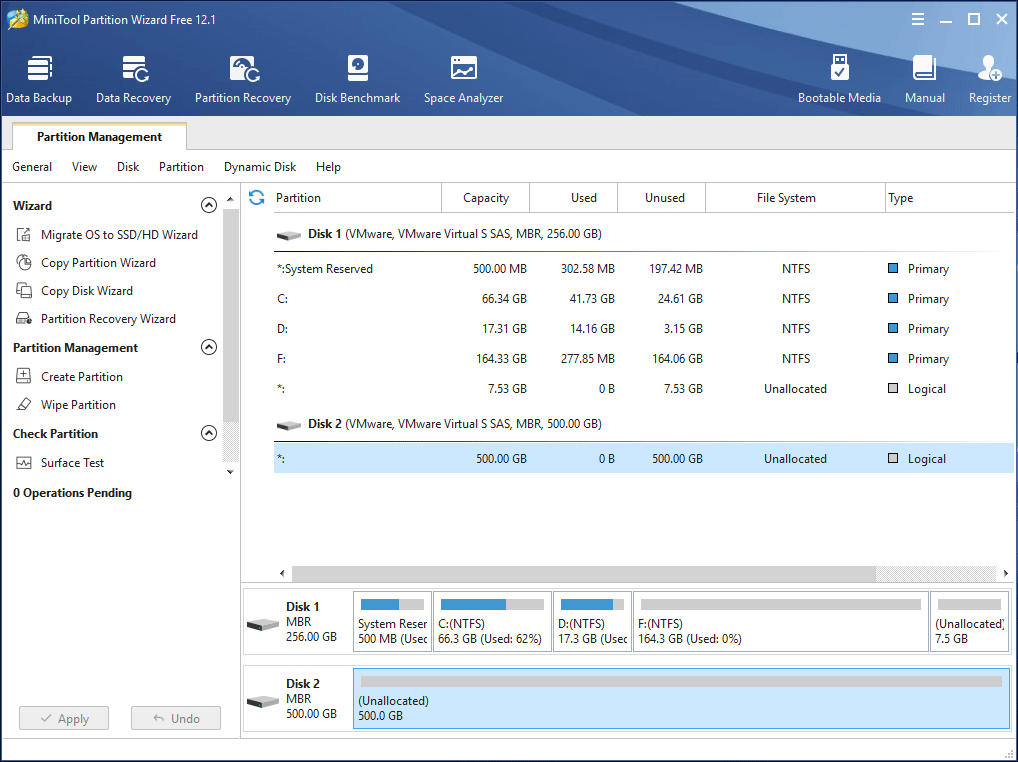 Bottom Line
What is Windows 10 Clonezilla? How to use Clonezilla to clone HDD to SSD? After reading this post, you know a lot of information. Cloning a hard drive with this software is complicated and it is time-consuming. Due to this reason, a Clonezilla alternative – MiniTool ShadowMaker is recommended to you. Just get it to perform the disk cloning.
On the other hand, if you have any suggestions for Clonezilla or any questions when using MiniTool software, don't hesitate to tell us and we will reply to you as soon as possible. Leaving a comment below or contacting [email protected] is supported.
Clonezilla Windows 10 FAQ
Can Clonezilla run in Windows?
Clonezilla supports many platforms including Linux, macOS, Windows operating system, and more. So, you can run this software in Windows 10/8/7.
Does Windows 10 have cloning software?
In Windows 10, there is no built-in cloning software. If you need to clone your hard drive to another disk for upgrade, download a professional third-party software and MiniTool ShadowMaker can be your good option.
What is the best cloning software for Windows 10?
In the market, there are many cloning software. MiniTool ShadowMaker and MiniTool Partition Wizard are the best cloning software for Windows 10 and you can try one of them to clone your hard disk.
Does Clonezilla work with UEFI?
All versions of Clonezilla live support computers with legacy BIOS. If your computer comes with UEFI, AMD64 (x86-64) version (either Ubuntu-based or Debian-based) of Clonezilla live is required.