Does your computer have poor performance? What should you do to make the old computer run like new? Read this post and MiniTool shows you some tips and tricks focusing on free computer tune up. Besides, some tuneup utilities will be introduced here.
You may use your computer or PC every day to do your work or run a business. Over time, the performance of this machine may dwindle, resulting in slowdowns. In this case, it is time to tune up your computer.
How to tune up a computer? In Windows 10/11, you have some tools to free tune up your PC, including tools for deleting junk files, optimizing the hard drive, adjusting security settings and apps, etc.
Next, let's go to see some basic tips and software that can help restore like-new performance to your older computer.
Related article: A Full Guide on How to Tune up a Windows PC (2021 Update)
Free Computer Tune up – Tips and Tricks for Windows 11/10
Uninstall Unnecessary Programs
Windows 10 always come with some pre-installed programs but your computer doesn't always need these apps. Besides, you may also install some programs but you don't use them often. These unnecessary programs and software may take up unnecessary disk space, slowing down the PC performance.
You can delete or remove unwanted apps, pre-installed programs, and unused features to make the device run at optimal performance.
Go to Windows settings, click Apps and move to Apps & features.
Click the app that you want to uninstall and then click the Uninstall button.
Continue with the on-screen wizards.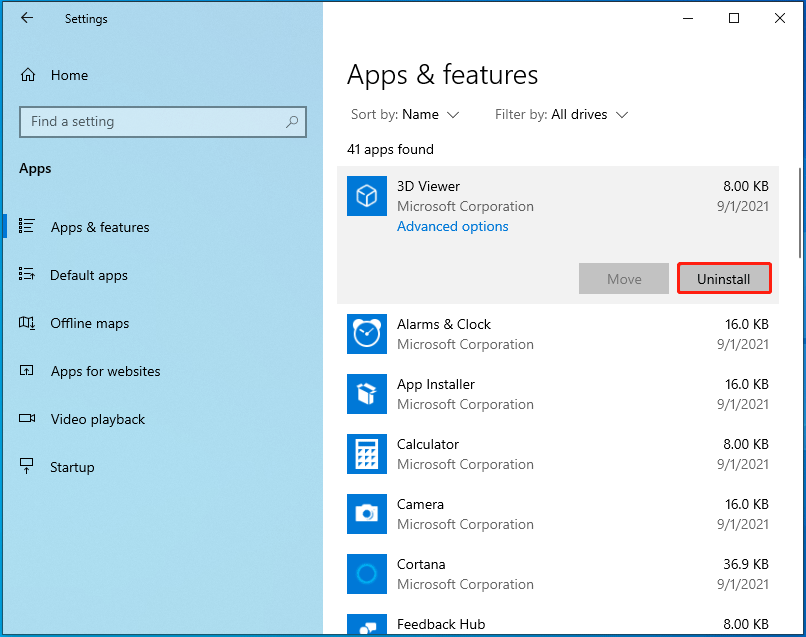 Disable Startup Programs
Another tip for computer tune up is to disable startup programs in Windows 10/11. Some apps can automatically run in the background during PC startup, which may lead to a long boot time and slow down the system performance.
How to check for these programs and limit them at startup to speed up the system? Follow these steps.
1. Launch Task Manager by right-clicking the taskbar and choose Task Manager.
2. Go to the Startup tab, choose one app, and click Disable.
Use Storage Sense to Tune up Your Computer
You should make sure there is enough space on your computer to store all files including photos, documents, videos, etc., and improve system performance. Storage Sense in Windows 10/11 can be used to delete some unnecessary files and content to free up disk space.
How to tune up a computer via using Storage Sense?
Go to Settings > System > Storage.
Move to the local storage section, click C, choose Temporary files.
Check the items you'd like to permanently remove and click Remove files to free up disk space.
Tip: The items may include Delivery Optimization Files, Temporary files, Thumbnails, Microsoft Defender Antivirus, Recycle Bin, Temporary Windows installation files, DirectX Shader Cache, System created Windows Error Reporting Files, Temporary Internet Files, and Previous Windows installation(s). Depending on the current setup configuration, the items listed may vary.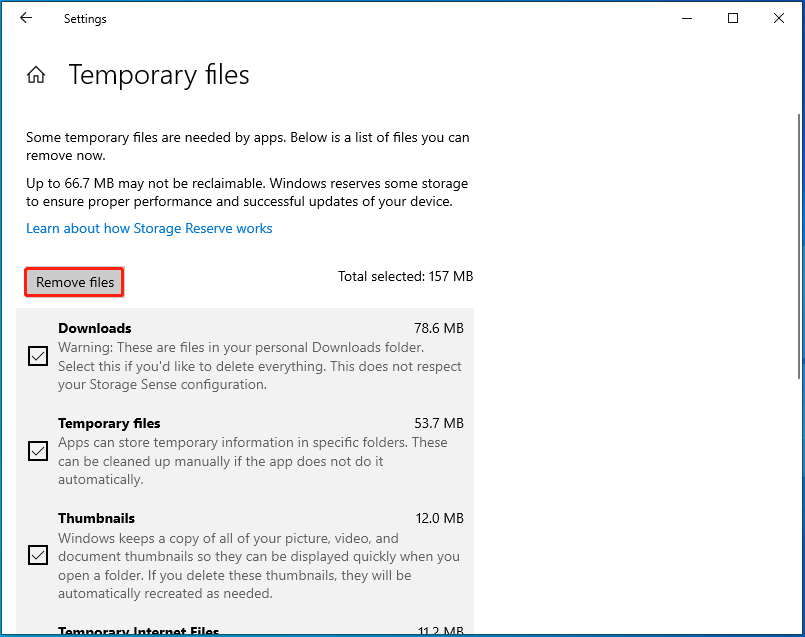 In addition to freeing up disk space using Storage Sense manually, you can do this thing automatically. Under the Storage tab, switch the option of Storage Sense to On. Then, Windows can automatically free up space by getting rid of files you don't need.
You can decide when Windows should clear unnecessary files automatically, for example, every day, every week, every month, or during low disk space.
Computer Tune up - Run Defrag
If you use your computer for some time, many fragments will be produced, resulting in a slow PC. Thus, you can defragment to tune up your computer to improve system performance. If you are using an SSD, you can skip this tip.
If you are using an HDD, this step is necessary. Windows can automatically run the defrag operation on a schedule. If you want to manually do this work in Windows 10/11, follow the instructions below to help the computer run more efficiently.
Go to Settings > System > Storage > Optimize Drives. Alternatively, you can type defrag in the search box and click Defragment and Optimize Drives.
Choose the drive you want to optimize and click the Optimize button.
Run SFC and CHKDSK
Running System File Checker is a good idea since this can make sure your operating system files are in the best state. Besides, you can also perform a disk check to fix some drive errors. Go to run Command Prompt as administrator, then type sfc /scannow and press Enter. After that, execute the chkdsk /f /r command.
Run an Antivirus Program
Another way to tune up your computer in Windows 10/11 is protecting the machine from virus and hacker attacks. If your PC tends to become sluggish, perhaps there is malware that isn't detected by the operating system. Performing a virus or malware scan is helpful to protect the PC against threats and malicious attacks.
In Windows 11/10, there is a snap-in antivirus solution – Windows Defender or Windows Security. It could run in the background to keep your system safe. You should perform a full scan especially when your PC runs abnormally or performs poorly.
Here is how you do this work:
Click Start and choose Settings > Update & Security.
Under the Windows Security tab or (sometimes Windows Defender), click Open Windows Security.
Click on Virus & threat protection and click Scan options.
Check the box of Full scan and click Scan now. This will check all files and running programs on your hard disk. This may take longer than one hour.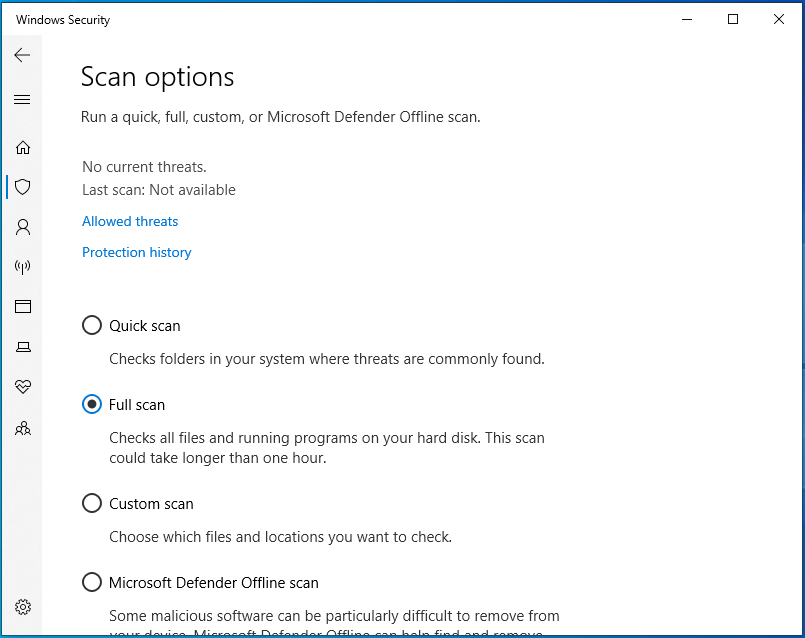 Tip: You can also use Windows Defender Firewall to keep your computer from unauthorized access. By default, it is enabled in Windows 11/10.
Windows 11/Windows 10 Tune up - Back up Computer
To protect your Windows installation and files from software-related problems, hardware failure, viruses, and theft, the best way is to create a full backup for your computer. Once the PC goes wrong due to some reason, you can restore the PC to a normal state, which reduces the downtime.
To back up your computer, you can open Control Panel, click Backup & Restore (Windows 7) and then click Create a system image to back up the Windows system. Or you can click Set up backup and start file backup by following the on-screen wizards.
Or you can use a professional backup software for Windows 10/11. Here we recommend using MiniTool ShadowMaker. It supports file, folder, system, disk, and partition backup and restore. File sync and disk cloning can be realized by this software. Besides, you can run this software to automatically back up your computer for system and data protection.
Keep Windows Updated
Installing the latest version of Windows can let your computer have the new and improved feature to improve productivity and efficiency. Windows updates can fix some glitches & bugs of the Windows operating system, which makes sure good PC performance. Besides, this is also a way to protect your PC from online threats.
To upgrade Windows, go to Windows 10 Settings and click Update & Security to the Windows Update interface. Click Check for updates. Once some updates are available, Windows will download and install them on your PC.
Other Computer Tune up Tips for Windows 10/11
In addition to the above tips and tricks of Windows 10 tune up, you can do some other things to tune up your computer:
Change power mode to conserve battery life and manage background apps to improve battery life. Or you can customize battery saver settings. All of them can be realized via Windows battery settings. Besides, you can optimize laptop battery life in Windows 10/11 by adjusting screen and sleep timers, reducing brightness, switching to a dark theme, using a dark background, etc.
Reset your Windows 10 PC if it runs slowly. Just go to Settings > Update & Security > Recovery > Reset this PC.
Related article: How to Reset Windows 11? [Step-by-Step Guide]
These are almost things you can do to tune up your computer with Windows built-in tools so that you can get the best system performance. In addition, you can use a third-party all-in-one computer tune up software to achieve your aim. In the following part, we will list the top 3 tuneup utilities.
3 Computer Tune up Software
iolo System Mechanic
System Mechanic is a veteran tune up software developed by iolo. It can speed up processor, memory, broadband, and hard drives, remove clutter and junk files that slow you down, shield browsing habits and thwarts personal data collection, block &remove the latest types of malware, and more. It claims to be able to find and fix more than 30,000 different issues to keep your PC stable and issue-free using intelligent live updates from iolo Labs™.
In short, it is a software suite that integrates Windows optimization, antivirus, and online privacy. To use it, you need to activate it first.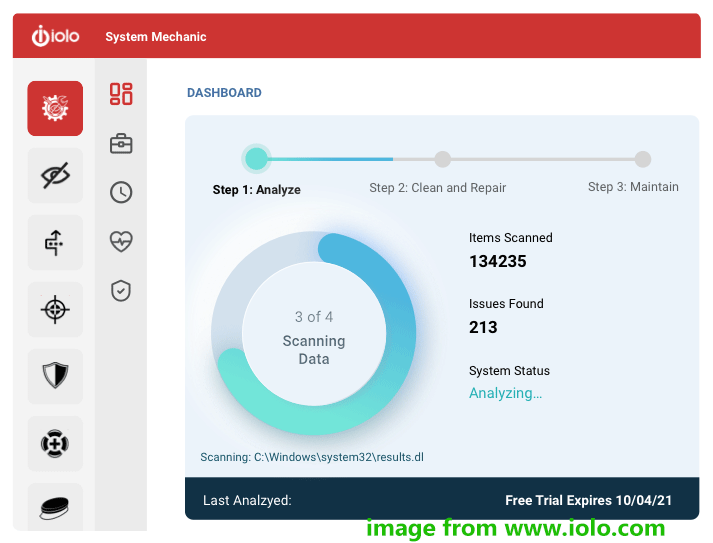 AVG Tuneup
This advanced PC performance optimizer can help you speed up, clean up and fix your PC. With AVG Tuneup, you can make a new PC run better or let an old PC live longer by automatically fixing and maintaining your PC, removing bloatware and junk programs, cleaning your hard drive and registry, updating your programs with one click, and more.
Besides, this tuneup software offers a unique feature - let your installed programs go to sleep mode when you are not using the system. This boosts your PC performance. It gives a free trial edition that allows you to free use within 7 days.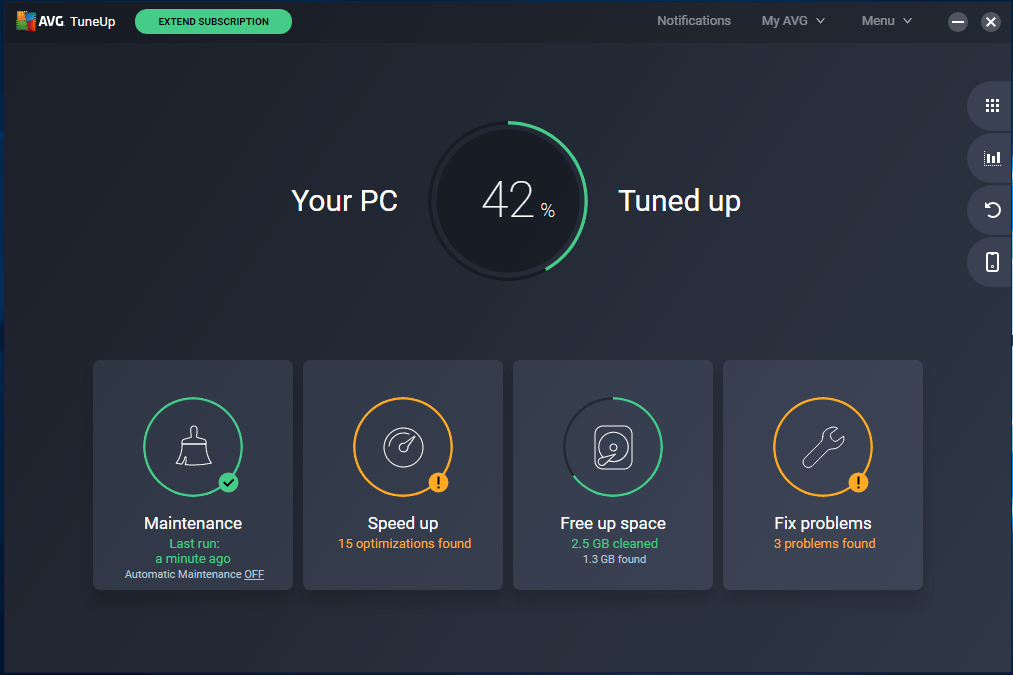 Ashampoo WinOptimizer
Ashampoo WinOptimizer is not only a PC cleaner but also a utility that supports system maintenance, performance, or customization. Besides, it can be used to protect your privacy and improve security. It can be used to delete, encrypt data and recover files.
You can also use Ashampoo WinOptimizer to perform system analysis, for example, check disk space usage and find large files with DiskSpace Explorer, benchmark system, detect hard disk issues on time, etc., eliminate browsing traces, optimize Internet connections, speed up Windows startups and more.
Ashampoo WinOptimizer offers a free edition and a paid edition. Just get its free edition to have a try.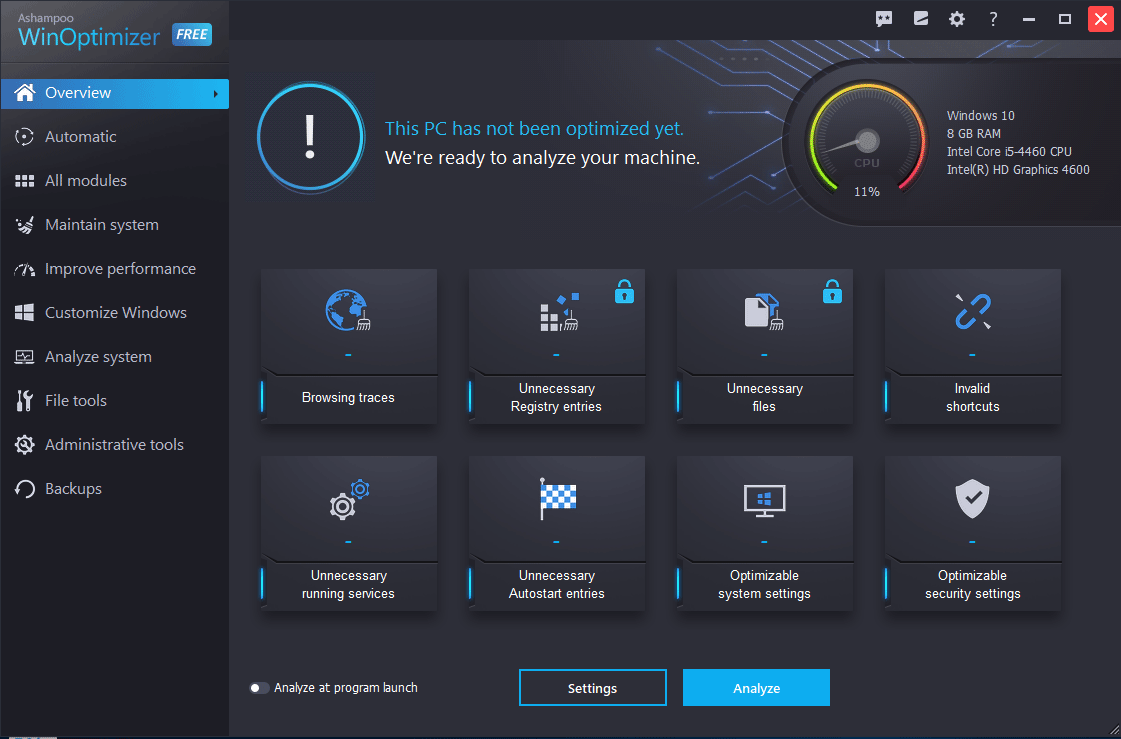 In addition to these three computer tune up software, you can try some other best tuneup utilities, for example, Advanced System Optimizer, IObit Advanced SystemCare Pro, SlimWare SlimCleaner, Glary Utilities Pro, and more. Just choose one to tune up your computer based on your needs.
Final Words
That's all the related information about computer tune up. You can use Windows built-in tool to perform PC tune up or ask a third-party program for help to boost your system performance. Then, you can use your old computer as a new one.
Should you have any issues or ideas on Windows 10 tune up or PC tune up? Let us know by leaving your idea in the comment section below or contacting [email protected].