What Is Data Backup and Recovery?
It is important to protect your data because any system can crash, anyone can make some mistakes and cyberattacks can happen at any time. Speaking of data protection, you must be fully aware of data backup and recovery.  
The primary goal of data backup and recovery is to protect data like files, folders, systems, disks, partitions, databases, and more. It is the process of copying & archiving your computer data and recovering it using the backup you have created when data corruption, deletion or loss occurs.
Data Backup vs Data Recovery
Data recovery is normally associated with backup images, which will return the data back to its original state. The data backup process can protect your data while the recovery process enables you to retrieve the data you have backed up using the backup copy.
The former is a precaution to secure data before accidents like malicious deletion, hardware failure or ransomware attacks happen and the latter is a solution to recover your data to the normal state after the occurrence of data loss.
Types of Data Disasters
There are multiple disasters for data loss when backup and recovery of data is required. Some of the common data disasters are listed as follows:
Device malfunction – there might be some problems with the hardware, software, or configuration on your computer. These issues or errors prevent your device from working properly and your data might be corrupted or inaccessible.
Cyber threats – With the rising cyber threats like viruses and malware, data loss or breach also grows increasingly. If there are no effective protection programs running on your computer, it can get attacked or infected easily.
Human disasters – Any improper operation while using a computer might also lead to severe data loss. For example, you may delete some important data by mistake, interrupt the running of some commands in Command Prompt, remove the correct registry key in Registry Editor and so on.
Natural disasters – Natural events like a sudden power outage, liquid contamination, accidental collision and more might trigger massive data loss.
Types of Data Backup
Full backup – is the most basic type of backup that create a copy of all the data including files, folders, settings, applications and more. It takes a long time and requires a lot of storage space. Usually, the full backup is used in combination with a differential backup or incremental backup.
Differential backup – is created only based on the last full backup. Every time it runs, it will continue to copy all the data altered since the last full backup.
Incremental backup – is created based on the last backup (full or incremental backup) and then it copies a small amount of data that has changed since your last backup operation. It is faster and requires less storage space. Compared with a differential backup, an incremental backup needs less time for the backup process but requires a longer time for data recovery.
Types of Data Recovery
File restore – is the smallest type of data recovery because you don't have to restore all the data you have backed up. It just locates the necessary backups and restores them to the specified device. This is the process of getting one or some specific data sets among many volumes.
Bare metal restore – refers to the process of restoring the whole system image including applications, settings, and drivers from a backup image to a bare-mental machine. You can exploit this type of data recovery without reinstalling or configuring anything when data from a damaged device/system need restoring to a brand-new device.
Volume restore – is used to recover an unlimited number of VMs at the same time. This type of data recovery can save more time and resources. It retrieves files and folders with intact permission when the physical server is operating properly.
Backup Strategy
The importance of choosing the appropriate backup strategy cannot also be ignored. The 3-2-1 backup strategy is one of the most popular methods due to its ease and practicality. What does it mean?  
3 – Keeps 3 copies of your data. When some of the backup copies are corrupted or lost, the rest copy can still save your day.
2 – Store your backups on 2 different media types. For example, you can keep the backups both on external drives and removable drives because there is little possibility that they are damaged or have errors at the same time.
1 – Keep one copy at an offsite location. When there is a data disaster, it will not destroy all copies of the data and you can recover your data using the copy saved at another location.
Advantages of Data Backup and Recovery
There are many reasons why you need to perform data backup and recovery. In this part, we will discuss the advantages of backup and recovery in three aspects:
Data integrity and security – It can secure your data from a range of data disasters. Reliable data backup and recovery services can help you to protect your data with the help of encryption.  
Cost control – If you have lost your data and you haven't backed up anything, there is a chance that you need to look for a third-party service to help you to recover your data, which will be expensive and a little risky. However, if you have a habit of backing up data regularly, everything will be much easier. The cost will be lower and your data privacy will also be preserved.
Less delay in work – With a recent and complete backup to restore from, you can go back to work quickly after an efficient data restoration. With a backup copy in hand, you will have a cushion to fall onto when data loss occurs.
How to Perform Data Backup and Recovery Easily and Effectively?
Data backup and recovery plays a critical role in daily life and work. Therefore, it is important to choose a reliable backup and recovery plan or service because it might retrieve huge data loss for individuals or companies.
To keep your data safe, a piece of Windows backup software – MiniTool ShadowMaker distinguishes itself among a number of backup and recovery software in the market. This tool is famous for providing a one-click system backup solution and helping your device to survive in a multitude of possible data disasters.
MiniTool ShadowMaker TrialClick to Download100%Clean & Safe
With MiniTool ShadowMaker, you can choose the backup source, type & schedule and restore options flexibly. It is aimed at backing up and restoring systems, disks, partitions and files on Windows 11/10/8/7. Meanwhile, this freeware supports storage media like HDD, SSD, USB flash drive, Network Attached Storage (NAS), Home File Server and more.
Perform Data Backup with MiniTool ShadowMaker
Now, let's see how to backup data with this useful tool!
Step 1. Click on the button below to download and install MiniTool ShadowMaker Trial for free.
MiniTool ShadowMaker TrialClick to Download100%Clean & Safe
Step 2. Press Keep Trial to enter the main interface.
Step 3. To select the backup source and destination, go to the Backup page.
Backup source – In the SOURCE module, you can choose from Folders and Files & Disk and Partitions and then decide what to back up.
Backup destination – In DESTINATION, choose a storage path for the backup image. Here, it is highly recommended to select an external hard drive, USB flash drive or other removable storage devices.
Step 4. Now, you can choose to start the instant backup by hitting Back Up Now or selecting Back Up Later to delay the task. You can find the delayed or completed task in the Manage page.  
# Customize Backup Types and Schedules
Select the backup type – hit Options in the Backup page > toggle on Backup Scheme manually > select from full, incremental or differential backup. (Incremental backup is the default and the most recommended backup scheme.)
Set a scheduled backup – go to Options > turn on Schedule Settings > choose to start the backup task at a specific point of time of a day, week, or month.
# Encrypt Your Backup
MiniTool ShadowMaker also allows you to encrypt your backup. There are three data encryption levels for you: None, Normal, and AES128. If you attach great importance to data privacy, follow these steps: go to Options > Backup Options > Password > toggle on Enable Password Protection > enter and confirm your password > select the encryption level > hit OK to save the changes.
# Create A Bootable Media
In case your computer fails to boot when data disasters crop up, it's better to create a bootable USB drive with MiniTool ShadowMaker. To do so:
Step 1. Go to the Tools tab > Media Builder > WinPE-based media with MiniTool plug-in.
Step 2. Choose the target USB flash drive and hit Yes to confirm the action.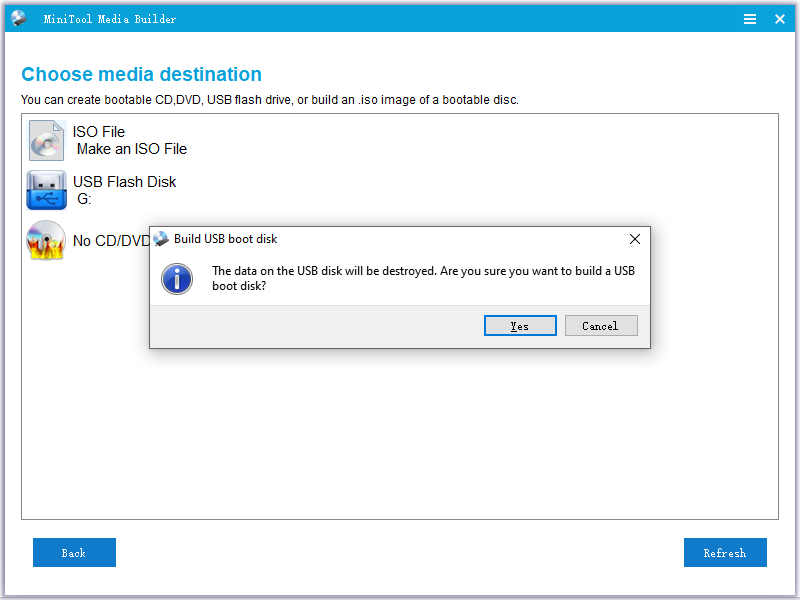 After the process is done, you can boot your computer from this USB flash drive and perform recovery with it when your computer has boot issues.
Perform Data Recovery with MiniTool ShadowMaker
Also, performing data recovery with MiniTool ShadowMaker can work wonders. Here, we will take restoring files as an example;
Step 1. Launch MiniTool ShadowMaker and go to the Restore page.
Step 2. In this page, you can select the file backup image you want to restore and hit Restore. If you cannot find the desired backup, hit Add Backup to select it manually.
Step 3. Select the file restore version and hit Next > choose the files/folders to restore and hit Next > hit Browse to choose a destination location to save the restored files > hit Start to begin the recovery process.
Huy, guys! I find a pretty powerful backup software called MiniTool ShadowMaker from this article! Considering safety, reliability, and flexibility, this software really deserves a try!Click to Tweet
To restore other items, see these guides below:
We Need Your Voice
What is data backup and recovery? What is the difference between data backup and data recovery? What reliable backup and recovery software do you choose? I believe your answer is pretty clear now.
If you have any other suggestions for data backup and recovery, you can leave a comment below. For more ideas or puzzles about our product – MiniTool ShadowMaker, please don't hesitate to share them with us by contacting our support team via [email protected].