Computer boot issues are not a new thing. Sometimes, it seems to take forever to boot your Dell laptops or desktops. What's wrong with it? How to fix this Dell boot loop? In this guide from
MiniTool Website
, we will analyze the potential causes and spare no effort to find effective solutions for you.
Dell Boot Loop
Dell is an innovative technology company that has become famous for various digital products including laptops, tablets, printers, desktops, and more. When you plan to buy a computer, Dell desktops and laptops might be a top recommendation for you.
However, although Dell computers are reliable and high-performing, you are likely to run into some issues like blue screen of death, black screen, freezing, boot failures, and more. Dell boot loop or Dell stuck on restarting is one of the biggest headaches for you. This problem is so frustrating that you can do nothing before it boots up normally. Therefore, it's time to take some action!
Before getting the troubleshooting methods, let's figure out why Dell boot loop occurs. Here are some common causes for this error:
Hardware interference.
Faulty memory.
Malware or virus attack.
Corrupted registry entries.
Corrupted system files or drivers.
Corrupted boot configuration data.
Now that we understand the causes, let's explore the potential solutions for Dell laptop boot loop.
Also see: The Full Guide to Fix the Dell Laptop Black Screen Issue
How to Fix Dell Boot Loop?
Fix 1: Perform a Hard Reset
Certain pieces of hardware might negatively impact the boot process of Windows, resulting in Dell boot loop. In this case, you can consider performing a hard reset. Hard reset can re-initialize the core hardware components of the system to end all current software operations. To do so:
Step 1. Shut down your computer and unplug all external devices from your computer such as USB flash drives, printers, scanners, media card readers, and more.
Step 2. Unplug the power cable (for Dell laptops, remove the battery) and then press the Power button for about 15 seconds.
Step 3. After that, plug the power cable or insert the battery and then power on your PC.
Fix 2: Check the RAM
When the memory or memory slot on your computer is faulty, your computer might also crash. Follow these steps to check your RAMs and RAM slots:
Step 1. Power off your computer.
Step 2. After a while, open the computer case and remove the RAMs from the memory slots.
Step 3. Clean both your RAMs and RAM slots.
Step 4. Insert only one RAM at a time and start your computer. If your Dell cannot boot with one or more RAMs, they are the cause of Dell boot loop. To check if some RAM slots are faulty, remove the modules and place them in different slots. Reinstall or change the computer memory if necessary.
Fix 3: Enable Safe Mode
Safe Mode is a diagnostic mode that helps you to solve computer problems like virus infection, outdated hardware drivers, hardware conflicts, and more. To do so:
Step 1. Turn on and off your computer three or more times to boot into Windows Recovery Environment (WinRE).
Tips:
Also, you can enter WinRE via a bootable USB drive: download Windows 10/11 media creation tool on a USB drive and run it to create a bootable USB drive >
enter the BIOS menu
to
set this drive as the default boot device
> reboot your computer > enter language and other preferences > hit
Repair your computer
.
Step 2. Go to Troubleshoot > Advanced Options > Startup Settings > Restart.
Step 3. When your computer restarts, it will enter the Startup Setting menu, you can press F4 to start your Dell with Safe Mode, or press F5 to enable Safe Mode with Networking.
In Safe Mode, you can install third-party antivirus software to check if your computer is infected with malware or viruses. If you encounter Dell boot loop after downloading some programs, uninstalling them might also do the trick.
Fix 4: Enable Secure Boot
To address Dell boot loop, you can consider enabling Secure Boot from BIOS. Secure Boot allows your computer to boot up with the software that is trusted by Original Equipment Manufacturer so as to prevent your system from malware. Follow these steps:
Tips:
Secure Boot is only available on Windows 8 and above.
Move 1: Check If Your PC Supports Secure Boot
Step 1. In Safe Mode, press Win + S to evoke the search bar.
Step 2. Type system information and hit Enter.
Step 3. Scroll down from the list to check Secure Boot State.
Move 2: Enable Secure Boot
If your Dell supports Secure Boot, follow these steps:
Step 1. Restart your PC and press the F2 key repeatedly to enter the BIOS menu.
Step 2. Press the arrow keys to locate Secure Boot and enable it.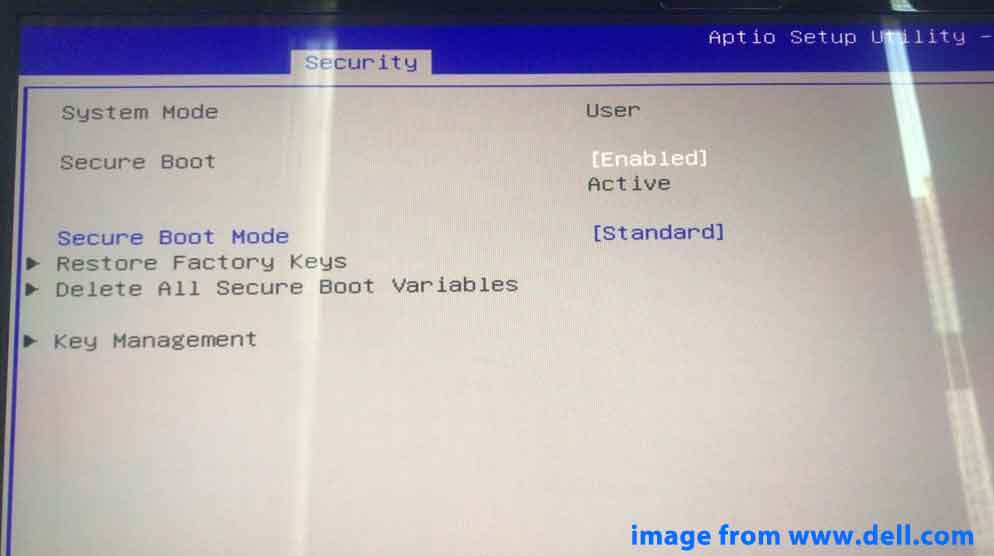 Step 3. Press F10 to save the changes and exit the BIOS Setup screen.
Fix 5: Disable Automatic Restart
Windows 10/11 comes with a feature that will automatically restart the computer when running into issues. Sometimes, this feature might also lead to some boot issues like Dell boot loop. Therefore, you need to boot into Safe Mode to change this setting.
Step 1. Boot your computer into Safe Mode.
Step 2. Press Win + R to open the Run box.
Step 3. Type system.cpl and hit Enter to launch System Properties.
Step 4. In the Advanced section, click on Settings under Startup and Recovery.
Step 5. Under System failure, check Write an event to system log and uncheck Automatically restart.
Step 6. Save the changes.
Fix 6: Perform Startup Repair
Startup Repair is an integrated troubleshooting utility in Microsoft Windows that can fix the most common issues such as corrupted boot configuration data, registry entries, system files or drivers that may be preventing your computer from booting into the system. To fix Dell boot loop, follow these instructions:
Tips:
Although Startup Repair is very powerful, it cannot handle hardware failures and malware/virus attacks.
Step 1. Reboot your computer three or more times until prompted by the Automatic Repair screen.
Step 2. Click on Troubleshoot > Advanced options > Startup Repair. Then, this tool will start diagnosing and fixing some startup problems for you.
Tips:
Before your issue gets fixed, Startup Repair might run multiple times.
Fix 7: Reset Your PC
If everything fails, the last option is to reset your computer. This can quickly restore Windows to its factory default configuration. Compared with reinstalling your system from scratch, it is much faster and more convenient. Here's how to do it:
Tips:
Since resetting this PC is likely to wipe all the installed programs and even your personal data, make sure to create a backup of crucial files before proceeding. Speaking of data backup, MiniTool ShadowMaker can provide you with professional backup solutions. You can easily back up and restore your data whenever it is needed.
MiniTool ShadowMaker TrialClick to Download100%Clean & Safe
Step 1. Boot your Dell machine into Windows Recovery Environment.
Step 2. Under Choose an option, click on Troubleshoot > Reset this PC.
Step 3. In the following screen, you can select Keep my files or Remove everything.
Step 4. Choose Cloud Download or Local Reinstall.
Step 5. Select your account, enter the password, and then hit Reset to start the factory resetting process.
Hi, guys! My Dell laptop keeps restarting but it cannot boot into Windows. Luckily, I find some solutions from this guide. They are pretty helpful! If you have the same issue, they really deserve a shot!Click to Tweet
Suggestion: Back up Your System with MiniTool ShadowMaker
After fixing Dell laptop boot loop, you can choose to create a system image for your Windows device so that quick disaster recovery can be done when there is something wrong with your operating system in the future.
To do this work, MiniTool ShadowMaker can satisfy your demand. This PC backup software allows you to create image backups for systems, partitions, disks, files, and folders on Windows devices. At the same time, it also supports moving Windows to another drive, cloning HDD to SSD, and so on.
To backup system, MiniTool ShadowMaker offers a one-click system backup solution. With just a few clicks, all the data on the system drive including applications, drivers, computer settings, system files, and boot files will be imaged. Now, let's see how to perform a one-click system backup:
Step 1. Download, install, and launch MiniTool ShadowMaker Trial Edition to enjoy most functions for free within 30 days.
MiniTool ShadowMaker TrialClick to Download100%Clean & Safe
Step 2. In the Backup page, the system is selected by default in the SOURCE, so you just need to select an external hard drive or USB flash drive as a destination path in DESTINATION.
Step 3. Either click on Back Up Now to start the task immediately or hit Back Up Later to delay it. You can find all your tasks in the Manage page. When your system crashes the next time, you can use this system image to restore your Dell computer to a normal state.
We Need Your Voice
There are 7 effective solutions provided in this article to help you get free from Dell laptop boot loop. You can try them in sequence to find which one works out. To protect your important data on Dell computer in daily life, you can create a scheduled backup of your data via MiniTool ShadowMaker.
Meanwhile, since the boot issue could be fatal to your computer, we also insist that you back up your system beforehand. Once your system crashes, you can use the system image to revert the OS to a healthy state rather than spending much time troubleshooting or reinstalling your Windows from the ground up.
Any suggestions or problems about our product will be appreciated. To contact us, just send an email via [email protected]. We will reply to you as soon as possible.
Dell Boot Loop FAQ
How do I fix my Dell boot problems?
How do you fix an endless boot loop?
To fix
an endless boot loop
, there are 7 solutions for you:
Fix 1: Disable Automatic Restart
Fix 2: Remove Bad Registry
Fix 3: Fix Driver Issues
Fix 4: Perform Startup Repair
Fix 5: Check File System
Fix 6: Check for Hard Drive Issues
Fix 7: Reinstall Windows