Error code 0141 is a common issue on your Dell PC. What does Dell error code 2000-0141 mean? How to fix Dell error code 0141? From this post given by MiniTool, you can know what the error is and some troubleshooting tips you can try. Besides, how to get the data on that hard drive is introduced here.
What Is Dell Error Code 2000-0141?
Dell uses its own firmware and hardware which includes custom error codes to warn you about hardware or software problems. These codes can help manufacturers and technicians to identify and solve issues.
If you have a Dell PC and try to boot up it, you may run into an error called 0141, also known as Dell error code 2000-0141, which is one of the custom error codes. On the computer screen, you can see the following error messages:
"Error code 0141.
Msg: Error Cod 2000-0141
Msg: Hard Drive – no drive detected
…"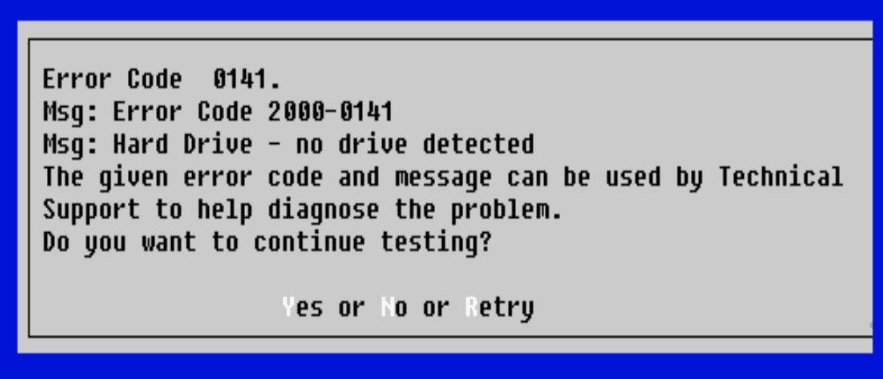 In addition to 2000-0141, you may run into other custom error codes on Dell like 2000-0151, 2000-0146, 2000-0145, etc. when starting the PC.
This error means that your PC cannot detect the hard drive. No hard drive means no operating system, and you cannot use your computer.
What are the common reasons for Dell error code 2000-0141?
Bad hard drive firmware update or firmware corruption
File system corruption
Damaged BIOS
Loose SATA/IDE cable
Hard drive failing
Physical damage to the hard drive
No matter which triggers the error code 0141, the urgent thing is to find solutions to solve this issue. Let's move to the next part to know how to fix Dell error code 0141.
How to Fix Error Code 2000-0141 Dell
Run Dell Diagnostic Tool
In the Dell laptop, there is a built-in ePSA (Enhanced Pre-boot System Assessment) diagnostic tool It is embedded in BIOS. This tool can be used to perform a complete check of your hardware including the display, processor, fan speed, storage, and several other crucial components. If your hardware goes wrong, this diagnostic tool will show you error messages like 2000-0141.
Just go to run this tool to have a check:
Shut down your Dell PC, press and hold the Fn key while pressing the Power button, and then release these two buttons. Then, the machine will enter the Enhanced Pre-boot System Assessment window. Alternatively, boot the Dell PC, press the F12 key when seeing the Dell logo and choose Diagnostics on the boot menu screen. Then, the system will enter the diagnostic mode.
Next, start a scan. After that, Dell error code 2000-0141 may disappear. Or else, you need to try another fix.
Check the Connection Between Hard Drive and Dell PC
If your hard drive is not connected properly to the motherboard and power supply, the system may not detect your hard drive with code 0141. The connection may be disconnected due to loose or damaged SATA/IDE cables. Just go to check these cables on your PC.
Proper equipment like a right screwdriver and antistatic band is required to disassemble a computer. After that, check the connection. You can also use a clean cloth to clear the dirt from the connecting cables and reconnect your hard drive. Next, boot up your Dell PC and see if error code 2000-0141 still persists. If yes, continue the fix in the following methods.
Reset CMOS
CMOS, short for complementary metal-oxide semiconductor, is a small amount of memory on the motherboard of a computer. It stores the Basic Input/Output System (BIOS) settings. BIOS, a firmware embedded on the chip, can help to initialize and test the system hardware components.
If Dell error code 2000-0141 is related to BIOS settings and you don't confirm which setting is causing the error, you can try to fix your issue by clearing CMOS.
To do this thing, shut down the PC, open your computer case and disconnect the connection between the CMOS battery and the motherboard. After a few seconds, connect the battery and then BIOS will be reset to its default settings. Next, boot up your Dell computer to see if code 0141 is fixed.
Use a Linux Live USB or Connect the Drive to Another Dell PC
If all of these methods mentioned above fail to help to fix Dell error code 2000-0141, use a Linux live USB flash drive to boot the Dell PC to see if the hard drive is accessible. To do this task, you need to create a Linux live USB drive.
Step 1: On a normal PC, download an ISO file of a Linux distribution like Ubuntu from the official website. This will take some time to download the file and wait patiently.
Step 2: Download Rufus and open it.
Step 3: Select a USB drive, choose the ISO file you have downloaded, and then click the START button to begin ISO burning to USB.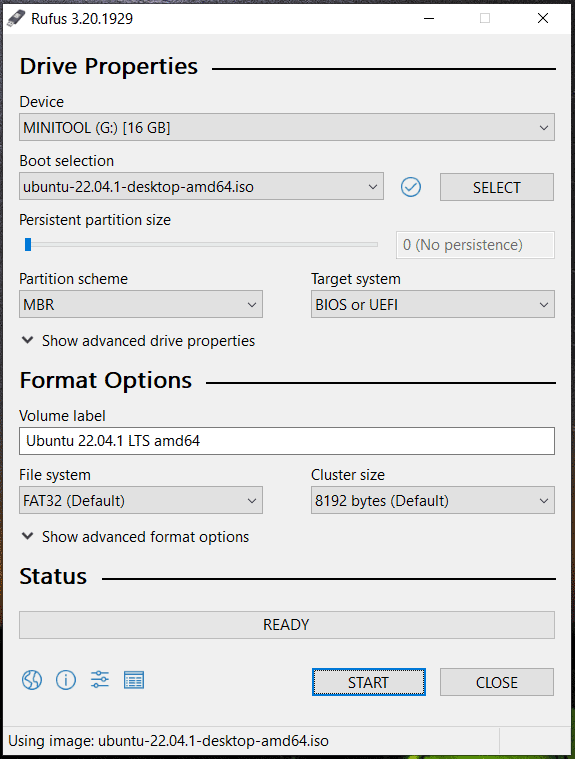 Step 4: Connect the Bootable USB drive to your Dell PC, change the boot order in BIOS and then boot the PC from that USB drive.
Step 5: Open the file manager and access your hard drive.
Alternatively, you can directly connect the hard drive to another PC via a SATA cable or a SATA to USB connector cable. If you can still access the data on the hard disk, the file system or boot sector may have an issue and you can back up your important files to an external hard drive. Then, run the CHKDSK scan or format the drive and reinstall Windows.
Use MiniTool ShadowMaker to Back up Your Important Data
If you don't want to take time to create a Linux live USB drive and recover files from that drive, you can try another way to back up your important files & folders. MiniTool ShadowMaker is a professional PC backup software that is designed to create a system image for Windows 11/10/8/7, back up files, folders, disks, and partitions. All these contents can be compressed to an image file, which saves much disk space.
Besides, you can sync folders & files on your hard drive to another location for backup. Furthering more, hard drive cloning is supported. If you want to make a disk backup, cloning is also a good option.
Well then, how to get your disk data backed up when Dell error code 2000-0141 happens with this backup program? Since the Dell PC is unbootable, you need to use MiniTool ShadowMaker Bootable Edition.
Step 1: Free download MiniTool ShadowMaker Trial Edition by clicking the button below.
Step 2: Launch this backup software on a working PC, go to Tools and click Media Builder.
Step 3: Then, follow the on-screen instructions to create a bootable USB flash drive, USB hard drive, or CD/DVD.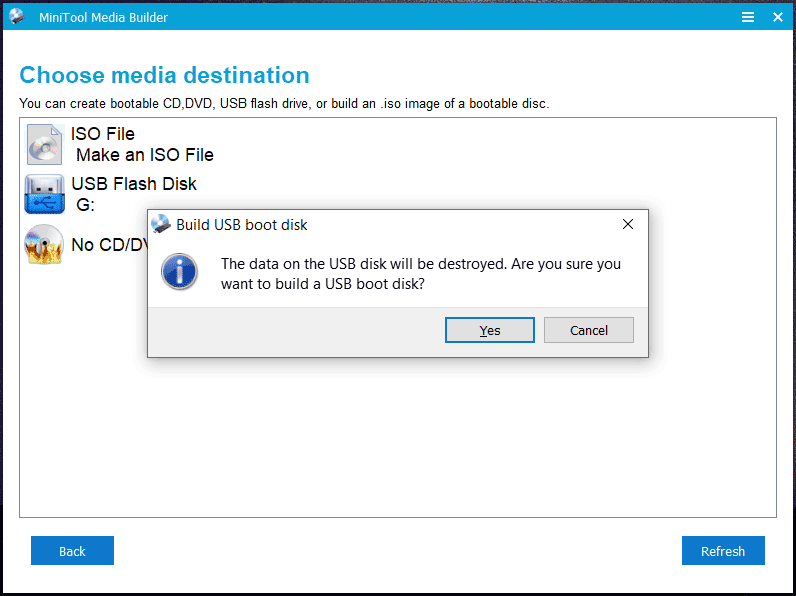 Step 4: Remove the bootable medium from the computer and connect it to the Dell PC with the error code 0141, press F2 during the boot process to enter the BIOS menu and change the boot order to let the machine start up from that drive.
Step 5: Open MiniTool ShadowMaker Bootable Edition. In the Backup page, click Source, choose Folders and Files, check the box of files/folders you want to back up, and click OK.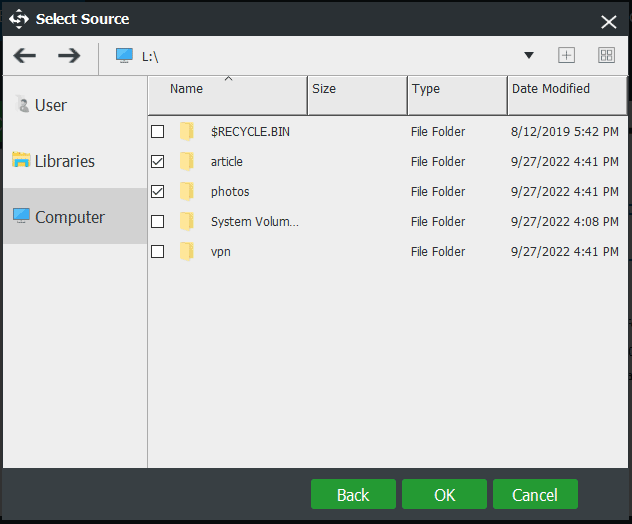 Step 6: Click Destination to choose an external hard drive to store the backup.
Step 7: Click Back up Now to start the backup task at once.
The steps are about how to back up files from your PC with Dell error code 2000-0141 via imaging backup. After fixing your PC, you need to restore the files you have backed up from the image file to access them.
In addition, you can use the Sync feature to back up the data you need. This won't require image recovery for access. If you want to know more information about Backup and Sync, refer to our previous post - Backup vs Sync: What Are the Differences Between Them.
Recover Files from Dell with Code 0141
In addition to MiniTool ShadowMaker, you can try professional data power recovery software to recover files from your Dell PC. If your hard drive is not accessible, you can also achieve this aim. There is a chance that hard drive failure happens when the error code 2000-0141 occurs.
Well then, how to recover files from your problematic Dell PC? This is not a difficult thing and a professional tool is required. Here, we strongly recommend using MiniTool Power Data Recovery.
As data recovery software designed for Windows, it can be used to recover data from various situations, for example, formatted/damaged/deleted/lost partition, inaccessible hard drive, unbootable PC, and more. When meeting error code 2000-0141 Dell, this program can be a good assistant.
To retrieve data from your Dell, you need to use a paid edition of MiniTool Power Data Recovery like Personal Ultimate to create a bootable USB drive/CD/DVD by clicking the disc icon and following the on-screen wizards. After that, boot the PC from that drive to enter the main interface of MiniTool Data Recovery Bootable Edition. Then, start the recovery operation.
Step 1: After opening this data recovery software, choose the hard drive from the Devices tab and click the Scan button.
Step 2: The scan will take some time. If there are an amount of data on your disk, several minutes will be required, and wait patiently. To make sure you have a good recovery result, don't stop the scan.
Step 3: After that, go to look for the files and folders you need, check the box of these items, and click Save. It is recommended to save data to an external hard drive.
After trying to fix Dell error code 2000-0141 via the given ways but your Dell still fails to boot with the same error, you can choose to replace the hard drive after getting data back from your hard drive. Or take your Dell PC to a repair shop to ask for help. Good luck to you.
Wrapping Things up
This post introduces you to what Dell error code 2000-0141 is, the reasons for this error, and possible solutions. If you are plagued by this issue, try to fix it using the given methods above. Besides, if you cannot fix the code 0141, it is possible that your hard drive goes wrong and you can take measures to get your important files back.
MiniTool ShadowMaker and MiniTool Power Data Recovery are recommended for you to back up data or recover files from an unbootable Dell computer.
If you encounter issues during using MiniTool software or find some other workarounds to fix the issue, let us know by leaving a comment below. We will reply to you as soon as possible. Thanks a lot.
Dell Error Code 2000-0141 FAQ
How do I fix error code 2000-0142 on my hard drive?
If you run into Dell error code 2000-0142, try to rebuild MBR, repair the existing bad sectors, reinstall Windows and replace the hard drive. To know detailed solutions, refer to our related post - Dell Error Code 2000-0142: Causes & What to Do.
How do I fix error code 2000 0151 Dell?