If your PC, Mac, Android, or iOS device is infected by a virus, perhaps you choose to perform a factory reset so that you can remove it from your device. Here comes a question: does factory reset remove virus? MiniTool Solution gives you the answer in this post. Also, some related information is introduced.
During the battles against viruses, you are not always the winners. Viruses or malware could be very complicated enough and sneak into any devices including Android phones, iPhones, PCs, or Macs. When trying many methods but the virus doesn't seem to go away, the last resort may be performing a factory reset.
What Is a Factory Reset?
What does a factory reset do? A factory reset can erase all the information – photos, movies, apps, settings, system files, etc. on your device. This can return your device to its original state, just the state it was when it first left the factory with the most basic set of initial software.
Since a factory reset involves clearing all the data, viruses or other malicious programs would also be removed with it. In addition to PCs, Macs, or phones, a factory reset is also applied to other devices like Wi-Fi routers, printers, fax machines, TVs, and more.
Although resetting your device to its factory state is expected to wipe all the data and viruses & malware along with it, does it always do that? Will factory reset remove virus really? If you wonder about this question, get the answer from the following part.
Tip: As stated above, a factory reset can protect your device from virus infection. In addition, there are some other reasons, for example, sell or give away your device to others, improve the device performance, fix some glitches, fix broken OS updates & system errors or failures, and more.
Does Factory Reset Remove Viruses Android/iOS/Mac/PC?
In brief, the answer is yes. Usually, a factory reset can eliminate viruses. But, this is not invariably the case. (There is always a 'but', isn't there?) Viruses are diverse and constantly evolving, so it is not sure whether a factory reset can protect your device against malicious programs or viruses.
Here, let's take xHelper as a classic example. According to reports, it was first seen in March 2019 and it managed to hide in the codes of the unofficial Android apps downloaded outside the Play Store to infiltrate into thousands of devices. In a few months, more than 45,000 Android devices were infected.
One peculiarity of xHelper is that any form of detection and deletion is not working for it. That is, you cannot delete this virus. Although you perform a factory reset, it reinstalls itself a few hours later and it is always active after resetting.
In addition to xHelper, you may encounter other viruses on Windows/macOS computers or iPhones/Android phones. These viruses may be also not removed by a factory resetting.
In conclusion, performing a factory reset can help you get rid of some simple viruses from your PC, Mac, Android, or iOS devices. But as for sophisticated viruses, this doesn't work.
Now after reading this part, you know the answer to this question "does factory reset remove virus". Then, here comes another question: how do some viruses survive in a factory reset?
How Viruses Survive in a Factory Reset?
There are some reasons why some viruses can be avoided being cleaned up with a factory reset. Let's see them below.
Viruses Are in Recovery Partition
In rare cases, advanced malware could permeate into the recovery partition of your device like PC, Android phone, etc. And the recovery partition is the place in which factory reset settings are saved. So, resetting your device to its factory state won't remove viruses from a recovery partition and the viruses could be active.
Backups Are Infected
To avoid data loss, you may choose to back up your laptop/desktop, Mac, or phone before the factory reset. However, before you do, you neglect to run antivirus software to scan for the system. As a result, the virus is also backed up along with other data. When restoring the backup, the virus is also restored to your device and continues plaguing you.
You May Have a Rootkit Malware
A rootkit is a computer program, typically malicious, designed to offer continued privileged access to a computer while masking its existence and actions from users and other system processes. Today, it is usually associated with malware.
Once a rootkit is installed on your device, hackers can control it and it is difficult to detect and remove the rootkit. To learn more information about rootkit, refer to this related article - The Definition, Types, Application & Removal Guide of Rootkit.
Other Devices Are Infected
Malicious programs may infect your secondary devices without knowing, for example, the printer. Or if you are using an Android phone with an SD card, the card is also infected with a virus. When connecting it to your computer or phone, a virus may re-attack the device, although you have finished a factory reset.
After knowing the answers to these two questions "does factory reset remove virus" and "how does a virus still exist after a factory reset", next you may want to know how to remove a virus from Android/iOS phones or PC/Mac. Let's move to the next part.
How to Remove Virus from Android/iOS/Windows/macOS?
Clear Cache and Downloads
Some types of malware like adware can hide in your browser.
Sometimes, you are redirected to some strange sites or you can see lots of pop-up ads. In this case, you should clear cache and downloads on your Android, iOS devices, PCs, or Macs. This related article - How to Clear Cache for One Site Chrome, Firefox, Edge, Safari shows you much information about this task.
Uninstall the Suspicious Apps
Some malicious programs may be installed on your device without permission. To remove viruses from the machine, you should uninstall the suspicious apps. If you are using a Windows PC or Android, you had better go to Safe Mode to perform this task.
Clean Your Phone, Mac, or PC
To remove viruses, you can choose to delete all the temporary files, junk files, and more. To do this work, search for a professional tool from the Internet and then clear your device to keep it clean.
Keep Your Device Up-to-Date
One of the primary reasons for system updates is the updates usually include security or software updates that are helpful to keep your device system from malicious attacks or viruses. Ignoring these updates means that you cannot use the security tools that should add an extra layer of protection to your PC, Mac, or phone.
If your device is infected by a virus, installing system updates may be useful to get rid of the virus. How to update Windows, macOS, Android, or iOS? Search for the steps on the Internet and here we won't show you detailed steps.
Run Antivirus Software
This is the most important step you should do. If you suspect there is a virus on your device, you should run an antivirus program. Download a proper version based on the platform you are using, launch it, and scan for the system. Once the software finds malicious programs or files, it can remove them.
Perform a Factory Reset
After finishing all the above things but they don't work to remove a virus, the last way you can try is a factory reset. Of course, this doesn't 100% remove the virus, just as stated in part "Does factory reset remove virus". How to restore your device to its original state? Move to the next part now.
How to Perform a Factory Reset?
How to Factory Reset Windows 10/11?
Here is how to carry out a factory reset:
Launch the Settings app by pressing Win + I in Windows 11/10.
Go to Update & Security > Recovery and click Get started under Reset this PC in Windows 10. In Windows 11, go to Settings > System > Recovery > Recovery options > Reset PC.
Choose an option based on your needs to continue. Click Keep my files to maintain your files and settings and click Remove everything to erase all the contents on the hard drive.
Finish the resetting operation by following the on-screen instructions.
How to Factory Reset Mac?
1. Sign out of iCloud, Messages, and other Apple services.
2. Reboot your Mac by pressing the power button and choosing Restart.
3. While the Mac restarts (the Apple logo appears), press Command + R keys to boot the machine to macOS Recovery.
4. Click Disk utility from the Recovery Mode menu to repair or erase a disk and click Continue.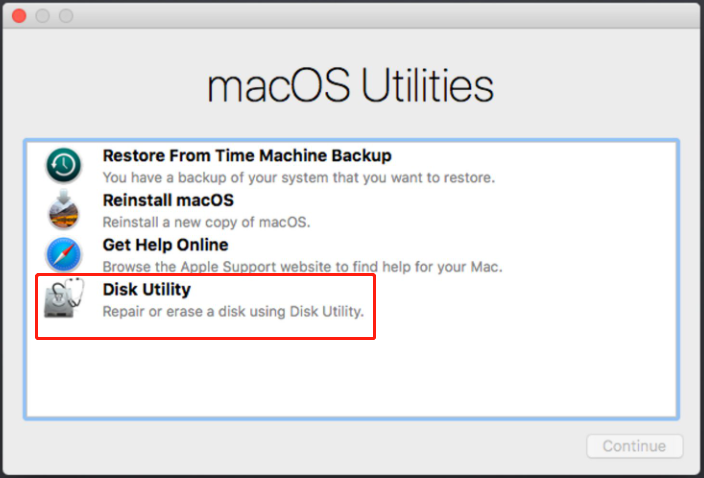 5. Select the disk where your macOS is installed and then click Erase.
6. In the pop-up window, choose a hard drive format like Mac OS Extended (Journaled) and choose GUID Partition Map > Erase.
7. Click Done and quit Disk Utility.
8. Click Reinstall macOS and follow the wizards on the screen to reinstall a new copy of macOS.
To learn more information on Mac factory reset, you can refer to this post - How To Wipe A MacBook & Reset It To Factory Settings.
How to Factory Reset Android Phones?
Based on different Android phones, the steps to reset the phone to factory settings are different but they are similar.
Go to Settings > System.
Navigate to Reset options.
Tap Erase all data (factory reset) and tap Erase all data to confirm the operation.
How to Factory Reset iPhone?
Go to Settings > General.
Tap on Reset and choose Erase All Content and Settings.
If needed, type in the PIN code and your Apple ID password.
Factory reset will erase all the data on your device. Some of you may want to create a backup before performing a factory reset. But if there is a virus on the device, the complicated virus may come back to your device when restoring your data after resetting.
If you reset your device due to other reasons (system errors fix, troubleshooting, etc.), you can back up your data before resetting. In Windows, you can use the professional computer backup software – MiniTool ShadowMaker for PC backup. In Mac, Time Machine is helpful to back up your files. As for your iOS or Android phone, you can choose to back up to Google Drive.
Prevention Is Better Than Cure
After reading so much information, you know it is annoying to remove viruses or malware from your device. Sometimes although you run a factory reset, viruses may not be removed eventually if you encounter stubborn viruses like xHelper. Or you have removed viruses from your devices after trying the above methods.
To protect your device against viruses or malware again, you had better take action. Prevention is better than cure.
Always run an antivirus software on your Windows PC, Mac, or phone.
Use the latest system and apps.
Avoid installing programs from unknown and unverified sources.
Have a healthy browsing habit.
Don't use an unsafe Wi-Fi connection.
Keep your files safely backed up.
As for backup, we have mentioned it above.
To back up Windows 10/8/7, download and install MiniTool ShadowMaker on your PC. Then, launch it to the Backup page, choose the backup source and destination. Then, run the backup by clicking Back up Now.
This backup software allows you to create a system backup image, back up files, folders, disks, and partitions. You can use it to automatically back up your computer. If you have a need, just get it to have a try.
To back up a Mac, you can follow the methods in this post - 5 Ways: How To Backup Your Mac To An External Hard Drive. To back up your phone, you can go to find the way on the Internet.
Wrapping up
Does factory reset remove virus or will factory reset remove virus on laptop/Mac/Android or iOS phones? After reading this post, you know the answer. Also, some related information is shown to you.
If you have any other ideas about the viruses, you can let us know by leaving a comment below or contacting [email protected].