Evernote is a note-taking and task management program. with that, you can improve your productivity and facilitate your studying. Especially the sync function can help you easily transfer and store data. But some users may encounter the "Evernote not syncing" issue. This post on
MiniTool Website
will tell you how to fix it.
What Is Evernote?
Evernote is a note-taking software available for multiple platforms. With the help of it, you can create and organize digital notes and keep them synced across all your devices.
Whether it's a work strategy plan or a daily journal, you can use it as a digital filing cabinet to organize all your notes.
Evernote has a diverse range of advanced modifiers and its own search syntax, which makes finding stuff much easier. Evernote can also search for text strings across a wide range of document formats, including Microsoft Office files and PDFs.
Besides, it also offers a browser extension – Evernote Web Clipper – that copies web content directly to your Notebooks. If the website in question is littered with annoying ads and pictures, the Web Clipper can strip them out.
Why Is Evernote Not Syncing?
The Evernote sync issue can happen for multiple reasons. It is kind of complicated to explain but all of the potential culprits can be removed.
For example, the Internet connection issue needs your attention. Evernote sync needs a constant and steady Internet connection. The sync can be interrupted if you are in a poor Internet environment or the Internet has been turned off.
Besides, many users always neglect their updating notifications, which can cause some other issues – the Evernote sync issue can be one of them. After an update, usually, the program will bring you upgraded features and some old glitches can be fixed. It is helpful for your better experience.
When the Evernote server is down, you can encounter the "Evernote not syncing" issue. Usually, severe errors that happen on the Evernote server will be issued on its official website. You need to notice that and wait for the restoration.
Another possibility is that your space has been run out. If you do not have enough room for the next data transfer, the sync will stop automatically. For the sync process continues when you add new content, you need to ensure sufficient space.
Of course, some other reasons can explain the "Evernote not syncing" issue. But everything can be resolved and the only thing you need to do is just to continue your reading and try the next fixes.
How to Fix the "Evernote Not Syncing" Issue?
Fix 1: Check the Number of Your Devices
The number of devices you can use depends on which Evernote plan you are using. If your devices have gone over the requirement, the sync will stop. The number of your devices is limited and you can check your requirements, then follow the steps to remove redundant devices.
Step 1: Open your browser and go to the Evernote website to log in to your account.
Step 2: Click on your profile icon in the lower-left corner and select the Settings option.
Step 3: Choose Devices from the left sidebar on the following screen.
Step 4: Then choose Go to your profile and you will see the connected devices. Click Revoke access next to the device to remove redundant ones.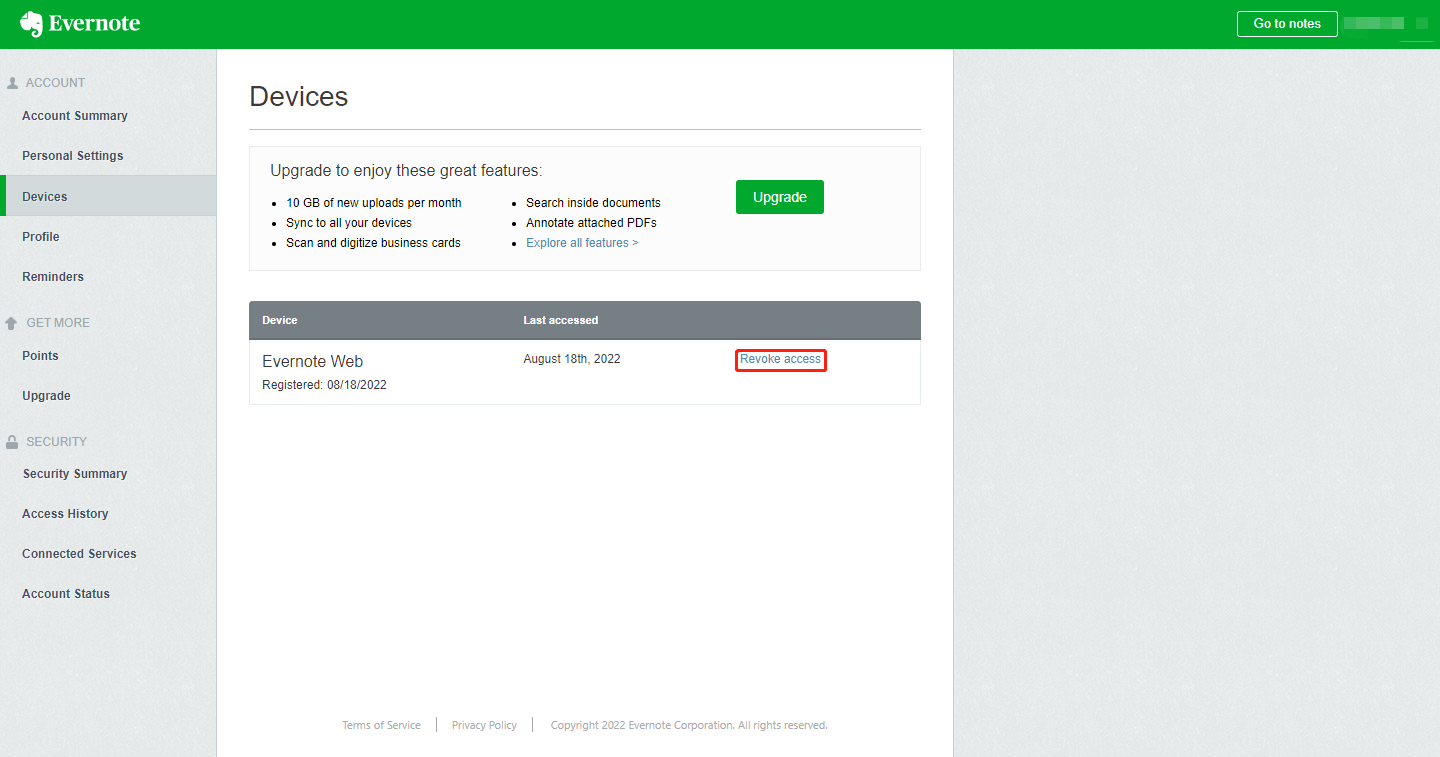 Step 5: Click Confirm to continue the move.
Then you can check if your Evernote can sync again.
Fix 2: Check the Internet Connection
As we mentioned before, Internet can affect the performance of Evernote. Therefore, if your sync was interrupted, you can check your Internet first and follow the next steps to fix it.
Because the platform where you are using Evernote may be different, you can choose suitable methods to improve your Internet.
Get closer to your Wi-Fi source.
Change to a place with a better signal.
Close your background running apps or windows.
Change to Ethernet cable instead of wireless.
Try to close your VPN.
Fix 3: Check the Evernote Server Status
Evernote server updates the service weekly with new versions of various software components, during which the service can be slow or even intermittently unavailable.
In this way, you can go to its status website to check if there is any server-side problem causing your sync error.
Fix 4: Check for Conflicting Notes
If you find the "Evernote not syncing" issue, the key to this issue may lie in your conflicting or corrupted notes. Therefore, you need to check your Notes section.
Step 1: Go to your Evernote and log in to it.
Step 2: Switch to the Notebooks section. If the notebook shows you the "Content is invalid" error, that means it has been corrupted.
Step 3: Then delete the note and try to sync them again.
Fix 5: Update Your Evernote
You fix the Evernote sync error by updating.
Evernote not syncing on Windows 10
If you downloaded and installed the Evernote app from its website, you can go to the Evernote website to download and install the latest version of Evernote.
If you use a browser for Evernote, you can update the browser.
To update Microsoft Edge, you can follow the next steps.
Step 1: Open your Microsoft Edge and click the three-dot icon.
Step 2: Click Settings and go to About Microsoft Edge.
Then the update will automatically start, if not, you can manually choose the Update option.
To update Firefox, you can refer to this article: How to Update Firefox? Here Is the Step-by-Step Tutorial.
To update Chrome, you can refer to this article: How to Update Google Chrome on Windows 10, Mac, Android.
Evernote not syncing on mobile devices
Step 1: Go to the App Store or Play Store and search for Evernote.
Step 2: Tap on it and then choose the Update option.
Fix 6: Empty the Evernote Trash
Some folders in your trash can make the "Evernote not syncing" issue so you need to empty the trash and sync.
Evernote not syncing on Windows 10
This method is for the desktop app. Some options may be different from the Evernote on the browser but you can take it as a reference.
Step 1: Click the Trash item in the left sidebar of the interface.
Step 2: Right-click on it and select Empty Trash.
Step 3: Re-sync your files by choosing File on the top and Sync from the menu.
Evernote not syncing on mobile devices
Step 1: Tap on the three-line icon at the top-left corner and select Trash.
Step 2: Then tap on the three-dots icon in the top-right corner and select Empty trash.
Step 3: Go back to the main interface and choose the three-dots icon.
Step 4: Tap on Sync from the menu to sync your notes.
Fix 7: Check the Activity Log
Your all actions will be recorded as logs in your Evernote app and some error messages will be included, which can be the culprit of the Evernote syncing error.
Step 1: Go to the Evernote app and choose the Help option.
Step 2: Tap on Activity Log….
Step 3: In a text box, locate the words with "error" and "exception" and notice their corresponding note next to them.
Step 4: Find the error note and tap on it. Click the three-dot icon and then select Move to Trash.
Step 5: Then empty the trash as fix 6.
After that, you can try the sync function.
Fix 8: Reboot Your Device
Rebooting your device may not fix the issue, but the temporary settings and files in your device will reset. That may help you get rid of some corrupted files or the wrong setting.
So, when you encounter the Evernote sync error, you can try this method.
Fix 9: Uninstall and Reinstall Evernote
You can try to reinstall the Evernote app to get rid of the "Evernote app not syncing" error. But before you try this way, you'd better back up your data first.
Evernote not syncing on mobile devices
Step 1: Long press the Evernote app until a drop-down menu appears.
Step 2: Choose Uninstall from the list.
Step 3: Go to App Store or Play Store to reinstall the app.
Evernote not syncing on Windows 10
Step 1: Go to Settings in Start.
Step 2: Choose Apps and locate the Evernote app.
Step 3: Click Evernote and choose Uninstall. Then click Uninstall again to confirm your choice.
Step 4: Download and install Evernote from the Evernote website.
At last, check if the issue has been fixed.
Fix 10: Contact Evernote Support
If the above methods have been tried and the issue persists, you can contact the Evernote Help Desk. You can provide some related information that can help customer service resolve your issue better, as the following items:
Your activity logs
A brief and clear description of the events
The version of Evernote
The device you are using
The moves you have tried before contacting Evernote support
File Sync Alternative – MiniTool ShadowMaker
If the above methods are useless for you, you may change to another tool; besides, for Evernote has ever encountered several times of data loss, you'd better back up your data. For these two goals – synchronization and backup, MiniTool ShadowMaker can meet your requirements.
As an excellent backup and sync program, MiniTool ShadowMaker is committed to providing better service for users' backup and synchronization. It continues to improve itself for many years and has developed into a full-fledged backup expert. The advance will never stop.
To gain the service, you need to download and install the program first. And you will get a free trial version for 30 days.
MiniTool ShadowMaker TrialClick to Download100%Clean & Safe
Step 1: Click Keep trial to enter the program.
Step 2: Switch to the Sync tab and click the Source section.
Step 3: Choose the files you want to sync and then click OK.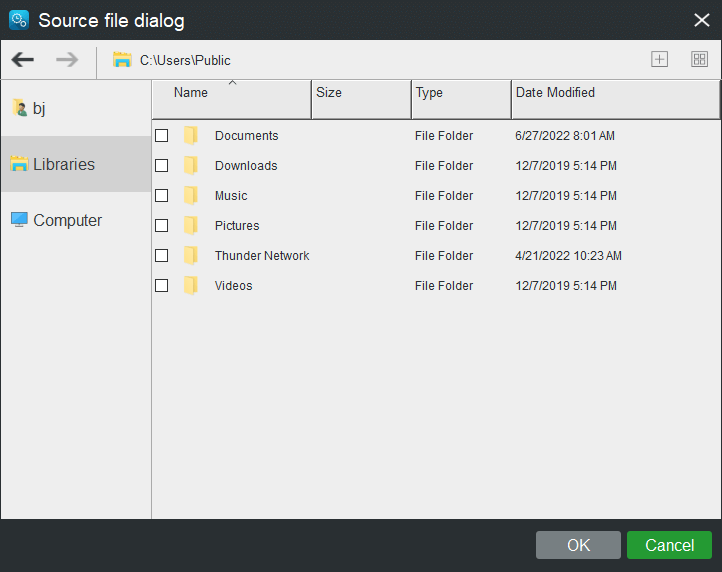 Step 4: Click the Destination section to select a destination folder to save the synchronized files. Here, you can sync your files to multiple places, such as the Administrator account folder, Libraries, Computer, and NAS. And then click the OK button.
Step 5: After selecting the sync source and target, you can click the Sync Now button to immediately execute the synchronization operation. Or click Sync Later and then start the delayed sync task on the Manage page.
If you want to back up your files to avoid data loss, you can follow the next moves.
Step 1: Go to the Backup tab and click the Source section where you can back up your system, disk, partition, folder, and file.
Step 2: Go to the Destination part where the options of Administrator account folder, Libraries, Computer, and Shared are allowed.
Step 3: Click the Back up Now option to start the process immediately or the Back up Later option to delay the backup. The delayed backup task is on the Manage page.
This article mainly teaches you how to get rid of the Evernote sync error. If you think it is helpful, you can share this article on Twitter.Click to Tweet
Bottom Line:
The "Evernote not syncing" issue can easily get resolved with the help of this article. The issue is temporary and nothing can stand in the way. You will have a better experience on Evernote after resolving the problem. Also, you can try other alternatives to improve the function.
If you have encountered any issues when using MiniTool ShadowMaker, you can leave a message in the following comment zone and we will reply as soon as possible. If you need any help when using MiniTool software, you may contact us via [email protected].
Evernote Not Syncing FAQ
Does Evernote automatically sync across devices?
Once you have connected your Evernote account to Penultimate, the app automatically syncs any changes in your Penultimate notes in Evernote. By syncing Penultimate to your Evernote account, you can save your notes and view them everywhere you have Evernote installed.
How long does Evernote take to sync?
Wait for a few seconds and you will see everything you have saved in Evernote on your desktop. If you have created and saved a note or notebook in Evernote on your phone, it will automatically sync to your Evernote account on your computer.
Does Evernote work without Wi-Fi?
If Evernote for Mac or Evernote for Windows Desktop is installed on your computer, all of your synced notes and notebooks are stored on your computer in a local database. Because your content exists in local files on your computer, you'll always have access to them, even when an Internet connection is unavailable.
Are Evernote notes stored locally?
Data from your Evernote account is stored on your Android device's internal memory. For performance and security reasons, Evernote does not store data nor note contents on any external storage devices, such as SD cards.