When we boot our computer as usual, we may go crazy if we see faulty hardware corrupted page on computer. So, we are going to know about it and also get some ways to fix this faulty hardware corrupted page in this article. And get the MiniTool software to keep data safe.
What Causes Faulty Hardware Corrupted Page Error?
Faulty Hardware Corrupted Page error – also is known as the Blue Screen of Death (BSOD) error in Windows operating system. Why we receive faulty hardware message? We can infer which case we are in from the following reasons:
Incomplete the installation/uninstallation of specific applications or programs.
The computer is attacked by viruses or malicious software, which leads to damage to the system or system-related program files.
System files are corrupted or removed.
The hard drive is physically damaged.
Insufficient available space on the system partition.
Install incompatible Windows updates or programs.
Hardware drivers are out of date, especially graphics drivers.
What Should We Do Before Fixing Faulty Hardware Corrupted Page Error?
The first time we encounter a Blue Screen of Death that may make us feel panic and lose our heads. We may worry about losing important data. To avoid that, we should back up files instead of doing nothing.
MiniTool ShadowMaker is the software that we need to help us back up file/folder/disk/partition easily. We can even perform automatically with it.
As a piece of backup software, MiniTool ShadowMaker can restore our data as soon as possible when data loss and it can provide disaster recovery solution for PCs. But its functionality is more than this.
MiniTool ShadowMaker TrialClick to Download100%Clean & Safe
If our computer crashed, click How Can You Do Windows Backup Restore to Different Computer?
Back up to Protect Data
Step 1: First of all, we need to download MiniTool ShadowMaker Trial for 30-days free use if we use the software for the first time. Then install and launch it. Click Keep Trial in the initial interface. We can choose to connect local PC or remote PC (We need to type the IP) by Connect button.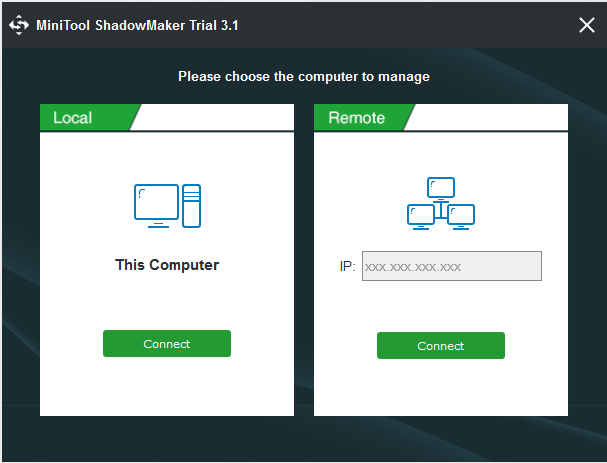 Step 2: Choose Backup in the navigation bar. Click Source and then we can choose to back up important file/folder/disk/partition from it. Select Disk and Partitions to choose the partition we want to back up or select Folders and Files to choose the files we want to back up. Then click OK.
Step 3: Click Destination and choose an internal drive or external drive to store system image (We can even back up to Network computer). We strongly recommend storing the system image backup in xternal drive so that we can avoid data loss when facing computer crash. Then click OK.
Tip: The Destination must have enough available space to store the source.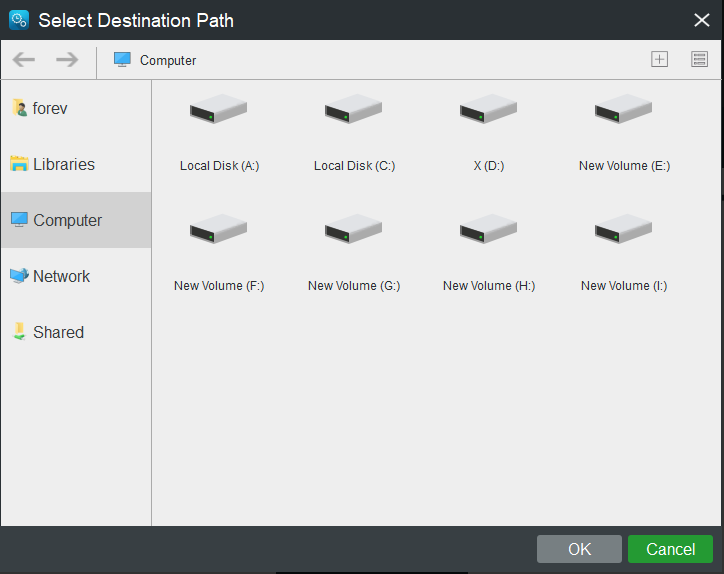 Before start to back up, we can also set automatic back up in Schedule. This feature is disabled by default, so we need to turn on at first.
Step 4: Click Back up Now to create a backup image right now (Choose Back up Later if we want to delay the backup time. Then go to Manage and click Back up Now at the time we want to perform backup operations). Click Yes in the Confirmation. Then wait for the backup image to create.
After backing up important data, we can relieve stress of data loss from faulty hardware corrupted page. Next, we will teach you six ways to fix faulty hardware corrupted page error.
If we just lost some data and we can run computer normally, learn how to restore file/system/partition/disk with the backup image.
How to Fix Faulty Hardware Corrupted Page Error
Here we provide many solutions to solve Blue Screen of Death. If you can't access your PC because of this issue, you should try these techniques in safe mode or safe mode with the Windows installation media.
Way 1: Run Windows Memory Diagnostic and Find RAM Problems
Windows has a utility tool called Windows Memory Diagnostic. It can help us detect memory problem of our computer. We may hard to know we are facing the RAM problems without any diagnostic tool. But the Windows Memory Diagnostic can help us a lot.
Believe me, it is easy to use.
Step 1. At first, open Start menu and type memory diagnostic in the search box of Windows 10. Then we can see the Windows Memory Diagnostic app as suggestion.
Step 2. Open it. Then we will be asked to restart our PC. Select Restart now and check for problems (recommended). Afterward, the computer will be restarted automatically and we'll be prompt the diagnostic window with progress stats. The process may take a few minutes.
After completing diagnosing memory problems, our PC will be rebooted and start normally. When we log on account, it will show us the Result. But sometimes, we may can't see the result. At this point, we need to find it manually.
Way 2: Run System File Checker (SFC)
System File Checker (SFC) is a built-in program in Microsoft Windows that allows us to scan and restore broken system files in Windows system.
Now, follow below steps to check whether our computer exists damaged files or not.
Step 1. Search cmd at the taskbar and press Enter. Then right click Command Prompt, then choose Run as Administrator.
Step 2. Type the following command at the Command Prompt:
sfc / scannow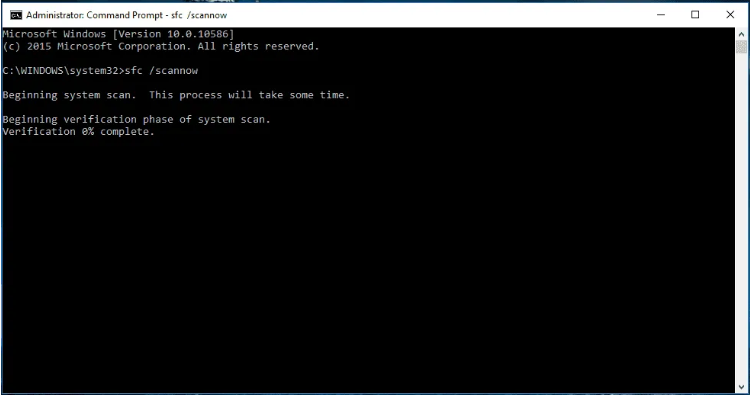 Waiting for the process to finish, we may receive one of the following messages:
Windows Resource Protection did not find any integrity violations. – It means that our system files are intact and we don't have any lost or corrupted system files.
Windows Resource Protection could not perform the requested operation. – To resolve this problem, we need to execute the SFC scan in safe mode, and make sure that the PendingDeletes and PendingRenames folders are stored in %WinDir%\WinSxS\Temp directory.
Windows Resource Protection found corrupt files and successfully repaired them. Details are included in the CBS.Log %WinDir%\Logs\CBS\CBS.log. – To view the information about the system file scan and restoration in detail, go to How to view details of the System File Checker process.
Windows Resource Protection found corrupt files but was unable to fix some of them. Details are included in the CBS.Log %WinDir%\Logs\CBS\CBS.log. – To fix the damaged files manually, view details of the System File Checker process to look for the corrupted file, and then manually replace the corrupted file with a known good copy of the file.
Related article: Quickly Fix – SFC Scannow Not Working (Focus on 2 Cases)
Way 3: Update Intel Management Engine Interface (IMEI)
Installation of Intel Management Engine Interface (IMEI) driver is out of date or incorrect may be a culprit behind the Faulty Hardware Corrupted Page. We can update IMEI to fix the Blue Screen of Death error.
Step 1. Download the Intel Management Engine Consumer Driver for Intel NUC from the Intel's Support website, install and open the driver program. Then update the device driver through following instructions:
First of all, press Windows + X to open Power User Menu Options. Then, select Device Manager from the option menu that pops up on our screen.
Find the device which we want to update the driver in Device Manager. Afterwards, right click on it and choose Update Driver from the right-click menu. We might be facing DRIVER CORRUPTED EXPOOL. Solve it and choose Browse my Computer for driver software in the pop-up window.
Finally, click on Browse to locate where the downloaded driver is. After installing the driver, restart our computer to let the new driver take effect.
Way 4: Disable Fast Startup
Fast Startup function can make our computer boot up faster and cost fewer seconds every time we turn our PC on by saving the operating system state to a hibernation file.
But according to many credible sources, Fast Startup enabled is one of the reasons causing Faulty Hardware Corrupted Page problem. We can disable Fast Startup on Windows 10 or 8 to fix Blue Screen of Death. Anyway, it's worth a try.
Step 1. First, right click Start menu to open Power User Menu Options and choose Power Options in it. Then click Choose what the power buttons do on the left.
Step 2. We can see Turn on fast startup (recommended) at bottom of the window. Uncheck on the box to disable Fast Startup function and click Save changes. Then restart the computer. It will work if the Fast Startup is the reason behind the problem.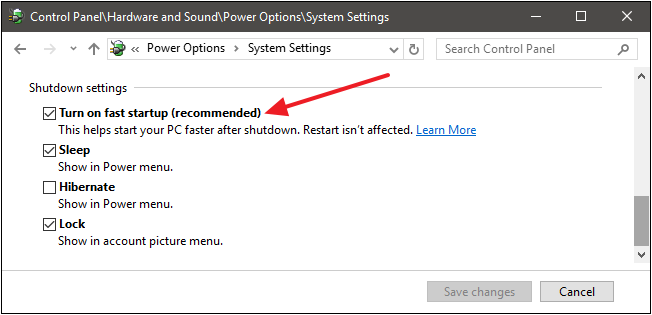 If we don't see the option at the window, it means that we cannot enable hibernation on our computer.
In this case, we need to press Windows+R buttons at the same time and then type cmd to open Command Prompt. Then type powercfg / hibernate on at the Command Prompt. Last, press Enter to execute instructions.
Repeat Step 1 to Step 2 and then we can see the Turn on fast startup (recommended) option.
Way 5: Upgrade All Drivers
Faulty or incompatible drivers are the major reason behind Blue Screen of Death errors. Especially, Display driver problem often leads to BSOD error. That is why we encounter blue screen error after a Windows update in most cases.
Besides, we may face some other problems. Our PC may run slowly and many applications may not work normally. We'll provide a way to install the latest updates for our drivers.
Actually, we can check all drivers list of our computer by Windows Device Manager. Sometimes, it can help us to discern the problematic drivers and we can check for the latest updates by one click through it.
Here are the detailed instructions:
Step 1. Press Windows+R buttons to open Run window. Then type devmgmt.msc in it and click OK.
Step 2. Here we can see all of drivers list of our PC in the pop-up window. Find the drivers we want to update in the Device Manager, then right click on it and select Update Driver Software.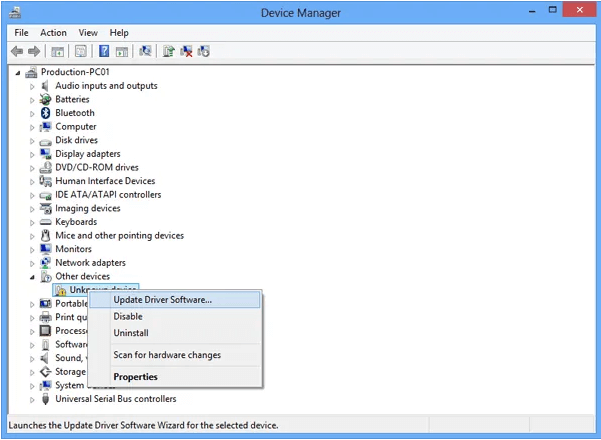 Now, there will be two options we can choose from.
Search automatically for updated driver software.
Browse my computer for driver software.
Choose first one if we have a good internet connection. We can also choose the second one. In this case, we have to save the offline driver package to our local hard disk.
If we choose the first option, it will detect the latest driver software online and update it automatically. We may be asked for the permissions.
After choosing the second option, we need to browse and select the folder where the driver installer has been saved or downloaded. Then, our computer will install it automatically.
Way 6: Update or Reinstall Operation System
The ultimate method is overkill, but we must choose it if no one of the above ways works for us. Update or Reinstall operating system can fix any system related problems. So, it can fix corrupted or lost system files problem too.
Related article: Detailed Steps and Instructions to Reinstall Windows 10.
Are you still bothered by the Blue Screen of Death? Read this article, you can easily solve this problem.Click to Tweet
The methods which solve faulty hardware corrupted are various. But there's always a way can fix it. Back up the important data and try the methods above, you can repair it easily.
Bottom Line
If you have any question about our software, welcome to leave the message on the comment area or connect our technical support via [email protected].