How to create a ghost image of Windows? Take it easy - it is a simple process as long as you use a piece of free and reliable ghost image software. Here in this post, we will introduce MiniTool ShadowMaker (offered by MiniTool) and how to use it to ghost Windows 10/8/7 in order to keep your PC safe.
Basic Knowledge of Ghost Imaging
Ghost imaging (namely backup) refers to a software-driven data backup process that copies the data of a computer hard drive to an individual compressed file, which is called an image. The ghost image copies all the contents – including configuration, applications, settings, etc – to another hard disk drive or server for storage.
The purpose of the ghost image is to enable a quick restore of a system or offer data restoration support. In a nutshell, the ghost can include two aspects: system ghost and data ghost.
As you know, system breakdown occurs due to disasters such as computer virus, manual errors, Windows updates, etc. Thus, it is really a good idea to come up with a good method to ghost Windows 10/8/7 operating system.
This is the most efficient way to protect your PC from an unpredictable disaster. In the event of a system crash issue, you can easily restore the PC to a previous state so as to reduce downtime and save lots of time compared to reinstalling OS and applications.
Besides, files and folders can be easily lost or deleted. Therefore, it is also a must that you ghost your important data to another place for data recovery.
How to ghost a computer? Get the answer from the following section.
Ghost Windows 10/8/7
To create a ghost image of the Windows operating system, you need to choose a piece of free ghost backup software. Which one should you use for Windows 10 ghost?
When searching for "ghost Windows 10" in Google, you will find a related search result "Norton Ghost". But according to feedback from certain users, version 15.0 is no longer functional after upgrading to Windows 10 from Windows 7 since it to be no longer compatible with the new OS.
Here we will show you the best Norton Ghost alternative, MiniTool ShadowMaker.
Use MiniTool ShadowMaker: Free Ghost Software Windows 10/8/7
As a reliable and free backup software for Windows 10/8/7, it can automatically and periodically create full backups of your computer, which saves your time from reinstalling Windows & application or data recovery after data loss. MiniTool ShadowMaker is also available on Windows Servers and Workstation.
Being powerful and flexible, MiniTool ShadowMaker is your best choice for Windows backup & restore. Furthermore, this ghost image software can even allow you to restore the system image to a different computer with different hardware by fixing the compatibility issue with Universal Restore.
Note:
Right now, download the ghost program for free on your computer by hitting the following button. Note that the Trial Edition you will get offers you 30-day free trial. If you want to use MiniTool ShadowMaker to ghost Windows 10/8/7 at any time you want,
upgrade it to an advanced edition
.
MiniTool ShadowMaker TrialClick to Download100%Clean & Safe
How to Create Ghost Image of Windows 10/8/7 Step by Step?
Here is the detailed guidance with screenshots on one-click system backup:
Step 1: Install MiniTool ShadowMaker on your computer
Step 2: Launch this software
1. Double-click this ghost image software.
2. Continue to use Trial Edition by clicking the Keep Trial button.
Step 3: Choose the backup source and destination in the Backup page
1. To ghost Windows 7/8/10/11 OS, you need to choose system partitions. Here you can see that MiniTool ShadowMaker has selected all OS partitions that Windows requires to run. So, you don't need to choose them again.
2. Where do you want to save the ghost image? An external hard disk, USB flash drive, Pen drive, SSD, HDD, and NAS (Network Attached Storage) are all available. Here, we show you how to ghost Windows 10/8/7 to an external hard drive.
Just choose a partition on that disk.
Click OK to go back to the Backup page.
Tip:
As mentioned above, you can perform schedule backup management through the
Schedule
feature. It allows you to ghost Windows 10, 8 or 7 OS daily, weekly, monthly, etc. In addition, you can back up your computer for only added or changed data (
incremental or differential backup
), meanwhile, managing disk drive space is enabled.
Step 4: Start a backup
At last, execute all the settings by tapping the Back Up Now button.
"I want to ghost Window 10 to an image. Thanks to MiniTool ShadowMaker, I easily create a system image of my Windows 10 operating system for disaster recovery."Click to Tweet
Use Backup and Restore to Ghost Windows 10/8/7
In addition to using the professional and free ghost program, some of you may use Windows built-in tool, Backup and Restore, to ghost your operating system to an image. Of course, it can help you to create a system image when Norton Ghost 15 cannot activate on Windows 10.
Take Windows 10 as an example. How to ghost Windows 10 with this tool? Follow these steps:
Step 1: Choose the backup feature
Navigate to Settings > Update & Security > Backup > Go to Backup and Restore (Windows 7).
Click the Create a system image option to ghost Windows 10.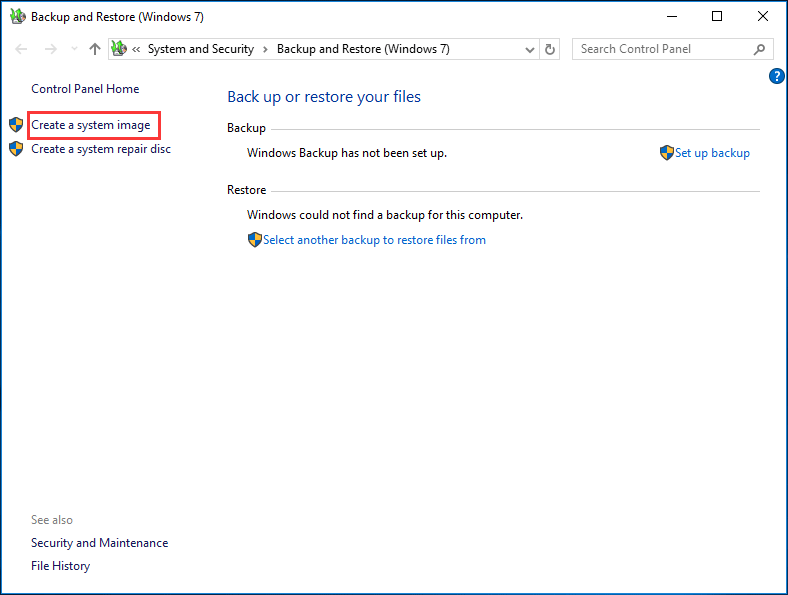 Step 2: Decide where to save the backup
You need to choose a destination for the system image. An external storage device, network location, etc. is available. Here, we make a ghost image of Windows 10 on an external disk.
Step 3: Start to make Windows 10 ghost image
Decide which partitions to be included in the backup. By default, all system-related partitions for Windows to run are included. Here, don't check other partitions since you intend to ghost Windows 10.
Confirm the backup settings.
Click the Start backup button to create a system image.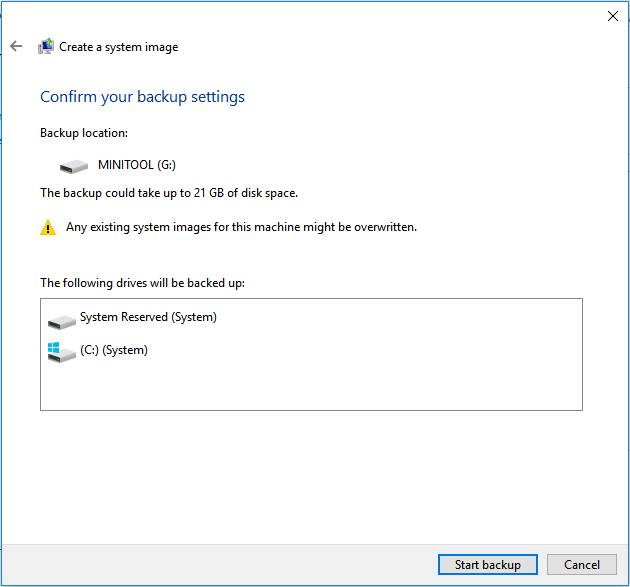 Now, all the operations on system image creation are introduced. Reading here, you might be wondering: can I ghost Windows 10 automatically with Backup and Restore (Windows 7)?
Of course, you can. You need to use another option – Set up backup which is located on the right side. This function enables you to create a system image and back up files automatically. Just make Windows 10 ghost image file according to your needs.
Tip: Compared with MiniTool ShadowMaker, the snap-in backup tool is not flexible enough. It also cannot offer an option to set up incremental backup & differential backup. Thus, we strongly recommend using professional ghost image software from MiniTool to create a ghost image of Windows 10.
Ghost Hard Drive Windows 10/8/7 with MiniTool ShadowMaker
Some of you may be interested in this question: how to ghost hard disk Windows 10/8/7? When you google ghost Windows 10, you will find this topic.
Actually, MiniTool ShadowMaker, ghost image backup software, can also help you. In addition to ghost Windows 10 operating system, it allows you to create a ghost image for the entire hard disk. Just get its Trial Edition to try it out.
MiniTool ShadowMaker TrialClick to Download100%Clean & Safe
Step 1: Run this ghost disk utility in Windows 10/8/7.
Step 2: In the Backup interface, choose a disk (system disk is recommended) and check all the disk partitions to back up.
Step 3: Specify a path for the hard drive image.
Step 4: Run the backup immediately.
For more information on disk backup, refer to this post- Hard Drive Image Software – The Best Way to Image a Hard Drive.
Additionally, MiniTool ShadowMaker has another feature – Clone Disk, which has the ability to ghost hard drive in Windows 10/8/7 for disk backup or disk upgrade. It can also be used for laptop disk drive upgrade.  Here is the step-by-step guide:
Step 1: Run the software
Open MiniTool ShadowMaker.
Click Keep Trial.
Step 2: Choose the Clone Tool
Go to the Tools page.
Choose Clone Disk.
Step 3: Select Source Disk and Target Disk
Choose a disk you want to clone.
Select a target disk that should be large enough to hold all the contents of the source disk.
Click OK to continue.
Related article: MiniTool Programs Help Cloning Hard Drive to Smaller SSD.
Step 4: Perform the Cloning Process
After ghosting hard disk in Windows 10, shut down your PC.
You will receive a warning message window which requires you to remove either source disk or target disk.
Tip:
In this post, your purpose is to ghost Windows 10/8/7 OS (usually ghost imaging) but not ghost hard drive, so there we don't show you much information about how to ghost hard drive via
disk cloning
. If you have a need to learn more information, just read our previous post –
How Can You Effectively Ghost Hard Drive Windows 10/8/7
.
Want to ghost Windows 10 or ghost hard drive Windows 10? Take it easy! MiniTool ShadowMaker can help you realize these two goals. Just get this free ghost software on Windows 10, 8 or 7 to run a computer backup. Also, share it to your Twitter to let more people know its powerful features.
MiniTool ShadowMaker TrialClick to Download100%Clean & Safe
Further Reading: Imaging VS Cloning
After knowing so much solutions about ghost Windows 7/8/10 via imaging or ghost hard drive via cloning, perhaps you are curious about the differences between image VS clone.
1. Imaging
It refers to backing up your Windows, files, disk or partition to an image file. During the backup process, the backup source is compressed by the ghost image software. Once an accident happens to your computer such as system crash, Windows unable to boot after updates, drive failure, etc. you can only restore the image through the original software.
2. Disk Cloning
Disk cloning is a method to create an exact copy of a hard drive to another disk. That is to say, all the contents on the source disk including settings, files, programs, etc. are transferred. If you clone a system disk, the target disk can be used to boot the PC in case of system breakdown.
For more information, refer to this post Clone VS Image: What's the Difference? Get the Answer Now!
The End
Want to ghost Windows 10/8/7? Now, try the tools above and follow the corresponding steps to start creating a ghost image of your Windows operating system. If you want to ghost hard drive Windows 10, try the free ghost software, MiniTool ShadowMaker.
MiniTool ShadowMaker TrialClick to Download100%Clean & Safe
On the other hand, don't hesitate to contact us if you have any suggestion of Windows 10 ghost or any questions when using our ghost image software. Leaving a comment below and sending an email to [email protected] are both OK.