Creating a backup is important for all computer users. How to back up a computer? What should you back up in your computer? Where can be used as a backup destination? This post from
MiniTool
provides all answers for you.
Everyone may lose his data in daily life since the computer's hard drive could fail, ransomware could hijack your files, a software bug could delete your important files, and even the delete important files could be deleted by yourself by mistake. If you don't back up your computer regularly, you could lose these files forever.
Hence, we will talk about computer backup. This post includes three main parts – what should you back up in your computer, where can be used as a backup destination, and how to back up a computer (Windows and Mac).
What Should You Back up in a Computer?
What should you back up in your computer? You need to back up your data that cannot be replaced or reinstalled on your Windows PC or Mac. If the hard drive fails, you can always reinstall the operating system and re-download programs, but your data is irreplaceable. Typically, this includes personal document files, letters, photos, financial information, pictures, and saved games.
For more details: What to Back up on PC? What Files Should I Back up? Get Answers!
Where Can Be Used as a Backup Destination?
Experts recommend a 3-2-1 backup rule: three copies of your data, two local (on different devices), and one offsite. For most people, that means the original data on your computer, a backup on an external hard drive, and another on a cloud backup service.
External hard drives: Backing up to an external hard drive is the best solution for those who need to back up large amounts of data and need to do so frequently.
NAS on your network: You can get NAS (Network Attached Storage) devices. All computers on your home network can be backed up and restored from the NAS.
Cloud storage services: The services you choose are automatically synced to your online accounts and your other PCs. If your hard drive fails, you can still store copies of your files online and on other computers.
CDs, DVDs, and Blu-ray Discs: The old way for backing up was to copy files to discs. The downside is limited capacity and speed. Besides, it's harder than ever to find a computer with a CD drive.
Also see: Computer Backup Devices & How to Back up Data to Them
How to Back up Windows Computer?
There are several ways to back up your important data or Windows system, including online backups, local backups, and disk cloning.
Local Backup
1. MiniTool ShadowMaker
Speaking of local backup, there is a great backup software – MiniTool ShadowMaker for you. It is a piece of all-around and professional backup software designed for Windows 11/10/8/7, providing you with a data protection & disaster recovery solution. Besides backing up data, this software can also be used to back up systems, folders as well as partitions.
Now, let's see how to back up the computer with MiniTool ShadowMaker step by step:
Step 1: Download and install MiniTool ShadowMaker.
MiniTool ShadowMaker TrialClick to Download100%Clean & Safe
Step 2: Click Keep Trial to continue.
Step 3: Go to the Backup page. MiniTool ShadowMaker chooses the operating system as the backup source by default. To backup important data, you need to click the SOURCE module and choose Folders and Files in the popup window to continue.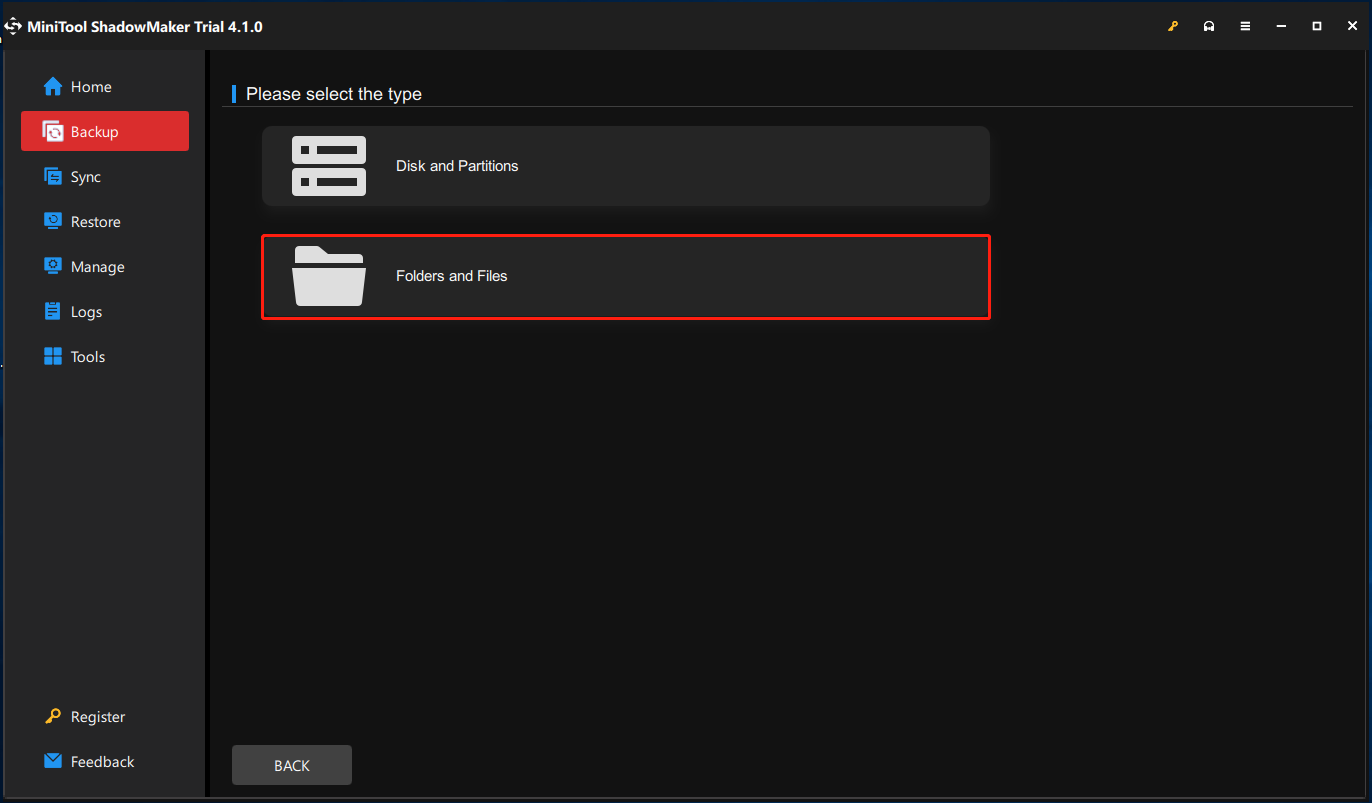 Step 4: Then you are required to choose a destination to save the backup image. Thus, click the DESTINATION module to go on. In the popup window, you can find there are four destination paths to be chosen. It is strongly recommended to choose an external hard drive. Then click OK to continue.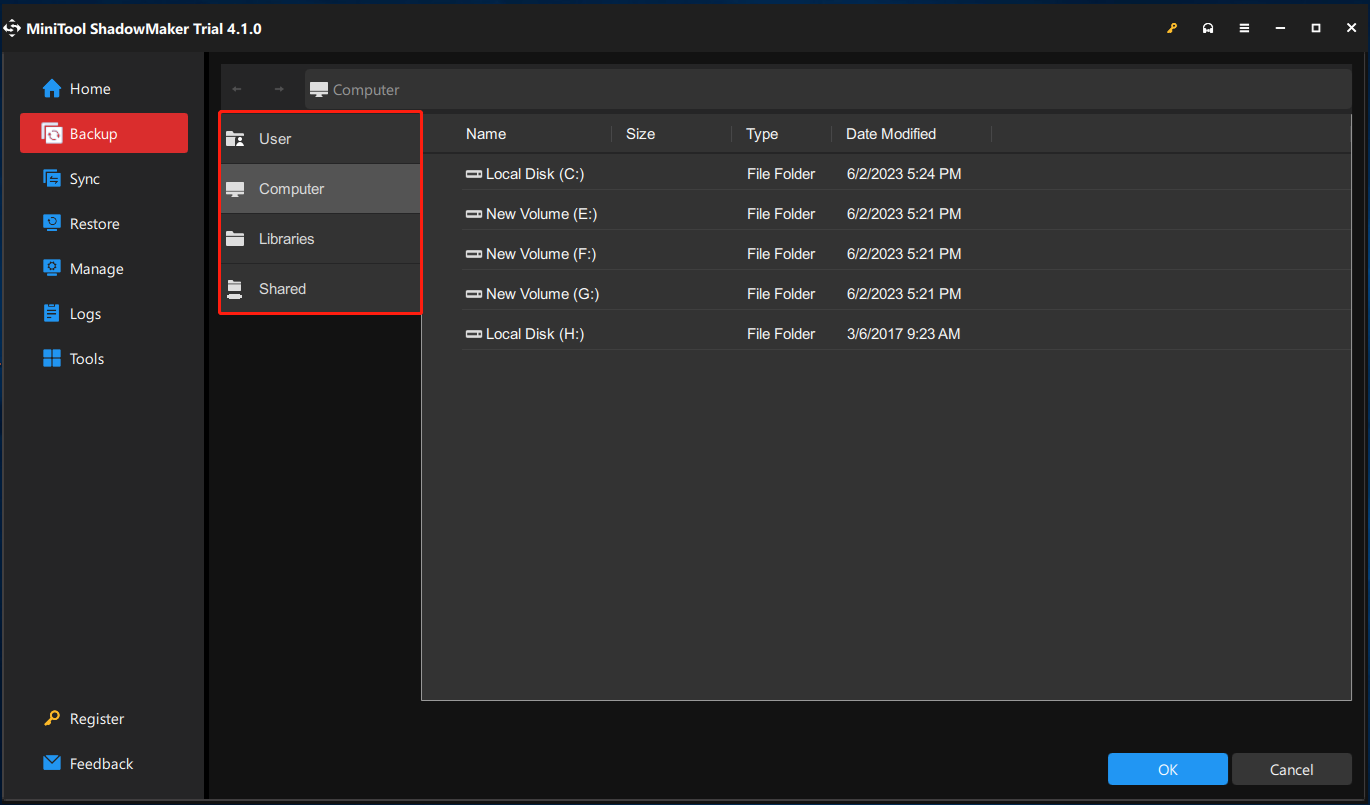 Tips:
Tip: MiniTool ShadowMaker can help you to create an automatic backup to provide better protection. To set an automatic, you just need to click the Options > Schedule settings button and set the automatic backup time.
Step 5: Finally, select when to start the backup – Back Up Now or Back Up Later. Both of them will lead you to the Manage tab, where you can view the backup progress or start the delayed backup task at any time you like.
Tips:
Tip: If you choose to back up the whole Windows system, it's recommended to go to the Tools page and use the Media Builder feature to create bootable media. When the system crashes, you can boot your computer with the media, and then use the system image to restore the system to the normal state. To learn how to restore the system, read this post - How to Restore System with a Backup in MiniTool ShadowMaker.
2. Backup and Restore(Windows 7)
To back up Windows computers, you can also use Windows snap-in tool – Backup and Restore (Windows 7). You can go on according to the following instructions.
Step 1: Type Control Panel in the search box and choose it to continue.
Step 2: Then, change the View by to Large icons and choose Backup and Restore(Windows 7) to continue.
Step 3: Click the Set up backup button to continue.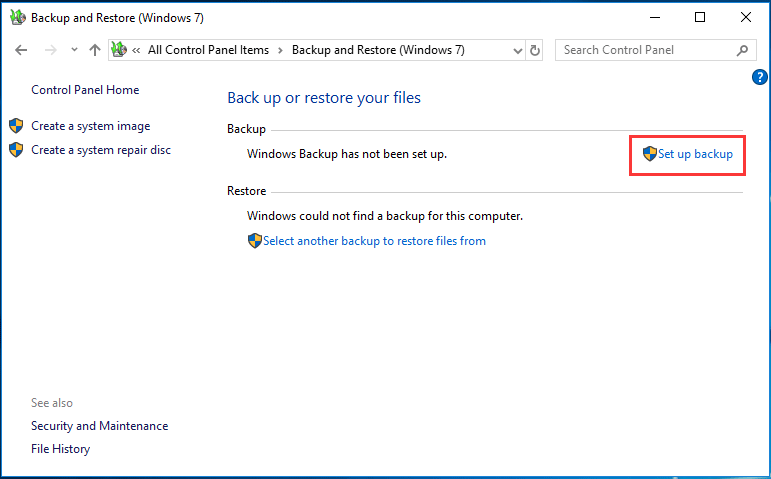 Step 4: After that, you are required to choose a target disk to save the hard drive backup image. It is recommended to choose an external hard drive and click Next to continue.
Step 5: There are two options – Let Windows choose (recommended) and Let me choose. If you want to choose files by yourself, the second option Let me choose should be selected, and click Next to continue.
Step 6: Next, you are required to choose what you want to back up. You can see that all your hard drives are listed here and check the one you want to backup.
Step 7: Then, click the Save settings and run backup button to start to backup task.
Online Backup
If you want to try online backup, you can try Google Drive, Dropbox, Onedrive, etc. But you need to notice that almost all online backup services provide limited storage for you. If you want more space for storing data, you need to purchase it.
Here, we take Dropbox as an example to back up a computer.
Step 1: Download Dropbox from its official website and install it on your PC.
Step 2: Open Dropbox. Then, there are two options for you – Make files local and Make files online-only. You can choose one of them based on your needs.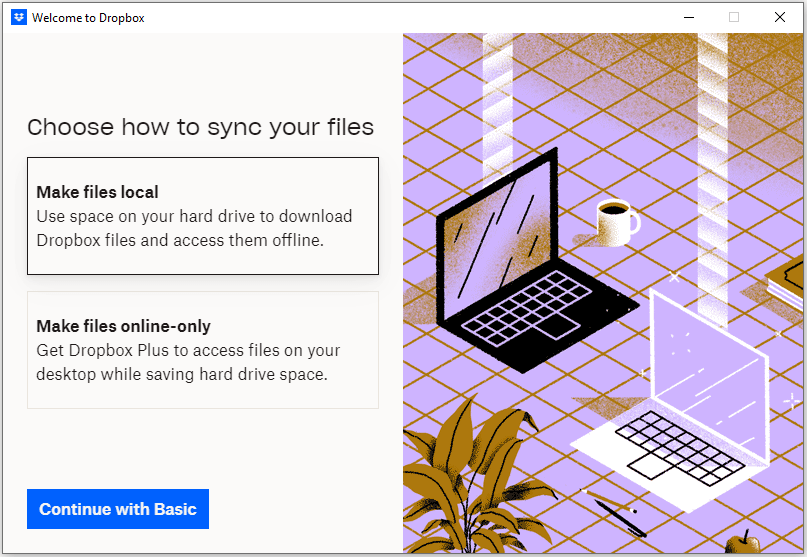 Step 3: Then, you need to choose back up your files now or later.
Step 4: If you choose later, then you can click the Dropbox icon in your taskbar.
Step 5: Click your avatar (profile picture or initials) in the top-right corner. Click Preferences….
Step 6: A new window will appear. Click the Backups tab from the tab menu. You can check the folders you would like to backup after clicking Set up.
Step 7: Check the boxes next to the folders you'd like to back up. Click Set up or Not now. You can also click Add folders to add other folders you want to back up.
Clone Disk
Now, we will introduce the third method to back up the computer. You can also choose to clone the entire hard drive to another one to keep data safe. And here, MiniTool ShadowMaker is capable of cloning the disk or the hard drive. It even can help you to clone the dynamic disk, but just for the simple volume.
After installing the software, it is time to clone the hard drive.
MiniTool ShadowMaker TrialClick to Download100%Clean & Safe
Step 1: Launch MiniTool ShadowMaker, click Keep Trial.
Step 2: Go to the Tools page and choose Clone Disk to continue.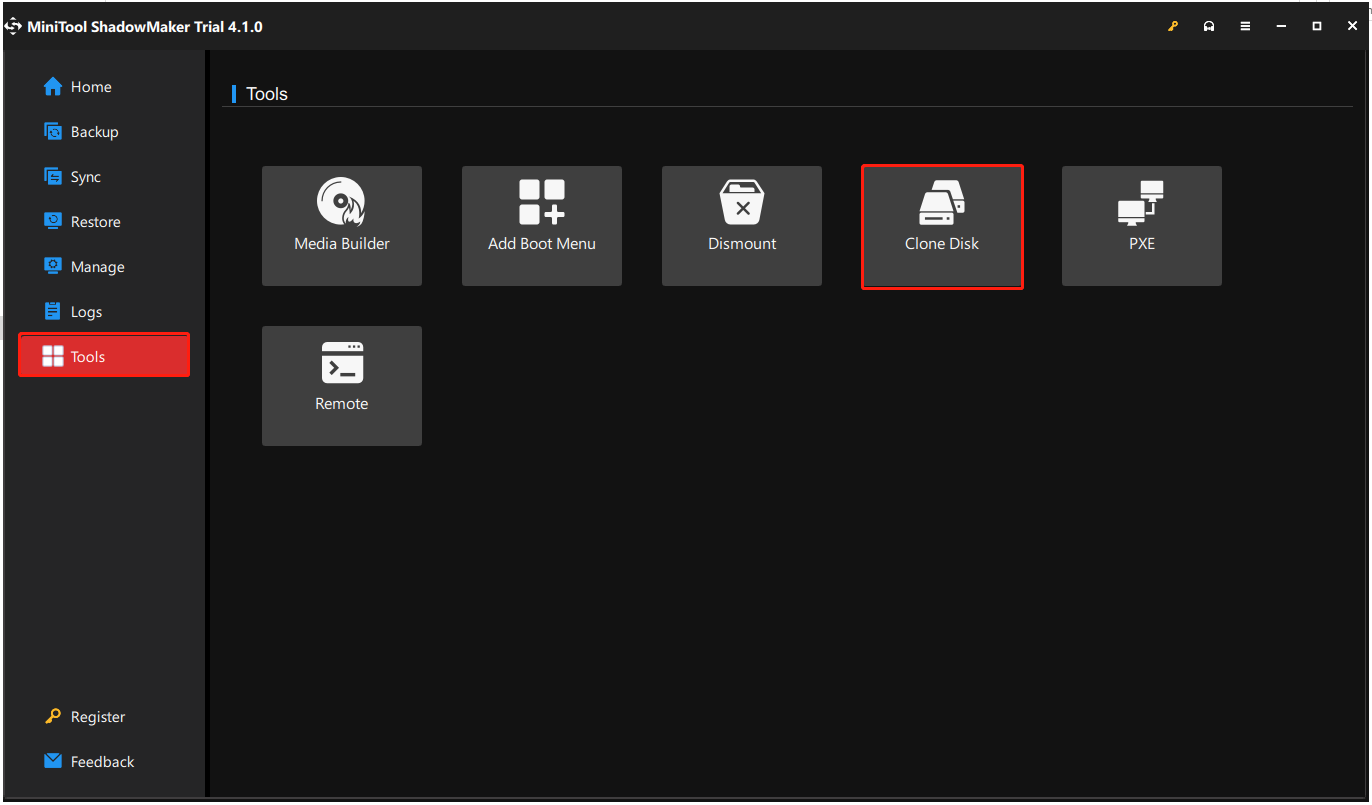 Step 3: Then, select the hard drive containing your important data as the source disk and click Next to continue.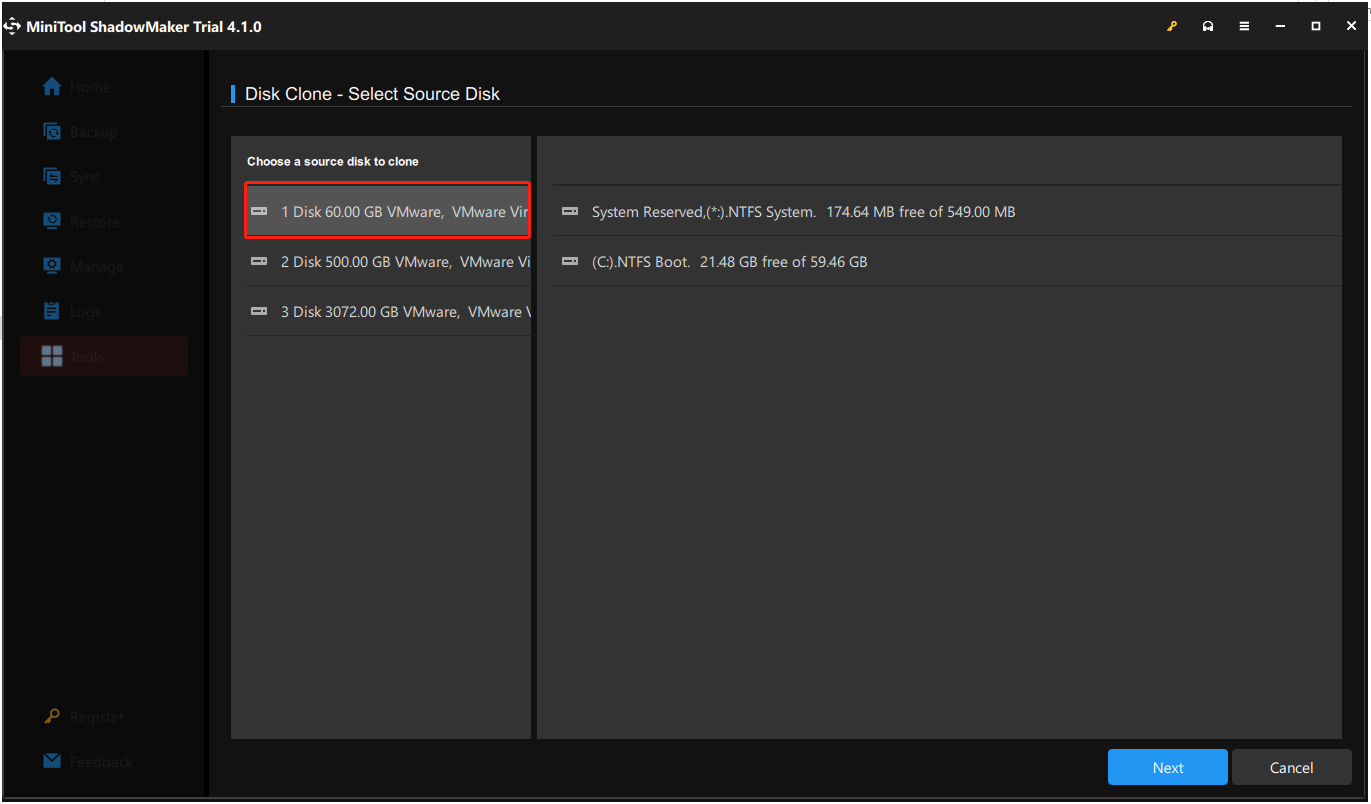 Step 4: Then choose a target disk to continue.
Step 5: After selecting the disk clone source and target, click OK to continue. Please note all data on the target disk will be destroyed, so backup them in advance if there are important files.
Step 6: Then the disk cloning process will start. Please wait patiently for the process to be finished.
Step 7: When the disk backup process is finished, you will receive a message which tells you that the source disk and the target disk have the same signature and one disk will be marked as offline if both are connected to your computer. Thus, you can choose to remove either of them when the disk clone process is finished. However, if you need to boot your computer from the target disk, please change the BIOS settings.
How to Back up Mac Computer?
To back up your Mac, you can use Time Machine or iCloud. Then, we will introduces the steps for them.
Time Machine
Connect the external drive to your Mac. You may get a dialogue box asking you to format the drive for macOS
Once formatted, open System Preferences, select Time Machine, click Select Disk, and select your hard drive that contains important data.
Check the Encrypt Backup Disk box. It's recommended to encrypt your backup for security. Then, click Use as Backup Disk.
Create a password for your encrypted backup. Don't forget this password since you can't access your backed-up files without it.
iCloud
Click the Apple menu located in the upper left corner of your Mac screen.
Select System Preferences from the submenu. Find iCloud and select it.
Type your Apple ID and the correct password to sign into iCloud.
Make sure the iCloud Drive option is checked.
Select the types of data you want to save on iCloud from the list.
Close the System Preferences window.
The backup process will be started and finished automatically.
Bottom Line
To sum up, this post has shown basic information about computer backup. If you have any different ideas about computer backup, you can share them in the comment zone. If you have any problem with MiniTool ShadowMaker, please feel free to contact us via the email [email protected] and we will reply to you as soon as possible.