A MSI laptop gains popularity among gaming communities for its high performance and superior hardware. However, as time goes by, you may run into all kinds of glitches. To troubleshoot these problems, it is a good option to perform a factory reset on your MSI laptop. This article on MiniTool Website will show a step-by-step tutorial about how to factory reset a MSI laptop to you.
What Is Factory Reset?
A factory reset, also known as hardware reset, hard reset or master reset, refers to returning your device to the original state when you bought the device. All the data such as files, settings, and applications will be deleted from your device during the factory reset process. At the same time, it will reinstall your operating system.
A factory reset is not harmful and it can be used to resolve some software issues associated with the device like running slowly or freezing for no reason. Factory resetting your device enables your computer to run a little faster. This process is pretty important for you if you intend to give away your laptop or sell it because it avoids making your private data leaked.
Reasons for Factory Reset Your MSI Laptop
Factory resetting is an effective way to tackle bugs or software issues on your MSI laptop. Although a factory reset is not recommended for all electronic devices or in all situations, it gives your MSI laptop a second life, especially in the following situations:
repairing a malfunction of a device
removing virus & files
clearing memory space & settings
improving the performance of your device
selling or giving your device to others
How to Factory Reset a MSI Laptop?
Today, we will mainly help MSI users like you to learn 3 ways about how to factory reset MSI laptop without password: factory reset using Windows Recovery Environment, Windows reset utility or a USB flash drive. If you need to factory reset your MSI laptop at some point, keep reading to get a full guide now.
Preparation: Back up Your Important Files
As mentioned above, you must perform a factory reset with caution because this action can erase all the files, folders, photos, apps and other personal information restored on your device. Therefore, it is strongly advisable to create a backup for your important files with a professional backup tool before you factory reset your MSI laptop.
Both Windows inbuilt and third-party backup tools can meet your backup demands. However, if you use a third-party backup tool, you don't have to be an expert in computer or backup because its backup process is quite clear and simple.
To back up your files, we advise you to use a piece of free and professional backup software, MiniTool ShadowMaker. You make full use of this tool to back up your files, folders, systems, partitions, and disks on Windows 11/10/8/7.
What's more, you can back up your vital files daily, weekly, monthly or even on event according to your backup habit and demand. There are three backup modes to meet your various needs: full backup, incremental backup, and differential backup. Now, let me show you how to back up important documents step by step.  
Step 1. Download and install MiniTool ShadowMaker and then double-click on the shortcut of this tool to launch it.
Step 2. Hit Keep Trial to enjoy a 30-day free trial and then go to the Backup page.  
Step 3. Click on SOURCE > Folders and Files and then you can choose the files or folders you want to back up.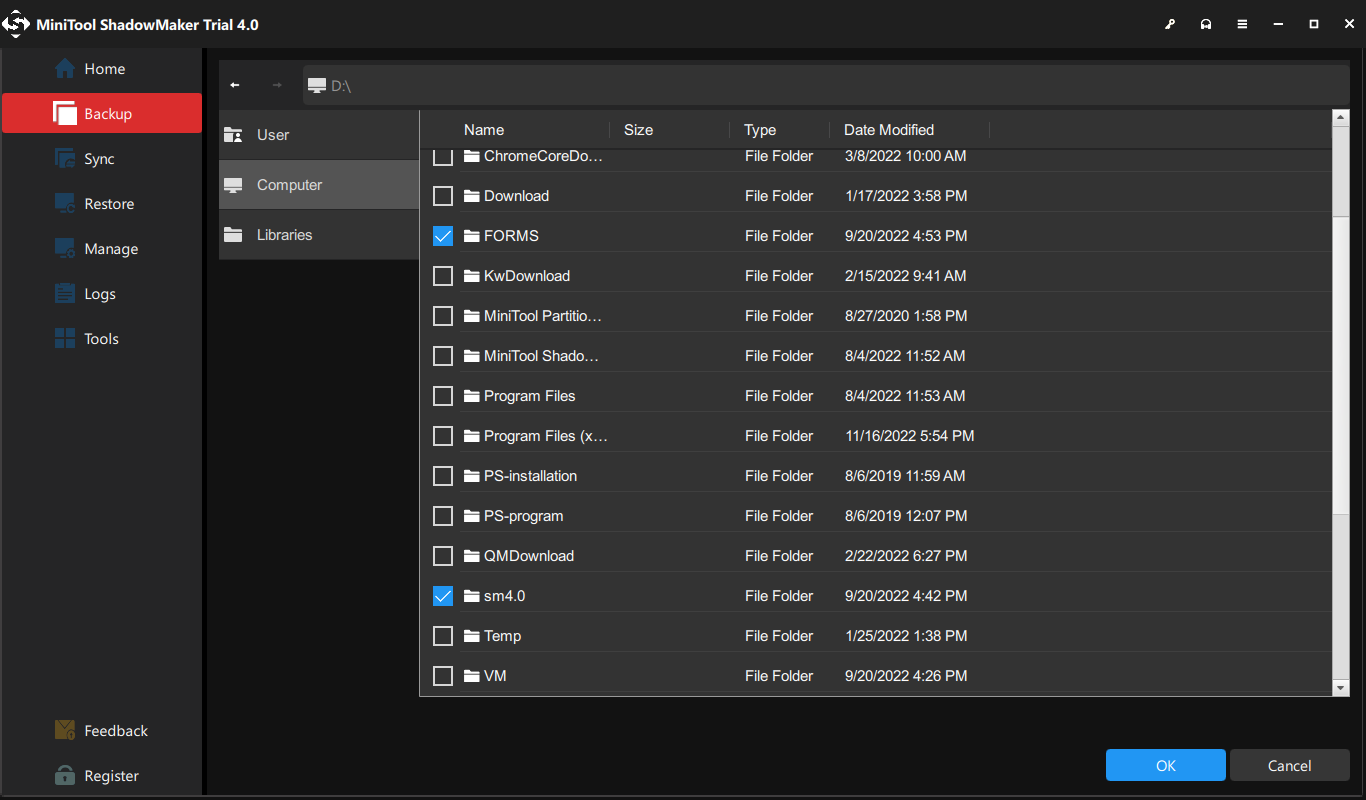 Checking several files at one time is permitted.
As you can see, MiniTool ShadowMaker selects a default storage path for your backup image file in DESTINATION, you can hit Back Up Now to start the backup task at once.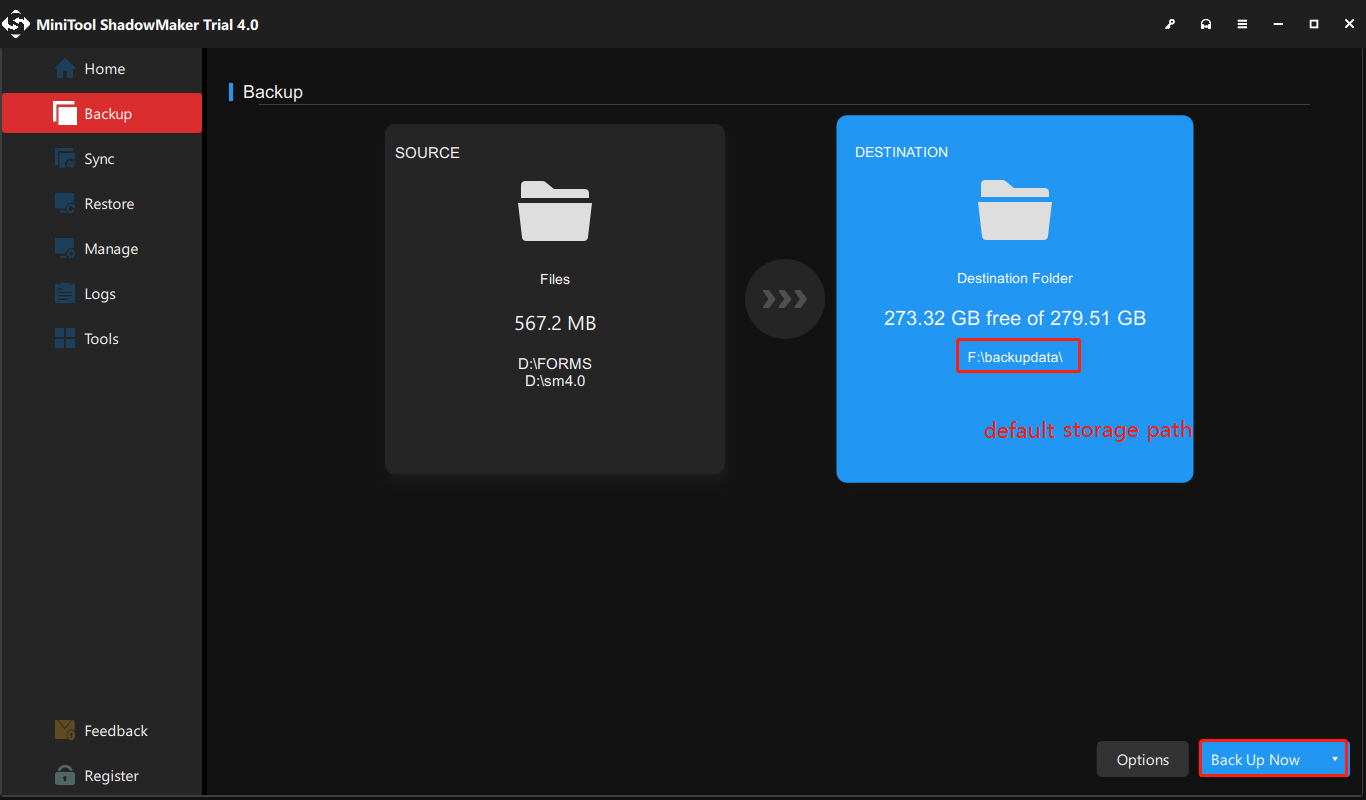 If you don't want others to access your backups, you can enable password protection for them: go to Options > Password under Backup Options > turn it on > type your password. There are 3 data encryption levels for you: None, Normal, and AES128.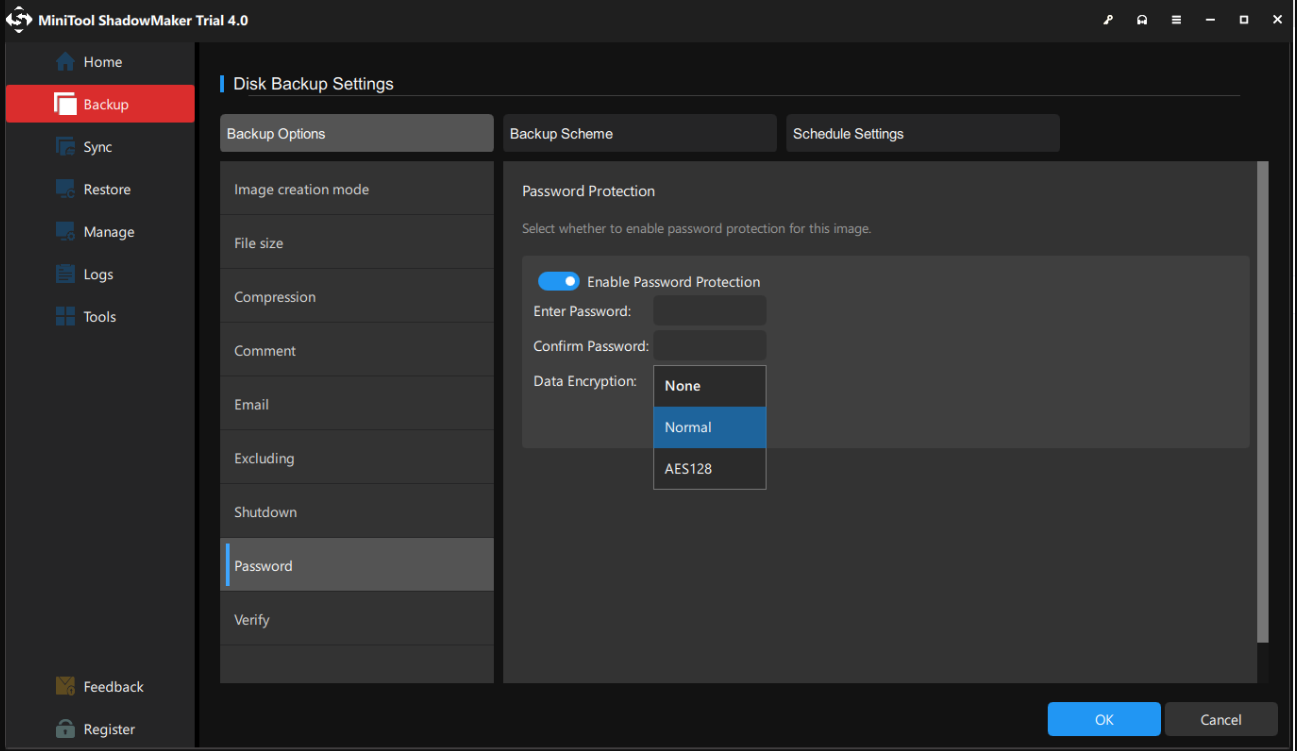 After backing up your data successfully, it's time to reset your computer to the factory defaults.
How to Factory Reset MSI Gaming Laptop via WinRE
Like any other manufacturer, the manufacturer of MSI also provides you with a preloaded recovery partition on your hard drive. You can access this partition with the help of the F3 or F11 keys (for most MSI laptops, press F3). To do so:
Step 1. Shut down your computer and then turn it on. When the MSI logo appears on the screen, press F3 or F11 (depending on your computer) repeatedly to enter Windows Recovery Environment.
If you don't bring up the boot menu successfully, repeat step 1 several times.
During this process, make sure that the power adapter is connected.
Step 2. Hit Troubleshoot under Choose an option.
Step 3. Under Troubleshoot, hit Restore MSI Factory settings.
Step 4. Click on System Partition Recovery. After that, you will see a warning message saying that All files and settings will be reset and lost on the computer. Are you sure to continue. Hit Yes to start the resetting process.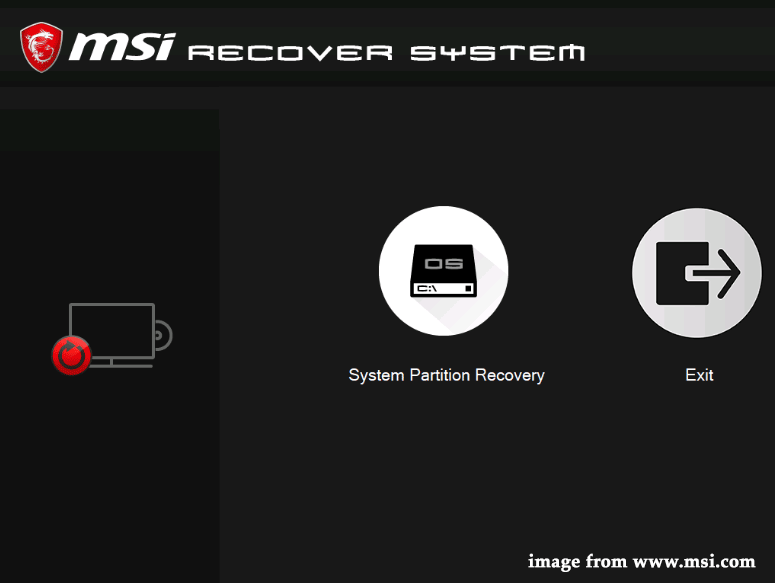 Step 5. After the process is finished, press OK to proceed with the setup.
Step 6. Hit Continue to reboot your computer. Once the computer is restarted, your system will return to the factory default state.
Also read: MSI Dragon Center Not Working in Windows 10/11? [5 Proven Ways]
How to Factory Reset a MSI Gaming Laptop via Windows Reset Utility
Windows 10/11 offers you an inbuilt option called Reset this PC that enables you to restore your operating system to its factory default configuration quickly. It is more convenient than reinstalling Windows using the manufacturer's recovery partition.
Step 1. Press Win + I altogether to open Windows Settings.
Step 2. In the settings menu, scroll down to locate Update & Security and click on it.
Step 3. In the Recovery tab, hit Get started under Reset this PC.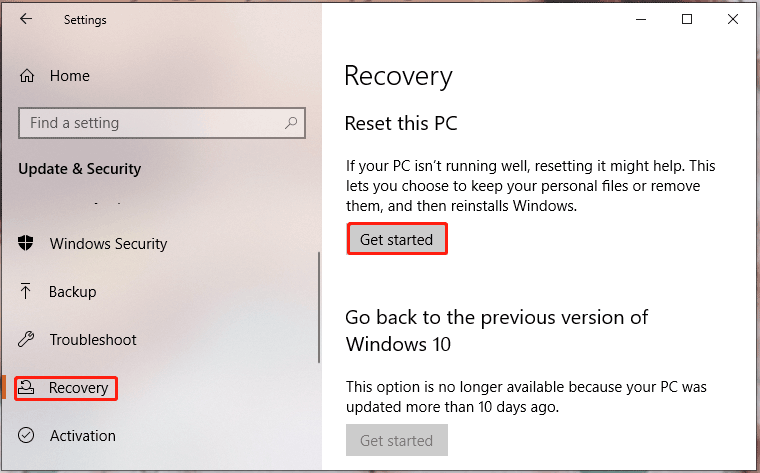 Step 4. Then you will see a window with two options for you: Keep my files and Remove everything. The first option will keep your personal files while the latter will remove all the settings, apps, and files on your MSI laptop.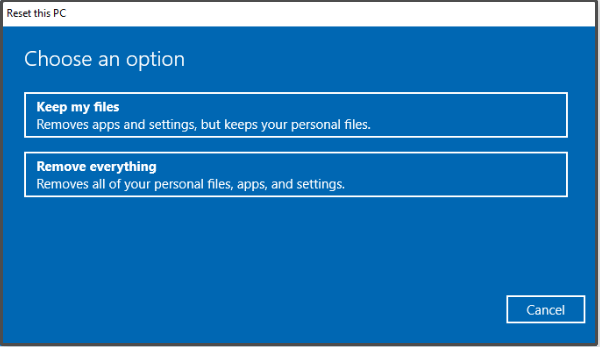 Step 5. Choose from Cloud download & Local reinstall and then follow the on-screen instructions to factory reset your MSI laptop.
How to Factory Reset MSI Laptop via USB Drive
If your MSI laptop fails to boot or encounters other problems such as the blue screen of death, black screen, freezing and more, you can choose to perform a factory reset via a USB flash drive. Here's how to do it:
Move 1: Download Windows 10 Installation Media
Step 1. Go to Microsoft Center on another computer.
Step 2. Hit the Download Now button under Create Windows 10 installation media.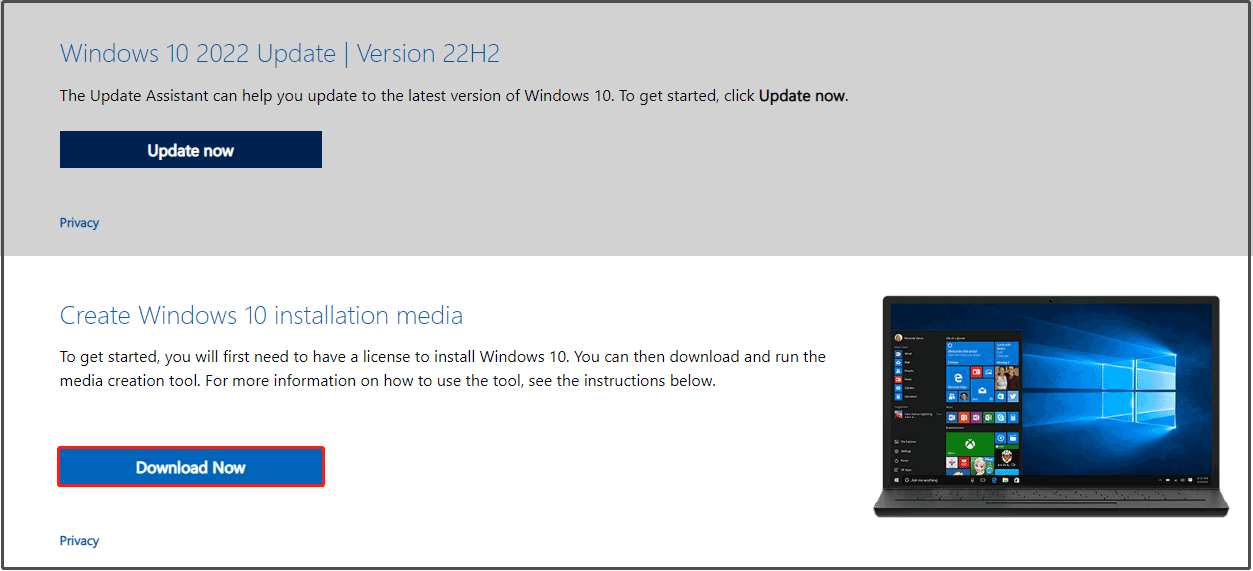 Step 3. After the downloading is complete, run Media Creation Tool and choose Create installation media for another PC.
Step 4. Hit Yes when the UAC window pops up.
Step 5. Connect a USB drive to the computer and then create a bootable USB drive on it.
Step 6. Choose a language, edition, and architecture. Follow the guidance to complete the process and finally hit Finish.
Move 2: Reinstall Windows 10 with Media Creation Tool
Step 1. Remove the USB flash drive from the computer and then connect it to your MSI laptop.
Step 2. Reboot your problematic laptop and select the language & other preferences.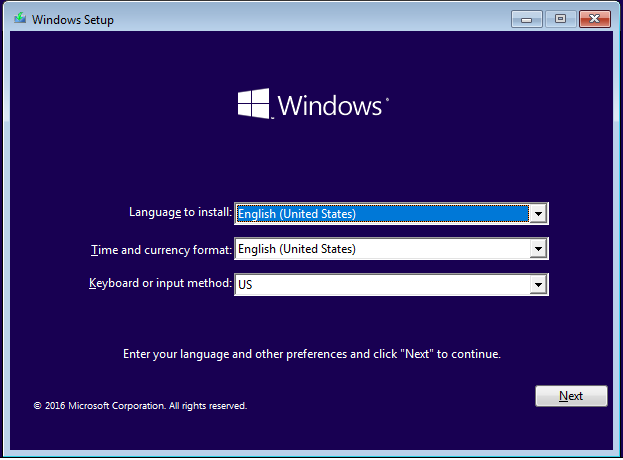 Step 3. Hit Next > Install now > enter the product key to activate Windows or choose skip > tick I accept the license terms > Next > Custom.
Step 4. Choose a partition in Where do you want to install Windows and then follow the rest guidelines on the screen to finish the reinstalling process.
I learned 3 ways to factory reset my MSI laptop and I managed to factory reset my MSI computer under the detailed guidance of this article. Do you need to factory reset your MSI device? Come on and have a try!Click to Tweet
Wrapping Things up
In summary, performing a factory reset allows you to have a fresh system and any issues triggered by third-party software, system setting changes, system file corruption or malware infection can be fixed by a factory reset. Most importantly, remember to back up all your vital documents with MiniTool ShadowMaker before proceeding.
In this article, we provide you with 3 viable methods on how to factory reset MSI laptop without password step by step. If you have tried the methods above, please tell us which method helps you out. For more queries or suggestions, feel free to leave a comment in the comment zone below or share your ideas by sending an email via [email protected]. Thanks for reading!
How to Factory Reset MSI Laptop FAQ
How do I force my laptop to factory reset?
For Windows 10: go to Settings > Update & Security > Recovery > hit Get started under Reset this PC > Remove everything > choose from Cloud download and Local reinstall. Then follow the rest on-screen instructions to complete the factory reset process.
How do I factory reset my MSI laptop Windows 11?
For Windows 11: go to Settings > System > Recovery > hit Reset PC beside Reset this PC > Remove everything > choose Cloud download or Local install > hit Next > Reset.
How do I factory reset my MSI computer without password?
Turn off your computer and reboot it. When you see the MSI logo on the screen, press F3 > Troubleshoot > Restore MSI Factory settings to enter MSI System Restore Interface. Next, hit System Partition Recovery > OK > Continue.
How do you reset a gaming laptop?
Type reset this PC in the search bar and then hit Enter. Hit Get Restarted under Reset this PC.