Rootkit is not new in daily life, but removing it radically is a tricky issue due to its highly developed elusion. What should you do if running into it? This guide on MiniTool Website will help you to detect, get rid of and avoid it. Come and have a whirl!
Today, we'll give you a full picture of rootkit – the definition of rootkit, the types of rootkits, signs of rootkit, how to avoid rootkits and how to get rid of rootkit Windows 10.
What Is Rootkit?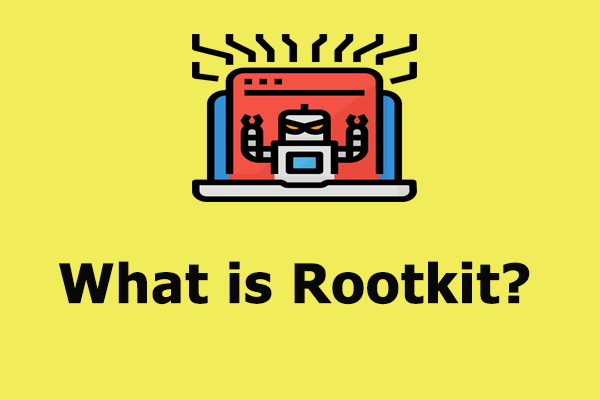 A rootkit is malicious software which allows malware authors to hide worms, bots and malware without your knowledge as long as possible. It is pretty difficult to detect because it can conceal its existence in an infected system. What's more, rootkit is able to steal your data and resources to keep a lookout over your communications and privacy by noting down your keylogger method. If you probe this article under our explanation and guidance, all your trouble can be easily solved.
Types of Rootkits
Rootkit boasts of a number of varieties. In this section, we will introduce you to several typical types.
Type 1. Application Rootkits
Application Rootkits also called User-mode, are the easiest and the most detectable ones because they perform their vicious actions by hiding in the application itself rather than in crucial system files. They run in the same part of infected applications.
Type 2. Memory Rootkits
As the name suggests, Memory Rootkit can hide in the RAM of your computer and take up all the resources of involving malicious processes hence harming your RAM performance.
Type 3. Bootloader Rootkits
Bootloader Rootkits or Bootkits start at the same time as your OS. They attached themselves to MBR (the master boot record) or VBR (the volume boot record), so you cannot see them in the standard file-system view. Naturally, it is hard for antivirus software to find them.
What's worse, Bootloader Rootkits have the ability to tweak the boot record. Once your device is infected by this type of rootkit, you cannot delete it because the deletion will damage your computer due to a changed boot record.
Type 4. Hardware Rootkits
This type of rootkits are based on some software that run hardware components. They can waylay any data written on the disk by burying themselves on the hard drive.
According to the latest report, Hardware Rootkits are likely to hide themselves deep into the UEFI hardware of a PC. In other words, they are so damaging that you must get rid of them.
Type 5. Kernel-mode Rootkits
Kernel-mode Rootkits are less common but they are so destructive that hackers can control your device completely once infected. Kernel-mode Rootkits allow hackers to own the most powerful privileges of your computer thus they will have heavy impacts on your computer operating system.
Type 6. Hypervisor-based Rootkits
Hypervisor-based Rootkits are more destructive than Kernel-mode Rootkits. They will create a virtualized rootkit machine which will boot up earlier than your OS. Obviously, Hypervisor-based Rootkits master more control than Kernel-mode Rootkits and they are even harder to remove.
Signs of Rootkit
Rootkit is hard to detect but it is not groundless. Since it can harm your computer, you must perceive some signs of it before you are bothered by how to get rid of rootkit Windows 10.
Sign 1: Weird Performance of System
Rootkits enable malicious attackers to control your operating system. If your computer acts weirdly, the culprit might be hackers beyond rootkits.
Sign 2: Unexpected Changes in Settings
Generally speaking, your computer cannot do anything without your knowledge unless infected by rootkits. If you discover that your settings and configurations are changing automatically, your computer is likely to be manipulated by others.    
Sign 3: Unstable Network Activities
If your device is running slow at times and the antivirus software is unable to detect any suspicious process, you need to pay attention to that because hackers are inclined to receive traffic and data from your device, which interfere with the network connection.  
Sign 4: Existence of Rootkits Signature
The computer operates with numbers called signature and those numbers help the operating system to identify different data storage devices on your computer. Therefore, as soon as rootkits exist in your computer, there must be a corresponding signature of them and you can be aware of how to detect rootkits on Windows 10. 
How to Avoid Rootkits?
There are several ways about how to prevent rootkits. Here's how to do it:
Plan A: Download Software on the Official Website
Rootkits may bundle with some applications if you download them from unofficial locations. Therefore, you should make sure a reliable source of the rootkit.
Plan B: Be Wary of Phishing Attacks
Don't open any links or attachments from strange or unknown individuals or organizers and don't trust any mails showing that you win a lottery. Those mails alike are likely to be phishing attacks. Once you open them, you will download some uncontrolled and executable programs thus giving the chance for the rootkit to slip on your computer.
Plan C: Update Your Software
Keep all your software and system up to date lest hackers take advantage of bugs and vulnerabilities of the obsolete version. Ordinarily, companies will release corresponding updates to fix previous bugs regularly. As long as you update in time, the rootkit cannot sneak into your system.
Plan D: Monitor Network Flow
Rootkit Attackers have the ability to receive your network traffic and data hence there must be some changes in your network flow. Network monitoring can recognize potentially abnormal network flow and mitigate threats more quickly. 
How to Get Rid of Rootkit Windows 10?
After knowing how are rootkits installed and how to avoid them. We will introduce you to how to remove them if your computer is already infected.
Solution 1: Run Windows Defender
Microsoft Defender is an inbuilt antivirus application in Windows. This Microsoft rootkit scanner can detect most viruses and threats.
Step 1. Press Win + I at the same time to open Settings.
Step 2. Scroll down to find Update & Security and tap on it.
Step 3. Click Windows Security and Virus & threat protection, and choose Scan options under Current threats.
Step 4. Then, hit Microsoft Defender Offline scan and click on Scan now.
Step 5. Windows Defender will start to scan for suspicious files for you. After the start operation ends, select the infected rootkits files and delete them.
Solution 2: Perform a Boot-Time Scan
Much complex malware like rootkit can avoid detection by antivirus software in the manner of changing its file enumeration code and monitoring the information flow thus antivirus will regard it as a safe file mistakenly.
The boot time scanning launches during booting up your PC thus there is no time for malware to conceal itself in your system. Executing boot time scanning is a good opportunity to detect dormant rootkits before they act. You can download some antivirus software which support a feature of Boot-Time Scan such as Avast One to perform this scanning.
Solution 3: Remove Rootkit Manually
This method of getting rid of rootkits in Windows 10 requires you to have another computer that runs normally.
Step 1. Download a rootkit scanning tool on another available computer.
Step 2. Copy this tool to a USB drive and install it on the infected device.
Step 3. Next, reboot the target computer and then restart the scan process.
Step 4. Change the settings of a rootkit removal tool like the Kaspersky Anti-rootkit utility based on your requirement.
Step 5. Choose the parameter-changing link on the screen and rake through the Detect TDLFS file system option.
Step 6. Tap on Start scan and click OK.
Step 7. After the scanning detects infections, choose Continue to remove it.
Step 8. As soon as the removal process is done, reboot your PC to inspect if this issue is fixed or not.
Solution 4: Wipe Your Device and Reinstall Operating System
If a rootkit is running at the boot, hardware and even hypervisor level, the last resort of removing a rootkit is to erase your device and reinstall OS. Though it is very risky, this method can be 100% sure to get rid of rootkits. Most importantly, you should know how to format a hard drive and how to back up your disk data.
Format a Hard Disk
Step 1. Type disk management in the search bar and hit Enter to open Disk Management.
Step 2. Right-click the partition you want to format and select Format.
Step 3. In the formatting window, enter a name you like beside the Volume label.
Step 4. Choose NTFS in the File system text box.
Step 5. Select Default in Allocation unit size.
Step 6. Check Perform a quick format to execute a quick format.
Step 7. Hit OK to confirm the progress.
Step 8. There will be a warning that informs you this action will erase all data on this disk, so you'd better back up all the important files. Click OK.
Backup a Hard Drive
When it comes to backing up a hard drive, a professional backup software named MiniTool ShadowMaker is usually highly recommended. Disk Backup is one of the most useful features of ShadowMaker that allows you to back up all your files on the disk to a compressed image file. It supports backing up external disks, USB drives, MBR disks, GPT disks and so on. Download the trial edition and you can use it freely for 30 days.
Step 1. Launch ShadowMaker and click Keep Trial.
Step 2. In the Backup interface, you can click the Source tab and then press Disks and Partitions.
Step 3. Drop down the disk list and check all its partitions and hit OK.
Step 4. Click Destination to choose a destination path for the chosen disk. Generally speaking, you can back up your disk to any location of the list including NAS. We recommend you select an external hard disk as the backup image storage location.
Step 5. If you want to start the backup operation at once, choose Back up Now. If you are not hurried, click on Back up Later. The delayed backup task will list in the Manage interface.
Solution 5: Replace a Hard Disk without Reinstalling OS
Reinstalling OS is a huge and troublesome project. Fortunately, MiniTool ShadowMaker can provide you with a way to replace a hard disk without reinstalling your OS – Clone Disk. With this feature, you can shift your data including files, applications, documents, system settings from an old hard disk to a new one.
Step 1. Open ShadowMaker and go to the Tools window.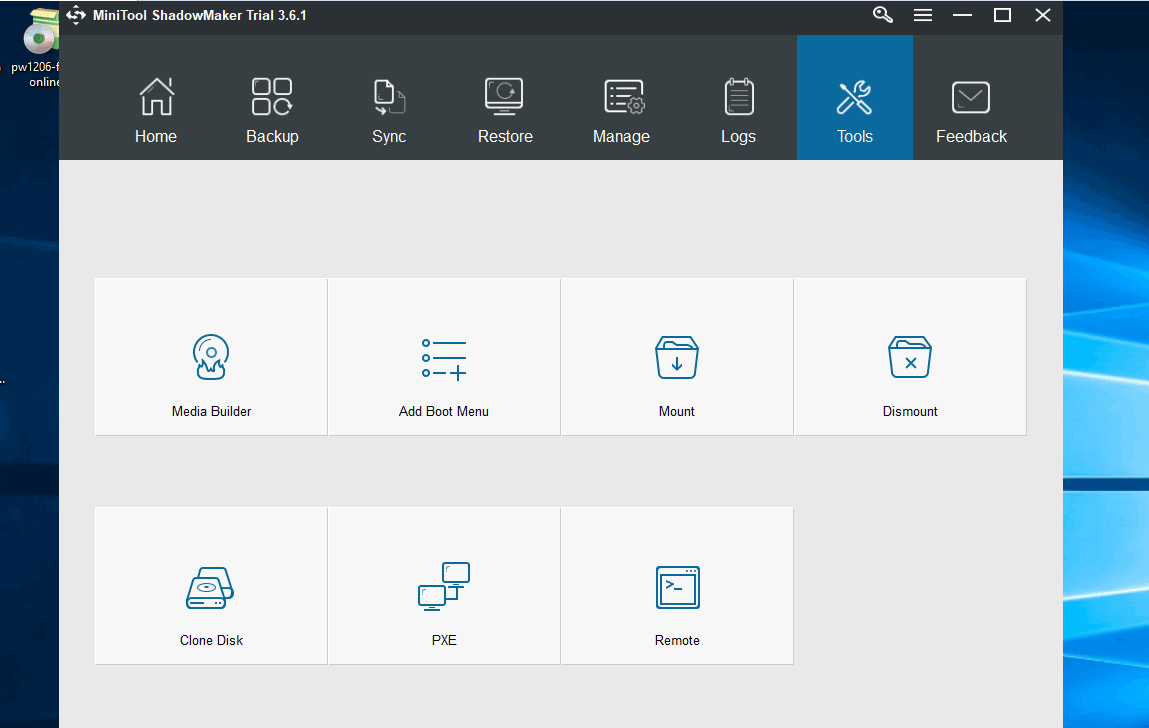 Step 2. Click Clone Disk.
Step 3. Click Source to choose a hard disk and click Destination to choose a new hard disk.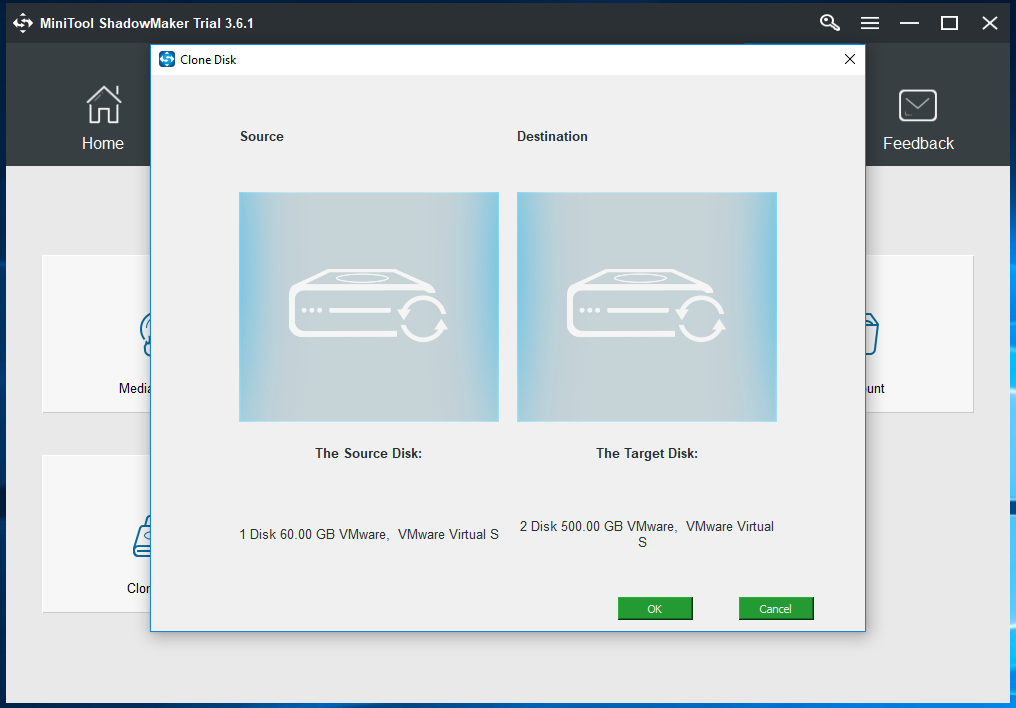 Note: Don't leave any important files on the new disk because the cloning operation will wipe all the data on that disk.
Step 4. Remove the previous hard disk and plug in the new hard drive. Then you can boot your system from the new disk and enjoy a smooth operating system without rootkits.
Final Words
By now, I believe that you MUST have some profound insights on how to get rid of rootkit Windows 10. After that, you also learn how to use MiniTool ShawdowMaker for better data protection and data backup.
If you have any other puzzles about rootkit, please let us know via [email protected].