HP has been a well-known name that wins praises for its high quality and advanced technology in the computer industry. But mistakes can happen everywhere. HP is no exception. This article on MiniTool Website will target the common issue of "HP stuck on HP screen" to provide solutions for you.
Reasons for HP Laptop Stuck on HP Screen
Overheating
If your computer is overheated, your computer will run slower and slower and there will even be a serious page stuck phenomenon, resulting in computer black screen, boot failure, and so on.
There are some reasons leading to overheating:
Too many open browser tabs
Fan failure
Blocked air vents
Outdated software
Virus Attack
Virus invasion of your computer is one of the major reasons to let the installed software not work properly. And a defective Windows installation can trigger the issue of "HP laptop stuck on HP logo screen".
Hardware Issue
If your hardware has undergone some physical damage or some hardware failure, your computer is stuck on the HP logo. The hardware issue can be triggered by multiple reasons, such as extremes of environments, humidity, ingress of dust or liquids, shock, cable separation, and so on.
BIOS Error
BIOS error can be the culprit that makes the laptop stuck in the HP logo. You may involuntarily change the BIOS parameters to incorrect values, which can make your BIOS stop working.
Graphics Driver Issue
There are some situations you can consider. Whether graphics driver error or crash can make HP laptop stuck on a black screen with HP logo. The issue can be triggered by multiple reasons.
Outdated or corrupted display driver
GPU overheating
Old or defective graphic card on your computer
Corrupt system or registry files
Too many programs running on your computer
Take Necessary Precautions
Based on the five possible causes above, we can know how to avoid this kind of situation. At the same time, many of these causes are interrelated, not isolated. When you solve one of these problems, you can avoid some computer errors or crashes.
Therefore, if you want to get rid of this error and crash thoroughly and no more "laptop stuck in HP logo" issue happens, you can take some precautions.
Use a laptop cooling pad and clean the dust on your laptop.
Use the original laptop charger.
Protect your computer from viruses. For more details, you can refer to this article: How to Protect Your Computer from Viruses.
Always install the correct version of Windows.
Keep updating your hard drive, Windows, and software.
Ways to Fix HP Laptop Stuck on HP Screen
Fix 1: Remove All Connected Devices
It is worthwhile to doubt that devices and peripherals cause the laptop to hang at the logo stage. When your laptop tries to boot, the connected devices may be regarded as a boot source, which can lead to the situation of "HP laptop stuck on HP screen".
Therefore, just shut down your computer and remove all your devices, especially CDs, USBs, flash drives, etc.
Then you can restart your PC and check if the issue has been resolved.
Fix 2: Try Power Reset
Performing a power reset can help you clear information from the computer's memory without erasing personal data.
For a laptop with a removable battery
Step 1: Turn off the computer and unplug the power cord.
Step 2: Remove all peripheral devices.
Step 3: Remove your battery.
Step 4: Press and hold the Power button for 15 seconds.
Step 5: Re-insert the battery and power cord.
Step 6: Turn on your computer and see if the issue exists.
For a laptop with a non-removable battery
Step 1: Turn off the computer and disconnect the AC adapter.
Step 2: Remove all discs, memory cards, and nonessential peripheral devices.
Step 3: Press and hold the Power button for approximately 15 seconds.
Step 4: Reconnect the AC adapter and then turn on the computer.
Fix 3: Change Your Battery
Some laptops may use a non-removable battery and if you are one of the users, this method is not suitable for you and you can try others.
Most HP laptops carry removable batteries but some need a professional to remove the battery. In this case, you can also move to other methods.
To change your battery, you can do as follows.
Step 1: Turn off the laptop and unplug the power cord.
Step 2: Ensure no connected peripheral devices.
Step 3: Unscrew the back panel.
Step 4: Remove the screws holding the battery in place.
Step 5: Remove the ribbon cable that connects the battery to the system.
Step 6: Remove your old battery.
Step 7: Connect your new battery to the body of your laptop and replace the back panel.
Step 8: Turn on your laptop and check if the issue is fixed.
Note: For the new battery, you need to buy a battery based on the laptop model.
Fix 4: Reset Your Graphics Driver
Some issues about graphics card drivers in the software system are a big reason for your black screen HP laptop with the HP logo, therefore, you need to reset your graphics driver.
You can press the Windows key + Ctrl + Shift + B at the logo screen and this step can help you prompt Windows into restarting the graphics driver.
Fix 5: Perform Some HP Hardware Diagnostics Tests
You can perform two tests to diagnose the hardware on an HP laptop.
Fast Test
Step 1: Hold the Power button for at least 5 seconds to turn off the computer.
Step 2: Turn on your laptop and then press the Esc key repeatedly until a menu appears.
Step 3: Press F2 for System Diagnostics in the menu.
Step 4: Click System Tests and then Fast Test.
Step 5: Click Run once.
While the test is running, the time remaining and test results for each component is displayed on the screen.
Step 7: If a component fails a test, write down the failure ID (24-digit code) for you to contact HP Customer Support. The information is also available in Test Logs on the main menu.
If no system component failed, run the Extensive Test.
Extensive Test
Step 1: Repeat step 1, step 2, step 3 in Fast Test.
Step 2: Then click System Tests and then Extensive Test.
Step 3: Click Run once or Loop until error.
Again, if you have a component failure, you will be provided with a failure ID which is a 24-digit code. Write down the code and contact HP Customer Support.
Fix 6: Reseat the RAM
We take our laptops to different places. While moving, it will collide with many things, which will dislocate your RAM or hard drive. So it is worthwhile to check if the RAM is disclosed.
In this way, you can then take each RAM stick out and put them back securely. Then, put the case back on the laptop and try to boot the laptop again.
Besides, if you find they are damaged, replace them immediately. If you are not skilled enough, go to an expert to perform the task.
Fix 7: Restore the BIOS
BIOS is the first software to run when you start up your computer. If a BIOS issue happens, your computer won't start properly.
You can try the following steps to restore BIOS.
Step 1: Turn off the computer and ensure that the AC adapter is connected to power.
Step 2: Press and hold the Windows + B keys, and then simultaneously press the Power button.
Step 3: After 2 to 3 seconds, release the Power button and continue to press and hold the Windows + B keys until you hear the laptop beep.
The HP BIOS Update screen is displayed and the recovery begins automatically.
Fix 8: Perform a Startup Repair
You can fix the boot issue by performing a startup repair.
Step 1: Turn on your PC and press the Power button once the Windows logo appears.
Step 2: After entering the Advanced Startup environment, select Troubleshoot on the Choose an option screen.
Step 3: On the Advanced options screen, select Startup Repair.
Step 4: Select Shutdown and then turn on your PC to see if Windows can boot properly.
Back up in Advance
The above methods are useful but some of them are easy to cause data loss for some mistakes. Besides, even though you can recover your laptop, the factors that lead to the "HP laptop stuck on HP screen" issue can be potential terrorists of data security. Therefore, it is much more important to back up your data in advance.
MiniTool ShadowMaker can be your right hand to safeguard your data and facilitate your better backup experience.
First of all, you can download and install the program, and then you will get a free trial version for 30 days.
Step 1: Open the MiniTool ShadowMaker and click Keep Trial on the top right corner.
Step 2: Click the Source section and in the pop-up window you can choose backup content. Here, MiniTool ShadowMaker provides you with more options, including the system, disk, partition, folder, and file. By default, the system has been set as the backup source already.
Step 3: Go to the Destination part where you can see four options containing the Administrator account folder, Libraries, Computer, and Shared. Then choose your destination path. And then click OK to save your changes.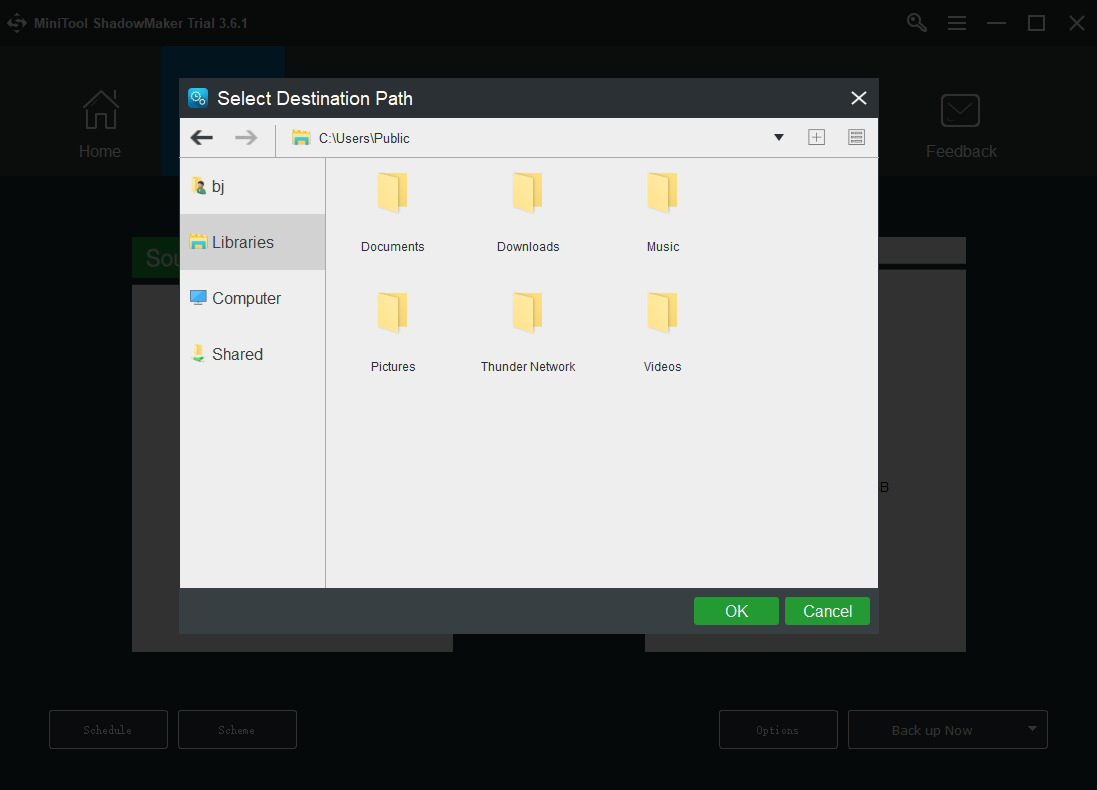 Step 4: Click the Back up Now option to start the process immediately or the Back up Later option to delay the backup. The delayed backup task is on the Manage page.
This article has introduced how to fix the stuck issue when you find your HP laptop stuck on the HP screen. If you like this article, you can share it on Twitter.Click to Tweet
Bottom Line:
When you encounter the issue of an HP laptop stuck on the HP screen, you can follow the above methods one by one to troubleshoot the issue. You may feel they are complicated and hard to operate, but it is not a big deal compared to the risk of data loss. To avoid that, the best way is to back up.
If you have encountered any issues when using MiniTool ShadowMaker, you can leave a message in the following comment zone and we will reply as soon as possible. If you need any help when using MiniTool software, you may contact us via [email protected].
HP Laptop Stuck on HP Screen FAQ
How do I unfreeze my HP laptop screen?
Access Task Manager by pressing Ctrl+Alt+Delete.
It will show you what apps and background processes are running.
Note how much CPU and memory each is using.
If either number is near or above 100%, you should press the End Task button on a few programs.
Why is my laptop stuck on the start screen?
In some cases, the "Windows stuck on loading screen" issue is caused by Windows updates or other problems. You can now enter the Safe Mode and then reboot your computer to help the computer start normally again. Safe Mode starts with a minimum set of drivers, software, and service.
How do I get past HP Sure Start?
Turn on or restart the computer.
Press F10 to enter the BIOS Setup.
Select Security.
Locate BIOS Sure Start.
Uncheck Sure Start BIOS Settings Protection.
Click Save to save the changes and exit HP Computer Setup.
Why is my HP laptop not responding?
It may be a hardware issue. Try hard to reset your notebook. Remove the battery and press the power button for 5 seconds then insert the battery again and try to restart the PC. If it doesn't help you then it might be a serious hardware issue.