Windows 11 install error - 0x800f0922 is a common issue that happens when you check for updates. Also, it can happen on Windows 10. If you are plagued by this annoying update error, how can you get rid of the trouble? Go on reading this post and you can find some useful methods given by
MiniTool Solution
. As well, a suggestion is given here.
Install Error – 0x800f0922 Windows 11
When attempting to install Windows updates, some updates problems always happen unexpectedly on your PC, and error code 0x800f0922 is a common issue. From the Windows Update section, you can see the message "Update failed. Install error – 0x800f0922", as shown below.
The update error can block you from installing cumulative updates, quality updates, security updates, and feature updates. It is mainly caused by corrupt system files, malicious antivirus program intervention, deactivated .NET Framework components or connection problems, corrupted update components, and more.
You should try to fix the Windows 11 install error 0x800f0922 as soon as possible. Or else, some unknown serious problems may appear. Go to find some from the following part.
Fixes for Install Error 0x800f0922 Windows 11
Use Windows Update Troubleshooter
In Windows, many troubleshooters are built-in and you can use them to fix some issues related to network, Bluetooth, blue screen, audio, keyboard, Windows Update, etc. If you get the issue of install error – 0x800f0922 Windows 11, you can use the troubleshooter to check if it can find and fix this error.
Step 1: In Windows 11, click the Start icon and choose Settings to open this app.
Step 2: Under the System tab, scroll down to find Troubleshoot on the right side of the screen.
Step 3: Click Other troubleshooters and you can see many troubleshooters related to hardware and PC.
Step 4: Tap on Windows Update and click the Run button. This troubleshooter will run to automatically detect and fix issues that lead to the install error 0x800f0922.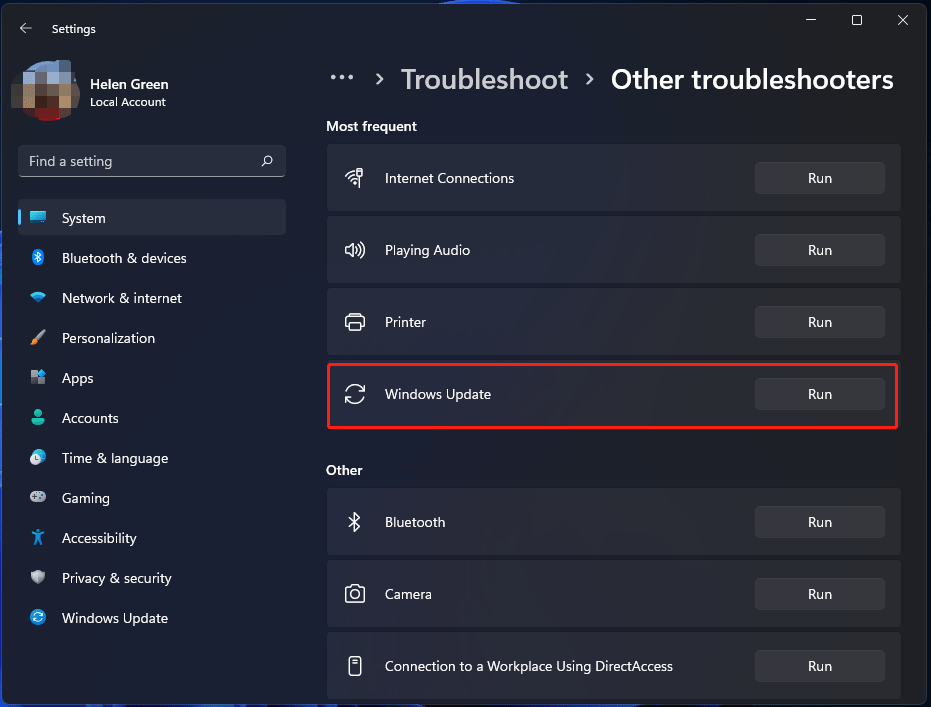 If this way cannot fix Windows 11 install error – 0x800f0922, try other troubleshooting tips.
Enable Microsoft .NET Framework 3.5
One of the most effective solutions to install error – 0x800f0922 Windows 11 is to make sure Microsoft .NET Framework 3.5 is enabled. This is because the update process may be interrupted by that component.
This has been proved to be useful by many users. If you are also bothered by the update error code, just have a shot. Follow the steps below:
Step 1: Press Win and R to open the Run dialog, type appwiz.cpl in the textbox and click OK.
Step 2: In the Programs and Features interface, click the Turn Windows features on or off link.
Step 3: Tick the checkbox of .NET Framework 3.5 (includes .NET 2.0 and 3.0). Besides, expand this item and make sure the associated boxes for Windows Communication Foundation HTTP Activation and Windows Communication Foundation Non-HTTP Activation are also selected.
Step 4: Click OK to save the change. Then, check for Windows updates to see if install error – 0x800f0922 is removed from Windows 11.
Disable Firewall to Fix Install Error – 0x800f0922 Windows 11
Your firewall may be interfering with the installation of the pending update, leading to the update error 0x800f0922. Although this case is rare, you shouldn't exclude the possibility. You can try to disable the firewall to see if it can fix the issue.
Disable the inbuilt Windows Firewall:
Step 1: In Windows 11, go to Settings > Privacy & security.
Step 2: Click Windows Security > Open Windows Security.
Step 3: Tap Firewall & network protection, choose the network that is currently active, and disable the toggle of Microsoft Defender Firewall.
Tip: 
In addition, you can go to
Control Panel > Windows Defender Firewall > Turn Windows Defender Firewall on or off
and then turn off the firewall (
Related article
–
How to Disable and Enable Windows Defender Firewall
). If you are using a third-party antivirus solution, go to search for the way online and disable the firewall by following the given steps.
Verify Integrity of System Files in Windows 11
Corrupted or missing files that are involved in the system can lead to many issues including the update error code 0x800f0922. To fix this issue to install Windows updates successfully, it is necessary to make sure the integrity of system files by the Windows utilities – System File Checker (SFC) and DISM (Deployment Image Servicing and Management).
Run an SFC Scan
System File Checker is a free command-line tool in Windows that can be used to scan for the entire operating system. Once some corruptions are detected, it can repair them to solve your issues.
Step 1: Open Command Prompt (CMD) in Windows 11 with admin permissions.
Step 2: In the CMD window, type in sfc /scannow and press Enter to execute the command.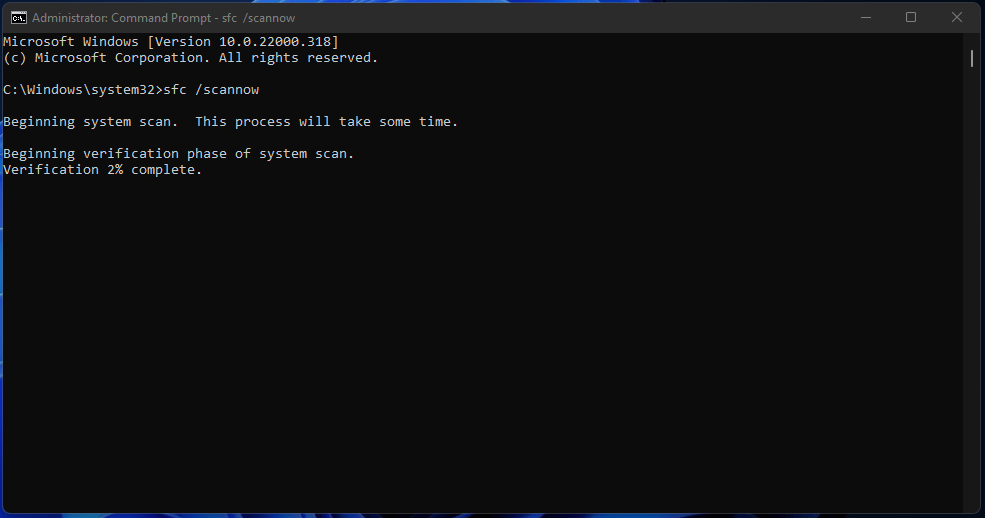 Step 3: This tool will start a scan for the system and repair corruption. The scan process will take some time and wait patiently until verification is 100% completed.
Use DISM
If SFC cannot fix the install error 0x800f0922 in Windows 11, you can run another tool called DISM. It is also a command-line tool to service and prepare both Windows online and offline images. Here is how to perform a DISM scan.
Step 1: Open Command Prompt as an administrator.
Step 2: In the CMD interface, type in the following commands one by one and press Enter after each.
DISM /Online /Cleanup-Image /CheckHealth
DISM /Online /Cleanup-Image /ScanHealth
DISM /Online /Cleanup-Image /RestoreHealth
After that, go to install Windows updates and check if the error code 0x800f0922 is fixed.
Reset Windows Update Components
At times, it is useful to fix Windows 11 install error 0x800f0922 by resetting Windows Update components. Follow the instructions blew to do so:
Step 1: Run Command Prompt with admin privileges.
Step 2: In the CMD popup, type the following commands in turn and click Enter to execute the operations after each one:
net stop wuauserv
net stop cryptSvc
net stop bits
net stop msiserver
ren C:\Windows\SoftwareDistribution SoftwareDistribution.old
ren C:\Windows\System32\catroot2 Catroot2.old
net start wuauserv
net start cryptSvc
net start bits
net start msiserver
Try to install the update to see if your error is fixed. If not, continue reading.
Start the App Readiness Service
The install error 0x800f0922 may appear if the app readiness service is not running when trying to update Windows 11. This service is responsible for creating and maintaining logs regarding new Windows updates installation and Windows Store app updates. If it is disabled, every pending update may fail with the error code.
Try to enable this service:
Step 1: Type services in the search bar and click the result to open this app.
Step 2: In the Services window, locate App Readiness and double-click on this service to enter its properties window.
Step 3: Under the General tab, change Startup type to Automatic and click Start to run the service.
Step 4: Click Apply > OK.
Tip: Besides, you can do the same thing for the Windows Update service. Just enable this service by following similar steps.
Turn off VPN Connection
The operating system may fail to create a connection with Microsoft Windows update servers when you use a VPN. As a result, install error – 0x800f0922 Windows 11 happens on your PC. To fix this issue, disable the VPN connection and then try to update Windows to see if the error is solved.
Free up Disk Space
Insufficient disk space can lead to Windows update failing, like install error 0x800f0922. You can try to free up some disk space to fix this issue. Commonly, clearing junk files and temporary folders is helpful. Although temp files are not necessary after a certain time point, they often take up much disk space.
Step 1: Press Win + R, type cleanmgr and click OK.
Step 2: Select C: and click OK.
Step 3: In the popup, click Clean up system files and click OK.
Step 4: Choose C: and click OK again.
Step 5: Check all the boxes that you want to delete and click OK > Delete files.
Tip: 
In addition, there are some other ways for you to free up disk space in Windows 11, for example, uninstall unnecessary apps, use storage sense to delete unnecessary files, extend system partition, and more. To know much information, refer to our previous post –
10 Ways to Free up Disk Space in Windows 10/11
.
Use Media Creation Tool
If the install error 0x800f009 still happens on Windows 11 after trying all the listed solutions, you can try to use a Microsoft tool called Media Creation Tool to upgrade your PC. Follow these steps below:
Step 1: Go to download Media Creation Tool via the Microsoft website. Just click the Download Now button from the Create Windows 11 Installation Media section.
Step 2: Double-click on the .exe file to launch this tool in Windows 11.
Step 3: Accept license terms.
Step 4: Choose Upgrade this PC now and click Next.
Step 5: Follow the on-screen instructions to finish the upgrade.
This way can help to keep your personal files (including intact applications and games). It only replaces the corrupt Windows files.
Tip: 
In addition, you can use this tool to download an ISO file to a USB flash drive and then boot the PC from that drive to perform a clean install of Windows 11. If you want to try this way, make sure your important files are backed up via the
free file backup software
– MiniTool ShadowMaker.
MiniTool ShadowMaker TrialClick to Download100%Clean & Safe
Suggestion: Back up Your PC
Before any operations to the Windows operating system like Windows update, it is advised to back up your PC. This is because sometimes Windows updates can lead to some issues. Besides, PC backup and recovery can guarantee minimized system downtime. Also, you can choose to back up your data regularly to keep files safe.
To do this work, MiniTool ShadowMaker is a good assistant that can be compatible with Windows 11/10/8/8.1/7. With it, you can back up and restore files, folders, disks, partitions, and Windows OS. Besides, you can use it to clone your hard drive and sync files. It also allows you to create a bootable DVD/CD and USB hard drive/flash drive with Media Builder.
Now, download its trial edition and install it on your PC for a try.
MiniTool ShadowMaker TrialClick to Download100%Clean & Safe
Step 1: Launch MiniTool ShadowMaker Trial Edition in Windows 11.
Step 2: Go to the Backup interface, you can see system partitions are selected as the backup source. If you need to back up files, click SOURCE > Folders and Files to select items you want to back up.
Step 3: Click Back Up Now or Back Up Later to execute the backup.
Verdict
Are you bothered by the annoyance: install error – 0x800f0922 Windows 11? If you run into the error code during the update process, try the solutions above to easily get rid of that trouble. If you have any other ways to solve the update issue, leave a comment below. Thanks in advance.