What is McAfee? Is McAfee safe? Is McAfee a virus? You may have these questions and don't know whether it is safe to use McAfee on your computer. So, this post from MiniTool will cover what McAfee is and whether McAfee is safe.
There are many great antivirus software such as McAfee, AVG, Avast, etc. on the market. They all have their own advantages and disadvantages. Today, we are focusing on McAfee. Many users wonder if McAfee is safe to download and use. The following are the answers.
Related posts:
What Is McAfee
McAfee is a company that claims to be the world's largest dedicated technology security company. Over the past 30 years, McAfee software has protected devices (Windows, macOS, Andriod, and iOS) from viruses, malware, and other threats.
Previously, McAfee offered a range of antivirus suites, including McAfee Antivirus Plus and McAfee Internet Security. Right now, it only offers the McAfee Total Protection package, which comes in four editions: Single, Personal/Couple, Family, and Ultimate.
In addition to protecting against various malware threats, it also includes home network protection, an advanced firewall, and a file shredder.
You can get performance optimization tools that can rid your computer of junk files and speed it up. The suite also offers a vulnerability scanner for outdated software and other issues, as well as a silent mode.
The package also encrypts storage to protect important and confidential files on your PC with 256-bit AES encryption. Besides, you can get help from a password manager, secure VPN, secure browser, online support, and security experts.
A single device package lets you protect any device, be it a computer or a smartphone. If you want to cover more devices, you can choose the Individual/Couples plan, which protects five devices.
Is McAfee Safe?
Many users care about McAfee security. This part introduces it from three aspects – is McAfee safe to download? Is McAfee safe to use?
Is McAfee Safe to Download?
Is McAfee Safe to download? McAfee is safe to use in all its versions and does not contain any virus as long as you get it from its official site. So, you are recommended to download McAfee from its official site or a safe website.
Is McAfee Safe to Use?
Is McAfee safe to use? There are different voices.
POSITIVE VOICES: some people believe that McAfee is safe to use and highly suggest using the software for protecting their computers. Here are the positive voices from quora.com.
Yes, Mcafee Antivirus is Best For Working. If you are in the Home or Office It is Amazing For Safety If You Want to Use the Mcafee Antivirus then Don't Waste Your Time Searching for Other Antivirus Because According to My Experience Nether Antivirus is the Best compared to McAfee Antivirus.
McAfee antivirus technology has been designed to prevent the attacks exploit kits as it blocks the malware carriers from scanning any device for system vulnerabilities and using them for inserting malicious threats.
NEGATIVE VOICE: there are also some negative voices towards using McAfee.
Well, many people consider McAfee anti-virus to be a scam because they are. *in certain ways. Like if you unsubscribe, they send a virus to your device. Then you keep getting pop-up ads after a crash in the device. This happens to a lot of people so they are considered a scam by some. I am not lying, this happened to me. My device worked fine until I decided to leave McAfee. Then my device crashed every day. Right after that, I got an ad from them telling me that I need their service to fix my device.
No!!! If you are using a crack product key then it's very dangerous for your PC. So before installing McAfee Antivirus on your PC must sure you have the original product key which you are going to use.
Well, do you need McAfee for protecting computers? As far as we can see, the program is easy & safe to use. If you want to use McAfee to scan for virus or malware.
How to Download/Install/Uninstall McAfee
How to Download McAfee
If you think McAfee is safe and you want to download and install it, you can continue to read this part. How to Download McAfee? Follow the guide below:
Step 1: Go to McAfee's official website.
Step 2: You can choose the version you want to use and pay the corresponding price. Or, you can download the Trial edition.
How to Install McAfee
How to install McAfee? Here are the detailed steps.
Step 1: Double-click the McAfee exe file to run it.
Step 2: Follow the on-screen instructions to complete your installation. You will see an "Installation Complete" message when finished.
How to Uninstall McAfee on Windows/Mac
You can remove McAfee software without much effort by using your computer's system settings on Windows 11/10. This is possible whether your computer came preinstalled with McAfee or you have decided to go with a different antivirus program.
How to Uninstall McAfee on Windows
Type Settings in the Windows Search box and then select Settings from the search results.  
Under Windows Settings, select Apps.
Type McAfee in the search box and select the McAfee product you want to remove. 
Select Uninstall.
Select Uninstall again to confirm that you want to remove the software. Windows may request your permission to continue. If so, confirm once again to proceed with the uninstall.
After Windows uninstalls the software, close the Settings window.
Restart your computer and make sure the program was uninstalled.
How to Uninstall McAfee on Mac
If you are a Mac user, you can follow the below steps to uninstall McAfee.
Find and open the Applications folder in the dock or navigate to the folder from the Finder window.
Open the McAfee Internet Security Uninstaller app.
Check the Uninstall SiteAdvisor box to remove the McAfee browser add-on.
Select Continue.
Enter your administrator password and select OK.
Select Finish when the uninstall process is complete.
How to Protect Your PC
You can also try the following measures to protect your computer.
Never open, click or download content that you think is too suspicious, such as files, advertisements, emails, etc.
Keep a firewall open that can be used to detect any suspicious activity. Maybe, you are interested in this post –Windows Firewall for Windows 10 and Its Great Alternative.
Purchase, run, and regularly update anti-malware and anti-spyware software.
Only connect to a secure Wi-Fi network. Connecting to public Wi-Fi may expose your device to potential harm.
Update the operating system regularly.
Install spam filters to prevent the possibility of infection on all devices.
Change your password regularly and follow password best practices.
Use a secure file-sharing solution. This post – Top 8 File Sharing Programs Windows 10 [2020 Update] is what you need.
Back up your important data regularly.
Back up Your File using MiniTool ShadowMaker
Only using antivirus software to protect your computer is not enough. Since if the antivirus software is not protected and the computer is attacked, and if there is a backup, the files can be restored quickly to reduce losses. Therefore, it is recommended for you to use another software to back up your important data to prevent data loss.
Then which backup tool should you choose? MiniTool ShadowMaker is a great one. It is a professional backup tool for Windows, which allows you to back up files, folders, partitions, disks, and even the system.
Now, just download it and have a try.
MiniTool ShadowMaker TrialClick to Download100%Clean & Safe
Step 1: Double-click MiniTool ShadowMaker to launch it on your computer, then click Keep Trial to get into its main interface.
Step 2: Go to the Backup page. You can find that MiniTool ShadowMaker selects the operating system as the backup source by default. To directly create a system image backup, go to Step 3. If you want to back up files, click Source > Folders and Files, and then choose the files that you want to back up. Click OK.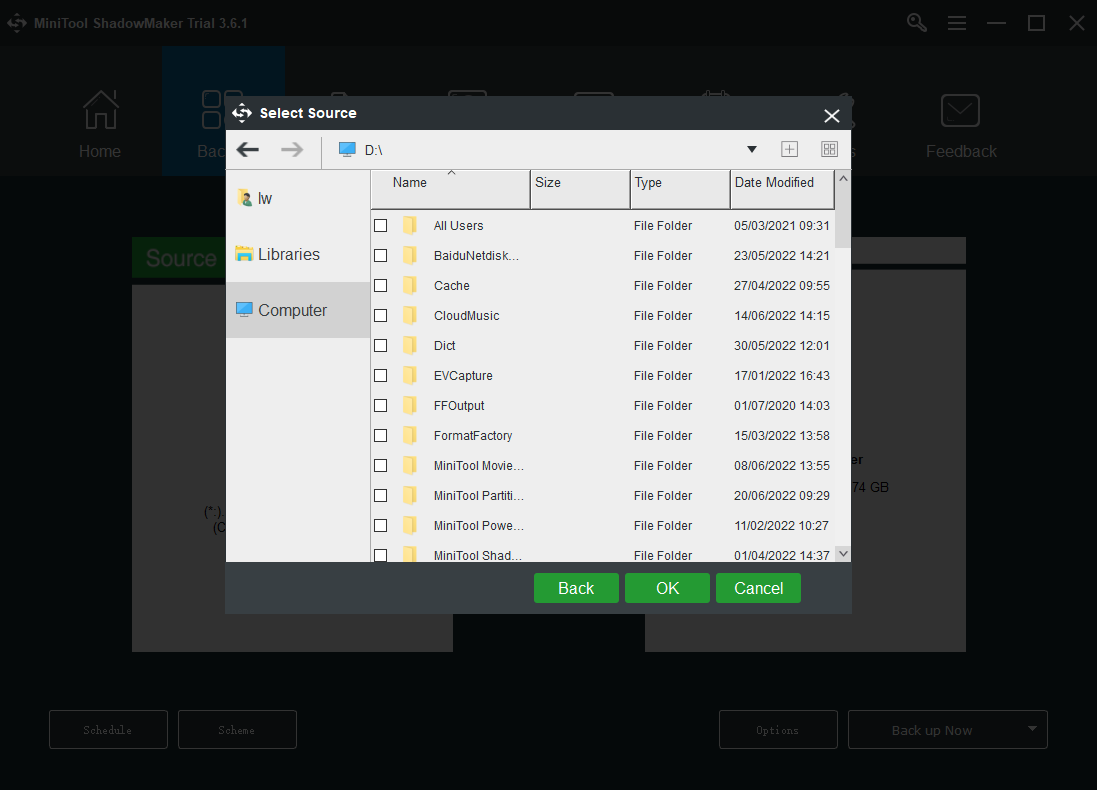 Step 3: Click the Destination button, choose a destination to save your backup files, and then click OK. (It is highly recommended to select an external hard drive to save your backup.)
Step 4: At last, click Back up Now to start the backup for your computer, or you can click Back up Later to delay the task.
Besides backing up the files, this software can also be used to back up systems, folders as well as partitions. It is also a clone tool that can help you to clone the OS from HDD to SSD without data loss. So, besides creating a system image, you can also choose to clone the OS disk to another hard drive to get the Windows system without reinstalling it.
MiniTool ShadowMaker also supports restoring Windows backup to a different PC with dissimilar hardware. This post – How Can You Do Windows Backup Restore to Different Computer can help you do that.
Bottom Line
Is McAfee safe? Is McAfee safe to download? After reading this post, you have gotten the answer. The answer is positive. If you have some different ideas about McAfee security and have any problems with MiniTool ShadowMaker, you can leave a message in the comment zone or feel free to contact us via email at [email protected] and we will reply to you as soon as possible.