This long article provided by MiniTool corporation discusses thoroughly the topic "is Vimm's Lair safe". After analyzing ideas from users on Reddit, Quora, and other forums or review websites, a general answer has been concluded. Also, this post tells you how to keep your computer safe while using Vimm's Lair.
About Vimm's Lair
Vimm's Lair is a website that is dedicated to nostalgia for lots of the greatest game consoles ever made including PlayStation, PlayStation 2, PlayStation 3, PlayStation Portable, Nintendo, Nintendo 64, Super Nintendo Entertainment System (SNES), Nintendo GameCube/Wii, Nintendo Game Boy, Genesis, Sega Saturn, and Sega Dreamcast. Within the site, you will find thousands of games, user reviews & ratings, full-color manual scans, etc.
There are altogether 5 sections in Vimms Lair. They are listed below:
Emulation Lair: This section collects the greatest and newest console emulators.
The Vault: This page includes data, reviews, codes, as well as more information for the numerous games. It contains every game released in the United States for 16 classic systems. To play these video games, you need to rely on the emulators.
The Manual Project: The thousands of full-color manuals are here. You can also add your own manuals. All manuals can be viewed online or downloaded in .vlm or .pdf format.
Message Boards: Feel free to discuss your questions or topics here! You can also request a rare game from the Romfinders at the Request Board.
FFA Links: Browse the free for all links or add your own ones.
Is Vimm's Lair Safe?
Aa a large platform for downloading games, game console emulators, as well as game manuals, many people worry about the security of the downloaded files from the VimmsLair. Is Vimm's Lair secure? Let's see!
Is Vimm's Lair ROMs Safe?
A user from Reddit says that the majority of the ROMs of Vimm's Lair are safe for they are verified by No-Intro, Redump, or GoodNES.
Tip: All Vimm ROMs, except for the hacked and translated ROMs, are verified by No-Intro.
No-Intro is an organization that essentially catalogs ROM dumps. It offers DAT files that hold the hashes and names of the best possible dump of a game, closest to the original game. Those DAT files can be used to compare your ROM collection with the best possible ones and inform you if any of your collections aren't the best.
Vimm's scans its ROMs every night and replaces ROMs that are not the best. Therefore, the ROMs on Vimm's Lair are always the best.
Redump does the same as No-Intro for disc-based titles.
Yet, another Reddit user said that Vimm does not have any verified ROMs. The ROMs on Vimm's are all scrapped. So, the website may get scrapped at one point.
And, another one mentioned that some ROMs add an intro to the game with a cheat screen or just the team that released it. Anyhow, this isn't a big problem and it won't harm users' computers.
There are also questions on Vimm's Lair asking about the safety of its ROMs:
Is the wii roms safe? i really wanna know.

1234Antonole
yes, i can attest to their safety.

ypuesnada
Is Vimm's Lair Safe?
All in all, Vimm's Lair is safe. Most people think Vimm's Lair is a good place to download what they want and many of them have been using it for a long time without any issues.
Is There Vimm's Lair Virus?
In general, there is no virus on Vimm's Lair website. One Reddit user claims that he has not yet to get any viruses from the website.
Officially, early in 2018, there are topics on Vimm's Lair Message Boards about the safety of the ROMs:
How safe are the rom on this website?
I found this website and it's the only website I found that doesn't look sketchy but I still would like to know how safe it is to download roms from here.

reaperguy101
The Roms on this website are completely virus-free. I have scanned various roms from all the systems.

CraftedGamer117
Is Vim Net Safe?
Is vim.net safe? There is a Vimm's Lair review on WOT. Let's see what people rate this website.
my favorite rom downloading site. extremely useful and easy. 10/10 (5 stars)
Safe site with files (5 stars)
Best to download ROMs. (5 stars)
I have used this website to play many games. It has a wide library of games over about a dozen consoles/handhelds. This site is my most trusted place to get roms and they have many games (5 stars)
Serves as a great archive for old games. Has an insane number of games for 13 consoles and has message boards. Great site. (5 stars)
Great site for when Nintendo shuts down your previously favorite ROM sites. I'll give it four out of five stars because they do not have Famicom Disk games on file. (4 stars)
Really great & trust worthy site. Now has emulator for Nintendo64. Best emu's only! (5 stars)
Is Vim Safe to Download?
Though many people reported the Vimm's Lair slow download speed, it does not mean that the items downloaded from Vim Lair are not safe. It may be that the website needs to keep as much bandwidth as possible. So, it provides a poor download speed. Anyhow, it is safe to download things from Vimm.net.
Vimm's Lair Alternatives
If you encounter some problems while using Vimm's Lair like Vimm's Lair not loading or Vimm's Lair not working, you can rely on its replacements to download the ROM files you want. Below are some popular alternatives to Vimm's Lair.
#1 The ROM Depot
The ROM Depot is dedicated to the preservation of outdated software. Currently, it has over 90 platforms that contain more than 100K files involving games, emulators, manuals, soundtracks, boxart, and many others. You are allowed to add your own files to the archive.
#2 CoolROM
CoolROM is a database and download site for ROMs and emulators of classic video game systems like Nintendo 64, Game Boy, and SNES. It also offers more info about this gaming phenomenon.
#3 ROMs Mania
ROMs Mania is a working online resource for free video games ROMs. It also holds the biggest collection of emulators and ROM games exclusively.
#4 The Old Computer
There are more than 500, 000 ROMs for Nintendo 64, Game Boy Advanced arcade games, NES, SNES, Nintendo DS, Sega, Commodore from the world's largest retro gaming site. The Old Computer has many rare ROMs for over 510 different systems and the largest collection of MAME sets of any website.
#5 Project Amulet
Project Amulet is an INVITE-ONLY platform. It is an open-directory dedicated to the preservation and archiving of classic digital works.
How to Use Vimm's Lair Safely?
Keep Firewall and Antivirus Software on
Scan Your Computer Regularly
Back up Data on Schedule
How to Stay Safe While Keep Using Vimm's Lair?
Though most of the ROMs on Vimm's are safe and the Vimm.net website itself is also free of virus, there is still a chance that you damage your computer while browsing the website or downloading an unverified (hacked/scrapped) ROM on your machine.
Then, how to positively protect yourself from virus instead of giving up Vimm's Lair? There are several suggestions for you.
Suggestion 1. Keep Firewall and Antivirus Software on While Surfing on Vimm's Lair
Though the Vimm's Lair website itself is safe, some sly viruses may rely on your browser to attack your system. Even worse, they may hack the Vimm site and infect its visitors.
Therefore, it is of great necessity to give real-time protection to your machine by keeping your firewall on; and give double insurance to your computer by keeping at least one security program running at the same time, especially when you are downloading something from Vimm's Lair!
Suggestion 2. Scan the Downloaded Files and Regularly Scan the Whole Computer
Even if you have successfully downloaded the games or emulators from Vimm's Lair without any alarm message from the antivirus application, it doesn't mean the downloaded items are completely safe.
Some viruses have an incubation period. During this period of time, they look like normal files, stay quiet, and won't attack your computer. However, sometime later, when you are fooled by them and think there is no threat to your machine, they will start to take action and infect your system unexpectedly.
Thus, never relax unless you frequently and regularly check your computer for viruses. You can never be too careful in fighting against viruses, malware, spyware, trojan, etc.
Suggestion 3. Back up Important Files in Case of Data Loss
You cannot say you are completely safe even if you have done the above two suggestions. Therefore, the last but the most important suggestion is to make a backup of your crucial data before accidents happen.
You can rely on Backup and Recovery or File History to back up your computer, both system and data, if you are running Windows operating systems. Or, just copy and paste files to another place. Yet, if you'd like to back up files regularly (with more advanced schedules) and make the backup image smaller than the source files, you are recommended to rely on a professional and secure backup software such as MiniTool ShadowMaker.
1. Download, install, and launch MiniTool ShadowMaker on your computer. Or, you can use the portable version of the app.
2. When you come to its first screen, click Keep Trial on the upper right to continue.
3. Then, it will bring you to the main interface of the software. Just select the Backup tab on the top menu.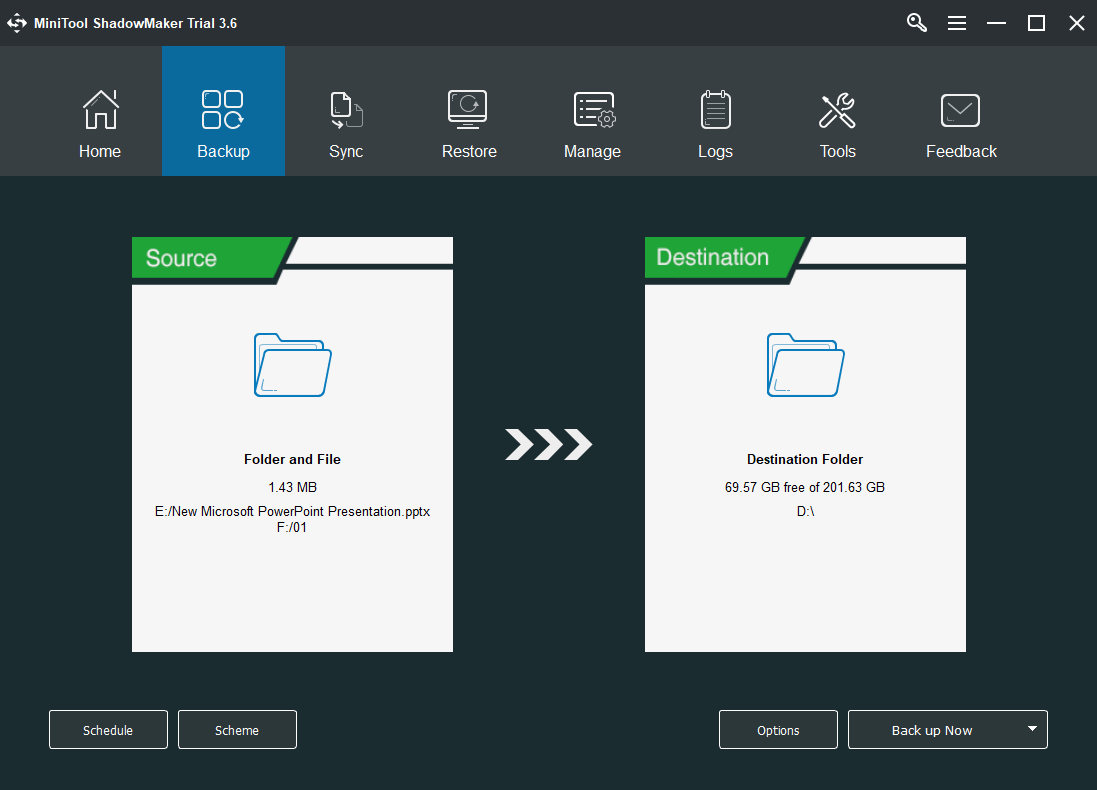 4. On the Backup screen, click the Source module to choose the files you plan to back up.
5. Then, click the Destination module on the right to specify a place to save the backup image. It is recommended to pick up an external storage device.
6. Click on the Schedule button on the Backup screen, switch on the Schedule Settings, and set up a backup schedule that suits you. The backup frequency can be daily, weekly, monthly, or on special events.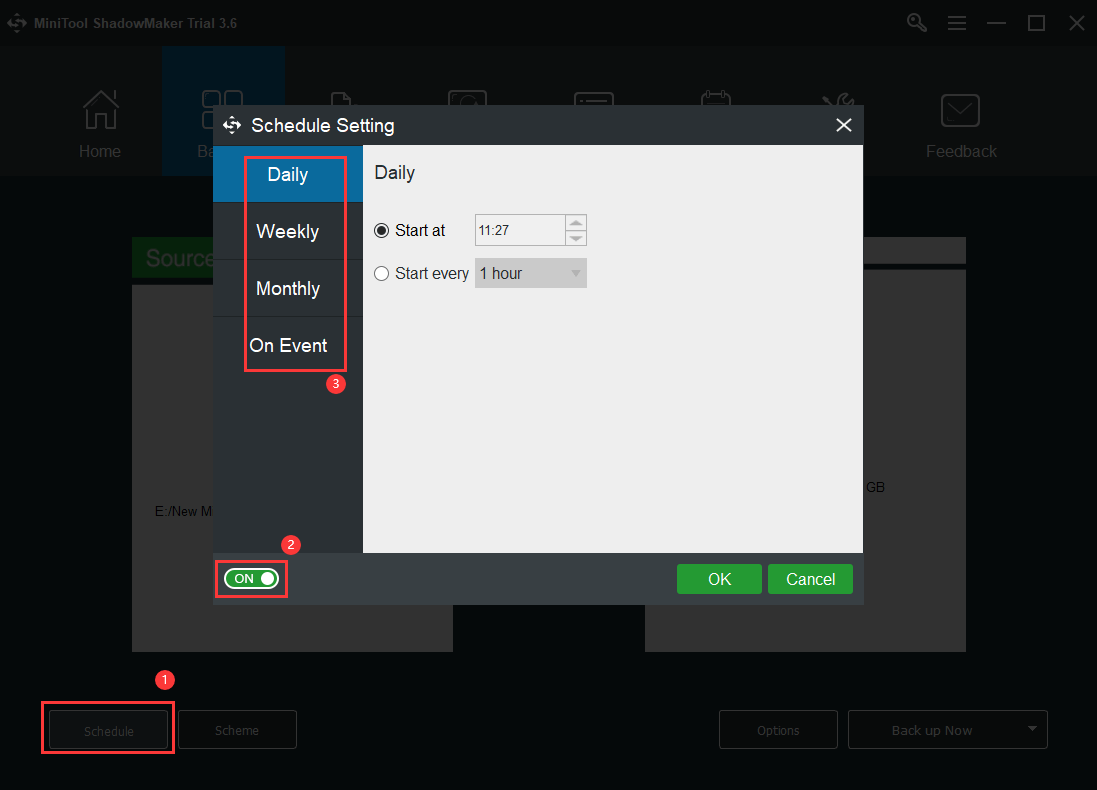 7. Back to the Backup screen, preview the task, and click Back up Now to start the process.
It will take some time to finish the backup, all depending on how many files you select to back up. Once the initial backup completes. You can exit. In the future, it will automatically back up those target files to the selected destination based on the schedule you set up. Isn't it easy and convenient?
Ok, that is all about the topic "is Vimm's Lair safe". For the question, the answer is yes. If you have different opinions or more suggestions, feel free to leave a comment below. Or, if you encounter any problem while using MiniTool ShadowMaker, just contact our support team at [email protected].
Is Vimm's Lair Safe FAQ
Is Vimm's Lair Legal?
Is Vimm's Lair legit? The Vimm's Lair website itself is a legal and safe place to download game ROMs, emulators, or manual projects. You can feel free to use it.
Is Downloading Old Games' ROMs Illegal?
It's always legal to download any game you already own in some form or another including ROMs. For other games, it depends. To download some of them are completely legal for they were never properly copyrighted; while the copyright of many others has gone kaput due to legal disputes, business-related loopholes, or bankruptcy.
However, downloading or sharing copyright-protected ROMs online is illegal and forbidden.
Are ROMs Safe?
Though ROMs can contain viruses, it is generally safe. ROM files are not executable, so they should be safe barring some exploit in an emulator. Thus, you are recommended to get common ROM from authorized websites.