Is Voicemod safe? Generally, the official version of Voice is safe for usage. This article offered on MiniTool official page will elaborate on the topic. The opinions in this article are impartially based on online authoritative communities like Reddit and Steam.
What Is Voicemod?
Voicemod is a real-time voice changer and soundboard software for Windows gamers and content creators. It builds audio tools to make it easy for anyone to create their unique sonic identity and voice skins. A simple online voice modifier and transformer with effects are able to convert your voice into a female, girl, or robot.
How to Use Voicemod?
How to make use of Voicemod? Since it is an application for Windows 10/11, Windows 8.1, Windows 8, and Windows 7, only for the 64-bit version, you should, first of all, download it from its official website voicemode.net and install it on your PC.
Voicemod is good for games, chatting, and video editors as an app. It can be well integrated with Streamlabs OBS and Stream Deck. Also, you can apply Voicemod in apps like Wire, Vivox (Overtone), Tox, Riot, Viber, Ventrilo, Paltalk, Mumble, ooVoo, Hangouts, Ekiga, and Jitsi.
About Voice Changer
Voice changer, also called voice enhancer, is a device that can change the tone or pitch of its user's voice. Or, it can add distortion to the user's voice or do both. The Voicemod voice changer can be used in online games including Minecraft, CSGO, PUBG, Fortnite, and so on.
About Voicelab
Voicelab, or voice transformer, can create custom voices and design personalized voice changers in a matter of seconds. It is an excellent voice effects generator and editor both online and offline. Voicemod transformer works with Discord, VRChat, Skype, Fortnite, CS: GO, and PUBG.
Tip: Only Voicemod Pro users have access to this feature.
About Soundboard
Soundboard, also known as sound board, refers to the surface of a string instrument that the strings vibrate against, usually through some kind of bridge. Common instruments incorporated with soundboards are pianos, guitars, banjos, etc.
Yet, the "soundboard" in Voicemod does not mean the physical instrument surface. It refers to an application called Voicemod Meme Sound Machine to create custom DJ-style audio sample setups and use them in online video games, streaming, or chat programs, such as Discord and TeamSpeak 3.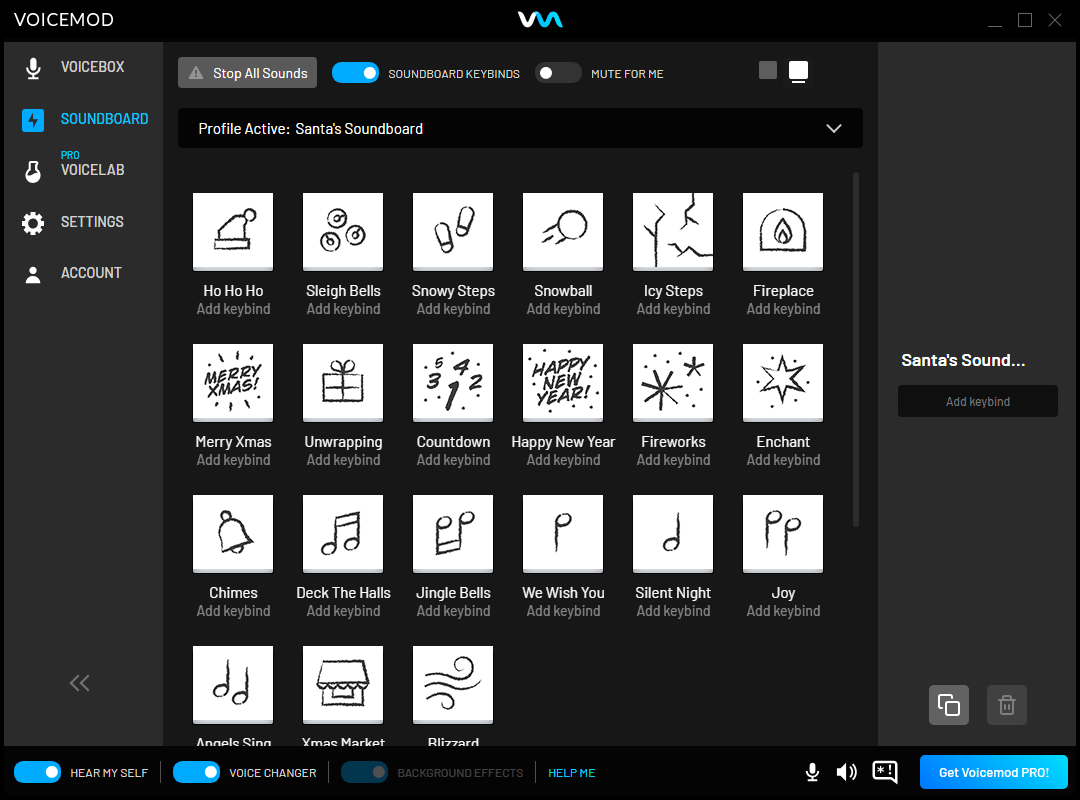 Is Voicemod Safe?
Voicemod is it safe? Every coin has two sides, and the voice tool Voicemod also has advantages and disadvantages. Yet, as for its security, there are different voices on the Internet.
Is Voicemod a Virus?
There are a great number of posts online claim that Voicemod is a virus. Is it true? Let's see.
Some people state that antivirus software block Voicemod from updating, such as Avast. And, firewalls like ESET prevent Voicemod from installing. Also, Malwarebytes scans it as a pup (potentially unwanted program).
Some people describe that Voicemod can mess up audio drivers and result in the headset or microphone not working. Voicemod forces you to reinstall audio drivers and use troubleshooting software to fix it.
Some users said that they are unable to uninstall Voicemod from their computers.
However, there is a clarification on Reddit that explains the official Voicemod tool is safe and clean. As for the words saying that Voicemod is not safe and even regard it as a virus, they are probably come from users who have used the cracked or pirated version of Voicemod. So, it suggests that users download Voicemod from its official website or Discord Server.
Is Voicemod Pro Safe?
A special point of view from a member of the Steam community is justified. It says that since Voicemod charges its users with its Pro version, there is no reason for Voicemod to break its users' computers for that will lose all of its users.
So, if someone encounters problems while using Voicemod, it may due to the wrong operation. Or, maybe the free version users attempt to crack the program and take the privilege of a paid version.
Is Voicemod Safe?
Though there are different ideas online, generally, most netizens think Voice is safe to use and many of them have used Voicemod for over years.
How to Uninstall Voicemod?
If you get your current voice mod from a non-official place and want to reinstall it from the official site, firstly, you need to uninstall your current version. You are recommended to uninstall it with the Uninstaller within the Voicemod folder (e.g. C:\Program Files\Voicemod Desktop\unins000.exe). Also, you can uninstall Voicemod from Windows Settings or Control Panel just like the other programs.
How to Remove Cracked Vicemod?
If your current version of Voicemod is a cracked one, you may not uninstall it using the above methods. If so, just try to find its folder and directly delete it. Or, uninstall the pirate via an antivirus program after scanning your machine or with the help of a professional software uninstalling tool.
How to Disable Voicemod?
After uninstalling Voicemod, if you won't reinstall an official version, remember to select your headphones as Windows default audio device in the sound control panel. In this way, you can disable Voicemod. Otherwise, your headsets may not work and the sound settings still have Voicemod as an option for Voicemod creates virtual audio on your computer when it was installed.
If you want to disable Voicemod (without uninstallation) in your games, chat tools, or streaming platforms, just go to their audio input settings and choose another voice device.
How Do I Uninstall Voicemod Myself?
As for my own experience, I have successfully uninstalled Voicemod using Windows Settings. The only unusual thing is that I have to confirm three times before it finally starts to uninstall. It is a little bit annoying but still OK for me. 
After the uninstallation, I have checked the location once installed Voicemod in, Task Manager, Apps & Features in Windows Settings, desktop, system tray, Windows Start and Start Menu, and find nothing related to Voicemod.
How to Use Voicemod More Safely?
It mentioned in the above that the official version of Voicemod is safe to use. Yet, if you get Voicemod from other places, the safety is unassured. Anyhow, you are recommended to take one or more of the following actions to protect your computer from virus, malware, spyware, ransomware, adware, trojan…especially when you are using a cracked version of Voicemod (it is not recommended).
#1 Back up Crucial Data
If you have another copy of the important files saved in a safe place, no matter how your PC is damaged, by Voicemod or other malicious applications; fire, water, etc. physical damage; theft, loss, and so on, you are able to recover the data. Thus, data backup is of great importance.
Then, how to back up important data? Just copy and paste it in the destination? You may do so. Yet, if the amount of data you are going to back up is large, it will cost you a lot of time to finish the process. Also, it requires an equal amount of storage space in the destination to save the backup.
Is there another easy and smart way to quickly create a small backup? Of course, only if you rely on professional and reliable backup software such as MiniTool ShadowMaker. Below is a simple guide for using it to back up your files. Before start, firstly download and install it on your computer.
Step 1. Launch MiniTool ShadowMaker. When it asks you for purchase, just click Keep Trial on the upper right. You can use it freely for 30 days.
Step 2. In its main UI, navigate to the Backup tab in the upper menu.
Step 3. On the Backup screen, click the Source module on the left to select which files/folders you'd like to back up in the pop-up window. When the choice is made, click OK to confirm it.
Step 4. Next, click the Destination module on the right to choose the target place for saving the backup image. Though the backup image size should not be larger than the size of the source files, it's better to choose a larger device for saving more backups in the future, especially for automatic schedule backup.
Tip: It is recommended that you store your backup image in an external hard drive.
Step 5. Then, click the Options button in the lower right.
Step 6. In the Drive Image Options Dialog, switch to the Compression tab and set the compression level to High. Then, click OK.
Step 7. It will go back to the main Backup tab. There, just preview your task settings and click Back up Now. Then, confirm the operation and it will start to back up your selected files.
The time it takes to complete the task depends on how many items you selected to back up. In general, it won't take too long. Anyhow, you can tick "Shut down the computer when the operation is completed." while the backup is processing.  
#2 Regularly Scan Your Computer with Antivirus Software
No matter there is something unusual while you are using your machine or not, you are recommended to have a virus scan on your PC regularly. Virus scan can help you find potential threats and avoid them before you are attacked. Also, always keep a firewall on when you downloading anything from the Internet.
#3 Always Get Apps and Updates from Official Website
All in all, a legal program won't have a virus in its installation and updates. Yet, the precondition is that you get them from its official website. For most programs, there are many non-official places to get them, especially for popular applications. And, there are also lots of cracked versions of charged apps.
If you care about your personal files, you should always download third-party software from its official site. If you choose to use an unofficial version, you put yourself at the risk of losing data. It's your choice and it's all up to you!  
OK, that is all about Voicemod I want to talk about here. If you have any questions about this article, feel free to leave a comment below. Or, you can contact us via [email protected].
Is Voicemod Safe FAQ
Is Voicemod Legit?
Yes, Voicemod is legit. You should download it from its official website. Also, there are many cracked versions of Voicemod online. They are illegal and you are not recommended to use them.
Is Voicemod Free?
It depends. There does is a free version of Voicemod. Yet, if you want to use more and advanced functions of Voicemod, you have to pay for its Pro Edition.
Is Voicemod Pro Worth It?
It all depends on your situation. If you are a nonprofessional and don't use Voicemod much, maybe the free edition is enough for you. If you are a video editor or live streaming fanatic, you need more advanced voice features, then, the Pro version is your choice.
Pro Edition users have more voices and can customize their voices. They can get exclusive access to themed soundboard profiles, add unlimited sounds to Voicemod, create their own special soundboards, as well as group their sounds into themes. Also, the whole Voicelab is only open for Pro customers. Moreover, paying users can audit the source code.
What Are the Alternatives of Voicemod?
As a voice changer and modifier, there are many similar programs like
Clownfish
, VoiceMeeter, and MorphVOX.