Before downloading an onerous package, you usually use an archiver to unpack numerous archive file formats. To achieve that, WinRAR is one of your choices. Besides, WinRAR boasts some other features and functions. But is WinRAR safe to use? To answer that, this article on MiniTool Website will be useful.
Talking about folder archiver, WinRAR, WinZip, and 7-Zip – these three powerful software tools become people's first choice to compress, archive, and manage their files and folders. They have similar functions but developed different features to increase their competitive advantages.
This article mainly talks about what people care about WinRAR – is WinRAR safe? If you want to know something about these three archiver programs, please refer to this article: 7-Zip vs WinRAR vs WinZip: Comparisons and Differences.
What Is WinRAR?
WinRAR is a trialware file archiver utility for Windows, developed by Eugene Roshal of WinRAR GmbH.
There are some basic introductions of WinRAR for you, including its supported platforms and file formats, security, and some features.
Supported Platform and File Formats
WinRAR is available on the Windows platform, including XP and later Windows versions. For Mac and Linux users, WinRAR provides RAR software that can only run via the command line.
A large number of common file formats are available to compress in RAR or Zip, including RAR, ARJ, LZH, UUE, CAB, TAR, ISO, Z, 7-Zip, and BZIP2.
WinRAR Features
Intuitive interface and easy-to-learn operations
Compression speeder and a virus scanner
256-bit password encryption available
The trial version is free of charge for 40 days
Automatic recognition for selecting the best compression method
Is WinRAR Safe to Use?
Is WinRAR safe to download? Yes, but the precondition is that you get the source from the official website rather than some pirated sources. Besides, if your WinRAR is too old, the vulnerability exists anywhere.
What makes users disappointed is that WinRAR can't perform an automatic update, which requires users to manually update it at a scheduled time.
According to some reported information, some old versions of WinRAR will automatically make your downloaded RAR files extract an EXE file to your Startup folder and the EXE file will initiate in your next PC startup. That can be seen as a potential danger putting your computer at risk of virus or malware attack.
What makes the bug even more severe is that even some malicious ACE archives can be simply renamed into common RAR file formats in disguise, so that the malware and virus can be inserted successfully.
Although using ACE files to spread malware is a tactic commonly used by hackers, ACE files are rarely seen and you don't need to worry. Some malware programmers or cybercriminals write different types of malicious programs and name them WinRAR.exe to spread viruses, which can be stored in C:\\Program Files.
Besides, after this bug was reported publicly, WinRAR keep ignoring this dangerous hole until 2019 WinRAR removed ACE files from the latest versions of WinRAR. Therefore, you need to understand how important it is to keep your WinRAR up to date.
If you can't make sure if the version you are using is safe or not, you can launch your WinRAR program and click on the Help button on the top menu bar. You will see About WinRAR… from the drop-down menu and in it, you can check your version.
WinRAR versions 5.70 and newer versions are safe but for the older version, you'd better manually download and install the latest version. Until now, the latest WinRAR version has been developed to 6.11, please keep your version up to date.
To update WinRAR, you can do as follows.
Step 1: Go to the official WinRAR download website where all available latest WinRAR versions are listed.
Step 2: Choose a link tailored to your requirements and follow the instruction to finish the installation.
How to Check If the WinRAR.exe Is Virus?
According to what we have introduced above, some viruses and malware will be disguised as WinRAR.exe. In this way, we can take some steps to identify such situations.
Step 1: Right-click on your Windows taskbar at the bottom of the interface.
Step 2: Choose Task Manager and then click More details if you only see a smaller list.
Step 3: Find WinRAR.exe and check if its CPU, memory, or disk resources are performed normal. Usually, WinRAR won't cost much resources for that but disguised viruses or malware will occupy an abnormal aggregate to exploit.
Step 4: If you still doubt it's a virus, you can check its location. Right-click on the one of type columns and click on Command line to add the type column.
Then you can see the EXE file location here and check if the WinRAR.exe file locates at C: Program Files (x86)WinRAR. If not, you can choose to uninstall the program and reinstall it via the official sources.
This method is only used to speculate which process could be a virus or malware. If you want to be certain, you can download and install Microsoft's Process Explorer.
This program will directly show you the result in its Verified Signer section where those processes ambiguous to their sources will be labeled with Unable to verify, which means you need to take a second look at that program.
Apart from that, there are some signals that mean your computer is infected with WinRAR.exe malware:
Internet connection fluctuates. If you are undergoing an unstable Internet connection that often forces you to reconnect, you can doubt if the malware affects the performance.
WinRAR.exe file is taking more of your CPU memory. That's an important signal to judge the culprit that will occupy more resources than it should.
System performance is very low. WinRAR.exe malware or virus will hamper good system performance.
Browser is redirected to some strange websites. In those strange websites, please do not click or open any links in case of any involuntary downloading.
Annoying ads keep popping up on your interface.
How to Remove or Uninstall WinRAR?
After all of that, you might have understood the potential danger in WinRAR and been able to identify if it is a disguised virus. If you find, unfortunately, your PC has been infected by the virus, you need to uninstall WinRAR and re-install it from the official website.
To uninstall WinRAR, you can follow these steps:
Step 1: Go to Task Manager as we taught before and find WinRAR to choose End task.
Step 2: After that, Type Control Panel in your Search box to open it and choose Uninstall a program under Programs.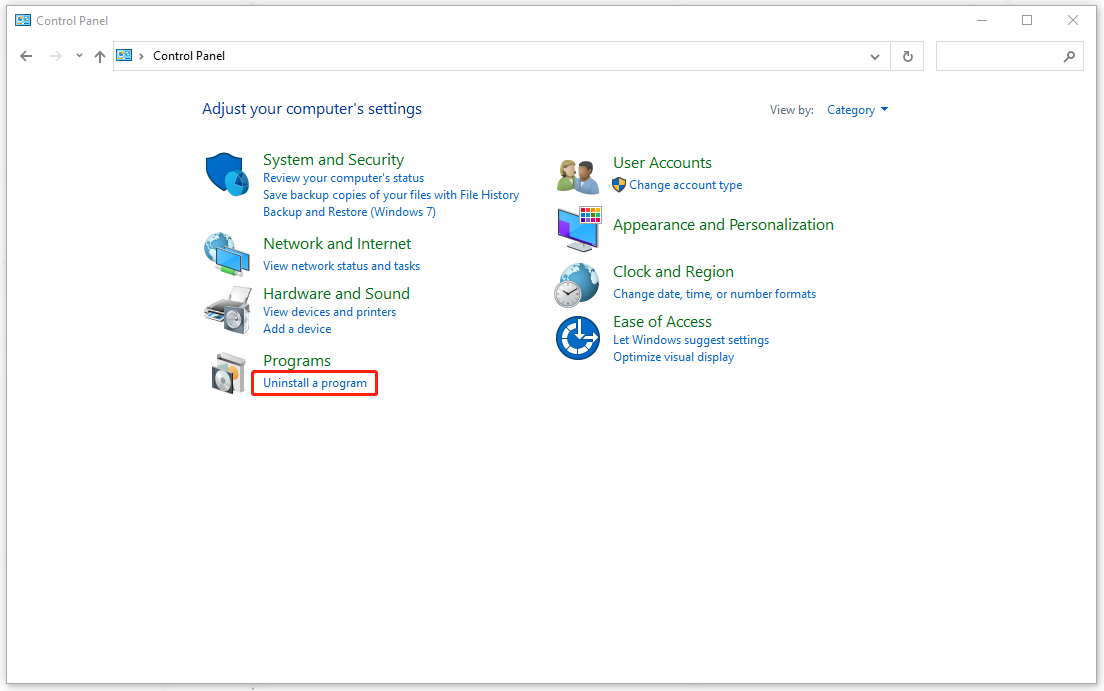 Step 3: Find WinRAR and right-click on it to choose Uninstall from the drop-down menu.
After each uninstallation, some files remain either on your computer or in your registry. If you want to get rid of WinRAR completely, you will have to delete these files and registry entries as well.
Please navigate to the following folders in your File Explorer and delete everything related to WinRAR. Be careful not to delete anything related to other software you may have installed:
C: > Program Files (x86) > Common Files > WinRAR
C: > Program Files (x86) > WinRAR
C: > Program Files > Common Files > WinRAR
C: > Program Files > WinRAR
C: > Users > Name > AppData > Local > WinRAR
C: > Users > Name > AppData > Roaming > WinRAR
C: > ProgramData > WinRAR
After you have dealt with the files which remained after the uninstallation, it's time to delete all of the unnecessary registry entries which can also cause error messages if they are not dealt with properly.
Note: In this step, it is recommended to back up your data first in case you involuntarily delete the wrong registries, which may cause more severe results.
Step 1: Open your Run dialogue box by pressing the Windows and R keys together and input regedit to enter.
Step 2: Then follow the locations as below to right-click and then choose to delete them:
HKEY_CURRENT_USER\SOFTWARE\WinRAR (64-bit)
HKEY_LOCAL_MACHINE\SOFTWARE\WinRAR (64-bit)
Or you can directly click Edit in the top menu of Registry Editor and choose Find… to input WinRAR to locate them. Then delete all WinRAR-related registries.
After that, you can restart your computer and in case of any risk left, you'd better run your Windows Security to check the security, or further, you can download and install any other third-party antiviruses to strengthen the defense.
To run a virus scan with your Windows Defender, you can do as follows:
Step 1: Click the Windows icon and choose Settings.
Step 2: In Update & Security, go to Windows Security and then choose Virus & threat protection.
Step 3: Under Current threats, choose Quick scan. Or you can choose Scan options where you have other three choices – Full scan, Custom scan, and Microsoft Defender Offline scan. Choose the one you need and click on Scan now.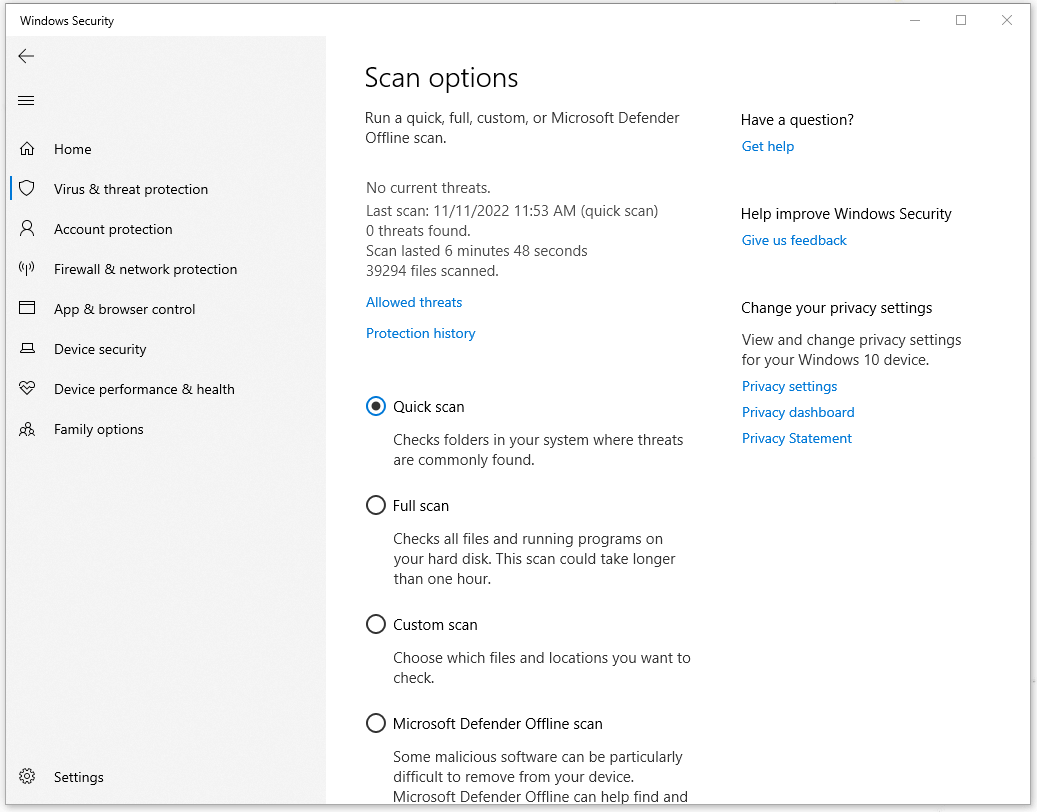 For detailed introduction of these options, you can refer to this article: How to Run Windows Defender Full/Quick/Custom/Offline Scan.
Some Advice for Using WinRAR Safely
Let's return to the principle question discussed in this article – is WinRAR safe to use and is WinRAR a virus? After reading the above contents, you can learn that WinRAR is definitely not a virus but viruses can disguise themselves as WinRAR for some bugs, which requires careful identification.
Don't worry, WinRAR is safe to use only if you can follow some tips, the security can be guaranteed.
Download and install WinRAR via official sources and do not trust some unknown links.
Keep your WinRAR up to date.
Scan your computer regularly with Windows Defender.
Back up your data regularly.
These four tips can help you cope with any possible accidents. Don't look down on the importance of backup. Your downloaded files and folders can be easily stolen for some holes or bugs in WinRAR.
Therefore, to better protect your data, MiniTool ShadowMaker is designed to reassure your concerns about data loss. Many functions are available for you in MiniTool ShadowMaker – backup, disk clone, sync, media builder, etc.
Besides, MiniTool ShadowMaker provides you with a free trial version for 30 days after downloading and installation. Come to try it!
Step 1: Launch the program and click Keep Trial to get into the interface.
Step 2: Go to the Backup page to choose your backup source – system, disk, partition, file, and folder and click OK to save it. Then choose your backup destination – User, Computer, Library, and Shared and click OK to save it.
Step 3: Click Back Up Now to immediately perform the task; or you can choose to back up it later.
Then the Options feature next to Back Up Now is used to configure some backup settings. For example, you can manage your backup scheme – Full, Incremental, Differential – or your backup schedule – Daily, Weekly, Monthly, On Event.
Is WinRAR safe? yes, it is a legitimate program providing great. But in some cases, you need to notice potential risks. If you like the post, you can share it on Twitter.
Bottom Line:
Admittedly, WinRAR is a wonderful and excellent archiver program, creating many surprises for users. Is WinRAR safe to use? After reading the above contents, you might have your own understanding. Any program has some risks, but you can avoid them with a backup plan.
If you have encountered any issues when using MiniTool ShadowMaker, you can leave a message in the following comment zone and we will reply as soon as possible. If you need any help when using MiniTool software, you may contact us via [email protected].