Kaspersky and Avast are two antivirus software. Which one is better? This post focuses on Kaspersky vs Avast and you can know the difference between them, as well as which is better for you to choose. Now, let's go to see the detailed guide from MiniTool.
Nowadays, malware and virus are everywhere and thus you may choose a piece of antivirus software to protect against them. Kaspersky and Avast are the two popular choices in the antivirus market. If you also want to choose one but don't know which to choose, you can find the answer in the following part.
Overview of Kaspersky and Avast
To start with, I will introduce some basic information about Kaspersky and Avast respectively. Then you can have an in-depth look at the comparisons and differences of them, which are compared from five aspects. The following is basic information about them.
Kaspersky
Kaspersky Lab, founded in 1997, develops and sells antivirus software, Internet security, password management, endpoint security, and other network security products and services. It blocks viruses & malware in real-time and stops hackers from taking over your PC remotely. It is suitable for Windows OS, macOS, iOS, and Android.
Avast
Avast is one of the most commonly used and leading antivirus programs on the market. Avast is easy to download and run on any computer. With just a few clicks, the antivirus software will be loaded on the computer and ready to start processing all viruses and antispyware on the computer. You can use Avast on Android, Windows, iOS, and Mac.
Also see: Is Avast Safe? Find the Answer and Alternatives to It Now
Kaspersky VS Avast
In this part, we will compare Kaspersky and Avast in several aspects, including features, malware protection, system performance, user interface, and price. Now, let's look at the following detailed instructions.
Kaspersky VS Avast: Features
First, let's see Kaspersky vs Avast for features.
Kaspersky
Kaspersky Anti-Virus is the company's entry-level paid product. It can defend against various digital threats and it's practical in silent mode, allowing you to enjoy games or movies without any distractions. It can also be used to check patches and vulnerabilities and it integrates advanced multi-layer ransomware protection. However, it only runs on the Windows PC.
Kaspersky Internet Security is the company's next level of protection. It is a two-way firewall and it can guard against webcam spies. Besides, it is a hardened browser that protects your financial details when you are shopping or engaging in banking activities. It is also an email filter to keep junk/spam away from your inbox. It is compatible with PC, Mac, and smartphones.
Kaspersky Total Security is a fully functional tool. It also has the functions of the above two products. It is a password manager for managing and storing all passwords and a file shredder that erases sensitive files in a way that no one can recover. What's more, you can use it to protect your basic data so no one can access them. Parents can also use it to monitor their children's activities and prevent them from seeing age-sensitive content.
Kaspersky Security Cloud is the last product, which includes all the functions of the Total Security. It is provided in both personal and family forms. Adaptive technology provides a personalized experience for each user by applying the necessary settings and options according to the user's Internet habits and computer usage.
Avast
Avast also has both free functions and advanced customer functions.
Avast Internet Security provides a network scanning tool to search for vulnerabilities and recommend solutions to increase overall network security. You can also take advantage of Avast Secure Browser. It is a custom Avast browser with additional privacy and security features. Besides, you can use the Avast Sandbox tool to test whether unknown files are infected.
Avast Premium provides DNS web protection to stop phishing. The subscribers will get extra privacy protection, and their security tools can restrict access to your webcam to prevent potential hackers from viewing or recording sources. Avast also provides encryption for your files to prevent ransomware encryption and provides a tool to safely delete certain files.
Avast Ultimate plan includes VPN protection, which is Avast SecureLine VPN. Avast Ultimate subscribers can also use Avast password. Avast Cleanup tool can clean junk files from your computer and improve its performance.
As for Kaspersky versus Avast: features, Kaspersky is the winner since Kaspersky has an advantage in this category.
Kaspersky VS Avast: Sytem Performance
A good antivirus program can not only protect your computer from online threats but also takes up very little system resources. Here. let's see Kaspersky free vs Avast free for system performance.
In the performance evaluation test conducted by AV-Test in June 2020, Kaspersky scored a maximum of 6 points, showing excellent system performance. Kaspersky also maintained an outstanding performance in the AV-Comparatives performance test in April 2020 and won the three-star ADVANCED + award.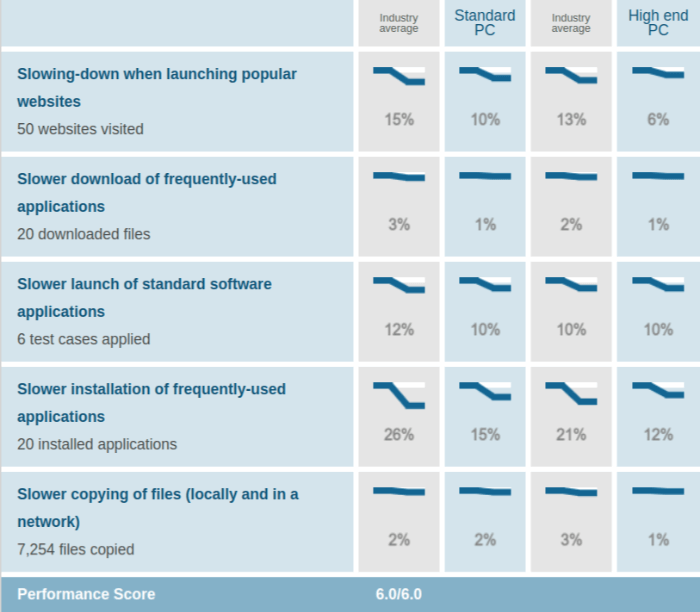 Avast scored 5.5 points and won the 2-star ADVANCED award again. Maybe, you are interested in this post – Does Avast Slow Down Your Computer? Get the Answer Now.
In this part, the winner is Kaspersky. Kaspersky is far ahead of Avast in this category and has the least impact on system performance.
Kaspersky VS Avast: User Interface
The next aspect of Avast vs Kaspersky free is the user interface.
Kaspersky
Kaspersky's open frame interface uses light colors, and most of the basic functions are prominently displayed on the dashboard. You can access almost all functions in just a few clicks. The green checkmark on the banner indicates that your computer is safe. If there are any problems, the checkmark will change to a red X.
Your subscription status is displayed at the bottom of the screen, and the system will remind you when you approach the renewal date. It also provides a space for personalization and customization.
Avast
The interface of Avast is friendly since it can be easily used even for people with only basic computer skills. The buttons are large, easy to see, and well organized.
Using Avast's intuitive and simple control panel, you can access all options in just a few clicks. If you want to perform a specific task, there is a sidebar on the left, all operations are contained in an extended menu. However, if you use the free edition of Avast, you will see many ads when you use it.
In this aspect, the winner is Kaspersky.
Kaspersky VS Avast: Malware Protection
Antivirus programs can protect you from all kinds of new and old malware attacks. Thus, this part is about Avast vs Kaspersky for malware protection.
The AV-Test laboratory conducted the latest evaluation in April 2020. In their protection tests, both Avast and Kaspersky scored almost perfect 5.5 points (out of 6 points). In the AV-Comparatives real-world protection test in June 2020, Avast and Kaspersky once again went hand in hand and won the highest possible ADVANCED+ award (3 stars).
In this aspect, both of them are the winner. They are excellent in the malware protection category and have achieved excellent results in AV-Test and AV-Comparatives.
Kaspersky VS Avast: Price
Kaspersky
| | | |
| --- | --- | --- |
| Kaspersky Anti-Virus | $56.99/year | 3 devices |
| Kaspersky Internet Security | $59.99/year  | 3 devices |
| Kaspersky Total Security | $112.49/year | 5 devices |
Avast
| | | |
| --- | --- | --- |
| Premium Security Single-Device | $69.99/year | 1 PC |
| Premium Security Multi-Device | $89.99/year | 10 Devices |
| Avast Ultimate | $99.99/year | 1 PC |
| Avast Premium Security for Mac | $69.99/year | 1 Mac |
Speaking of the price, the winner is Avast.
Now, we have compared Kaspersky vs Avast in several aspects. In features, system performance, and user interface aspects, Kaspersky is better than Avast. Avast is better than Kaspersky in price. And there is no obvious difference in malware protection. Thus, you can choose one of them based on your needs.
Back up Your Important Data
Sometimes, your PC will be attacked by malware and virus, but you do not know. Thus, relying on antivirus software is not enough to protect your computer. Then, you need other software to protect your data and you should back up your important data regularly to prevent file loss.
How to back up your important data? It's recommended to use the professional Windows backup software – MiniTool ShadowMaker to do the task.
MiniTool ShadowMaker is designed to back up the operating system, files, folders, disks, and partitions. With a copy of the backup, you can restore data once a disaster occurs, like a system crash, hard drive failure, and more. It also allows you to clone OS from HDD to SSD without data loss.
Now, let's see how to back up the files with MiniTool ShadowMaker.
Step 1: Click the following button to download MiniTool ShadowMaker, install and launch it.
MiniTool ShadowMaker TrialClick to Download100%Clean & Safe
Step 2: Click Keep Trial. Then you will enter the main interface of MiniTool ShadowMaker and you need to go to the Backup page.
Step 3: After that, click the Source module, select Folders and Files, and select files you want to back up.
Step 4: Then click the Destination module to select a target disk to save the backup images. Then click OK to continue.
Step 5: After that, you can begin to back up the files. Here, you should click Back up Now to continue.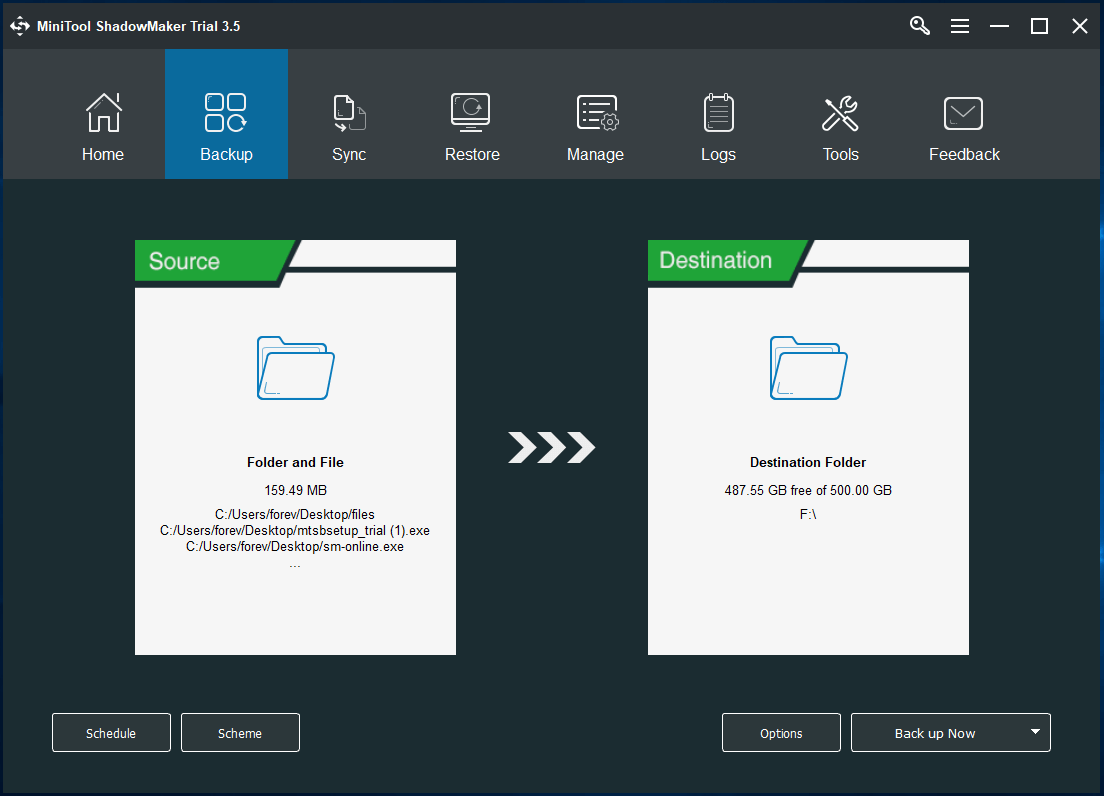 When all steps are finished, you have successfully backed up your important data. If your computer is attacked by malware or virus by accident, you can use the backup image to restore the data.
Bottom Line
Kaspersky vs Avast: which one is better or which one should you choose? After reading this post, you know the differences between them and know which one is your good choice. Also, you can use MiniTool ShadowMaker to back up your important data.
If you have any suggestions for Kaspersky vs Avast, you can contact us by leaving a comment below or sending an email to [email protected].
Kaspersky VS Avast FAQ
Is Bitdefender better than Kaspersky?
Does Bitdefender slow down PC?
Yes, Bitdefender slows down your PC. According to the test, Bitdefender Total Security will reduce the speed of testing laptops by 7.7% to 17% during active scanning.
What is the most dangerous computer virus right now?
What are the different types of malware?