When choosing an antivirus program, for example, McAfee or AVG, you don't know which one to choose. It is not a difficult job. Just see the guide on McAfee vs AVG and you can know the answer. Besides, you can know how to protect your computer with MiniTool software.
In the modern digital world, antivirus software is an indispensable requirement because it helps protect your data and privacy from various malicious software threats, such as viruses, ransomware, worms, Trojan horses, etc.
Today, McAfee and AVG have become well-known products in the antivirus market. But some users don't know whether to choose McAfee or AVG. Then, we will provide a full guide about McAfee vs AVG to help you make the decision.
Before talking about AVG vs McAfee, let's get some information about McAfee and AVG.
Overview of McAfee and AVG
McAfee
McAfee is a company that claims to be the world's largest dedicated technology security company. Over the past 30 years, it has protected devices (Windows, macOS, Andriod, and iOS) from viruses, malware, and other threats.
Besides, McAfee has established a rich and widespread global threat intelligence network so that it can analyze and collect threat data from more than 500 million endpoints around the world.
AVG
AVG is a piece of antivirus software developed by AVG Technologies, founded by Tomáš Hofer and Jan Gritzbach in 1990 under the name Grisoft in Brno, Czechoslovakia. It was merged in Avast in 2017.
AVG antivirus, previously known as AVG, an abbreviation of Anti-Virus Guard, is a line of antivirus software developed by AVG. It protects Windows, macOS, and Android devices
McAfee VS AVG
For McAfee vs AVG, the winner is McAfee in the aspect of malware protection, system performance, the user interface as well as price. In the main features aspect, McAfee and AVG make a tie. All in all, McAfee is better than AVG.
McAfee VS AVG
This part is going to talk about McAfee vs AVG from 5 aspects, including main features, malware protection, system performance, user interface, and price. Now, let's see the detailed comparison below.
McAfee VS AVG: Main Features
Good antivirus software should possess several useful features, and this section talks about McAfee vs AVG for features.
McAfee
In addition to providing excellent protection against various malware threats, McAfee Total Protection also provides an advanced two-way firewall, file shredder, and encryption utilities. Network managers and vulnerability scanners are also part of it.
The kit also includes a parental control module, social media protection, and several computer optimization tools. To provide online protection, McAfee provides the WebAdvisor browser extension. It can keep you away from malicious websites, protect your online experience, and scan all downloaded malware.
Another antivirus suite provided by the company is McAfee LiveSafe. It includes everything stuck in the "full protection" suite and 1 GB of secure cloud storage space where you can store confidential files.
AVG
AVG Free AntiVirus can protect a variety of malware threats, but in addition to useful file shredders, it does not provide protection-related advanced features or other utilities.
AVG Internet Security not only provides excellent malware protection but also provides an advanced firewall, encryption module, anti-spam function, and WiFi protection. The AVG Internet Security license will provide one year of protection for an unlimited number of home devices (PCs, Macs, and mobile phones) in your home.
AVG Ultimate is the company's top antivirus product. It includes everything in the "Internet Security" suite, as well as AVG's advanced Tune-up utility, anti-theft function, and automatic software update program.
AVG comes standard with basic anti-virus protection. You can also install the AVG brand browser during the installation process. AVG Secure Browser uses the same basics as Google Chrome, but it has privacy protection, ad-blocking features, and a built-in password manager.
In the aspect of McAfee vs AVG for feature, they make a tie.
Also see: How to Disable AVG Secure Search from 3 Browsers?
McAfee VS AVG: Malware Protection
The most important feature of an antivirus program is antivirus and malware protection. This part focuses on AVG vs McAfee for antivirus and malware protection, then you can know whether to choose McAfee or AVG in this aspect.
The last AV-Tests test was conducted in July and August 2018. McAfee scored a perfect score of 6/6 in tests against zero-day malware and widespread malware in the "Protection" category.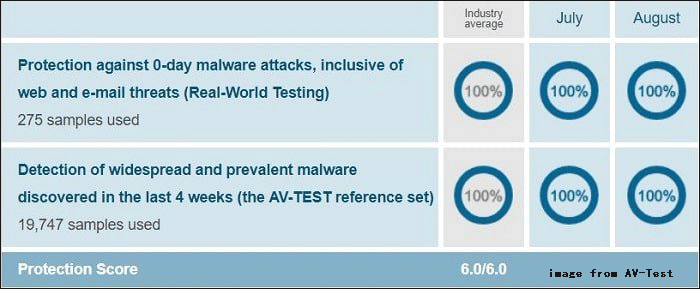 Compared with McAfee, AVG performance is slightly worse. It was able to detect the malware with 99.2% and 99.9% detection rates on the zero-day and widespread malware in July and August, respectively. Nevertheless, it also received a perfect score of 6/6 in the "Protection" category.
Thus, in the malware protection aspect, the winner is McAfee.
McAfee VS AVG: System Performance
The degree of impact of anti-virus products on the system also fully illustrates its practicality. Generally, a good antivirus program consumes very few system resources. Now, let's see McAfee vs AVG for system performance.
McAfee scored a perfect 6/6 score. Because it is very small in the background and does not cause any type of load on the CPU. Get a perfect score in the "Performance" category. For AVG, experts give it a score of 5.5/6. Compared with McAfee's test, it does bring a slight load to the CPU, making the CPU slower.
Thus, McAfee had better system performance than AVG.
McAfee VS AVG: User Interface
When using an antivirus tool, the user interface also needs consideration. As two of the best antivirus program on the market today, both McAfee and AVG offer an intuitive interface so that you can run virus scans, update software, and even review virus descriptions.
McAfee
McAfee has a clean appearance, with white and dark gray as the main colors. McAfee's application has a left column, which can be used to browse its various menus, but it can also split its functions among many slides or windows. This means you need to switch between screens to perform the most basic operations.
AVG
AVG's interface is dark and modern-light green and gray shades. The default screen has the following five main modules: computer, web and email, hacking, privacy, and payment. As always, each module contains related functions and settings.
The various parts in AVG are located in the horizontal button menu on the main client screen. You can customize these settings from the settings menu, which can be accessed from the AVG menu at the top right of the client.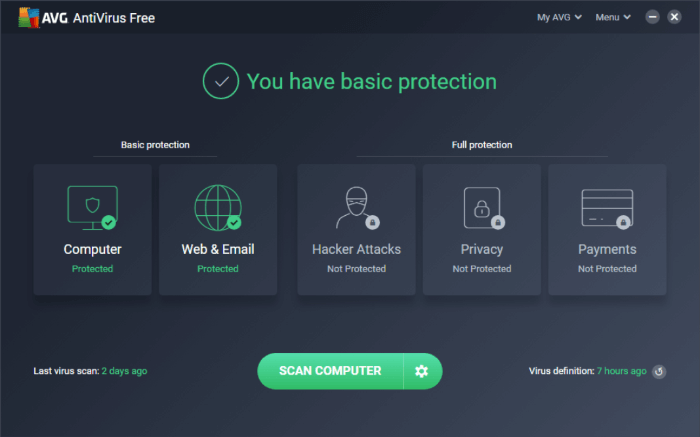 Overall, McAfee's user interface is better and more intuitive than AVG.
McAfee VS AVG: Price
This part is mainly talking about McAfee vs AVG for pricing. When choosing a suitable antivirus tool, the price is another factor that you should consider. Now let's see a pricing table for the different editions of each software.
McAfee Pricing
| | | |
| --- | --- | --- |
| Total Protection Single Device | $34.99/year for the first year | 1 device |
| Total Protection Individuals & Couples | $39.99/year for the first year | 5 devices |
| Total Protection Family | $44.99/year for the first year | 10 devices |
| Total Protection Ultimate | $109.99/year for the first year | Unlimited devices |
| McAfee LiveSafe | $44.99/year for the first year | Unlimited devices |
AVG Pricing
| | | |
| --- | --- | --- |
| AVG Internet Security | $39.99 for the first year and $69.99 for each subsequent year | 1PC |
| AVG Ultimate | $79.99/year | 10 Devices |
Tip: The device is not limited to the system, mobile phones, or computers of different systems. The price only represents the price when this article was published.
Both McAfee and AVG are reasonably priced. However, because McAfee provides a full range of bundled software that is similar to or even lower than AVG Internet Security. Thus, in this aspect, the winner is McAfee.
McAfee VS AVG: Verdict
Therefore, the conclusion is that both antivirus programs are working well. However, due to the comparison between the two versions, McAfee has excellent performance because of its simplified features, and options available to all customers.
In my opinion, McAfee vs AVG: the winner is McAfee.
Back up Your File using MiniTool ShadowMaker
Only using antivirus software to protect your computer is not enough. Since if the antivirus software is not protected and the computer is attacked, and if there is a backup, the files can be restored quickly to reduce losses. Therefore, it is recommended for you to use another software to back up your important data to prevent data loss.
Then which backup tool should you choose? MiniTool ShadowMaker is a great one. It is a professional backup tool for Windows, which allows you to back up files, folders, partitions, disks, and even the system.
Now, just download it and have a try.
MiniTool ShadowMaker TrialClick to Download100%Clean & Safe
Step 1: Double-click MiniTool ShadowMaker to launch it on your computer, then click Keep Trial to get into its main interface.
Step 2: Go to the Backup page. You can find that MiniTool ShadowMaker selects the operating system as the backup source by default. To directly create a system image backup, go to Step 3. If you want to back up files, click Source > Folders and Files, and then choose the files that you want to back up. Click OK.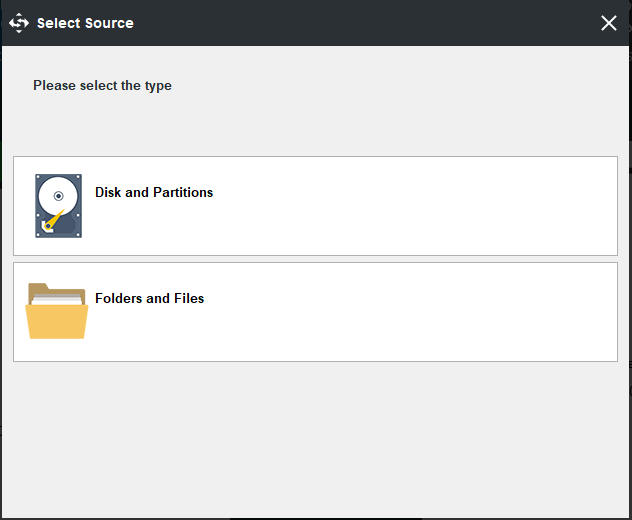 Step 3: Click the Destination button, choose a destination to save your backup files, and then click OK. (It is highly recommended to select an external hard drive to save your backup.)
Step 4: At last, click Back up Now to start the backup for your computer, or you can click Back up Later to delay the task.
Bottom Line
In this post, we show you some information on McAfee vs AVG and you know which one to choose. Besides, a suggestion is given to you to keep your PC safe.
If you have any other ideas or questions when using MiniTool ShadowMaker, don't hesitate to tell us by leaving a comment below or contacting our support team via the email [email protected]. We will reply to you as soon as possible.
McAfee vs AVG FAQ
Is Windows Defender better than McAfee?
The main difference is that McAfee is a paid product, while Windows Defender is free. McAfee guarantees a 100% detection rate for malware, while Windows Defender's detection rate is about 95% to 98%. Besides, McAfee also provides a series of advanced features and utilities that Windows Defender cannot provide. Thus, McAfee is better than Windows Defender.
Does AVG slow down the computer?
AVG helps protect your computer from viruses, worms, and other malicious software by checking every application running. As reported by AVG, this scanning activity usually does not slow down the system.
Kaspersky or McAfee: which is better?
McAfee is better because it provides more security-related features and additional utilities than Kaspersky. Independent laboratory tests have proved that both software can provide excellent malware protection with minimal impact on system performance, but McAfee's antivirus suite is cheaper than Kaspersky's.
Are AVG and Avast the same thing?
No, they are not the same thing. But, they are two products made by the same company.