This article talked about by
MiniTool Software Limited
mainly provides more than 9 workable methods to deal with ntoskrnl.exe blue screen of death stop code error in Windows 11. Generally speaking, no matter what situation you are in, you can find a solution here!
Ntoskrnl.exe BSOD Windows 11 refers to a blue screen of death (BSOD) caused by the Windows 11 operating system (OS) kernel executable (ntoskrnl.exe). It means that there is a problem with the file. Without this file, the system will not run.
A BSOD problem is not a catastrophe. It just forces you to reboot your computer and tries to protect your OS files from further damage. What you need to do is to troubleshoot the issue starting from the error message the blue screen gives you. Now, let's see how to fix Windows 11 ntoskrnl exe blue screen error.
Tip: Most of the below solutions also apply to Windows 10, 8.1, 8, 7.
#1 Check for Memory Errors
First of all, you should check the integrity of your RAM relying on Windows Memory Diagnostic tool or third-party programs.
In the Windows Memory Diagnostic window, select Restart now and check for problems (recommended).
Then, your PC will reboot into the Windows Memory Diagnostic Tool and check for problems.
If the tool finds some issues, you need to reseat and swap RAM sticks on a desktop or reseat memory on a laptop if it's accessible. If you still receive the ntoskrnl.exe BSOD Windows 11 error, you should contact your memory manufacturer.
#2 Check for Corrupted Files
Besides memory problems, you should check for corrupted files that can result in ntoskrnl exe BSOD. Usually, you can take advantage of System File Checker (SFC) or Deployment Image Servicing and Management (DISM) to do that.
Open one command line platform, command prompt (CMD) or PowerShell.
Input DISM /Online /Cleanup-Image /RestoreHealth and press Enter.
Type sfc /scannow and press Enter.
Both commands will search for corrupted system files and replace them with healthy ones.
The corresponding graphic utility is Disk Check that locates in disk Properties > Tools.
#3 Check for Disk Problems
Also, you are recommended to check hard disk drives for physical damage like bad sectors, which is able to prevent Windows from running properly. To achieve that, you can make use of the Disk Surface Test feature of MiniTool Partition Wizard app.
MiniTool Partition Wizard DemoClick to Download100%Clean & Safe
Or, you can use the CHKDSK utility to do so. Just key in chkdsk /r /f into the command platform and press Enter. It will prompt the requirement for restart, just type Y to confirm.
#4 Check for Virus/Malware
Ntoskrnl.exe BSOD Windows 11 issue can also be caused by viruses or malware interfering. Although the Windows Security app is protecting your computer in real-time. Yet, it might miss something, especially for cattish malware. So, it is necessary that you take a manual scan of your machine depending on Windows Security or a third-party security tool you prefer.
1. Navigate to Start > Settings > Privacy & security > Windows Security.
2. On the Windows Security page, select Virus & threat protection.
3. Next, click on the Quick scan button to carry out a general check for viruses.
4. If the quick scan does not find any problem. You can further conduct a full scan by clicking on the Scan options on the above screen and choosing Full scan on the next screen.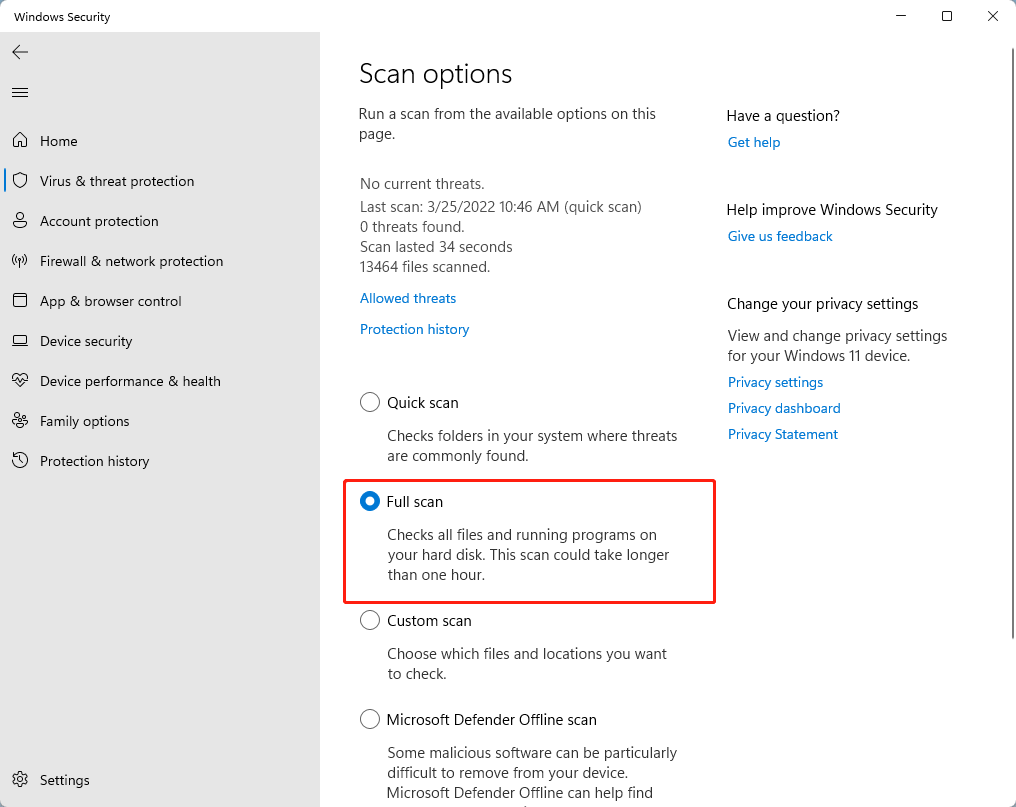 A full and deeper scan will scan every corner and file on your PC. Thus, it will take a much longer time than a quick scan. Please take your patience and wait until it finishes.
Or, if you have your favorite antivirus software instead of Windows Defender, you can take advantage of it to check for malware or virus such as Avast, Bitdefender, Malwarebytes, etc.
#5 Update/Reinstall Device Drivers
A driver problem (damage, missing, or out-of-date) can also cause blue screen ntoskrnl exe error. If this is your situation, you can deal with it by updating or reinstalling the specific drivers. Yet, which driver(s) should you take action with? Think about which driver(s) you have operated on recently, update or reinstall. Then, let's start with it (them).
Unfold the section that contains the specific device.
Find the specific device, right-click on it and choose Update driver.
If you would like to reinstall the device driver, just choose Uninstall device and restart your PC. Then, Windows will reinstall the corresponding driver for you automatically.
#6 Install/Uninstall Windows 11 Updates
Moreover, updating OS is always a possible fix for system-related problems. There is a great chance that Microsoft has already patched the ntoskrnl-exe BSOD error and released an update. So, all you need to do is to update your system to the latest version.
To achieve that, just go to Settings > Windows Update and check for updates. By default, it will automatically check for updates and install the updates for you.
However, on the contrary, some people claim that uninstalling recent Windows update save them out. They think the system update is the cause of ntoskrnl BSOD.
1. Move to Setting > Windows Update > Update history.
2. On the Update history page, find and click Uninstall updates.
3. In the new popup, select your recent system update or the suspicious update and click Uninstall.
Follow the instructions to complete the task.
#7 Disable Overclocking
If you have enabled CPU overclocking for better computer performance, then it is time to disable it once you receive blue screen of death ntoskrnl.exe issue.
#8 Clean Boot Windows or Boot Windows into Safe Mode
If you are still suffering from ntoskrnl.exe BSOD Windows 11 problem, you can try to boot your computer into safe mode, a special diagnostic mode for troubleshooting computer problems. In the Startup Settings, you should choose Enable Safe Mode with Command Prompt. Then, you can fix ntoskrnl.exe blue screen issue with the commands described above.
Or, you can clean boot your computer, which only uses the minimal startup programs and drivers to load the system. Clean boot grants you more control over which services and applications to run during startup than safe mode. However, you can only test one service or app per boot. Thus, you have to boot your PC a lot of times to find out the problematic service or app.
#9 Troubleshoot Blue Screen of Death Errors
Finally, you can still troubleshoot ntoskrnl.exe BSOD Windows 11 problem by following the guide on this page. It will help you with common stop error codes including the following ones:
Other Possible Solutions
In addition to the methods mentioned above, there are some other ways that might handle ntoskrnl exe BSOD.
Close Android emulators.
Uninstall suspicious third-party programs like antivirus.
Use a third-party BSOD fixing program.
Remove or replace faulty RAM sticks.
…
Keep Data Safe During Ntoskrnl.exe BSOD Windows11
Hope at least one of the above solutions manages to solve your problem successfully. If unfortunately, none of them can assist you, there is still something you should do – ensure the safety of your data!
Before the possible data damage or loss happens, you are strongly recommended to back up important files to another safer place, better out of the current computer, and especially when you decide to reset Windows. Therefore, you need the help of a professional and reliable data backup program like MiniTool ShadowMaker, which can back up files/folders, partitions/volumes, system, and even the entire hard disk easily with just a few steps.
MiniTool ShadowMaker TrialClick to Download100%Clean & Safe
Download, install, and launch MiniTool ShadowMaker on the current PC. If you cannot boot up your machine already, you can install this software on another working computer, create a bootable USB with its Media Builder feature, and insert the bootable USB into the crushed PC to boot it up (firstly change the boot order in BIOS). Connect another USB with the target computer to save the backup image file.
In the main interface of MiniTool ShadowMaker, move to its Backup tab from the top menu.
In the Backup tab, click the Source module to select the files and folders you'd like to protect.
Click the Destination module to pick up a location to store the backup image. Here, external storage is recommenced like the plugged USB flash drive.
Finally, click the Back up Now button to start the process.
When the backup completes, disconnect the USB that contains the backup image. If you finally get the ntoskrnl.exe BSOD Windows 11 error handled but with some files lost, you can use the backup image to restore those files also relying on MiniTool ShadowMaker (Restore tab). If the original computer is completely damaged, you can still have your data by restoring them to your new PC.
What if your original machine is completely down with data loss but you have no backup at hand? The last chance you can try is to take its internal hard disks out, connect them with a working computer, install MiniTool Power Data Recovery on the working machine, and try to recover the data on the corrupted hard disks. If you are lucky and scan out some files with MiniTool Power Data Recovery, just save them on another healthy disk instead of the original corrupted drives.
MiniTool Power Data Recovery TrialClick to Download100%Clean & Safe
To Wrap Things Up
Until now, you should have learned how to deal with ntoskrnl.exe BSOD Win11 problem. If unfortunately, you are still struggling to handle the issue, just share your case in the below comment zone and maybe our readers have a fix. Or, if you have successfully solved the error in a way that is not mentioned in this article, please share it with us.
On the other hand, if you encounter any problem while using MiniTool products, please [email protected] and you will be answered as soon as possible!