With the development of Internet Technology (IT), digital data becomes a part of our precious wealth. Especially, during the pandemic of coronavirus disease (COVID-19), most people have to work and study at home remotely with computers. We need digital data more than ever!
Most of us choose to save our digital data online to the cloud drives such as OneDrive. Yet, the free storage capacity for a single user is only 5 GB, which is far less than the average necessary size. Just a few videos will take up all the allocation.
So, how to break through the size limitation and back up or synchronize your files more freely without worry about running out of space all the time?
Back up / Sync Files Without Size Restriction with MiniTool ShadowMaker
You may think about turn to other cloud drives for more free storage space. Yet, the free quotas of the alternatives still can't satisfy most users' needs. For example, Google Drive offers its users 15GB of free storage while Dropbox only provides 2GB.
For other less popular cloud drives, some may provide more free cloud storage, but there are other limitations. For instance, the MEGA cloud offers 50 GB of free space but you can only upload or download 1 GB of data every 6 hours.
Besides, files stored in the cloud aren't completely safe. Once in a while, there are users who complain about files been deleted unacknowledged. Also, users themselves may accidentally delete files. Once deleting on one side (cloud), the victim files will disappear on the other side (local).
So, why not just sync or back up your files to an external hard drive. This can also give powerful protection to your files and you can take the external device wherever you go. If you agree, let's continue to see how to do that with MiniTool ShadowMaker, a professional and reliable file backup and sync software.
MiniTool ShadowMaker TrialClick to Download100%Clean & Safe
1. Connect an external hard drive to your computer.
2. Download, install, and launch MiniTool ShadowMaker on your computer.
3. Click Keep Trial if it asks you for purchase.
4. In its main interface, click the Sync tab on the top.
5. In the Sync tab, specify which files/folders you want to sync and select the external device as the destination.
6. Click on the Schedule button in the lower left, switch on the schedule settings in the popup, and set up a sync schedule that suits you. Remember that a too high sync frequency creates many file copies that will occupy large disk space. While a too low sync frequency won't save the changes you made to the sync source in time. So, just choose a proper one.
7. Finally, click Sync Now to start the first sync process.
Once done, it will automatically sync the target files/folders to the chosen destination based on the selected schedule, daily, weekly, monthly, or on a special event in the future. There is nothing you need to do manually.
About Could Drive
Digital information can never be so important. Yet, another crucial aspect is that the way we exchange digital data with our colleagues, classmates, teachers, friends, families, etc. We need an efficient way to send and receive documents, photos/pictures, audios/videos, and so on files to and from others. We need cooperation online!
Therefore, a solution that enables us to communicate our files with each other instantly is exactly what we want. Also, when we travel somewhere, we can still access those files from different devices whenever we want. So, cloud drives come into being!
Cloud drives are online virtual storage devices that allow users to save data. The cloud storage space is physically supported by the servers in the cloud drive providers' storehouses. Cloud drive has already been popular since several years ago.
What Is OneDrive?
OneDrive is the cloud storage provided by Microsoft cooperation. OneDrive is one of the three most popular cloud drive brands with the other two are Google Drive and Dropbox.
OneDrive is more than a cloud drive since it also offers an app to help you automatically back up your local files to your OneDrive. Also, you can sync the files on your OneDrive to the local storage.
Since the next generation of operating system (OS) Windows 11 is already available, many people can't wait to upgrade from current Windows 10 to Windows 11.
Yet, some users wonder what will happen to their files if they upgrade to Win11. As for this concern, Microsoft replies that all their files will transfer. However, Microsoft also recommends users back up their files using OneDrive before installing Windows 11.
How to Use OneDrive?
I believe many of you already know how to make use of Microsoft OneDrive. If so, you can just skip this section and move to the next part. If not or you don't want to miss something, just keep reading.
Step 1. Install OneDrive on Your Computer
If you are running Windows 10, you probably already have OneDrive installed when you install the system. if not or you get your OneDrive uninstalled somehow, you can go to OneDrive's official website, download its setup file, and install it on your machine.
If you are not sure whether you currently have OneDrive on your PC or not, just search "onedrive" in the Windows and see whether there is a OneDrive APP in the search result list or not, the APP not the folder.
Anyway, when you have OneDrive installed on your computer and you have it opened, you will see a cloud-shaped icon in the lower right in the taskbar.
Step 2. Create OneDrive Account
Usually, people will use their Microsoft account as their OneDrive and other Microsoft products' accounts. When you have your OneDrive account created, just use it to sign in to your OneDrive.
Step 3. Distinguish OneDrive Local and OneDrive Cloud
Some new users may be confused by the OneDrive folder on their local hard drive (usually in C:\Users\username\OneDrive) just like me, especially when they see the list of files and folders within the OneDrive folder. Why they are here? Shouldn't they be saved online somewhere we can't see?
Don't worry! The files/folders that you see aren't really on your computer; they are just listed to tell you what are in your OneDrive. You can specify which files/folders to be shown in your local OneDrive folder with the below steps.
1. Click on the taskbar OneDrive icon, select Help & Settings in the popup, and choose Settings.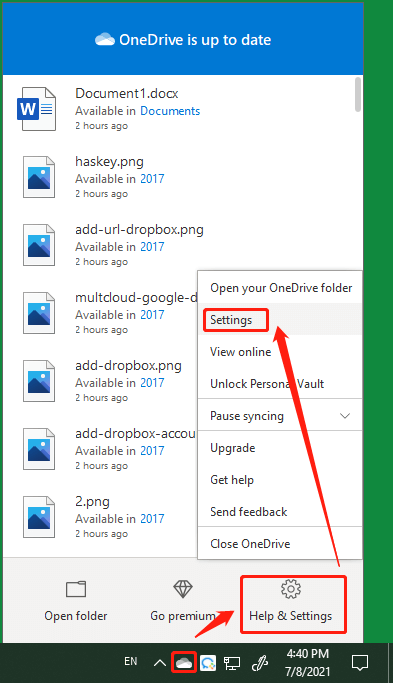 2. In the new pop-up window, go to the Account tab, and click the Choose folders button.
3. Choose the files or folders that you want to be available in your local OneDrive folder.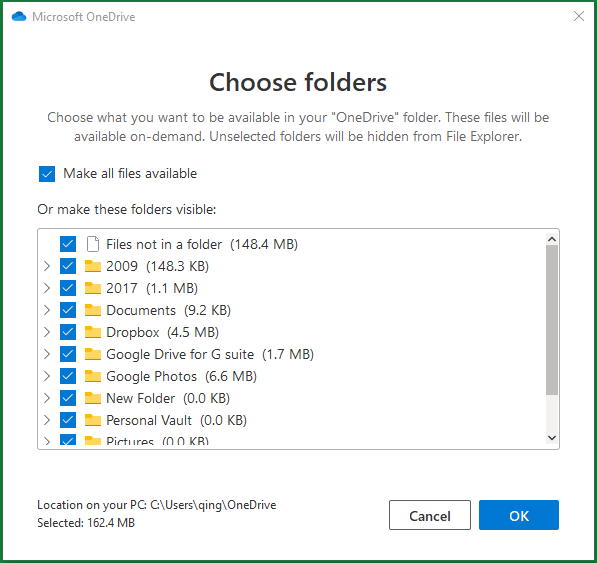 4. Click OK to save changes.
However, if you open a file in the list on your machine, it will be downloaded from the cloud to your local address. You can change the related settings in the Settings tab in the Microsoft OneDrive window above. There, uncheck "Save space and download files as you use them". It will warn you that if you do so, all OneDrive files and folders will download to this PC no matter you open it or not.
To see the real storage structure in your OneDrive, just right-click on the taskbar icon and select View online. Then, a webpage will pop up showing you the storage structure of your OneDrive. There, you can also complete some tasks like create a new document and upload a file or folder from local storage.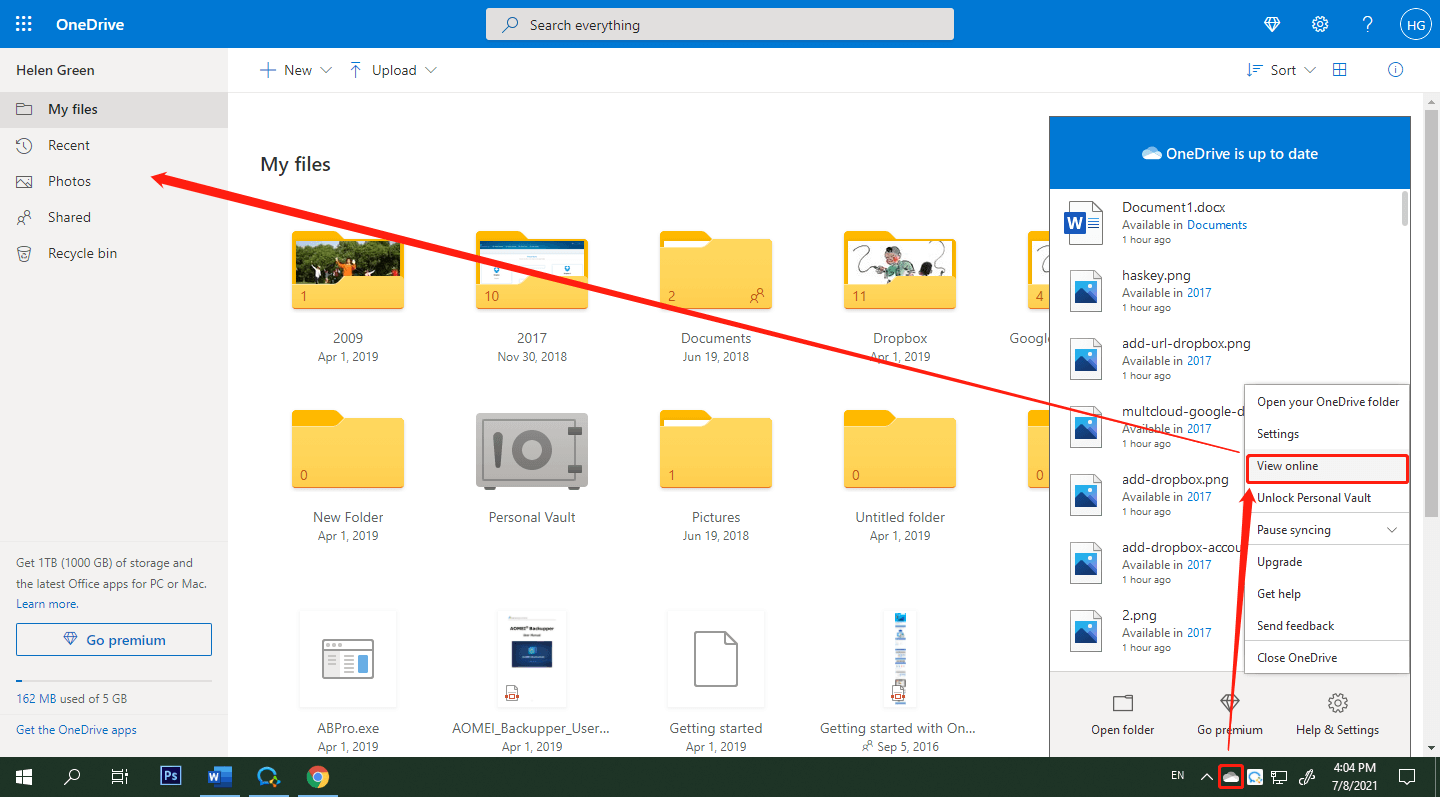 Step 4. Use OneDrive Backup
How to backup computer to OneDrive? The process is very easy with OneDrive PC folder backup!
1. Navigate to the Backup tab in the OneDrive settings window and select Manage backup.
2. Select the folder(s) you'd like to back up to OneDrive, Desktop, Documents, or Pictures.
3. Click the Start backup button to carry out the initial backup.
The selected folders will sync in OneDrive. New and existing files will be added to OneDrive and backed up. Once backed up to OneDrive, they are available on your other devices even if you lose this PC.
You can also check "Automatically save photos and videos to OneDrive whenever I connect a camera, phone, or other device to my PC" and "Automatically save screenshots I capture to OneDrive" in the Backup tab.
Another Easier Way to Back up to OneDrive
Another way to copy a local item to the OneDrive cloud is to put the target file in the local device's OneDrive folder and the file will be replicated to OneDrive automatically. Once the two-arrow blue sync icon turns into a green circle with a green hook within, you can see the file in your OneDrive online folder.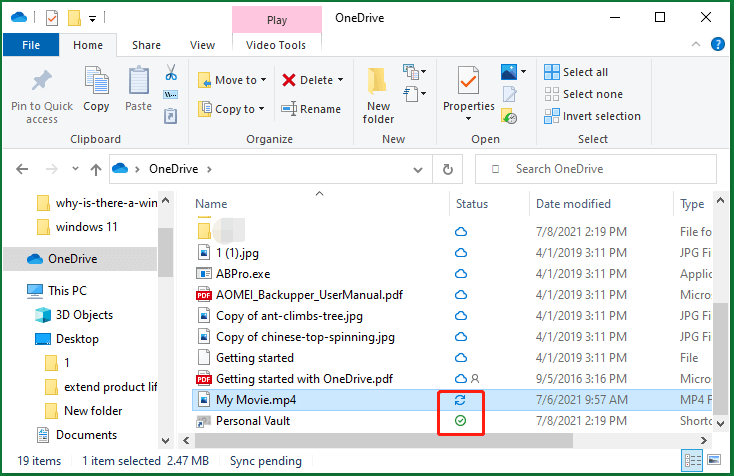 OneDrive Backup Problems
The following are some common issues that you may encounter while using OneDrive for backing files to the cloud. Also, solutions are provided.
#1 File Type Can't be Protected
Outlook database files (.pst) cannot be synced by OneDrive.
#2 File Exceeds the Maximum Path Length
If you encounter this problem, make sure the entire file path, including the file name, contains fewer than 260 characters. If not, just shorten the file path by shortening its file name or folder name. Or, just move the target file to the folder that is closer to the root folder.
#3 File Exceeds the Maximum File Size
OneDrive can't sync files over 250GB. Just exclude those files and try again.
#4 File Name Isn't Allowed
In OneDrive, file names can't include any of the following characters or start with space. Just remove or rename those files to try again.
\ : / * ? < > " |
#5 Folder Isn't Selected for Syncing
The folder with this error isn't syncing to your computer. To address this issue, go to OneDrive Settings, in the Account tab, click Choose folders, and select the target folder.
If the Pictures folder is suffering this error, please ensure that Pictures, Camera Roll, and Screenshots are all selected or don't even exist. The reason is that the OneDrive folder has a different name from the Windows important folder.
#6 An Unknown Error Occurred
If the error code is 0x80070005, it means that the "Prohibit User from manually redirecting Profile Folders" group policy is enabled. You may find that the files from the target folders were moved to identically named folders in your OneDrive folder and the original folders are empty.
Just move the folder contents back and ask your administrator whether the policy can be changed or not.
Since using OneDrive may encounter so many problems and there is only 5 GB of free storage space for you, you really need to think about switching to OneDrive Alternatives or just syncing your files between two local locations, internal and external hard drive, with MiniTool ShadowMaker.