If you are looking for answers to these questions – "can I play PUBG in my PC", "how much RAM is required for PUBG PC" or "can PUBG run on 4GB RAM", knowledge of PUBG PC requirements is what you need. MiniTool Solution will show you PUBG minimum requirements and recommended specs. Besides, how to check your PC and what to do if the PC can't meet the demands are also described.
Can My PC Run PUBG?
PUBG, short for PlayerUnknown's Battlegrounds, is an online multiplayer battle shooter game. In the game, 100 players fight against each other in a struggle for survival. Players can enter the match with a solo, duo or a small team of four persons and the last team or person alive wins the game.
Since the release of PUBG, it is well received by many users. Perhaps you are also one of the persons who want to enjoy this game on your PC.
Well then, here comes a question from you: can I run PlayerUnknown's Battlegrounds on my PC? The answer is – if your PC satisfies the PUBG requirements, you can run this game on it.
So, what are PUBG PC requirements? Now, you should know much knowledge after reading the following contents. Keep reading!
PUBG System Requirements
In this part, we will show you the minimum requirements and PUBG recommended specs in detail.
Minimum Requirements for PUBG
If you want to run PUBG on a budget, what you need do is to make sure the computer hits the minimum system requirements. According to Steam, the following are the minimum requirements:
System type: 64-bit Windows only
Operating system: Windows 7, Windows 8.1 and Windows 10
Memory: 8 GB RAM
Processor: Intel Core i5-4430 or AMD FX-6300
Graphics: NVIDIA GeForce GTX 960 2GB or AMD Radeon R7 370 2GB
DirectX: Version 11
Storage: 30 GB available space
Network: Broadband Internet connection
Usually, the average FPS can reach 40 to 50 when playing PUBG under the minimum PC requirements. But it can drop to 25 to 30 FPS during the intense game process. Although you can run PUBG, the user experience may not be good.
PUBG Recommended Specs
As you all know, it is never the ideal way to play a game with a computer that just meets its minimum system requirements and PUBG is no exception. To reach 60 FPS or better in the game, we list the PUBG recommended PC requirements, as shown below.
Operating system: 64-bit Windows 7, Windows 8.1 and Windows 10
Memory: 16 GB RAM
Processor: Intel Core i5-6600k / AMD Ryzen 5 1600
Graphics: NVIDIA GeForce GTX 1060 3GB / AMD Radeon RX 580 4 GB
DirectX: Version 11
Storage: 30 GB available space
Network: Broadband Internet connection
With this PC build (Windows 10), the average FPS can reach 60-80, the maximum can be around 100 and the minimum can be 45 during intense fights.
How to Check the Basic Specifications of Your PC?
After learning PUBG PC requirements including the minimum and recommended requirements, what you should do is to check the basic specs of your PC if you don't know them. Follow these instructions below to check:
Step 1: Press the Windows key and R key on your keyboard at the same time to launch the Run window.
Step 2: Type dxdiag to the text box and click OK.
Step 3: In the pop-up window, you can see the information of the operating system, processor, memory and DirectX version.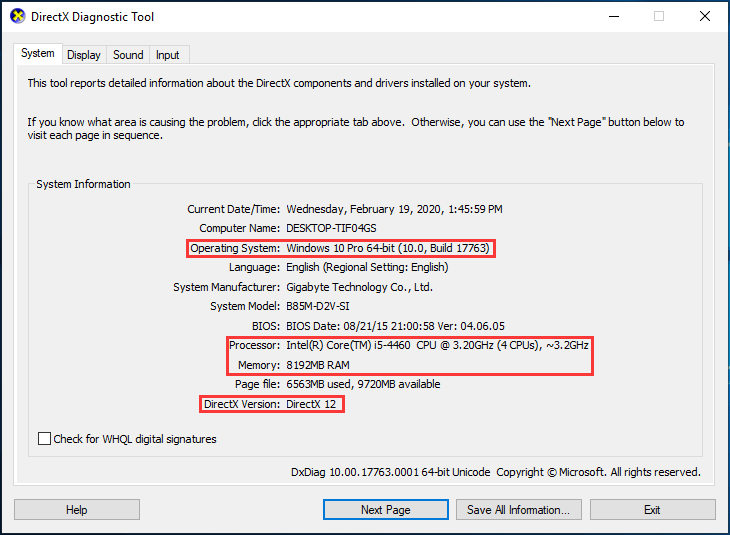 Step 4: Go to the Display tab, you can know some information on your graphics card.
"What are PlayerUnknown's Battlegrounds PC requirements? Here is all the information about the minimum requirements and PUBG recommended specs. Share them with your friends if you want."Click to Tweet
PUBG System Requirements Test
After checking the information on your PC, you know if you can run PUBG on your PC. But sometimes some of you cannot confirm whether PlayerUnknown's Battlegrounds can run on the computer although you check the system specs. In this case, making a PUBG system requirements test is helpful for you.
Step 1: Click this link to the test website.
Step 2: Type PUBG to the search box, choose an edition like PUBG Lite and click Can You Run It.
Step 3: This website will show you PUBG PC Lite system requirements. Just click the Can You Run It button.
Step 4: The Detection app will be downloaded to your PC.
Step 5: After downloading, this app will perform the hardware scan and the result will display in the browser, as shown in the following figure.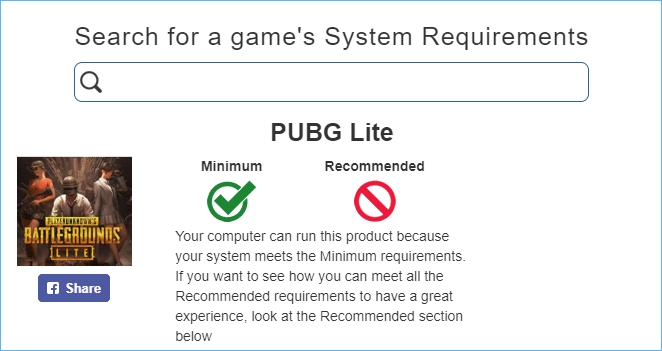 This test method is offered by the forum – quora. Just have a try by following these steps if you have a need.
What to Do in Case of Dissatisfying PUBG PC Requirements
After checking the specifications of your PC or testing the PlayerUnknown's Battlegrounds PC requirements, you clearly know if the machine can run PUBG or not.
If the PC can't meet the minimum requirements for PUBG but you still want to play this game in your spare time, what should you do? Buying a brand new PC has a high cost and upgrading the hardware of your machine is recommendable.
In the following paragraphs, we will show you some tips based on the PUBG minimum requirements.
Operating System Can't Hit the Spot
If you are running a 32-bit version of Windows 7, 8.1 or 10, PUBG cannot run. To run it, ensure that you are using a 64-bit system.
How can you upgrade your Windows operating system from 32-bit to 64-bit? The only way is to reinstall the system. Note that system reinstallation may lead to data loss. Thus, before you do, it is better to back up your important files, especially items saved on the desktop and system partition.
Back up Files Before 32-Bit to 64-Bit Upgrade
For file backup, we recommend using the professional PC backup software, MiniTool ShadowMaker since it is designed to back up your files via imaging and syncing. It also offers you a feature to automatically back up your data. Just get its Trial Edition to have a try.
MiniTool ShadowMaker TrialClick to Download100%Clean & Safe
Step 1: Launch MiniTool ShadowMaker Trial Edition (free 30-day trial) to start.
Step 2: Go to the Backup or Sync interface, choose source and destination.
Step 3: Perform the backup task by clicking Back up Now or Sync Now.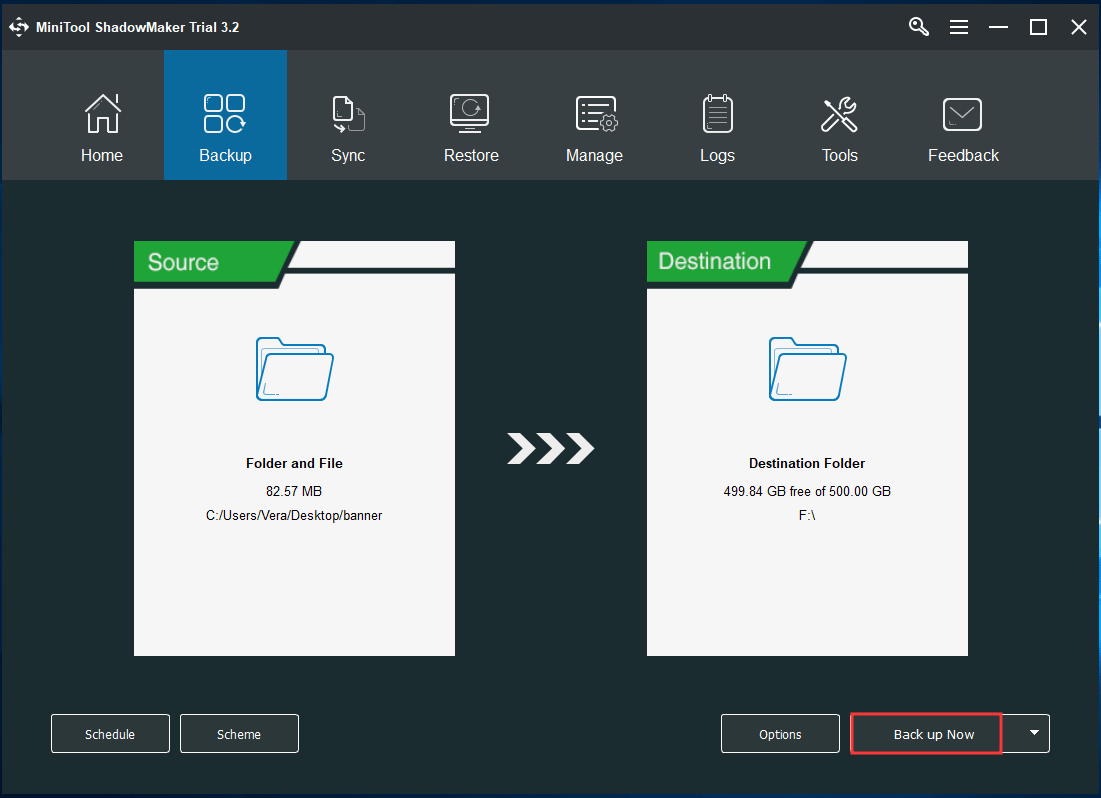 Upgrade 32-Bit to 64-Bit via Reinstallation
Then, you can perform the system upgrade. Just prepare an installation ISO file, burn it to a USB flash drive, boot the PC from the USB drive and start to install your system.
This post – How to Upgrade 32 Bit to 64 Bit in Win10/8/7 without Data Loss describes much information and here we won't talk about much.
Memory Is Less Than 8 GB
If RAM is less than 8GB, you should add a new memory to your computer. The following are some tips:
Check how much RAM your computer currently has installed.
Check how much RAM your computer and operating system can support.
See what RAM format your motherboard supports.
Determine the clock speed.
Purchase RAM modules in pairs.
Install RAM for your desktop or laptop.
To get more information, refer to this post  – How to Add RAM to a Laptop? See the Simple Guide Now.
Your Processor Can't Meet PUBG PC Requirements
If your processor module is under Intel Core i5-4430 or AMD FX-6300, PUBG fails to run on your computer. In this case, you only upgrade CPU to ensure the game can operate normally.
Follow the guide:
1. Choose a processor
Understand how processors and motherboards work.
Know your computer's limitations and find your computer's motherboard model.
Determine the type of processor socket used by your motherboard.
Find processors that match your motherboard.
Find a new motherboard to match your processor if necessary.
Buy your processor.
2. Install your processor
Turn off, unplug your computer and place your computer on its side.
Remove the side panel and locate the motherboard.
Remove the current heat sink.
Check your current processor's fit and remove the current processor.
Install your new motherboard if necessary.
Plug in your new processor and reinstall the heat sink.
Plug back in any unplugged components, reassemble and run your computer.
For more information, refer to this post – How to Upgrade a Processor.
Storage Is Less Than 30GB
If the drive where you install PUBG has less than 30GB, you should take some space for it from other partition if it has enough disk space. This partition manager – MiniTool Partition Wizard is worth trying since it can easily help you extend partition. Read this post – Two Ways to Extend Partition Windows 10 without Losing Data to know more.
Other Tips:
If your graphics card can't meet the PUBG PC requirements, upgrade it. Just search for how to upgrade the graphics card and follow the guide for this work.
If the DirectX version is lower, install a new version. Just resort to this article from Microsoft – How to install the latest version of DirectX.
After finishing one of these things or some things, now the machine meets all the PUBG PC requirements and you can play this game on your computer now.
In the following part, we will show you some PUBG requirements on other platforms. If you are interested in them, you can go on reading.
PUBG Requirements Android or iOS
In addition to playing PUBG on a PC, you can play this game on your Android or iOS devices. The game edition is PUBG Mobile.
For Android devices, recommended specs require you to have Android 5.1.1 or above and at least 2GB RAM. iOS devices should be iPhone 5S or newer, iPad mini 2 or newer, iPad Air or newer, iPad Pro or newer, iPod touch (6th generation), and iPad (5th generation) or newer.
PUBG Mobile Emulator System Requirements
Some of you may want to use PUBG Mobile on a PC but you should know this edition can only be used on Android or iOS devices other than a PC.
To meet your needs, some companies like Tencent offer a PUBG Mobile Emulator for PC so that you can play PUBG Mobile straight to your PC. Also, your PC also needs to meet the minimum requirements, as shown below:
OS: Windows 10, 8.1, 8 and 7
Memory: at least 3GB of RAM
CPU: Dual core from Intel or AMD at 1.8 GHz.
GPU: NVIDIA GeForce 8600/9600GT, ATI/AMD Radeon HD2600/3600.
DirectX: Version 9.0c
Storage: 1GB of free storage
Bottom Line
In this post, we give you much information about PUBG PC requirements including minimum requirements and recommended specs, how to do PUBG system requirements test, what to do when the PC can't meet requirements and some other related information.
If you have any suggestions or questions, you can leave your ideas in the comment section or contact [email protected].
PUBG PC Requirements FAQ
Can PUBG run on 4GB RAM?
PUBG can run with just 4GB of memory but the performance is not great. You can't run any program in the background. You should have at least 8GB RAM before playing this game.
Can PUBG run on 2GB RAM?
Actually, with 2GB RAM, it is impossible to boot into Battlegrounds without the game crashing. The answer is a resounding no.
How much RAM is required for PUBG PC?
The minimum memory requirement for PUBG is 8GB RAM. If possible, ensure you have 16GB RAM to run this game with good user experience.
Can I run PUBG on i3?
An i3 9100 and i3 8350K will run PUBG and a core i3 4170 may run the game. PUBG says it needs at least an i5 4430 but 4170 has a higher clock.