When choosing a NAS device, for example, QNAP vs Synology, you don't know which one to choose. Just see the guide on QNAP vs Synology and you can find the answer. Besides, it is recommended to use MiniTool Software to better protect your data.
NAS (Network Attached Storage) device is a file-level data storage device attached to a TCP/IP network, usually Ethernet, which enables you to retrieve data from centralized disk capacity. To learn more information about NAS, you can refer to this post - What Is NAS? Choose the Right Drive for NAS.
NAS devices are often used as home backup servers. It is better to buy a NAS and all computers on the network can be backed up to a NAS backup server rather than buying a USB external backup device for each computer in your home or office.
Now there are various brands of NAS servers in the market, such as QNAP and Synology. Both of them are famous. Maybe you don't know which one is better or which one to choose. Now, let this post help you to find the answer. To begin with, we will provide basic information about QNAP and Synology for you.
What Is QNAP
QNAP NAS is a device composed of one or more hard drives continuously connected to the Internet. QNAP can be your backup "hub", or storage unit for storing all important files and media like photos, videos, and music. You can put it at home and your family can use it anytime, anywhere.
What Is Synology
Synology NAS is created by Synology Inc. It centralizes data storage and backup, simplifies file collaboration, optimizes video management, and secure network deployment to facilitate data management. It can also be put at your home for daily use.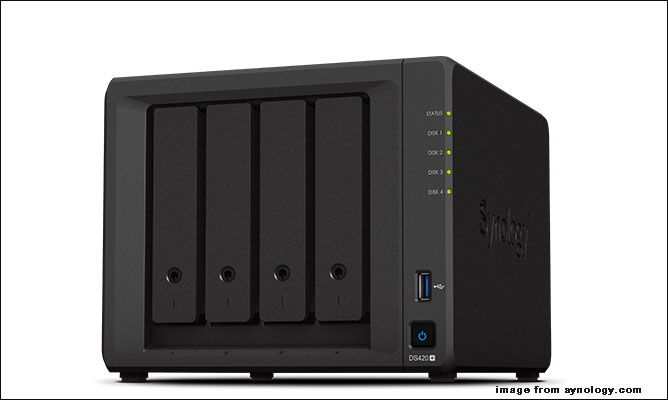 Then, we will introduce Synology vs QNAP for you.
QNAP VS Synology
QNAP VS Synology: Operating System
First, let's see Synology vs QNAP for the operating system. Both QNAP and Synology have their own desktop user interfaces packaged in a proprietary operating system. Of course, you can still access the NAS device in the traditional way (as a network drive) and via IP address from Windows, MAC, or Linux.
The main operating system of QNAP is QNAP Turbo Station (QTS), while Synology NAS devices' main operating system is Diskstation Manager (DSM).
QNAP spent several years, using Q​​NAP Turbo Station (QTS) to complete its NAS operating system. QNAP can provide you with technical information and you can configure and adjust QNAP. QNAP software provides more third-party applications, which means you can formally and informally install NAS applications, such as Kodi, Netflix, etc.
Over the years, DSM has evolved from a very basic file-level access platform to a powerful operating system that allows you to perform almost anything that a Windows or Mac operating system can do.
Synology vs QNAP: which one is better in the operating system? If you built your own PC and want to make a lot of modifications or you need a NAS capable of transcoding Plex requirements into multiple devices, then the QNAP NAS may be better for you. If you don't care much about technology, then Synology is an easy choice for you.
QNAP VS Synology: HDD and SSD Compatibility
Next, we will introduce QNAP versus Synology for HDD and SSD compatibility. All modern NAS server devices require SATA connected Hard Disk Drives (HDD) and Solid-State Drives (SSD) for installation. QNAP and Synology are compatible with HDD and SSD. You can use only 1 drive to set up and run QNAP or Synology NAS and add a second drive later.
Thus, in the aspect of HDD and SSD compatibility, they hit a tie.
QNAP VS Synology: SHR and RAID Configuration Options
The third aspect of QNAP vs Synology is the SHR and RAID configuration options. RAID can prevent data loss due to hardware failure on the installed hard drive or SSD. The SHR system allows you to introduce new drives of different sizes without causing instability and other problems.
Related article: Commonly Used Hardware RAID You Should Know
Synology not only supports traditional RAID systems, but also SHR systems. From the perspective of RAID configuration, Synology NAS units are superior. QNAP units can only support all traditional RAID systems that must be the same. If other drives are introduced, the traditional RAID system will treat them as the model drive with the lowest capacity.
In this aspect, the winner is Synology.
QNAP VS Synology: NAS File System
Most QNAP and Synology units use EXT 4 as the file system. But the top Synology NAS unit can use BTRFS as the default file system. In addition to having all the functions of EXT 4, it also supports background data integrity checking to speed up the establishment and reconstruction of RAID.
So far, QNAP has not adopted BTRFS as a file system on any of its models, but it offers ZFS on its advanced enterprise rack-mount equipment.
Since Synology uses EXT 4 and BTRFS as the file system, Synology is better than QNAP in this aspect.
QNAP VS Synology: File Access Permissions
Now, let's see QNAP vs Synology for file access permissions. Synology is more user-friendly in opening traditional common files, such as DOCX, PDF, AVI, MP3, etc. However, QNAP is more suitable for opening more uncommon or less mainstream files like MKV, GIF, and RAR.
QNAP has more third-party applications available and integrates them into its file manager and applications. It means that you can open these files directly on the NAS instead of downloading them locally first.
In conclusion, to decide which one is better in this aspect based on Whether you want to open the traditional or uncommon files. To open the traditional files, Synology is better. To open the uncommon files, QNAP is more suitable for you.
QNAP VS Synology: DLNA Media Servers
You need to use DLNA certified equipment to watch multimedia files on the Internet. You can play and watch media on Synology NAS, but only on devices with Internet or network access capabilities. So if you have more wireless settings, please consider using the Synology NAS.
QNAP NAS supports HDMI output, remote control, audio input/output. If you need one of them or all three functions together, you can choose QNAP NAS.
In this part, the winner is Synology.
QNAP VS Synology: USB Access
The USB port is usually not designed to connect the NAS to the host PC/Mac system. The USB port on Synology NAS is used to connect other storage devices, such as external hard drives, USB keys, etc.
You can check the Synology compatibility page on the Synology NAS of your choice, and then see what options are available. Most QNAP NAS also uses this method in terms of communication architecture and USB. Some QNAP devices are allowed to directly access NAS content via USB.
For USB access, although they have similar functions, QNAP is better than Synology since some devices can directly access NAS content via USB.
Which One to Choose
Now, you may wonder what to choose QNAP or Synology.
Although QNAP is usually more expensive than Synology, QNAP has more models in terms of CPU performance and several bays. Besides, QNAP is bundled with software for immediate access to a large number of software, including newer versions of core binaries.
Synology has more plasticity than QNAP. Besides, Synology support is better than QNAP. If this is for commercial use, this is very important. What's more, Synology's software quality control is much better and is usually always ahead of QNAP in terms of new features/functions.
If you are a technical expert and want to modify the NAS system, please use QNAP NAS. If you want your NAS to focus on user accessibility, you can choose Synology devices. All in all, choosing QNAP or Synology is based o your demands.
Back up Data to Your NAS
Whether you choose Synology or QNAP, your purpose is to back up files to it. To back up files to your NAS, the free backup software – MiniTool ShadoMaler is a great choice. It is a professional backup program that can be used to back up the operating system, disk, partition, file, and folder. Besides, it is a user-friendly program to protect your computer and data.
MiniTool ShadowMaker supports almost all storage devices that can be recognized by Windows, such as HDD, SSD, USB external disks, Hardware RAID, Network Attached Storage (NAS), Home File Server, and so on.
It is also a clone tool that can help you to clone the OS from HDD to SSD without data loss. So, besides creating a system image, you can also choose to clone the OS disk to another hard drive to safeguard your PC.
This backup software offers a Trial Edition that allows a 30-day free trial for all backup features. Now you can download and try MiniTool ShadowMaker to back up your PC.
Now, let's see how to back up files to NAS with MiniTool ShadowMaker:
Step 1: Launch MiniTool ShadowMaker and click Keep Trial to continue.
Step 2: Go to the Backup page after you enter its main interface. Then click the Source module to choose the backup source. Choose Folders and Files and choose the files you want to back up.
Step 3: Click the Destination module to continue. MiniTool ShadowMaker provides four destination paths to be chosen. Here, you can choose your NAS device as the destination. Here, you need to click the Shared tab. Click the Add new button, and type the path, user name, and password to connect your NAS device.
Step 4: After selecting the backup source and destination, you can click Back up Now to perform system backup immediately. Or you can click Back up Later to delay the process.
After all of the steps are finished, you have successfully backed up your files to the NAS device.
Bottom Line
In this post, we show you some information on QNAP vs Sinology and you know which one to choose. Besides, MniTool ShdowMaker can back up your important data to keep your PC safe.
If you have any other ideas or questions when using our software, don't hesitate to tell us by leaving a comment below or contacting our support team via the email [email protected]. We will reply to you as soon as possible.
QNAP VS Sinology FAQ
What are the best NAS for home use?
Synology DiskStation DS218+.
QNAP TS-251B.
Synology DS418play.
Are SSD drives good for Nas?
Although mechanical drives are the best choice for storing large amounts of data on the NAS, if you want to use more modern hardware, you can use the NAS SSD. The SSD can not only be used to store data, but it can also be used to improve NAS performance.
What is the difference between a NAS and SAN?
A SAN is a dedicated network of storage devices (which can include tape drive storage, raid disk arrays, etc.) that work together to provide excellent block-level storage. NAS is a single device/server/computing device but can share its storage over the network.