Seagate has two NAS devices designed for different purposes - Seagate Exos and IronWolf Pro. If you want to choose one of them but don't know which one is better, you can refer to this post. This post from MiniTool provides information about Seagate Exos vs IronWolf Pro.
Overview of Seagate Exos and IronWolf Pro
IronWolf Pro
The IronWolf Pro series is the high-end line of Seagate's IronWolf series. The entry-level options in the IronWolf line are good for home networking and even home computing use at the low end, and they're quite suitable for small business NAS needs at the high end.
However, to optimize its IronWolf series for small and medium business applications, Seagate has added special features to its IronWolf Pro series. For example, IronWolf Pro drives with storage capacities of 10TB and above feature cutting-edge helium filling technology.
Seagate Exos
The Exos series is an upgraded version of the IronWolf Pro series. However, unlike only a few drives in the IronWolf Pro line that are filled with helium, every drive in the Exos line is filled with helium.
The Seagate Exos is a high-performance, helium-based hard drive designed for creative professionals. This means it can hold more data and access it faster than a traditional drive.
Seagate Exos vs IronWolf Pro
Seagate Exos vs IronWolf Pro: Hardware Specifications
First, we will introduce Seagate Exos vs IronWolf Pro for hardware specifications.
Seagate Exos
The Seagate EXOS series, while often compared and similar to the Seagate Ironwolf due to its server design and deployment, is a drive more focused on heavy, heavy workloads. The Seagate Exos has a 550TB workload limit (TBC), choice of SATA or SAS interface, 7200 PMR (Perpendicular Magnetic Recording), and 2.5 million hours of MTBF (Mean Time Between Failure). You can also choose the Self-Encrypting Drive (SED) version that features FIPS support (government-grade encryption).
IronWolf Pro
The IronWolf Pro is an enterprise-class data center hard drive. These drives are designed for data center servers and high-capacity SATA, SAS, or NVMe applications where performance, endurance, and reliability are key requirements. The largest version of the IronWolf Pro has a maximum capacity of 16TB while it spins around 15,000 PMR.
Seagate Exos vs IronWolf Pro: Pros and Cons
Next, let's see IronWolf Pro vs Seagate Exos for pros and cons.
Seagate Exos
Advantages:
Unlimited Potential: Since the Seagate Exos series is compatible with any number of drives, the number of Seagate Exos drives you can combine in a single NAS is only limited by the number of bays in the server.
Great Responsiveness: Seagate Exos drives are among the fastest on the market, and they're designed to be extremely durable.
Disadvantages:
Cost: The price of Seagate Exos is a little high. However, the value provided by the Exos series drives outweighs the cost.
IronWolf Pro
Advantages:
Adaptability: While the hard drives in the IronWolf Pro series may be out of the price range of the average consumer, they are well-suited to the needs of hobbyist data enthusiasts. They represent the perfect choice for small to medium business NAS applications.
Data Recovery: When you purchase one or more IronWolf Pro drives, you don't need to worry about investing in additional data recovery services.
Hard Drive Health: IronWolf Pro hard drives come pre-configured with a hard drive health application that automatically pinpoints and resolves potential hard drive problems before they become serious problems.
Disadvantages:
Limited Applications: If you feel that your business is likely to experience significant growth before your drives fail, you may want to avoid the IronWolf Pro Series. Since these drives are only compatible with up to 24 bays, if you want to exceed that hard cap, you'll need to invest in a new NAS system.
Seagate Exos vs IronWolf Pro: Other Aspects
At last, we will introduce Seagate Exos vs IronWolf Pro on other aspects.
Workload optimization: Also known as multi-user optimization, workload optimization is the amount of data the drive is rated to process per year. The drives in the Exos series can handle up to 550TB of reads and writes per year, but the IronWolf Pro series is only rated at 300TB per year.
Data Recovery Services: Seagate provides data recovery services. If your drive fails under warranty, they will do their best to recover the data on that drive. While IronWolf Pro drives come with data recovery protection by default, data recovery for Exos series drives is optional.
Mean Time Between Failure (MTBF): This metric measures the mean time for a drive to fail. The MTBF of the IronWolf Pro series is 1.2 million hours and the MTBF of the Exos series is 2.5 million hours.
Bay Support: If you purchase IronWolf Pro drives, you can use up to 24 of these drives in a single NAS unit. On the other hand, the maximum bay support for the Exos series is unlimited.
NAS Optimization Technology: Seagate equips its drives with firmware that enables them to run smoothly in NAS systems. The IronWolf Pro series is equipped with AgileArray technology, but the Exos series has an updated enterprise optimization framework.
RAID Optimization: Since the IronWolf Pro series can only be used with 24 other drives, the Exos series is better suited for RAID applications. However, either drive type is suitable as long as you don't have more than 24 drives in your RAID setup.
Manufacturing differences: While the drives in both the IronWolf Pro series and the Exos series have 8 platters and 16 heads, they use different types of recording heads. They both use perpendicular magnetic recording platters, but the latest Exos drives feature two-dimensional magnetic recording (TDMR) heads that provide fast read performance on thin platters. On the other hand, the drives in the IronWolf Pro series use Shingled Magnetic Recording (SMR) heads, which are not as effective or efficient as newer TDMR heads.
Cache Type: The IronWolf Pro series uses a write-back cache strategy, which is an outdated and inefficient form of caching. On the other hand, the Exos series uses a write-through strategy, which is more efficient and ensures that cache lines are always kept clean. As a result, the Exos series can read and write data faster than the IronWolf Pro series, while also helping to keep the drive healthy.
Which One to Choose
After getting information about Seagate Exos vs IronWolf Pro, now you may wonder which one to choose.
If you want more storage, the Seagate Exos is a better choice. It comes with a five-year warranty and offers more protection than the Ironwolf Pro. However, if you need flexibility, especially when it comes to speed, then go for the Ironwolf Pro, as it can handle heavy workloads with ease, while also delivering great performance during streaming tasks like watching movies or listening to music.
How to Back up Data to Seagate Exos or IronWolf Pro
Whether you choose Seagate Exos or IronWolf Pro, you may want to transfer your system to the new hard drive. To do that, you can try MiniTool ShadowMaker. It is an excellent computer backup software, which is compatible with Windows 11, 10, 10, 8, 8.1, and 7. With it, you can back up files, folders, disks, partitions, and systems to an image file within a few clicks. 
Right now, connect Seagate Exos or IronWolf Pro which has enough disk space to your computer. Dwnload and install the Trial Edition of MiniTool ShadowMaker from the following button to start to clone the system or directly use its Professional Edition for cloning. You need to notice that don't install the software on Seagate Exos or IronWolf Pro.
Step 1: Now, double-click on the program icon and then enter the main interface. 
Step 2: Then, perhaps you will ask where the cloning feature is. Please navigate to the Tools tab located in the toolbar, and then click the Clone Disk module to start to clone your system to the new hard drive.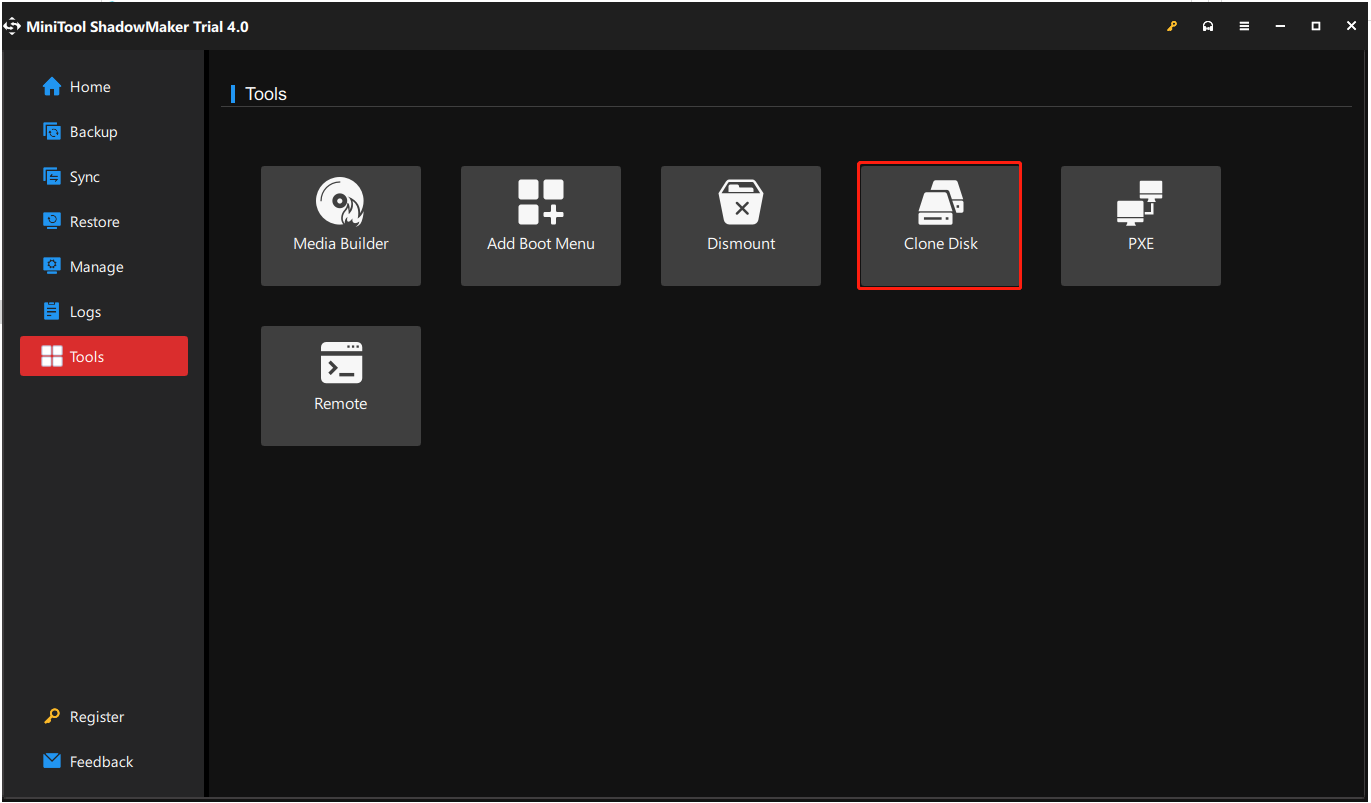 Step 3: Then, you need to choose the source disk. MiniTool ShadowMaker allows cloning a system disk or a data disk to another hard drive. Select the hard disk you have connected to your PC as the target disk to save the copy.
After the selections, Click OK to continue. A warning will appear, saying all target disk contents will be deleted. Well then, ensure that no important files are saved on the SSD or use MiniTool ShadowMaker to make a backup of the data on destination at once.
Step 4: On the process page, all the information about the cloning will be listed including the source disk, destination disk, cloning elapsed time, and remaining time. If you don't have time to wait until the success of the task,  click the button Shut down the computer when the operation is completed in advance and you can leave. Conversely, please wait patiently.
Tip: After some time, the copy operation will finish. Then, you will receive some information as shown below: please remember to disconnect either the original hard drive or the target hard drive. Once both the original and target disks are connected to the computer, Windows will mark one disk as offline.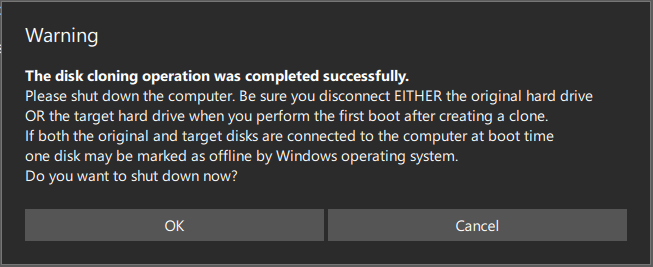 Bottom Line
Now, do you have a better understanding of Seagate Exos vs IronWolf Pro? If you have different opinions on Seagate Exos vs IronWolf Pro, please don't hesitate to share them with us.
If you have encountered any issues when using MiniTool ShadowMaker, you can leave a message on the following comment zone and we will reply as soon as possible. If you need any help when using MiniTool software, you may contact us via [email protected].