When choosing an antivirus program, for example, Sophos or Avast, you don't know which one to choose. It is not a difficult job. Just see the guide on Sophos vs Avast and you can know the answer. Besides, how to protect your computer (except using antivirus) is also introduced here by MiniTool.
As you know, viruses and malware are always threats to your computer. Once they attack the system, this may cause irreparable damage, for example, your personal data including bank or credit card information is stolen.
To protect the PC against viruses and malware, an excellent antivirus program is helpful. You can use it to scan for the entire system and remove threats if it finds some. According to stats, no matter how careful you are when using the internet, your privacy and data are always at risk without a reliable antivirus software.
Well then, here comes a question: which antivirus program should be used? To be specific, Sophos vs Avast: which one is the better choice? In this post, we will make a comparison and help you find the answer to this question.
Overview of Sophos and Avast
Before learning the differences between them, let's first know some basic information about Sophos and Avast.
Sophos Antivirus
Sophos Group plc is a British security software and hardware company that primarily focuses on providing security software to organizations. Also, Sophos offers protection to home users through free and paid antivirus solutions (Sophos Home Free and Premium).
Sophos antivirus is the experts' choice for cybersecurity since it can easily protect against viruses, malware, privacy invasions, ransomware, and more. It can be used to protect your Macs, PCs, and Android and iOS devices well.
Avast Antivirus
Avast is one of the commonly used antivirus programs and it offers complete protection (defenses against viruses, malware, zero-day threats, ransomware, home Wi-Fi network vulnerabilities, and more) for all your devices including Macs, PCs, iOS, and Android devices.
After knowing what Sophos and Avast are, now let's see what the differences between them are from the following part.
Avast VS Sophos: Which One Is Better?
In this section, we will compare these two antivirus programs in 6 categories – features, malware protection, system performance, user-friendless, and pricing.
Sophos VS Avast: Features
When choosing an antivirus, the first thing you should consider is what useful features it can bring.
Sophos
Sophos only has two suites for home users including a free and paid edition – Sophos Home Free and Sophos Home Premium.
The free edition supports AI threat detection (it can protect against new and developing viruses, malware, bots, trojans, worms, unwanted apps, and more). It offers comprehensive real-time protection and supports parental web filtering (you can control the web content your children can access on a computer).
Besides, it offers web protection – blocks bad or compromised websites and phishing sites to ensure safe browsing, shopping, and banking. Additional browser security is added and it can automatically scan your downloads. Also, Sophos Home Free allows you to remotely manage security. Up to three devices are supported by this edition.
Except for these features offered by the free edition, Sophos Home Premium also supports malware scan & clean, privacy protection (stop anyone from spying on you through webcam or microphone), ransomware security (protect your valuable data from being encrypted), premium support, etc. You can use it on up to 10 devices.
To get more information about Sophos, visit this website.
Avast
Like most companies, Avast has a free antivirus suite and it is Avast Free Antivirus. It can be used to detect and remove malware with limited features but it doesn't come with several advanced features.
The paid protection starts with Avast Premium Security that has two editions – Single-Device and Multi-Device. You can use the Premium Security Edition to scan for Wi-Fi security weaknesses, destroy previously deleted files, stop criminals from stealing your passwords and banking info, perform Sandbox text for any app, block viruses and other malware, offer an advanced firewall, etc.
Antivirus Ultimate is a top-notch product that has all the features and utilities mentioned above. Also, it offers more advanced features like Avast SecureLine VPN (encrypt your Internet connection for safe and private browsing) and Avast Cleanup Premium (remove hidden junk).
To know more information about Avast, visit its official website.
All the Avast products above are only suitable for Windows PCs. If you are a Mac user, you need to use its professional product – Avast Security for Mac. It offers two editions – free and premium.
In terms of Sophos vs Avast in features, the winner is Avast since it offers more editions with more advanced features and utilities.
Sophos Antivirus VS Avast: Malware Protection
Malware protection is an important factor when you choose antivirus software. If it cannot protect your computer from various types of threats, it is not worth your money.
To know which program is the winner in this category, let's see the unbiased evaluation conducted by the AV-Test Institute.
When going to the website from this company, you may find the recent tests don't include Sophos but find it from the All tested manufacturers section. When clicking the icon, you see this company only made 3 tests for Sophos in 2011 and the score is only 4 in malware protection. This indicates Sophos is poor in its malware defense capabilities.
But you can find AV-Test Institute tests Avast every two months. In the August 2020 test, Avast got a perfect 6 out of 6 scores. This reflects its excellent malware defense capabilities.
In conclusion, you know Avast is the winner in malware protection.
Sophos VS Avast: System Performance
Another critical aspect of a reliable antivirus software is that it can perform all the features without affecting the system performance.
To know which one is better in this aspect, you can also find the answer from the test made by the AV-Test Institute. In the AV-Test's August 2020 Performance evaluation, Avast clinched a 5.5 out of 6 scores while Sophos wasn't among the participants in this test.
It can be seen that Avast is also the winner in system performance.
Avast VS Sophos: User Interface
If an antivirus program has a friendly and visualized user interface, perhaps you will choose it. Now let's see the user interface of Sophos and Avast.
Sophos offers a minimalistic interface. After launching this software, you find it offers some options. When clicking some options, you are brought to a website. Actually, Sophos is largely managed through a web-based interface. If you want to manage your devices in your house, the interface is extremely useful.
When launching Avast, you find its interface is intuitive and straightforward. From the left side, you see four options – Status, Protection, Privacy, and Performance. If the computer is vulnerable to any malware threat, you can see the green mark in the Status section. On the contrary, it shows the red mark.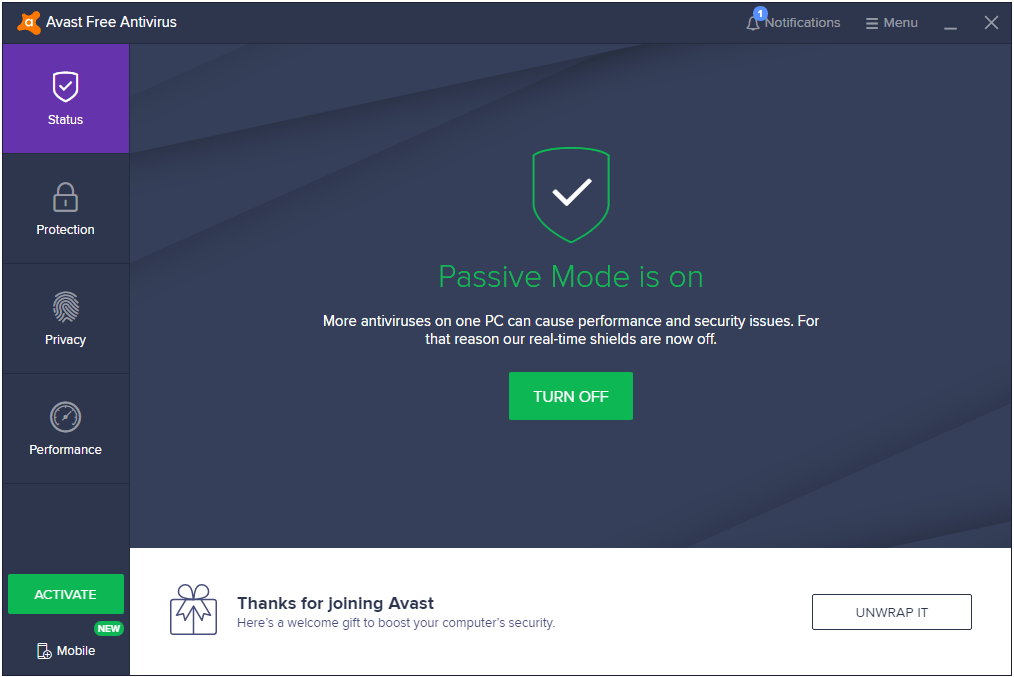 In conclusion, both of them offer a simple and intuitive interface. With a few clicks, you can access all primary options. In our opinion, they fight to a draw.
Sophos VS Avast: Pricing
Sometimes the product pricing is a major factor that determines the transaction. You may not buy a very expensive antivirus program even though it has advanced features. So, let's make a comparison in pricing.
Avast
| | | |
| --- | --- | --- |
| Premium Security Single-Device | $69.99/year | 1 PC |
| Premium Security Multi-Device | $89.99/year | 10 PCs |
| Avast Ultimate | $99.99/year | 1 PC |
| Avast Premium Security for Mac | $69.99/year | 1 Mac |
Sophos only has one paid version – Sophos Home Premium (10 devices). For a one-year license, the pricing is $45.
From this section, you know the winner is Sophos. Although Avast offers more advanced features, Sophos can protect more devices at a much lower price.
Conclusion
Now we have finished the comparison of Sophos and Avast. Then, let's go back to the questions: is Sophos better than Avast? Which one should you choose to protect your computer?
Generally speaking, Avast is better than Sophos since Avast not only offers more advanced features but also receives excellent scores in malware protection and performance evaluation. Besides, Sophos doesn't participate in recent tests. And the only superiority of Sophos is the price since you can protect more devices at a lower price.
So, it is easy to choose the antivirus program. Just choose one depending on your needs.
"Sophos vs Avast: which one is better? You can find the answer after reading this post. Also, you can share it with your friends on Twitter to help more persons."Click to Tweet
Back up Your Computer (Suggestion)
In today's network age, cyber-attack, viruses, malware, ransomware, and more always threaten your computer. Once your system is attacked, your important data may get lost or the system crashes.
Only having antivirus software to protect your computer is not enough. You can take some other measures to keep the PC safe and one of them is to back up your computer. You can create a system image beforehand or regularly back up important files. Once the system accidents or data loss happen, you can restore it to a normal state or get lost files back.
How can you back up your computer? It is easy to do this work if you use a piece of professional backup software. Here we strongly recommend using MiniTool ShadowMaker. It can be used to back up system, files, folders, disks, and partitions, as well as sync files and clone disk. Automatic backup, incremental and differential backup are also supported.
So, don't hesitate to download and install it on your computer to start a computer backup.
MiniTool ShadowMaker TrialClick to Download100%Clean & Safe
Step 1: Launch MiniTool ShadowMaker to the main interface.
Step 2: Choose the backup source and backup destination under the Backup page. By default, it backs up the Windows operating system. To back up files, click Source > Folders and Files to choose. Then, specify a path to store the backup.
Step 3: Click Back up Now to start the backup at once.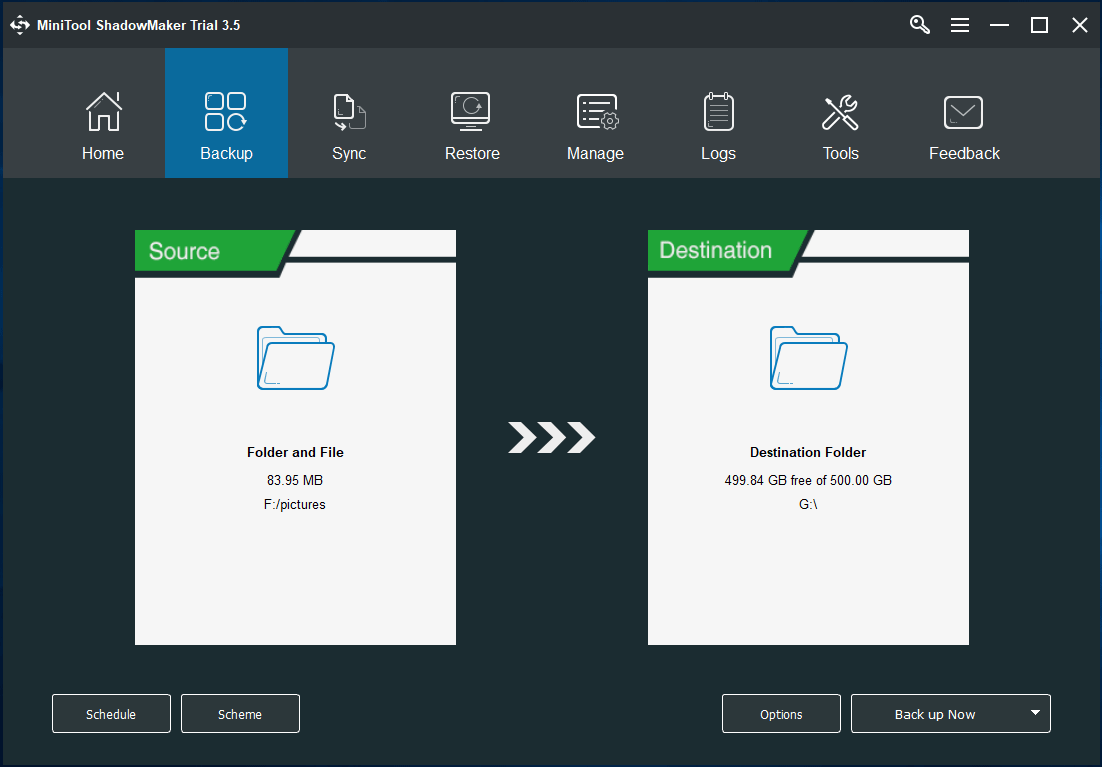 Bottom Line
In this post, we show you some information on Sophos antivirus vs Avast and you know which one to choose. Besides, a suggestion is given to you to keep your PC safe.
If you have any other ideas or questions when using our software, don't hesitate to tell us by leaving a comment below or contacting our support team via the email [email protected]. We will reply to you as soon as possible.
Sophos VS Avast FAQ
Is Sophos a good antivirus?
Sophos is one of the good antivirus programs and you can get its free edition to have a try.
Is Sophos better than Norton?
Is Avast a good antivirus?
Of course, Avast is a good antivirus program and it always gets a high score in tests from AV-Test Institute.
Will Sophos remove malware?
When running Sophos antivirus, it can identify and remove malware from your computer to keep it safe.