There's nothing more frustrating than encountering computer boot failures like PC stuck on gigabyte screen. Don't worry! This issue is not as hard as it seems. In this post on MiniTool Website, you can find some simple approaches to overcome it.
PC Stuck on Gigabyte Screen
PC stuck on gigabyte screen is one of the most common boot issues that you might run into. Why does it occur? There are several potential causes:
Incorrect boot order – If the BIOS configurations are incorrect, computer will get stuck on the splash screen.
Power supply malfunctioning – The power supply or the power cable is not functioning properly.
Faulty peripherals – some peripherals might be conflicted.
Hardware issues – There are some problems with the motherboard, CPU, RAM or other hardware components.
In the second part of this guide, we listed some useful fixes for PC stuck on gigabyte screen. You had better try these methods in order until your problem gets fixed.
How to Fix PC Stuck on Gigabyte Screen?
Fix 1: Restart Your Computer
A simple restart of your computer might fix most temporary and minor BIOS read errors. Therefore, you can try this method to see if it helps to load the correct settings and boot successfully.
Fix 2: Boot Your PC without Connecting the Peripherals
Some external peripherals like the external storage device, mouse, printer, webcam, scanner and more might conflict with your system and trigger PC stuck on gigabyte screen. Follow these instructions to reboot your computer without connecting any peripherals:
Step 1. Press and hold the power button until the computer powers off.
Step 2. Disconnect all the peripherals from your computer.
Step 3. Press the power button again to boot your computer. If your computer boots up without any error, you can connect the peripherals one after another to identify the conflicted device.
Fix 3: Check the Boot Order
If the boot order of your system is wrong, you are also likely to receive PC stuck on gigabyte screen. In this case, you must enter BIOS and change the settings to reset the boot sequence. Here's how to do it:
Step 1. Restart your computer > press the Del key when starting up the PC > press F8 and then you can enter the Dual BIOS settings.
Step 2. Use the arrow keys on your keyboard to locate the boot order and set your hard drive as the boot device.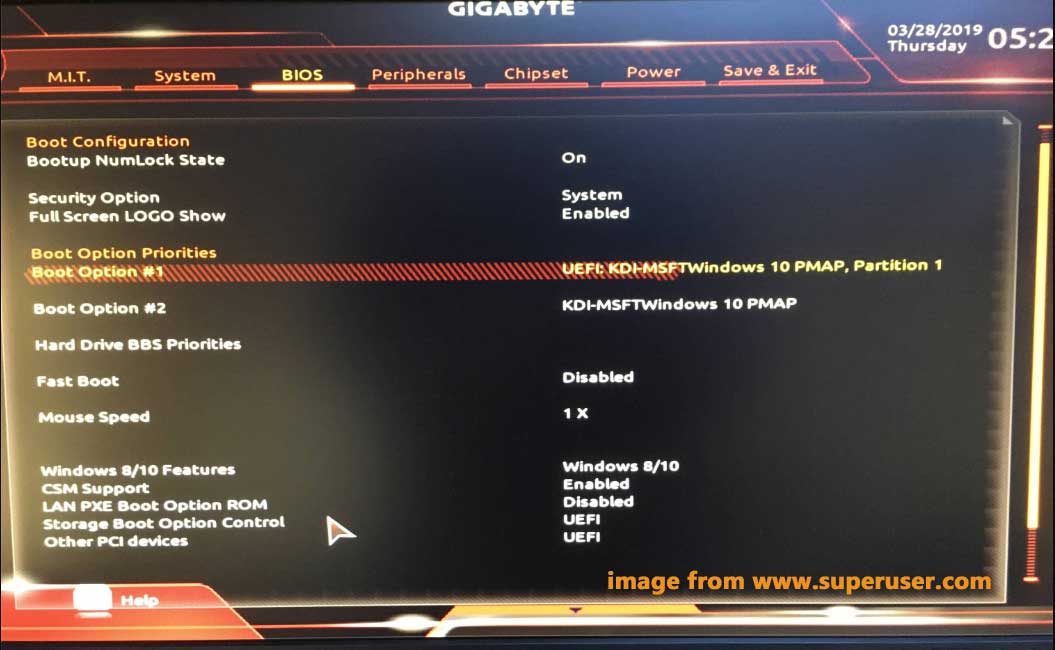 Step 3. Press F10 to save the settings and reboot your computer again.
Related article: GIGABYTE BIOS Key & How to Enter GIGABYTE Motherboard BIOS
Fix 4: Clear the CMOS
Clearing the CMOS also helps to solve any errors related to BIOS by reverting the BIOS settings back to the factory defaults. Follow these steps:
Step 1. Press and hold the power button until your computer powers off.
Step 2. Unplug the AC power cord from the power supply and open your computer case cover.
Step 3. Find the CMOS battery on the motherboard and remove it.
Step 4. Wait for about 5 minutes and then reinsert the CMOS battery.
Step 5. Connect the AC power cord to the power supply and turn on the PC to see if PC stuck on motherboard screen is fixed.
Fix 5: Check the RAM
System memory is also a common cause of PC stuck on gigabyte screen. Here's how to check the RAM.
Step 1. Open the system unit and locate the RAMs on the motherboard.
Step 2. Remove the RAMs and clean them.
Step 3. Insert a RAM at a time when trying to boot each time. If your computer cannot boot with certain RAM, you need to replace it.
Fix 6: Perform Automatic Repair
When you encounter computer boot failures like PC stuck on gigabyte screen, you can make use of Windows Automatic Repair. This tool is designed to solve computer booting issues by scanning system files, Registry settings, configuration settings and more.
Step 1. Create a bootable USB drive on another computer that can work normally.
Step 2. Plug the drive to the problematic computer and enter the BIOS menu to choose to boot from the USB drive.
Step 3. Boot your computer from this drive. Enter your language and other preferences and click on Next to continue.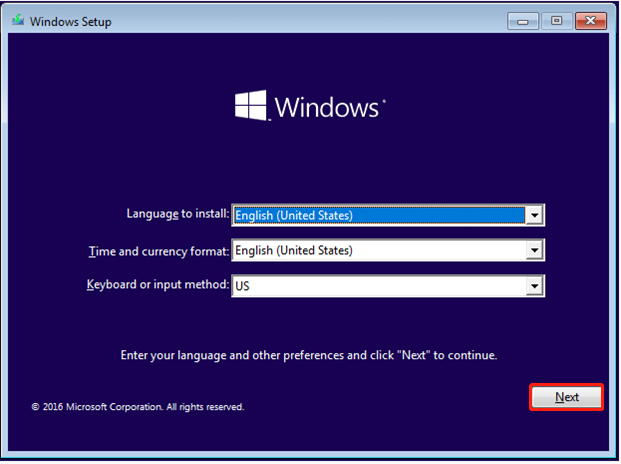 Step 4. Click on Repair your computer > Troubleshoot > Advanced options > Automatic/ Startup Repair and then the tool will start to diagnose and handle PC stuck on gigabyte screen issue for you.
Suggestion: Back up Your PC with MiniTool ShadowMaker
You have to try the solutions above one after another since the accurate cause of PC stuck on gigabyte screen is not clear. What if you suffer from similar problems in the future? Will you repeat the same procedure as you do this time?
Why not try another easy way to fix such issues? You can create a backup of your computer before the boot issues or other systematic glitches appears. When it comes to backing up system, a free backup software – MiniTool ShadowMaker stands out from others. It provides you with a one-click system solution, that is to say, backing up your system with only a few steps. To do so:
Step 1. Download this free tool and run it. Click on Keep Trial and go to the Backup page.
Step 2. In this page, you can see your operating system is selected by default in SOURCE, so you only need to choose a storage path for the backup image in DESTINATION.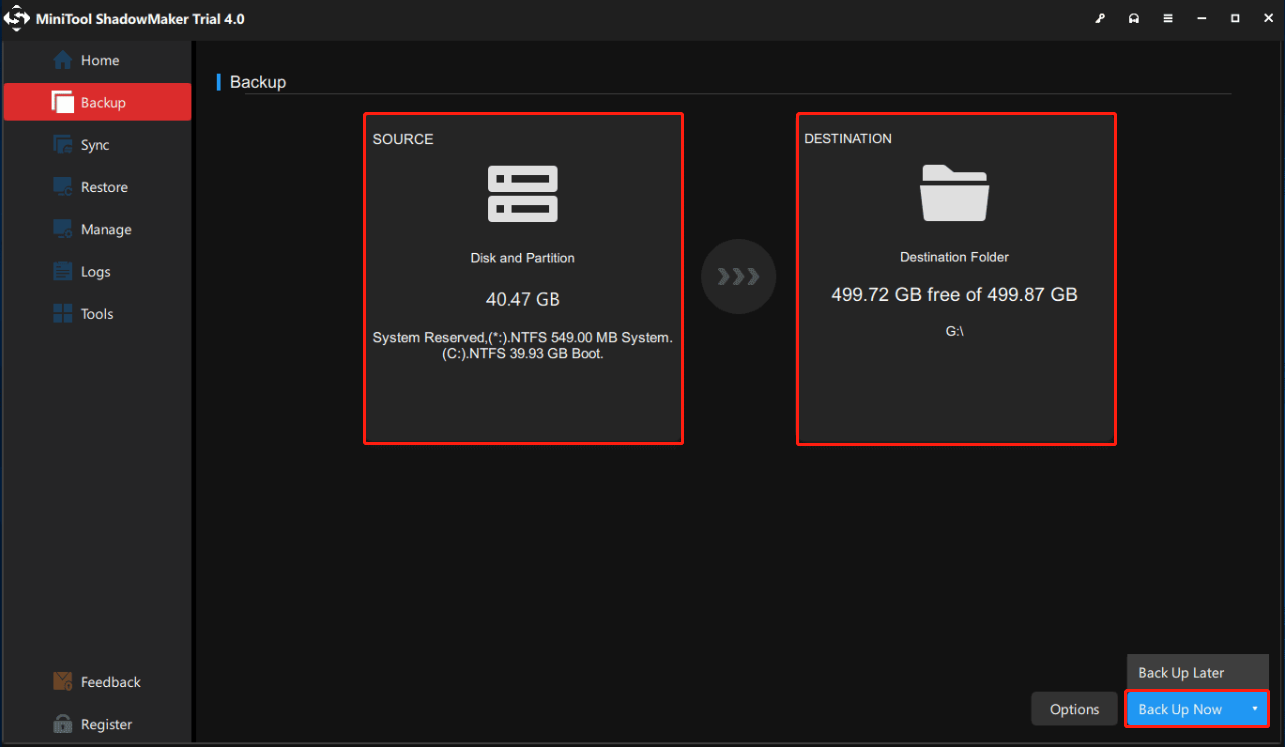 Step 3. Click on Back Up Now to start the process.
After the process is done, you need to create a bootable disk with this tool: go to Tools > Media Builder > WinPE-Based media with MiniTool plug-in > USB Flash Drive. When your system fails to boot, you can boot it from this USB flash drive and perform recovery with it.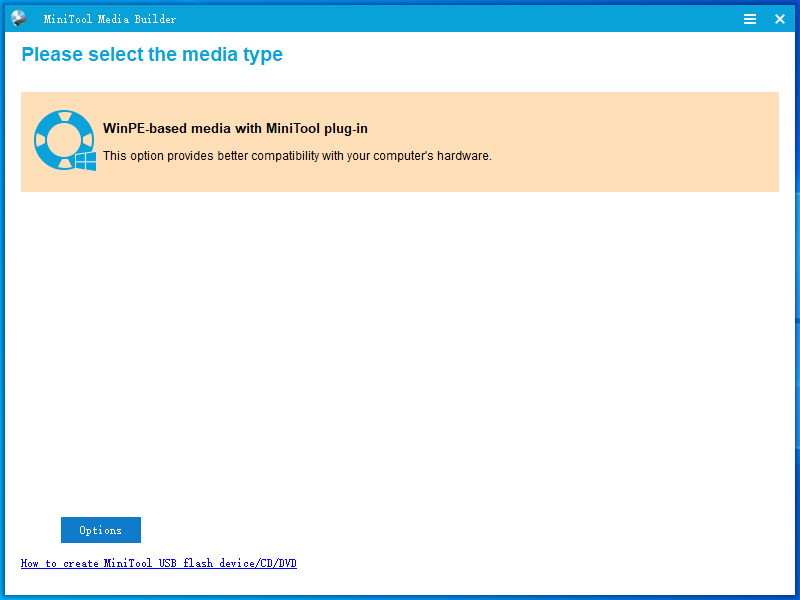 We Need Your Voice
You will never be afraid of PC stuck on gigabyte splash screen because you know what to do when confronted with it again. All the guidelines above are practical and easy to follow. If you have queries about our software, any feedback is welcomed. You can tell us in the comment zone or send us an email via [email protected].