Why does taskeng.exe keep popping up? Is taskeng.exe a virus? How do I get rid of taskeng.exe popup? If you wonder about these questions, you come to the right place. In this post,
MiniTool
will introduce much information about taskeng.exe and the popup fixes.
Taskeng.exe Popping up Windows 7/8/10
For many Windows 7/8/10 users, the random taskeng.exe popup is an extremely annoying problem since it always interrupts user activity. Usually, the popup is blank or it shows a short message saying a certain executable could not be found.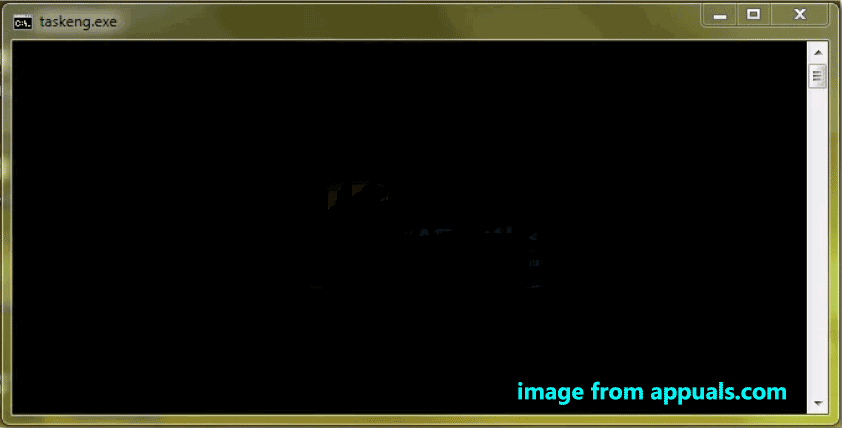 Why does taskeng.exe keep popping up? See the main reasons for the popup:
Windows registry keys related to taskeng.exe are corrupted.
Files currently in use by taskeng.exe are modified or removed.
A virus disguises itself as the taskeng executable file.
Well then, what is taskeng exe? Is taskeng.exe a virus? Before we show the solutions to the taskeng exe popup, let's take a look at these two aspects to help you analyze it.
Overview of Taskeng.exe
Taskeng.exe is the process known as Task Scheduler Engine which is an essential part of the Windows operating system. This taskeng.exe process plays an important role in system task scheduling.
That is, it allows the Windows system to call up certain programs, scripts, or tasks at specific times or after prescribed periods. For example, you can configure the PC to turn off automatically, run a regular antivirus scan, etc. via task scheduling.
The taskeng.exe file is located in C:\Windows\System32 and it is signed by Microsoft Corporation.
Is Taskeng.exe a Virus? Check Carefully When Taskeng.exe Popping up
When reading here, you may ask: is taskeng.exe process a virus? As mentioned above, taskeng.exe is an executable file in Windows 7/8/10 (it may be not installed on old Windows 10 versions) and the file itself is safe. But in some cases, this file can damage your computer since it can be a high target for malware created by cyber criminals.
Like other important system files with enhanced permissions, it can be disguised by many malicious programs to infect your machine. To be specific, criminals deliberately give their malicious processes the same file name to escape detection.
If you are also running into taskeng.exe issues like taskeng.exe keeps popping up, be careful to check if it is a virus. See three common cases:
If you see a blank window, there is a high chance that the taskeng.exe file is infected.
If taskeng.exe is popping up an error message saying Windows cannot find this file, ensure the file name is correct and then try again. If you type correctly, malware probably infects your computer.
If the taskeng.exe popup shows you the location – C:\Windows\System32, this file is safe and not malicious.
You can manually check if the taskeng.exe file is in the correct location:
Step 1: Right-click on the taskbar and choose Task Manager.
Step 2: Under the Processes tab, locate the taskeng.exe process and check Command Line. It should be C:\Windows\System32\taskeng.exe. Or you can right-click on this process and choose Open file location to have a check. If the path isn't C:\Windows\System32, it is the source of your malware infection.

Taskeng.exe Fixes Windows 7/8/10
The frequent popup is so frustrating whether it is the Windows process or malware trying to damage your PC. Well then, how can you get rid of taskeng exe popup from your computer? It is simple as long as you try the methods below. Let's go through them now.
Perform a Full Virus Scan
As previously mentioned, taskeng.exe popping up may be triggered by malware. When you browse some dubious links or install a certain extension, the malicious programs may invade your PC and trigger some tasks to run frequently like the taskeng.exe window. To fix the issue when taskeng keeps popping up, you can scan the entire system and then do a virus removal.
To do this work, run a professional antivirus program. In Windows 10, you can run the built-in Windows Security (also called Windows Defender) by going to Settings > Update & Security > Windows Security. Then, click Virus & threat protection and click Quick scan to start a scan right now. Or click Scan options > Full scan > Scan now to perform a full scan.
If you meet the issue of taskeng.exe popping up in Windows 7, you can use a third-party antivirus software like Malwarebytes to scan the entire system for viruses and malware and remove them. Some users recommend using Microsoft's other scan tool to find and remove malware from Windows computers and it is Microsoft Safety Scanner.
Disable Problematic Tasks
Microsoft and other third-party programs run some tasks to improve the experience when using them. These tasks are scheduled to look for security updates, update something from the Internet, and more. But taskeng.exe can appear again and again in Windows 7/8/10 if these programs cannot obtain the required information.
To remove the taskeng popup, disable some common problematic tasks.
#1. Disable User_Feed_Syncronization
According to users, it is useful to delete the random taskeng.exe popup after disabling a hidden task in Task Scheduler. And User_Feed_Synchronization is such a task that is responsible for updating the RSS feeds in Internet Explorer. See how to disable this task by following the instructions:
Step 1: Press Win + R to open the Run window and type taskschd.msc to the text, then click OK to open Task Scheduler.
Step 2: Right-click on Task Scheduler Library on the left pane and choose View from the context menu, then check the box of Show Hidden Tasks.
Step 3: Go to the middle pane and find the User_Feed_Synchronization entry based on the name.
Step 4: Choose this task and click History. If you find many error reports here, taskeng.exe popping up may be caused by this entry. Just right-click on this task and choose Disable. Or click the Disable button from the right pane.
If this way cannot fix the taskeng.exe popup, try the other ways below.
#2. Disable OfficeBackgroundTaskHandlerRegistration
Some users who meet the situation of taskeng.exe popping up may find that the odd behavior sometimes comes from Microsoft Office and there is a Get Office icon that auto-installs. To fix this issue, go to disable this task in Task Scheduler.
Step 1: Open Task Scheduler by following step 1 in the above way.
Step 2: Expand Task Scheduler Library, go to Microsoft > Office.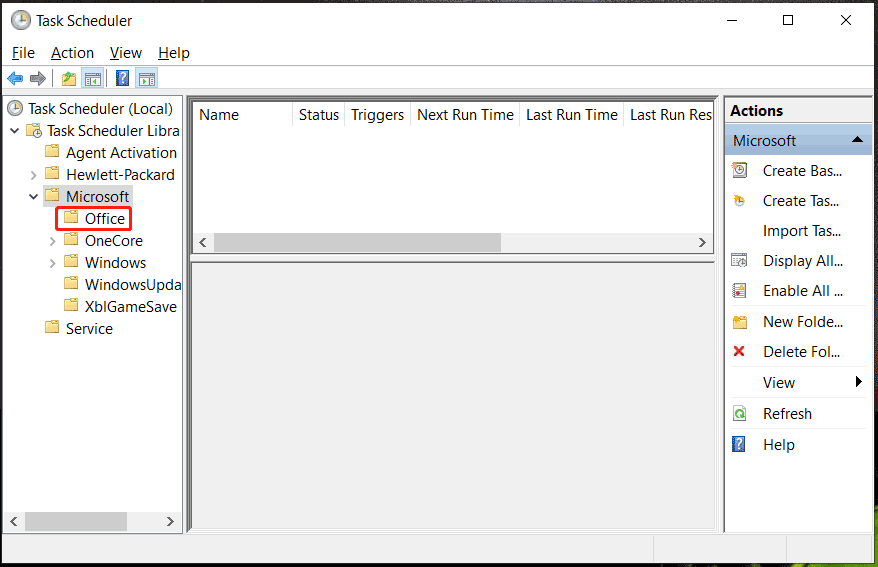 Step 3: Locate the OfficeBackgroundTaskHandlerRegistration entry from the right pane.
Step 4: Right-click on this task and choose Disable.
Step 5: Also, find OfficeBackgroundTaskHandlerLogon and disable it.
Tips:
In addition to disabling User_Feed_Synchronization, OfficeBackgroundTaskHandlerRegistration, and OfficeBackgroundTaskHandlerLogon, some users recommend disabling the OfficeBackgroundTaskHandlerLogon entry in Task Scheduler. Just click Task Scheduler Library and find this item in the center pane, then disable it.
Remove Failing or Suspicious Tasks
As we mentioned previously, the taskeng.exe programs run to get or update information for the scheduled tasks. But taskeng keeps popping up randomly if some tasks fail or frequently run in the background during the process. In this case, you should remove them from Task Scheduler or delete the suspicious tasks.
#1. Look for Pending or Failing Tasks in Task Scheduler
Task Scheduler will try to restart it if a certain task fails, as a result, the issue of taskeng.exe popping up appears. Thus, go to check if there is a pending or failing task in Task Scheduler at that time and disable it.
Step 1: Launch Task Scheduler and show hidden tasks.
Step 2: Go to Task Status in the center pane, choose the period and then see if there are pending or failing tasks. If yes, match the time stamp with the time when the taskeng.exe window appeared. Then, end the problematic tasks.
#2. Use Autoruns to Remove Suspicious Tasks
The computer can automatically run multiple tasks, thus, it is hard to find problematic or suspicious tasks. Fortunately, Windows offers its own program to track starting programs to look for these tasks and you can stop or disable them. See how to do this thing:
Step 1: Go to the website from Microsoft – https://learn.microsoft.com/en-us/sysinternals/downloads/autoruns and then click Download Autoruns and Autorunsc to get a .zip folder.
Step 2: Unzip the folder with WinRAR, WinZip, 7-Zip, or another archiver tool and run Autoruns.exe.
Step 3: Click Scheduled Tasks, go to check tasks from a non-system publisher or find tasks that seem risky, and uncheck them.
After that, restart your PC and see if the task.exe window won't pop up randomly.
Tips:
In addition to these solutions to fix the taskeng.exe popup, you can try some other methods mentioned by some users – run SFC and DISM scans, perform a clean boot, and delete taskeng.exe and related Files.
"Why does taskeng.exe keep popping up? What are taskeng.exe fixes? When reading here, you know much. Share the given solutions with more persons on Twitter."Click to Tweet
Suggestion: Back up Your PC
As we said in the above paragraphs, taskeng.exe is likely to be a virus to attack your computer, which can lead to data loss. Thus, we strongly recommend you to make a backup for your important files or folders.
To do this task, a professional Windows backup software – MiniTool ShadowMaker could be your good option. This is because this program supports backing up your files or folders like word, excel, ppt, etc. documents, pictures, videos, music files, work files, etc., operating systems, disks, and partitions.
Importantly, in terms of data backup, it enables you to automatically back up critical files and only back up the newly added or changed data via the differential/incremental backup method.
It is free to download and the trial edition allows you to use it for free within 30 days on Windows 11/10/8/7. Just click the following button to get it and install this backup software on your computer.
MiniTool ShadowMaker TrialClick to Download100%Clean & Safe
Step 1: Launch MiniTool ShadowMaker Trial Edition and click Keep Trial to use this edition.
Step 2: Click Backup on the left side, then click SOURCE > Folders and Files, check the items you want to back up, and click OK.
Step 3: Click DESTINATION to re-choose a path to save the image file.
Step 4: Click Back Up Now to start the file backup at once.
Tips:
To regularly back up your files, go to Options > Schedule Settings to make advanced settings.
Bottom Line
Why does taskeng.exe keep popping up? Where is taskeng.exe located? Is taskeng.exe a virus? How do you get rid of taskeng.exe popup from your computer? After reading this post, you can find answers to these questions. If you run into the situation of taskeng.exe popping up, follow the given methods above to remove it. Besides, take action to keep your data safe.
If you find some other useful taskeng.exe fixes, leave a comment below to tell us. Thanks a lot. Besides, any issues related to MiniTool software can ask about us. We will reply to you as soon as possible.