Sometimes, when you use Win32 disk imager on Windows 10, it might fail and stop to work due to various errors, such as "cannot find the device", "access is denied", etc. This article will introduce Win32 Disk Imager alternative for you. Keep on your reading.
Overview of Win32 Disk Imager on Windows 10
Win32 Disk Imager is a compact application which is usually used to back up a removable device such as USB, memory card and any others to a RAW image file or write a RAW disk image to a removable device. The new version of Win32 Disk Image supports Windows 7/8.1/10.
It is necessary to back up removable drives, because the drives are easily get lost due to small size and sometimes they can stop working simply. You can create an image file of the drives with Win32 Disk Imager to prevent the data of the removable drives from being lost.
However, Win32 Disk Imager on Windows 10 does not always work. When you try to create a disk image, you may encounter the following error occurs: "An error occurred when attempting to read data from handle. Error 21: The device is not ready." or "Access denied", "Error 5", etc.
When you can't launch this application, you had better turn to a Win32 Disk Imager alternative to gain a better experience of imaging drives and get things completed easily and smoothly.
About the Best Win32 Disk Imager Alternative
The best Win32 Disk Imager alternative is the third-party free backup software: MiniTool ShadowMaker. The program has lots of advanced backup features which allow you to perform a USB backup in simple steps.
In this case, compared with finding what caused Win32 Disk Imager not working and figuring out a method to fix the issue, it is much easier to directly download and try the alternative software.
Now, I will introduce this software briefly. MiniTool ShadowMaker, all-around and free backup software designed for Windows 10/8/7, provides you with data protection & disaster recovery solution.
This freeware is more flexible and reliable than Win32 Disk Imager, enabling you to back up files, Windows operating system, disk and partition to an external hard drive, flash drive, thumb drive, pen drive, NAS, etc. on a regular basis.
There are three types of backup on this software: full backup, incremental backup, and differential backup. Simultaneously, disk management can be enabled. All in all, it is the best Win32 Disk Imager alternative.
This Windows backup software offers a Trial Edition that allows 30-day free trial for all backup features. If you want to use it permanently, get its Pro Edition. Now you can download and try MiniTool ShadowMaker Trial Edition to back up your disk.
How to Back up Disk Using Win32 Disk Imager Alternative – MiniTool ShadowMaker
Now, let's see how to use Win32 Disk Imager alternative-MiniTool ShadowMaker to create a disk image file when Win32 Disk Imager alternative on Windows is useless.
Step1: Decide a Backup Mode
Launch MiniTool ShadowMaker.
Keep using the trial edition.
Choose "Local" or "Remote" and click"Connect" to get the main interface.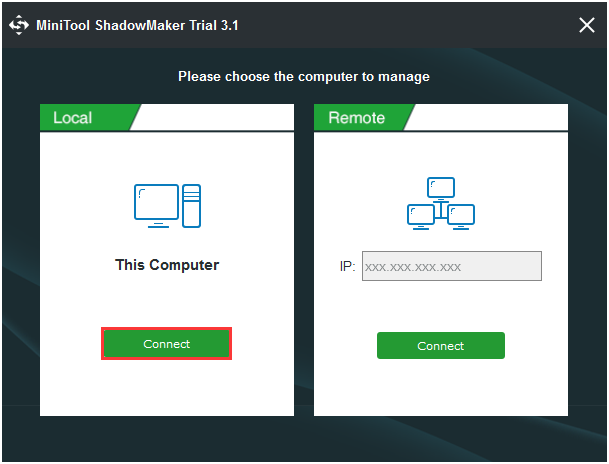 Step 2: Choose Backup Source
Under the "Backup" page, click "Source" to choose the backup type- "Disk and Partitions".
Choose the disk you want to back up and check all the partitions, click "OK".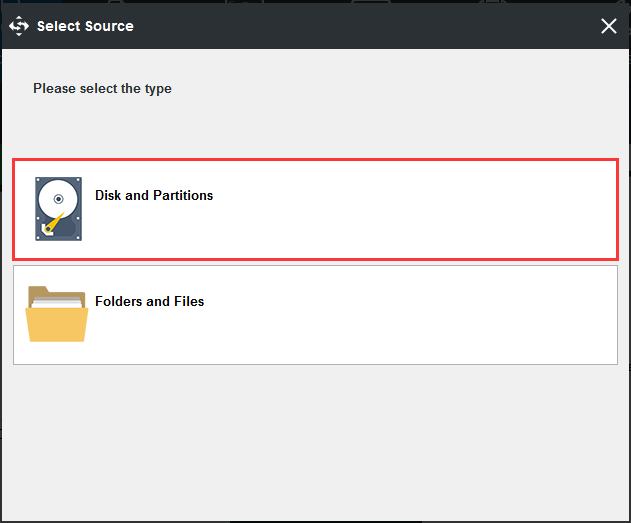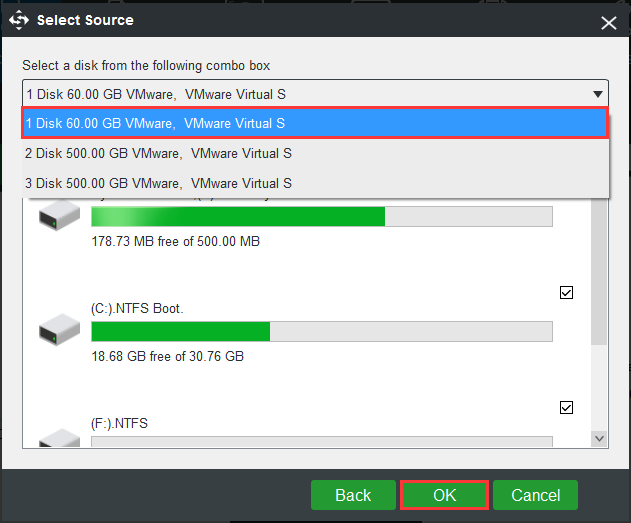 Step 3: Choose a destination path to store your disk image.
MiniTool ShadowMaker allows you to back up your PC to an external hard drive, USB flash drive, NAS and more.
Choose one to store your disk image based on your needs and click "OK".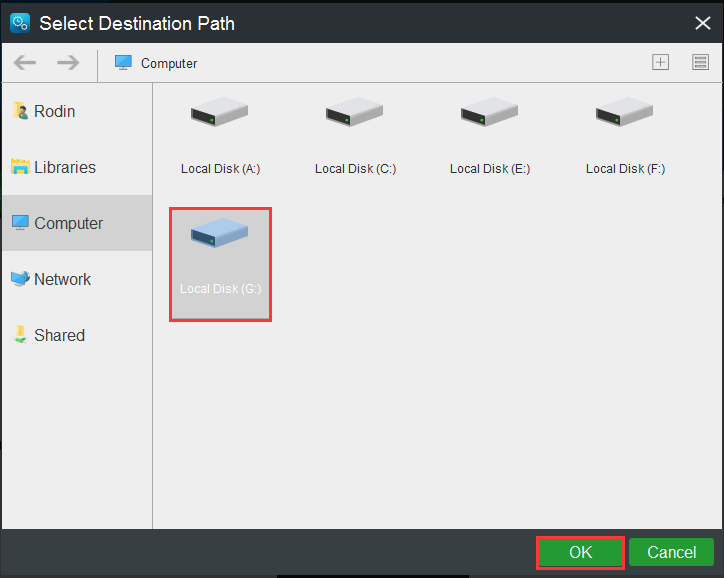 Tip: Please do not save a volume image file to the volume being backed up.
Step 4: Start to back up
Go back to the following interface.
Click "Back up Now"to start the process immediately or choose "Back up Later" to delay the backup.
Tip: In addition, you can use MiniTool ShadowMaker to only back up the data that you have changed or added. Meanwhile, some old backups could be deleted to save your disk space. To back up files automatically, you can click "Schedule" in the "Backup" page. MiniTool ShadowMaker can back up your important files regularly after turning this feature on to specify a time point.
Here are all the steps of how to use Win32 Disk Imager alternative – MiniTool ShadowMaker. When Windows can't boot, you can use the created system image to perform a system image recovery.
In the event of Win32 Disk Imager not working, in addition to the above way, MiniTool ShadowMaker provides another way for you to back up system disk and that is to make a disk cloning. For more information, refer to this post - How to Clone a Hard Drive to SSD in Windows 10/8/7?
Bottom Line
Many people may have been complaining about "annot find the device or access is denied when you use Win32 Disk Imager on Windows 10", and Microsoft does not offer any suggestions till now.
If you are one of these sufferers, you can try the Win32 Disk Imager alternative mentioned in this post. If you have any questions and suggestions, please contact us via [email protected] or leave a comment.
Win32 Disk Imager Alternative FAQ
Windows 7, Win32 Disk Imager not working!
First things first make sure you are using the latest version of win32diskimager.
Check if windows still see it as unformatted or have you done anything else to it since using DD.
Why is Win32DiskImager not working on Windows 7?
Maybe it caused by a corrupted installation zip file. You can re-download it from the Internet.
Problems with win32 disk imager - error 5 and 1117
The problems can be caused by 3 things - the SD card, the SD Card Adapter, or the PC/Card reader.
Drop Win32 Disk Imager and use balenaEtcher for easier card imaging
Win32 Disk Imager has a specific version by HardKernel that overwrites the card with zeroes before burning the new image which can be useful.