Windows 11 Pro 22H2 followed a slowdown in performance when copying large files from a remote computer to a computer via Server Message Block (SMB) or when copying files on a local drive. Microsoft says that copying large files with a size of several gigabytes (GB) may take longer than expected to complete on Windows 11 version 22H2.
The following is a related post from Microsoft:
I use Windows 11 PRO 22H2 to transfer files to my NAS server.

The transfer speed of big files (3GB+) from Windows to NAS is on expected level. The transfer speed is about 260+ MB/s on 2.5 Gbps connection, if connection is 2x2.5 Gbps (multichannel SMB is ON) the transfer speed is about 550+ MB/s. It works more or less OK.

BUT, the transfer speed of big files (3GB+) from NAS to Windows is very low. The transfer speed is about 140 MB/s (stable) on 2.5 Gbps connection and 280-290 MB/s (stable) on multichannel SMB connection (2x2.5 Gbps).

So, reading files from NAS is 2 times slower than writing the same big file(s) to NAS. I use different Windows Clients to transfer files e.g. Windows File Explorer or Windows Commander. The results are more or less the same, the reading operation is about 2x slower than writing operation.

-from Microsoft
How to fix the "Windows 11 Pro 22H2 slow SMB download" issue?
Fix 1: Install the KB5017389 Update
According to Microsoft, they have launched the patch to fix the Windows 11 slow file copy issues over SMB issue. You can install the KB5017389 update. However, this one is optional and does not contain security updates.
You can go to Settings by pressing the Windows + I keys together and navigate to the Windows update part. Click Check for updates. If you find the optional KB5022913 update, click Download and Install to install it.
If you can't find the KB5017389 update in Windows Updates, you can also choose to download it via Microsoft Update Catalog. Go to its official website and type KB5017389 in the Search box. Then, click the Download button to start the process. After downloading, you can install it.
Fix 2: Use Robocopy or Xcopy
With a file copy utility that does not use the cache manager (buffered I/O), you can fix the known performance issues. Two available options include the built-in robocopy and xcopy tools and the templating commands listed below:
robocopy \\someserver\someshare c:\somefolder somefile.img /J
or
xcopy \\someserver\someshare c:\somefolder /J
Fix 3: Try the File Sync Tool
You can find the previous method is a little bit difficult, you can use an easier method. To transfer big files from PC to PC or transfer big files to a NAS Server quickly, you can take advantage of programs. Thus, we will show you the first program to help you to send big files for free.
Therefore, you can use the file backup and sync software – MiniTool ShadowMaker to send large files for free. MiniTool ShadowMaker enables you to transfer big files free from PC to PC with the IP address. To do that, download MiniTool ShadowMaker immediately from the following button or you can also choose to purchase an advanced edition.
Step 1: Download MiniTool ShadowMaker by clicking the following button.
Step 2: Launch it and go to the Sync interface.
Step 3: Click Source to choose items that you want to transfer and click OK.
Step 4: Under the DESTINATION tab, there are four paths available: Administrator, Libraries, Computer, and Shared. To sync files to the NAS server, choose Shared, type Path, User name, and Password in sequence, and click OK to finish.
Step 5: Click Sync Now to start synchronization. This will take a few minutes.
Fix 4: Downgrade Windows 11 Pro 22H2 to the Previous Version
You can downgrade Windows Pro 22H2 to the previous version (Windows 11 21H2 or Windows 10) to fix the "Windows 11 Pro 22H2 slow SMB download" issue.
Step 1: In Windows 11, press Win + I to enter the Settings page.
Step 2: Go to System > Recovery.
Step 3: Under the Recovery options section, click the Go back button.
Step 4: Choose the reason for uninstalling Windows 11 2022 Update (22H2) and click Next to continue.
Step 5: When you are asked to check for updates again, click No, thanks.
Step 6: Continue the rollback operation by following the on-screen instructions.
Once the operations are finished, your Windows will be reverted to Windows 11 21H2 or Windows 10.
Fix 5: Compress and Transfer Large Files
It's also recommended to compress your large files since the compressed files are smaller in size and can be transferred faster to other computers than uncompressed files.
Step 1: Find the folder or files you want to compress.
Step 2: Right-click them to choose the Send to menu. Then, choose the Compressed (zipped) folder option.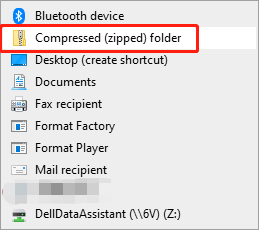 Step 3: Now send it to the destination location and un-compress it to access your files.
Also see: What Does Compressing a File Do? [Pros and Cons]
Bottom Line
This post provides 5 ways to get rid of the "Windows 11 slow file copy issues over SMB" issue. You can try them one by one to fix the issue. If you have any questions or suggestions, please contact us via [email protected] or leave a comment.