What does it mean when your computer has been locked up? What to do if you get a message saying "your computer has been locked" with a red screen? If you wonder about these two questions, read this post and you can know much information on how to remove the computer lockout scam. Besides, some ways to protect the PC are also introduced by MiniTool.
Your Computer Has Been Locked Red Screen
When using a browser to search for something, you may get a red screen warning saying "your computer has been locked". The message tells you that your computer with IP address xxx has been infected by the Virus xx – Because System Activation Key has expired & Your information (for example, passwords, messages, and credit cards) has been stolen, as shown below.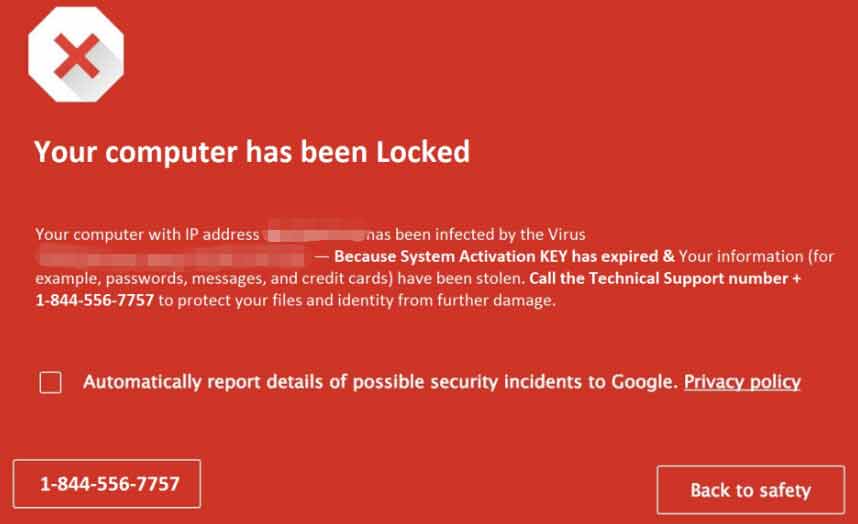 This is a fake error and technical scam. Actually, your computer isn't locked and infected with viruses. Windows hasn't detected anything and the site doesn't know what's happening on the PC. Cyber criminals only frighten you into calling the given call number so that they can offer further help for additional fees.
If you have never seen a red screen like this, you may be alarmed and annoyed. Remember that never call the number since Microsoft never gives a phone number in its error and warning messages.
Fortunately, you can take some measures to remove the scam. Go to find what you should do from the following part.
How to Remove Your Computer Has Been Locked up Scam
Try to Close Your Web Browser
If your PC is not infected, you can easily delete the red screen scam. Just click the X icon to close the browser. Next, relaunch it to check if everything is normal, which means you are safe. But if the red screen still appears after the restart, go to close all the browser processes in Task Manager.
Step 1: In Windows 10, right-click on Taskbar and choose Task Manager.
Step 2: In the Processes tab, locate the browsing task with the scam "your computer has been locked call this number", and click End task. It is recommended to close all the browser tasks.
Uninstall Malicious Programs from Windows
You need to identify and remove any malicious program that has been installed on your computer. You can do this via Control Panel:
Step 1: In Windows 10, type control panel to the search box and click the result to open this app.
Step 2: Click Uninstall a program under Programs.
Step 3: In the Programs and Features window, you can see a list of installed programs. Look through these apps and see if there is a malicious app. If yes, right-click on it and choose Uninstall.
Run a Full System Scan in Safe Mode
To remove the error "important security message your computer has been locked up" from your PC, you can choose to run the PC to its Safe Mode to perform a full system scan. In Safe Mode, all the third-party apps and processes are disabled. This may be helpful to remove the tech scam.
Follow the steps below for the task:
Step 1: To boot the PC to Safe Mode, the ways are various and you can find some details from our previous post – How to Start/Boot Windows 11 in Safe Mode? (7 Ways). Here we use this way – press Win + R to open the Run dialog, type msconfig, and click OK. Under the Boot tab, check the option of Safe boot and click OK > Restart.
Step 2: In Windows Safe Mode, launch Windows Defender or Windows Security via Settings, click Virus & threat protection > Scan options, choose Full scan and run a full system scan to check all files and running programs on your hard disk. If Windows find any infected files, they will be deleted.
Step 3: Restart the PC to Windows normal mode.
Run Additional Antimalware Programs
To remove "your computer has been locked red screen" from your computer, you can install and run some additional antimalware software since the built-in antivirus program sometimes cannot check for certain malware packages.
Run Malwarebytes
Malwarebytes is one of the most popular antivirus programs. It can help to detect some types of malware that other programs tend to miss. It offers a free edition that allows you to free use within 14 days.
Step 1: Just visit the official page of Malwarebytes.
Step 2: Click FREE DOWNLOAD to get the MBSetup.exe file.
Step 3: Double-click on the file and click Install to begin the installation.
Step 4: Launch Malwarebytes and you can click Scan to start a scan at once.
Step 5: After finishing the scan, you can click Quarantine to remove the found malicious programs.
Use HitmanPro
HitmanPro is another program that we recommend using. It uses a unique cloud-based way for malware scanning. If some suspicious things are found by this software, HitmanPro can send it to clouds so that it can be scanned by two antivirus engines – Bitdefender and Kaspersky.
This software also has a trial edition that allows you to free use within 30 days. Just visit its official website, download and install it on your PC to remove malware.
Tips:
In addition, you can run another antivirus scanner - Zemana AntiMalware Free. Although Malwarebytes and HitmanPro are enough, you can run this program to make sure your computer is 100% clean.
Reset Browser to Its Default Settings
After trying the above ways, you should do this thing to completely delete "your computer has been locked up scam". Factory resetting the browser can delete all the configuration, browsing history, & cookies, disable all add-ons, extensions, etc. but keep bookmarks intact.
If you are using Google Chrome, do the task in these steps:
Click the three-dot menu and choose Settings.
Click Reset and clean up > Restore settings to their original defaults > Reset settings.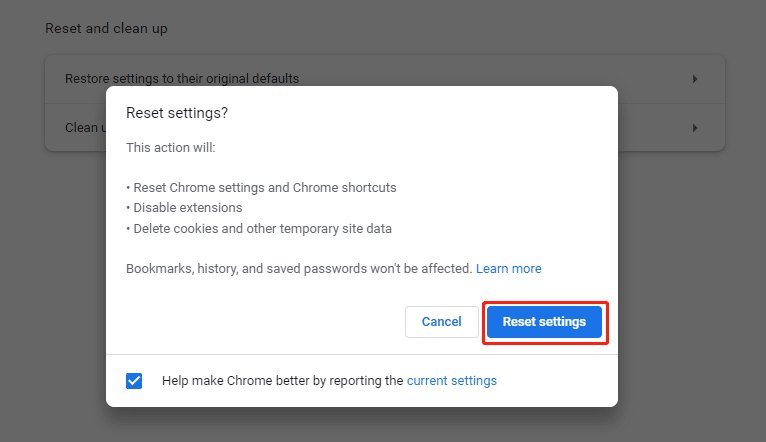 Now your PC should be free of "your computer has been locked red screen" after trying these methods above. If you are also plagued by this fake error message, you should also follow the guide here to remove the scam.
How Is Your Computer Has Been Locked Popup Installed?
"Your computer has been locked red screen" is very vexing. If you are hit by it, you need to take action to remove the scam. You may ask: how can it appear on your PC?
The tech scam is shown through ads that redirect you to sites that display the red screen warning. These advertisements can be shown via installed adware programs and potentially unwanted programs (PUPs). Because of a lack of knowledge or careless behavior, PUPs can infiltrate your system without permission.
How to Avoid Installation of Adware and PUPs
To block PUPs or adware from infiltrating your system, you need to be very careful when downloading/installing software or browsing online. Carefully analyze each dialog of the download or installation. You should cancel the programs that are included additionally. It is recommended to download apps from the official sources using a direct download link.
Besides, you should know malicious ads usually appear genuine since criminals take effort into ad design. But most of their redirects are diacritical and most of them redirect you to adult dating, gambling, and other dubious websites. These ads can be displayed by malicious apps and you should remove all the browser plug-ins and suspicious apps.
Besides, there are some other tips you can do to avoid adware.
Upgrade your software: Software updates may include security patches, thus you should keep it up-to-date. Besides, upgrade your PC to the latest version.
Use antivirus software: One of the simple ways to prevent adware is to use an antivirus program to check for the system and offer reliable protection.
Don't click on pop-ups ads since they may contain many PUPs.
Beware of phishing: Today phishing is complicated. Emails, websites, and links may appear to be legal. Thus, check their legitimacy before you click.
Tips:
You are recommended to use a safe web browser and here we recommend using two safe and more private browsers – CCleaner Browser and AVG Secure Browser. Just click the given links to know more information.
Suggestion: Back up Your PC
Viruses and malware are threatening your PC and scams like "your computer has been locked" also often appear suddenly. If you are not careful enough, you may call the number to ask for solutions. As a result, the PC may be infected by viruses and malicious threats given by criminals.
Thus, to keep your data safe, we suggest that you should create a backup for your important files & folders. To do this work, you can use a free PC backup software – MiniTool ShadowMaker. This backup software can help you to back up files, folders, systems, partitions, and disks, sync files & folders, and clone a hard drive to another disk for disk backup and disk upgrade.
Importantly, this software allows you to configure a time point to back up data automatically. Incremental and differential backups are also supported. It offers a trial edition to allow you free use of all the features in 30 days. Now, just click the following button to download it.
MiniTool ShadowMaker TrialClick to Download100%Clean & Safe
Step 1: Double-click the .exe file and install MiniTool ShadowMaker on your Windows 11/10/8/7 PC by following the instructions on the screen.
Step 2: Run this program and click Keep Trial to go on.
Step 3: On the Backup page, click Source > Folders and Files, check all the items you want to back up, and click OK.
Step 4: Click Destination to select your external hard drive or USB flash drive as the storage path.
Step 5: Click Back up Now to execute the file backup right now.
Bottom Line
Are you plagued by "your computer has been locked red screen"? What to do when your computer has been locked up? After reading this post, you know much information about this fake error. Just follow the given methods to remove it from your browser. Besides, take some measures to avoid PUPs/adware and keep your PC data safe.
If you want to share something with us, just leave your idea in the following comment part. We will reply to you as soon as possible. Thanks a lot.