As is known to all, BitLocker drive encryption is a wonderful feature that integrates with the Windows operating system; it is designed for protecting users' data from damaging, stealing or plagiarizing by malicious people. But how can you recover data from BitLocker encrypted hard drive? The following content will tell you all.
After saving private data into computer hard drive, most people will certainly be eager to protect those data from being accessed, modified or damaged by others. Thus, many of them will think of hard drive encryption. After all, no one wants to expose their private and significant data to the public, right?
Luckily, Windows has already taken this into consideration, so it adds BitLocker into the OS to provide a safe and easy way for users to encrypt their drives. Yet, convenient as it is, it also brings some troubles to us. And you'll need to do the BitLocker drive encryption recovery sometimes.
Problems caused by BitLocker encryption.
Deleted files from BitLocker encrypted drive but have no idea of how to recover;
BitLocker encrypted drive is damaged somehow, so useful data are missing;
Lose the BitLocker recovery password, failing to access it.
Noticing this, I decided to do what I can to help you get rid of BitLocker encryption related problems.
Firstly, please stay calm and keep an optimistic attitude; this is often the key factor to success.
Secondly, choose Microsoft provided tools or the solutions (recover with MiniTool Power Data Recovery) I'll talk about later to start BitLocker recovery right after you discovered the data loss problem.
Thirdly, check the files recovered and fix the damaged hard drive/partition if possible.
So in short, you don't need to get into panic and it's absolutely of no use. Always remember that you still have chance to recover data from BitLocker encrypted hard drive.
Now, let us get to know about how to get back lost files from BitLocker drive encryption and the causes for data loss problems caused by BitLocker.
Finish BitLocker Drive Encryption Recovery ASAP
Here's the suggestion – no matter you have met data loss or not, you should get a reliable recovery tool at hand; it may be your lifesaver when data loss occurs suddenly.
MiniTool Power Data Recovery is a good choice; it owns over 2,000,000 users from CNET. Prepared with this tool, you're able to recover data as soon as possible when data loss appears all of a sudden.
2 Ways to Recover Data from BitLocker Encrypted Drive
Use MiniTool Power Data Recovery.
Ask help from the professional data recovery agent.
Certainly, there are other methods for BitLocker drive encryption recovery – recover data from the BitLocker encrypted drive or recover BitLocker key lost accidentally. But, I'll only focus on the two most popular recovery solutions in this part.
The first way is using third-party recovery program to perform BitLocker recovery.
MiniTool Power Data Recovery is a good choice as I said. After downloading it, you should run it right away.
Then, follow the recovery steps given below to get back data from BitLocker encrypted drive effectively.
Step 1: you'll see four options in the left pane of the software main window. They are suitable for you to recover data from different places. Specify the correct place here.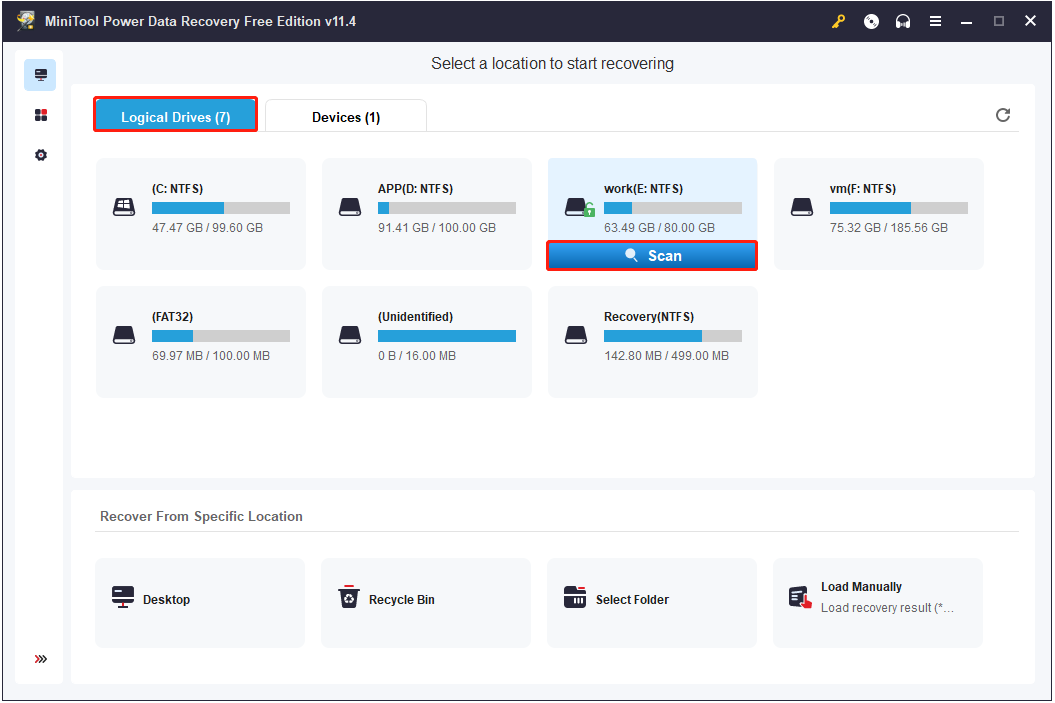 Step 2: after that, you'll see available drives in the right pane. Please select the encrypted drive here and then click on the "Scan" button in the lower right corner to start detecting files in it.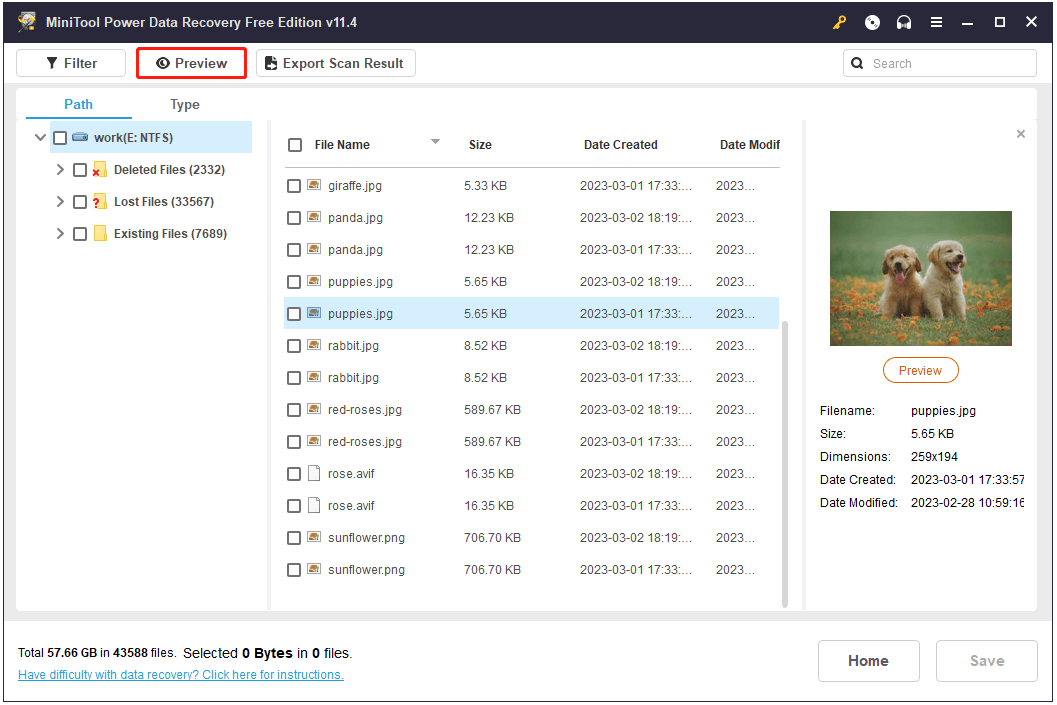 Step 3: the software will show you the files it has found during the scanning process. You can browse them to find out whether your needed ones are included or not.
If it has found the files you need, you can click on the "Stop" button to end the scanning.
If it has not found any items you want to recover yet, you can wait for the scan to complete; and then, look through the scan results when it is finished.
Step 4: check the files you need and pick out all the data you want to recover. After that, press the "Save" button and choose a storage path for those files. At last, click on the "OK" button to confirm your selection and start recovering files to appointed place.
Note:
If you have formatted the BitLocker encrypted drive, trying to make the drive usable again. You'll lose all data saved here. In this case, you have to
recover data from formatted hard drive
as fast as you can.
The second way is asking help from BitLocker data recovery agent.
Of course, you can choose to rely on BitLocker data recovery agent to recover important files from BitLocker encrypted drive. But, you must be prepared to pay a large amount of money for that once the recovery is done. Besides, if any private information is involved, this may lead to privacy leakage.
However, if your file loss problem is unluckily caused by hardware failures, you'll have no choice but to turn to data recovery agent since almost all of the third-party BitLocker data recovery tools/BitLocker key recovery tools are not available for a physically broken hard drive.
Data Loss Causes of BitLocker Encryption
I'm not sure whether you have noticed the fact that an increasing number of people are asking about how to recover data from BitLocker encrypted hard drive. Obviously, the direct reason is more and more users are stuck in data loss causes resulted from BitLocker drive encryption.
Now, please follow us to see the 3 most common specific cases in which data are lost when BitLocker is turned on – check it out!
3 Common Causes of Encrypted Drive Data Loss
In fact, the BitLocker will not take effect immediately right after encryption was completed. Instead, you can access data in it as usual before a computer restart. In this period of time, your data may be lost due to your wrong operations, such as file deletion and drive formatting.
Even after the BitLocker protection was enabled, you may still lose data saved in BitLocker protected drive. For instance, you may format the drive by accident or the drive may be attacked by virus.
Look, in summary, there are mainly three types of reasons that will lead to data loss on BitLocker encrypted drive.
Users' careless mistake: deleting files, formatting drive, getting attacked by virus because of browsing unsafe sites and sites, etc.
Hardware problems: physical damage on disk, poor connection between hard drive and computer, unstable power supply, etc.
BitLocker crash: an unexpected error may occur during the encryption, forcing to end the process. And then, no matter what you try to continue the process, you may fail.
Encryption and Decryption of BitLocker
a). Encryption.
In general, you're able to see the option – "Turn on BitLocker…" – after right clicking on a drive in Windows.
And then, by following those steps, you can complete the encryption process.
Choose one or more ways to unlock the drive (password, smart card and automatic unlock).
Click on "Next" button.
Choose to save the recovery key to a USB flash drive/file or print it.
Click on "Next" button.
Press "Start Encrypting" button in the "Are you ready to encrypt this drive" window to confirm.
Note: During the encryption process, you can still operate the drive under encrypting. So, improper actions performed at this time will still cause damage to data in target drive.
b). Decryption.
A typical BitLocker environment can decrypt data in four ways.
Decrypt directly with password: open "Control Panel" and choose "BitLocker Drive Encryption" to decrypt the drive by clicking on "Turn Off BitLocker".
Use TPM chip: this is a dedicated chip that needs to be fixed or additionally installed on the motherboard to store all the keys & other information needed in the encryption and decryption process. (BitLocker function of Windows requires 1.2 or higher version of TPM chip)
Use PIN code: if there is no TPM chip, you can use the PIN code. In simple terms, to unlock your drive with smart card.
Use BitLocker recovery key: the BitLocker recovery key is actually a file generated during encryption; it must work with TPM chip or PIN code, can't be used alone. (Or you can use the key to unlock BitLocker drive from command prompt – run cmd.exe as administrator to unlock)
Benefits of BitLocker Encryption
If you want to encrypt your private/sensitive/business data to ensure security, Windows BitLocker may be your first choice. Searching "BitLocker" in Google, you can get about 2,350,000 results in just a second; it shows that a large number of people are interested in BitLocker.
So, here, I'd like to show you what BitLocker is exactly and the specific reasons why people choose to turn on it.
As a common Windows user, you may have seen BitLocker in your computer. But the fact is, more than half of the users don't know what exactly it is used for and haven't used it before. Now, please allow me to unveil it for you.
What Is BitLocker
Indeed, BitLocker is a built-in encryption tool of Microsoft. It has made its debut since Windows Vista and has always been easy to use. One of the main purposes of adding this function to Windows is to better protect data on PC.
BitLocker uses TPM to help protect Windows OS (Operating System) and users' data, so as to ensure that system settings and important data won't be changed even when the user is not next to computer or computer is lost or stolen.
Also, BitLocker can work well without TPM in some regions where TPM is not allowed. But, users will need to use group policy to change the default behavior of BitLocker setup wizard or to configure BitLocker by using a script.
High compatibility: BitLocker is available for Windows Vista, Win7 Ultimate, Win7 Enterprise, Windows 8.1 Pro, Windows 8.1 Enterprise and Windows 10 Pro.
5 Reasons for Turning on BitLocker
According to the survey, BitLocker is enabled mainly due to the following reasons.
Company's decision based on data security.
Users have a strong sense of data protection.
BitLocker is turned on by default after installing Windows.
Enable BitLocker to do some research;
Turn on it to protect data before sending computer for maintenance or lending it to others;
Of course, there are many other possible reasons that could drive users to turn on BitLocker in Windows.
However, I still recommend users to backup important data frequently though they choose to turn on BitLocker on significant drive. Or they could get a BitLocker recovery tool, so that they can start BitLocker recovery immediately when necessary.
Bottom Line
Obviously, data are easy to get lost due to all kinds of reasons. No matter how careful you are, important data may disappear all of a sudden.
Thus, it's easy to understand why there're so many people who have stressed that you should take good care of your data by backing them up regularly or developing good habits of operation.
In the meantime, you need to pay attention to the security of data. One of the popular methods to protect private/corporate confidential data is to turn on BitLocker on Windows. However, data loss problems tend to happen when the drive is encrypting or after the encryption was completed.
At this critical moment, you shouldn't be knocked down. On the contrary, you should
Cheer up and choose the most suitable method for BitLocker drive encryption recovery.
When you succeed in recovering data from BitLocker encrypted hard drive, you'd better make a backup of all useful data at once.
In short, please be sure that you've done your best to protect data and you have the best way to recover data whenever accident occurs.
BitLocker Drive Encryption Recovery FAQ
What is BitLocker drive encryption recovery key?
It is actually a unique 48-digit numerical password created when BitLocker is enabled on a drive. When the BitLocker fails to confirm the authorization of the attempt to access your system drive, you can use the BitLocker recovery key to unlock system.
How do I get my recovery key for BitLocker?
Sign in to your Microsoft account.
Open the text file saved on a USB flash drive.
Log in to the Azure Active Directory account.
Look for the printout you saved when BitLocker was activated.
Ask the system administrator.
How do I disable BitLocker in BIOS?
Restart computer and hold F1, F2, F4, Delete or other buttons to enter BIOS.
Type the password to enter BIOS menu if it's required.
Select Security and look for Set User Password feature (or other similar name).
Type your password.
Save changes and exit BIOS.
How long does it take BitLocker to encrypt a drive?
According to Microsoft, the speed of BitLocker encryption process is generally 500MB per minute. And the user said it took him nearly 3 hours to decrypt a 237 GB SSD disk. Indeed, disk type, disk size, disk configuration and other factors together decide the time.