Data are always put in danger whether you use them frequently or not. That's why so many people emphasize the importance of data backup. Well, it's too late to think of the data backup when files are really lost suddenly. Luckily, the data recovery is possible. The data recovery rate and data recovery prices are two of the factors that people care the most about.
You may encounter the following data loss situations:
Lose a single file on the computer.
Find a whole partition is lost or the whole disk turns into unallocated.
Sometimes, the disk/flash drive/memory card may even corrupt without giving you a sign.
What's worse, the boot files of a system may be lost/damaged or the internal hard disk/bootable drive may be damaged, resulting in boot failure (in this case, you'll lose access to all data saved under that system).
Factors That Influence Data Recovery Prices
It is true that everyone who is encountering data loss issue would like to find a way to complete hard disk data recovery as soon as possible unless the lost data happen to be useless for him. But speaking of the data recovery prices, the situation becomes more complicated. The hard drive data recovery cost depends on a lot of factors:
How important the lost data are.
The financial state of the owner of data.
How much the owner willing to pay for the data recovery services.
The damage degree of data.
The type of storage
…
In order to help you get the best hard drive data recovery service with the lowest price, I recommend MiniTool Power Data Recovery Free Edition.
MiniTool Power Data Recovery FreeClick to Download100%Clean & Safe
You may ask what about the price, right? Actually, it ranges from 0~499 dollars. Take a look at this page to know more details.
I strongly advise you to skip the cumbersome data recovery cost estimate process; just get a MiniTool Power Data Recovery Free Edition to recover data from a crashed hard drive, a formatted drive or a drive which works normally. It works perfectly for both internal hard drive and external hard drive.
High-Quality Hard Drive Recovery Service You Deserve
In the following part, I'll illustrate how to finish some common data recovery work specifically. Please read carefully if you have such needs.
How to Recover Data from a Crashed Hard Drive
When a hard drive is crashed suddenly, you may receive an error message or find a lot of files are gone. At this time, you should run the data recovery software I just recommended to recover data after hard drive crash quickly.
You should complete the following steps to recover data as long as the computer still runs well.
1. Open Windows Disk Management to view the status of your crashed hard disk. Are all partitions still there or is there a partition lost inexplicably? After figuring this out, you should run the software to see its main interface and then make your choice to select "This PC" or "Hard Disk Drive".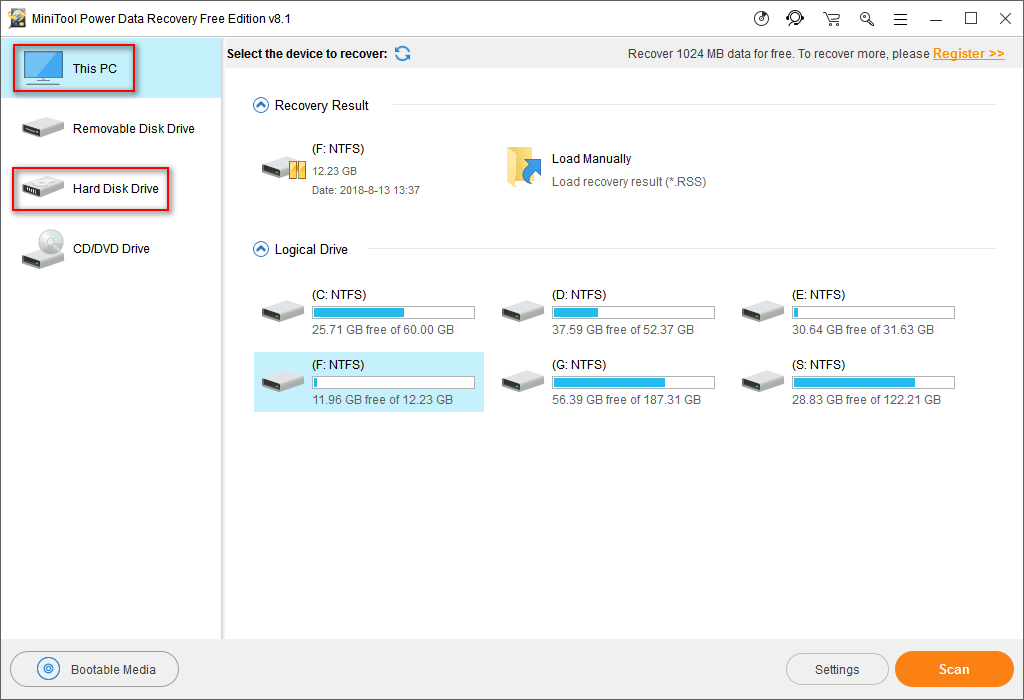 To recover files from a partition still existing on the hard drive, you should select "This PC".
On the contrary, you should select "Hard Disk Drive" if you want to recover files from a partition disappeared during the disk crash.
2. Then, you should focus on the right side of the interface to select the target partition/disk which contains the lost files you need. Now, you are offered 2 choices to scan the partition or disk.
Select the partition or disk and press the "Scan" button in the lower right corner.
Right click on the partition or disk to start scanning directly.
3. The scan result will appear in the software automatically during the scan. Please look through all the folders and files carefully in order to pick out which files are needed and which are not. This may take a long time if too many files have been found.
4. At last, you ought to click on the "Save" button to set a storage path for the selected files in the pop-window and then click on the "OK" button to confirm.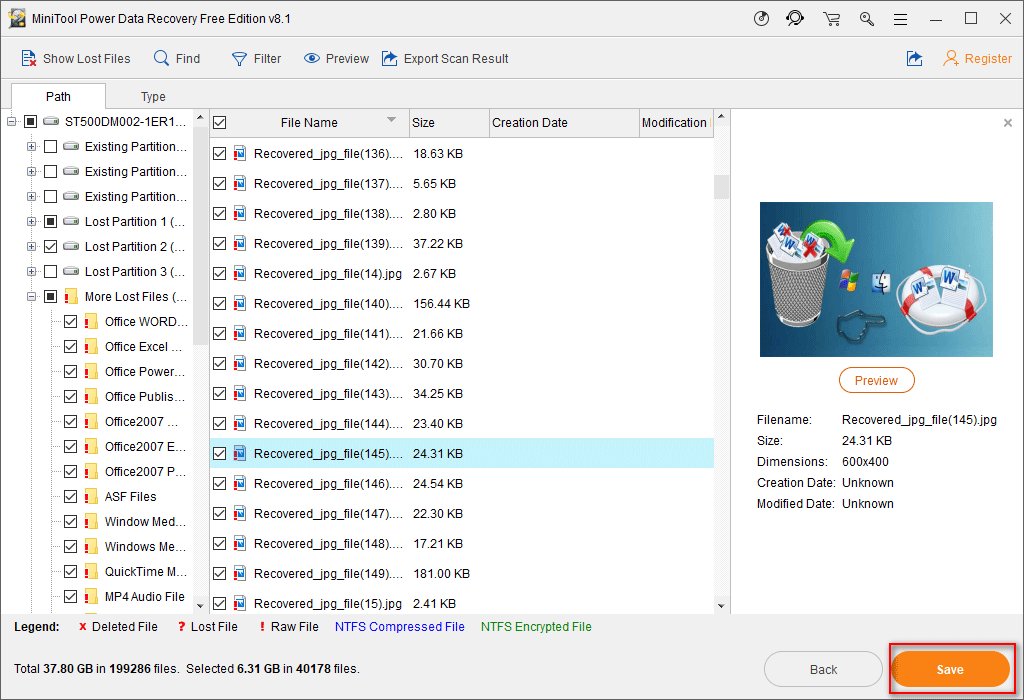 5. Right after you click on the "Save" button, the following Limitation prompt window may appear to inform you that the total size of files you have selected to recover reaches the file saving limit for Free Edition.
Under this circumstance, you have 2 choices:
Check no more than 1GB of data to recover.
Click on "Export Scan Result" button to save the scan result to another place; then, upgrade your software to an advanced edition; register and launch the full edition and choose to load previous scan result or "Load Manually" under "Recovery Result" in the drive selecting interface. After that, check all files you need to recover by pressing the "Save" button again.
When all files have been saved to the appointed place, you'll see a prompt window in the software, informing you that the hard drive data recovery process is over. So, you can close the software.
What if it is the internal boot hard drive that is crashed? Have you ever thought of this issue? In this case, it's very possible that the system won't start as usual. At this time, you should turn to "How to Get Data from Dead Internal Hard Drive" part (talked below) to get help.
Top Recommendation
Actually, the above method also works for corrupted/crashed/dead external hard drive recovery. So I'll not talk about it here. If you'd like to know more about it, please read Recover Files From Dead External Hard Drive With Actionable Way (the external hard drive data recovery cost is also involved).
How Do I Recover My Data from a Formatted Hard Disk
It's much easier to recover files from an accidentally formatted hard drive. You just need to do the following things:
Install and launch the free edition of the recommended data recovery program. Afterward, choose "This PC" from the main interface. (If the hard disk you want to recover data from is an external disk, please remember to connect it to the computer before you launch the software)
Please select the formatted disk from the right side of the software interface (you should take a look at the drive letter, file system type, capacity of the disk and the amount of space already used to confirm which one is your formatted disk). After that, you're suggested to click on the "Scan" button to search for lost files sector by sector.
When the software finishes scanning your formatted disk, it will list all the folders and files it has found. Now, you are expected to browse them carefully to decide which ones to recover. Please add a checkmark in front of the items you plan to recover and then press "Save" button to choose a safe place to save them.
If you are using the free edition of Power Data Recovery for the first time, you can easily see this prompt at the top of the software main interface: "Recover 1024 MB data for free. To recover more, please Register". At this time, you have 2 choices:
Buy a license and then click on the "Register" button to upgrade the software immediately.
Go through the disk scan, and then figure out the total size of the files you want to recover in order to decide whether you need an advanced edition or not.
How to Get Data from Dead Internal Hard Drive
When the hard drive that is corrupted is an internal one, things will become more complicated. That is because you're not able to enter the system and then do the data recovery work. What are you supposed to do at this time?
My suggestion is please stay calm & turn to MiniTool Power Data Recovery Bootable Disk, which is able to help you recover data when the operating system goes wrong (for instance, the operating system not found error appears).
The bootable edition is in fact embedded in some paid editions, so I advise you to get the Personal Deluxe license if you are an ordinary user who has no extra requirements.
Firstly, you should make a bootable USB drive/CD/DVD by using the snap-in Bootable Media Builder.
Now, please find another computer that works fine and insert the USB flash drive/CD/DVD you want to make as a boot device to the computer (make sure the connected device is recognized by computer). Then, follow the prompts in each interface to finish building the bootable disk. When this has been done, please eject the device from the current computer properly.
Secondly, you should boot the computer with a corrupted internal disk with this bootable USB disk.
Connect the boot device you've just made to the computer and restart it in order to enter the BIOS of your PC. After that, please change the boot order (boot sequence) in BIOS to make this bootable USB drive/CD/DVD the first boot device. Then, save changes and exit to let the computer boot.
Thirdly, you should recover data by using the bootable disk.
You will see the following interface, in which you should choose to launch MiniTool Power Data Recovery. After that, you should complete the steps introduced in "How to Recover Data from a Crashed Hard Drive" and "How Do I Recover My Data from a Formatted Hard Disk" to get back data from a corrupted internal hard disk.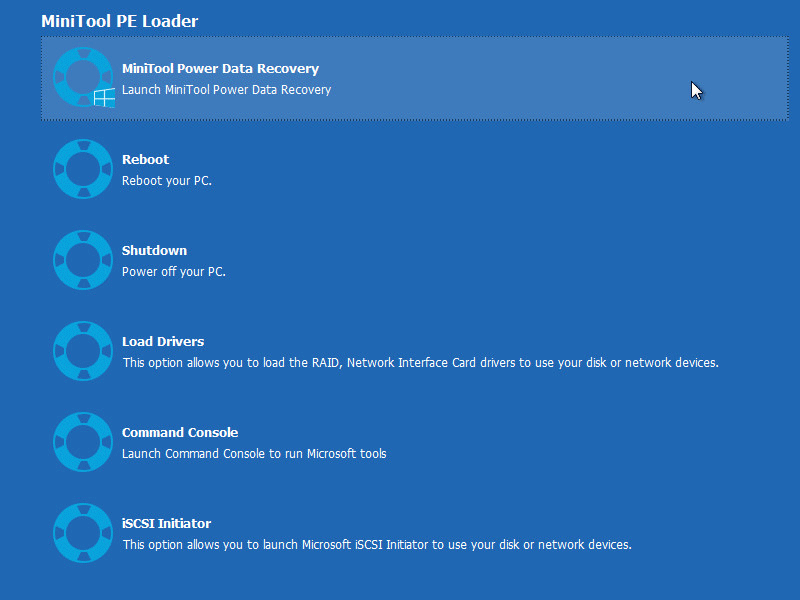 Tip:
If you have built a RAID and want to recover data from it, MiniTool Power Data Recovery is also a good choice since it provides
RAID recovery
services at the same time.
Reading here, you must understand that data recovery cost/file recovery cost is not constant; it depends on a lot of things, such as the program you choose and your requirements. So please stop asking how much does it cost to retrieve information from a hard drive; there is no clear answer to those kinds of questions.
Reasons for Choosing Power Data Recovery
In this part, I'd like to talk a little bit about Power Data Recovery. As far as I know, a large number of users consider it as the best data recovery software since it has many advantages.
It is totally clean and doesn't have any spyware or virus.
It won't bring secondary damage to your data.
It offers good compatibility to give support to various Windows operating systems (like Windows XP, Vista, Windows 7, Windows 8 and Windows 10), different file types (like document, image, video, audio and email) and almost all common storage devices (like hard drive, USB flash drive, SSD, memory card and CD/DVD).
It offers different license types to satisfy different users' needs.
…
Actually, as a user-friendly data recovery program, the MiniTool Power Data Recovery provides 8 different license types to satisfy the needs of both home users and business users:
Free
Personal Standard
Personal Deluxe
Personal Ultimate
Business Standard
Business Deluxe
Business Enterprise
Business Technician
Even the free edition is able to recover data from a hard drive in various situations. The corresponding price ranges from 0~499 dollars.
Yet, I found the average cost of data recovery is about hundreds to thousands of dollars. This further makes us confirm that MiniTool Power Data Recovery is the best choice unless the drive containing lost data has very serious physical damage, which calls for hard drive disassembling in a clean room.
Does any of these appeals to you? Do you want to have a try in person? What are you waiting for? Just go ahead to get one to start data recovery immediately.
Note:
There is one thing you should remember – you are not allowed to install the software to the drive that including your needed data (data waiting to be recovered); otherwise, data
overwriting
may be brought, leading to permanent data loss!
Draw a Conclusion
The situation is a large number of people need to get back missing files and care about the data recovery prices, or I can say hard drive recovery costs. But that's really a tough question to answer due to two reasons: one is that the cost is affected by many factors and the other is that the difficulty of crashed hard drive data recovery varies a lot.
Though I can't give you a clear answer to the hard drive data recovery cost, I do offer you a cost-effective solution to the data loss cases. What's more, I have listed three common situations and explained in detail what you should do in different situations. You should read the corresponding content carefully to get out of the woods.